Basse-Terre, Guadeloupe – A Nature Lover's Guide
Last updated on May 9th, 2023 at 02:10 pm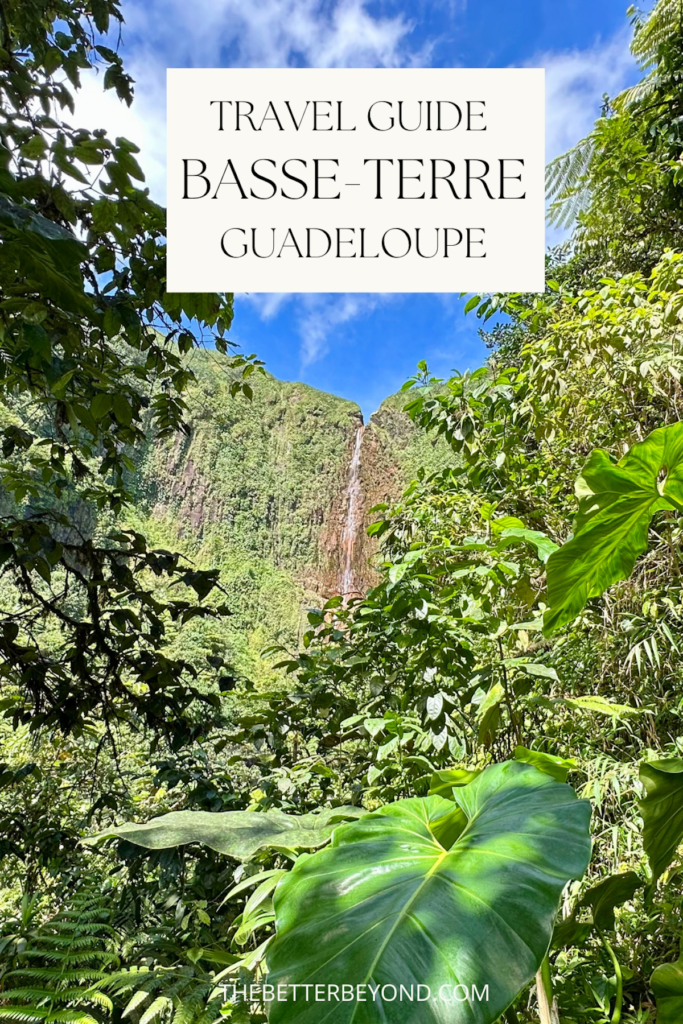 Affiliate Disclosure: This guide to Basse-Terre, Guadeloupe contains affiliate links. If you click a link and make a purchase, I may receive a small commission at no cost to you. All opinions are entirely my own.
My husband and I have a preference for quaint, small island experiences. For this reason, despite flying into the Caribbean's French Antilles via the hub airport on Guadeloupe – we almost took a pass on the island entirely. Our ultimate destination was the much tinier island of Terre-de-Haut, just a 40-minute ferry ride away.
The main reason we almost gave Guadeloupe the snub was that we had visited many years earlier and found it to be way too busy for our taste. We also found its hotel scene to be primarily dominated by large resort complexes, while we much prefer boutique hotels. (The famed all-inclusive "Club Med" first opened its doors on Guadeloupe in 1973!)
True story: When we first visited Guadeloupe back in 2006, we actually checked out of our hotel early and left for another island. In 23 years of travelling together, my husband and I have only ever done this once. It was so out of character for us and a little financially reckless – but we were that disappointed, and our few vacation days were so precious. To be fair, it was also much harder to properly research destinations back then.
In this post, I want to share with you how we finally got Guadeloupe right by staying in a totally different part of the island. Please use the menu below to find what you need quickly or start with this quick little video to get a feel for the place.
BASSE-TERRE VIDEO
Want a quick peek before I tell you more? Check out this 1 minute video.
THE TWO DIFFERENT GUADELOUPES
Part of getting Guadeloupe right for us on our second trip to the island involved staying in the right area. Guadeloupe is shaped like a butterfly and the two side, or wings, offer very different experiences.
In the east is Grand-Terre, where you will find beautiful beaches, the majority of Guadeloupe's hotels, little towns like Sainte-Anne and Saint-François, plenty of restaurants and a nightlife scene. It is vibrant and lively, but also really, really busy. (It has frequent traffic jams!) This is where we stayed on our first trip and it just wasn't for us.
The other side of Guadeloupe, Basse-Terre, is much wilder. It, too, has beautiful beaches but they are much less crowded. Basse-Terre is popular with hikers and is known for its lush rainforests, waterfalls, natural hot springs, volcanic peaks and abundance of marine life. It is home to the Guadeloupe National Park (a UNESCO Biosphere Reserve), as well as a Cousteau Marine Reserve.
It was actually a fellow travel enthusiast, Lee at Mango Tree Travel, who encouraged us to give Guadeloupe a second try. She recommended we take a look at Le Jardin Malanga – a unique 10-room boutique hotel designed around a 1920's hilltop homestead. Nestled into a mature tropical garden, this lovely property promised incredible ocean views of Les Saintes and beyond. We were enticed enough to give Guadeloupe another try and we were not disappointed!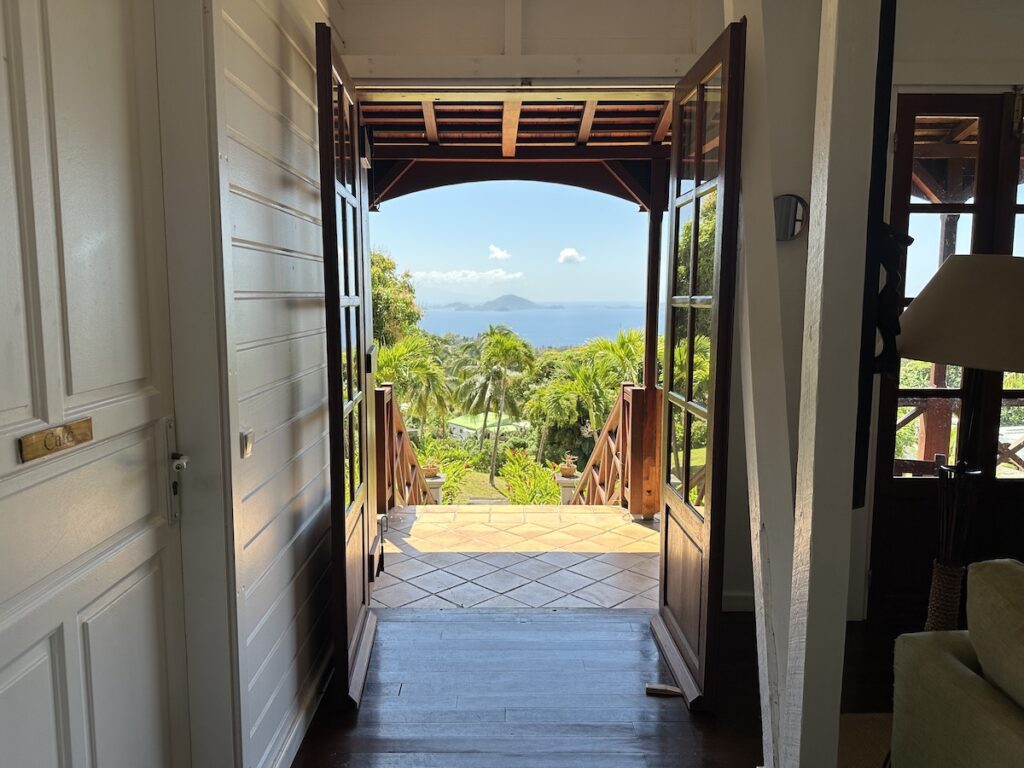 THE 10 BEST THINGS TO DO ON BASSE-TERRE, GUADELOUPE
While a beautiful boutique hotel was enough to encourage us to give this westerly region of Guadeloupe a try, below I will share with you all the of the best things to do in Basse-Terre so you can decide for yourself if it right for you.
1. THE CARBET FALLS – LES CHUTES DU CARBET
This stunning trio of falls and popular hiking spot can be found within the lush jungle forest of Guadeloupe National Park.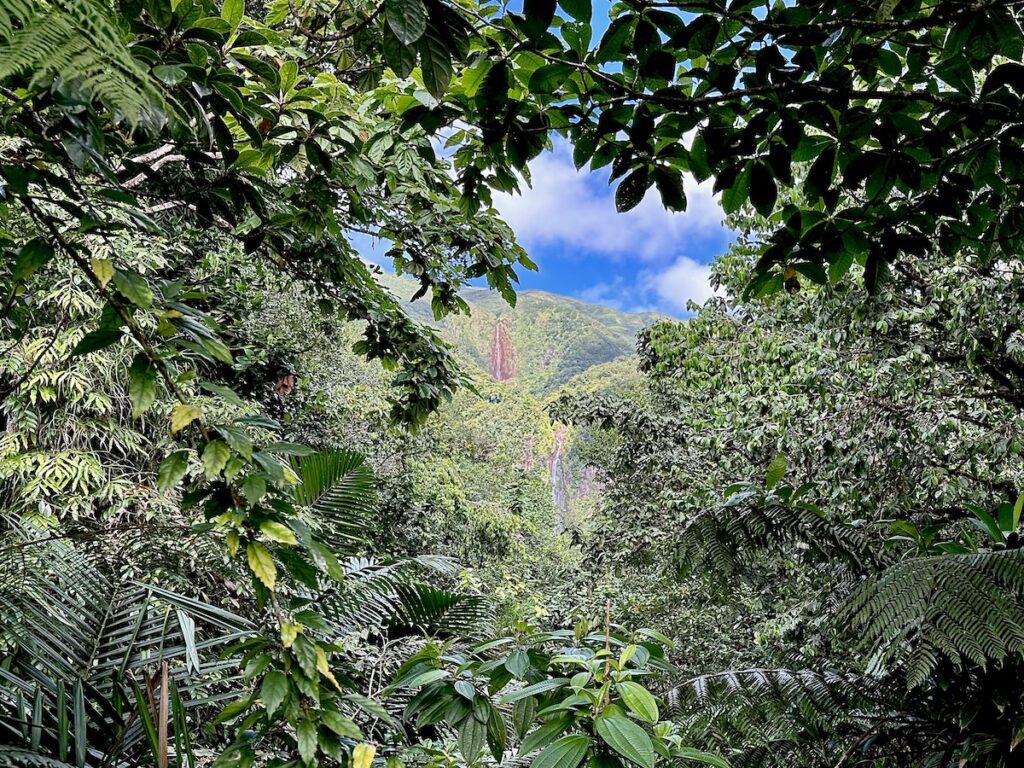 Of the 3 falls, the middle one (#2) is the easiest to reach via a 45 minute round trip jungle walk on relatively smooth path. (If you don't want to go that far, the peek-a-boo view of the 1st and 2nd falls shown in the photo above is only about 200m from the Visitors' Centre.)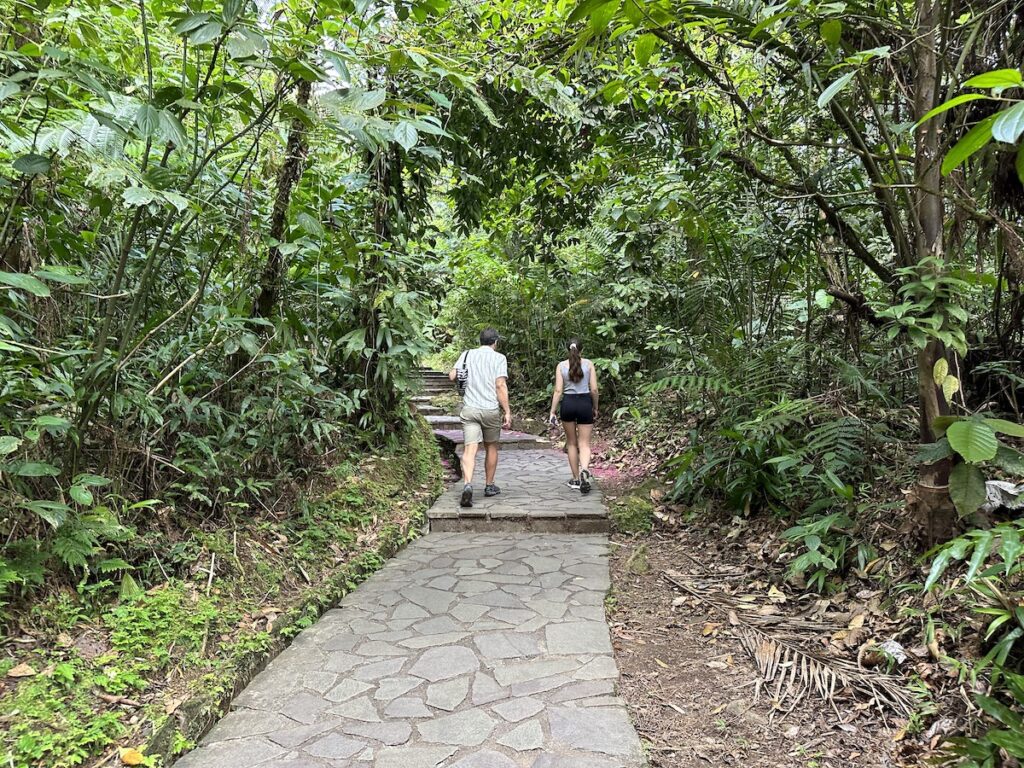 The trail to the middle #1 (top) waterfall takes between 3-4 hours return on a more challenging (intermediate-to-difficult) trail. If you are up for it, however, it is a very rewarding way to burn off some croissants.
See reviews of the Carbet Falls from recent visitors on Tripadvisor.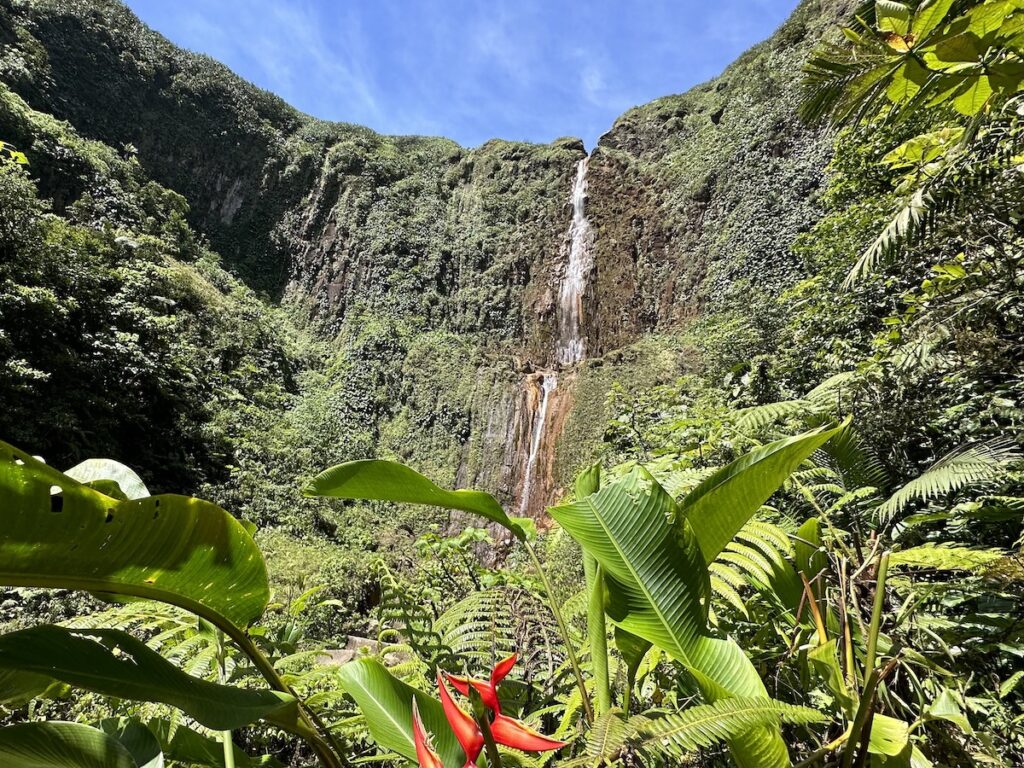 Note: Do make sure you have proper hiking shoes (there is some scrambling involved), a hat, lots of water and sun screen. (Bugs did not seem to be a big issue.)
2. HIKE LA SOUFRIERE VOLCANO
Basse Terre is home to La Soufriere, an active volcano (last erupted in 1976) that is a popular destination for hikers. The intermediate-to-difficult summit trail takes roughly 3 to 4 hours (return) but the reward is a stunning view of the island and the Caribbean Sea beyond.
Hikers should check the weather report in advance to pick the best conditions. Hiking shoes, plenty of water, a hat and sunscreen are highly recommended. A rain jacket may also come in handy as sometimes a shower can come seemingly out of nowhere and the terrain is very open (no cover).
There is a hot spring pool (Bains-Jaunes) near the beginning/end of the hike. Please see my comments about hot springs on Guadeloupe further on.
See reviews of La Soufrière Volcano from recent visitors on Tripadvisor.
3. BASSE-TERRE BEACHES
Basse-Terre has dozens of beautiful beaches to choose from. Too many, in fact, for most people to visit on one trip.
Note: Because many of Basse-Terre's beaches are west-facing, they are often free of sargassum seaweed, an algae that is become a major issue in the Caribbean. Sargassum floats towards the Caribbean islands from the Sargassum Sea to the north-east, piling up primarily on eastern beaches. Learn more about sargassum seaweed in the Caribbean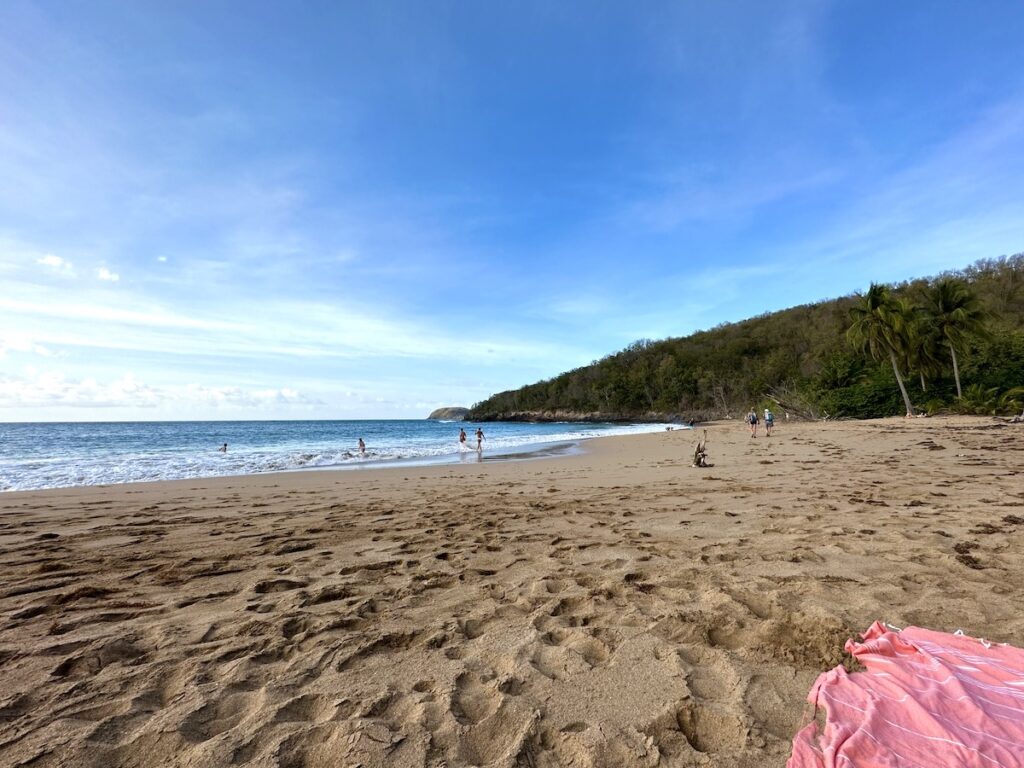 Some of our favourites beaches are in the north-west of Basse-Terre and include Plage de Petite Anse, Plage de Grande Anse, and Plage de la Perle. Of the three, Plage de Petite Anse is the most protected for swimming and also has some excellent snorkelling. The other two have beautiful stretches of golden sand but can have some big waves.
Closer to the middle of the west coast, is the black sand beach of Plage de Malendure. The beach is an excellent place to see sea turtle grazing in the sea grass beds about 25-50m from the shoreline. It is also the jumping off point for kayaking, snorkelling and diving trips to the protected Cousteau Marine Reserve.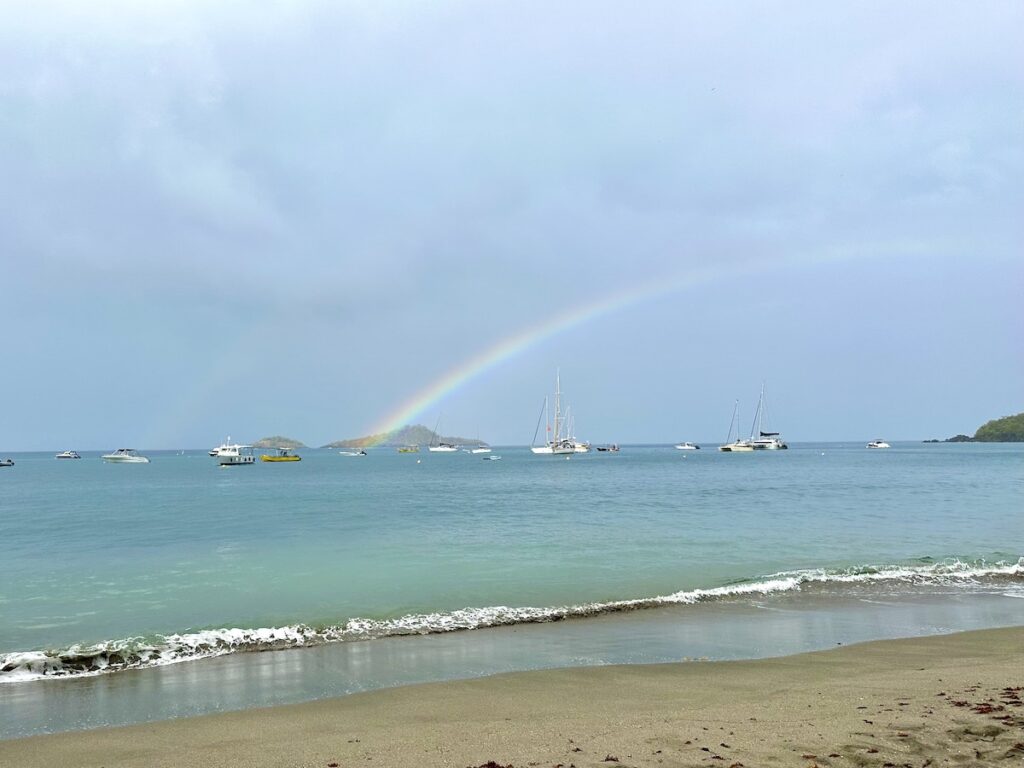 Further south is another Plage de Petite Anse (yes, same name). It actually is not shown on Google maps but we stumbled across it when we were driving north along the coast one day. It is really lovely for a nice swim in a protected bay and some time in the sun. This little beach is also much closer if you happen to be staying near the south end of Basse-Terre. You can find it by looking up the restaurant on this beach, Chez Chantal.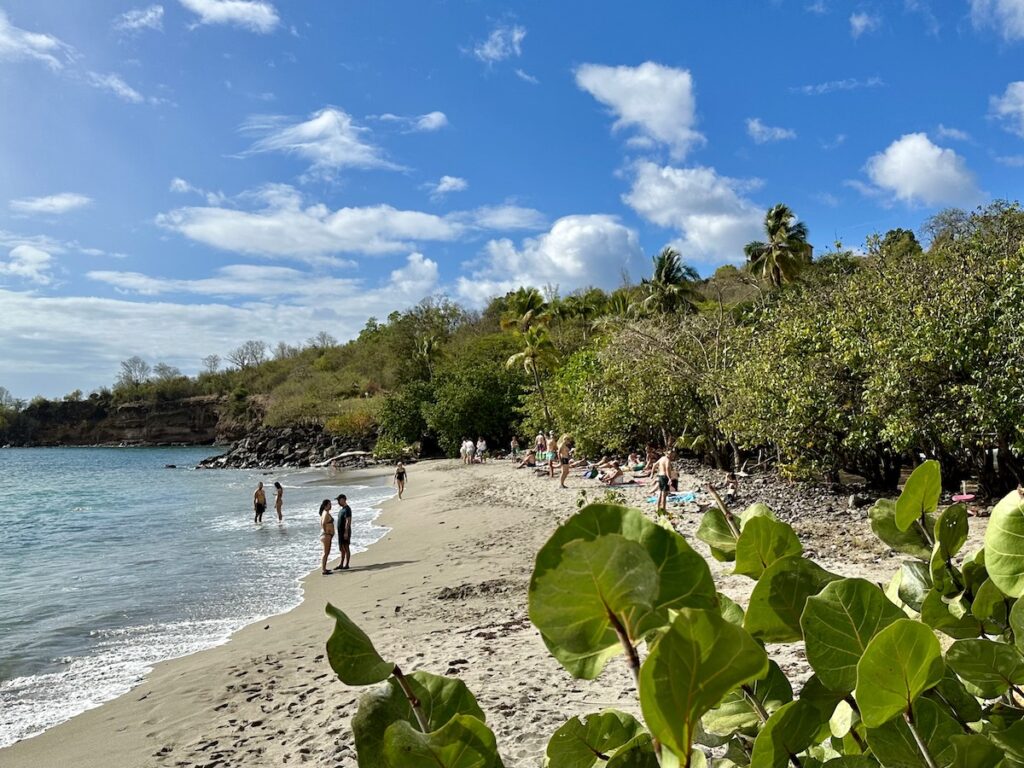 4. DAY TRIP TO TERRE-DE-HAUT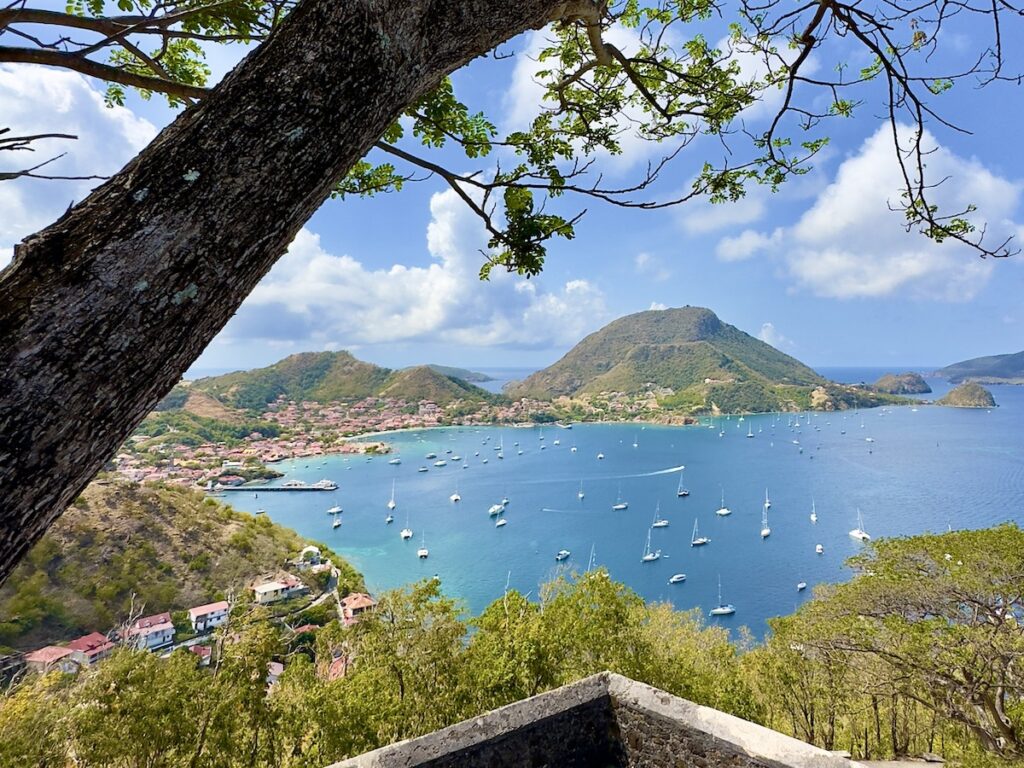 From the Trois-Rivières ferry dock at the south end of Basse-Terre, you can take a scenic, 25 minute ferry ride over to the island of Terre-de-Haut. I would love to encourage you to actually spend several days on Terre-de-Haut, but if you are tight for time, I promise you that a day trip is still worth it!
Here's a little peek in this 30 sec. Instagram reel:
Terre-de-Haut is part of Guadeloupe's Les Saintes archipelago. It is renowned for its stunning turquoise waters, white sandy beaches, delicious seafood, candy-coloured houses and vibrant Creole culture. The island has a small population of approximately 1,500 inhabitants, many of whom make their living from fishing and tourism.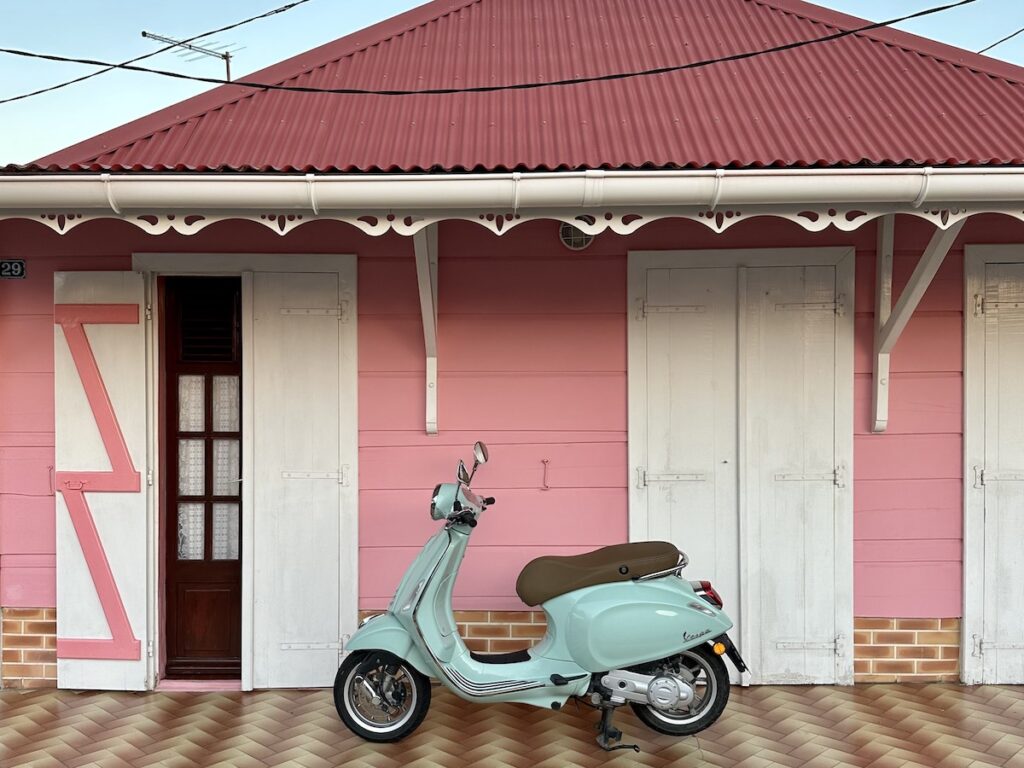 Visitors to Terre-de-Haut can enjoy a wide range of activities, including snorkeling, scuba diving, hiking, and exploring the island's historic sites, such as Fort Napoléon, which dates back to the 17th century.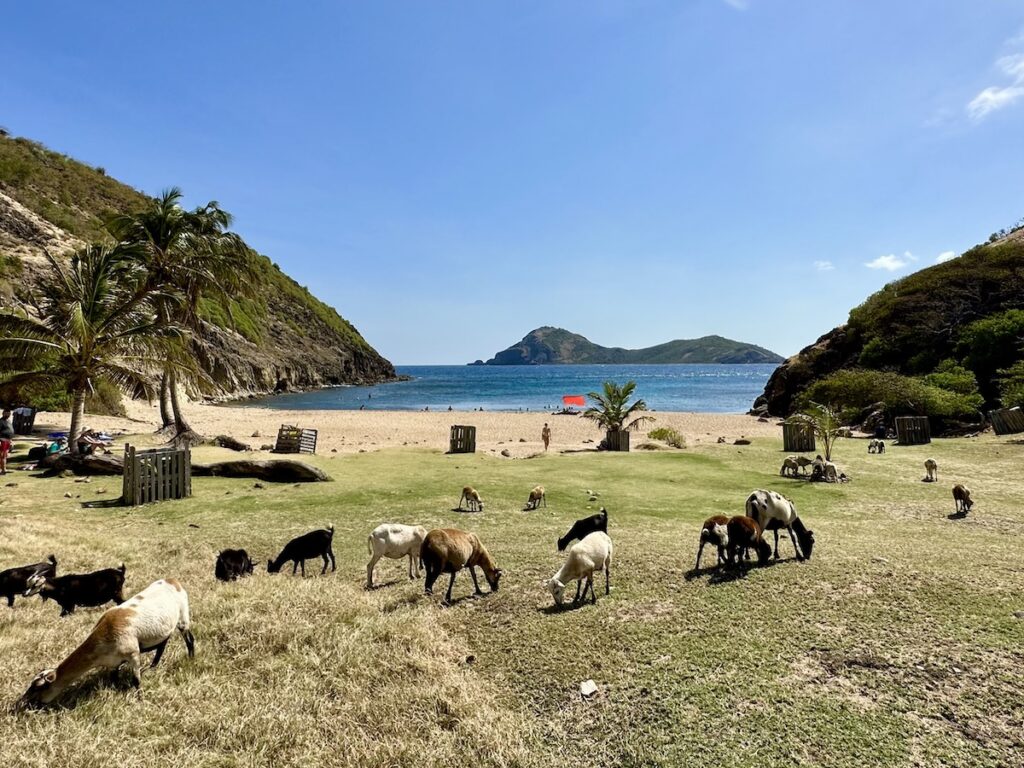 Ferries to Terre-de-Haut run numerous times a day from the town of Trois Rivières. During the busy tourist season of Dec.-Mar., I highly recommended that you book your ferry tickets ahead of time online. See CTM Deher.
Note: You do not need a car on Terre-de-Haut but you may wish to rent a golf cart or electric bike(s) to make the most of your time on the island.
To learn more, please see my post on visiting Terre-de-Haut.
5. HOT SPRINGS
There are numerous natural hot springs options on Basse-Terre due to the ongoing volcanic activity. You will find Les Bains de Thomas in the commune of Bouillante and Les Bains Jaunes in Saint-Claude. In the northern commune of Sainte-Rose, you will find the Sofaïa Sulphur Baths and in the south you will find Les Bains D'amour (a.k.a "Sources de Dole) in Gourbeyre.
I'm going to admit, however, that we decided to take a pass on Guadeloupe's natural hot springs for two reasons.
Crowds – When reading reviews on local natural hot springs on Guadeloupe, I couldn't help but notice that they were were very mixed. Visitors often complained of overcrowding and dirty conditions. In recent years (probably due to social media attention) many have become much busier. I have linked each one above to its corresponding reviews so you can read what recent visitors have to say.
The Brain Eating Amoeba – Naegleria fowleri has been found in most hot springs on Guadeloupe and it can infect people when water containing the amoeba enters the body through the nose. This can clearly be avoided by not putting your face in the water. That said, the knowledge of its potential presence may make for a less relaxing experience.
In recent years, upgrades have been made at some of the hot springs pools to keep the water flowing (amoebae flourish in stagnant, not running water).
If I've turned you off the idyllic hot springs soak you had planned, I'm so sorry! I do, however, have a fun and safe alternative to offer you next!
6. BAIN CHAUD DE BOUILLANTE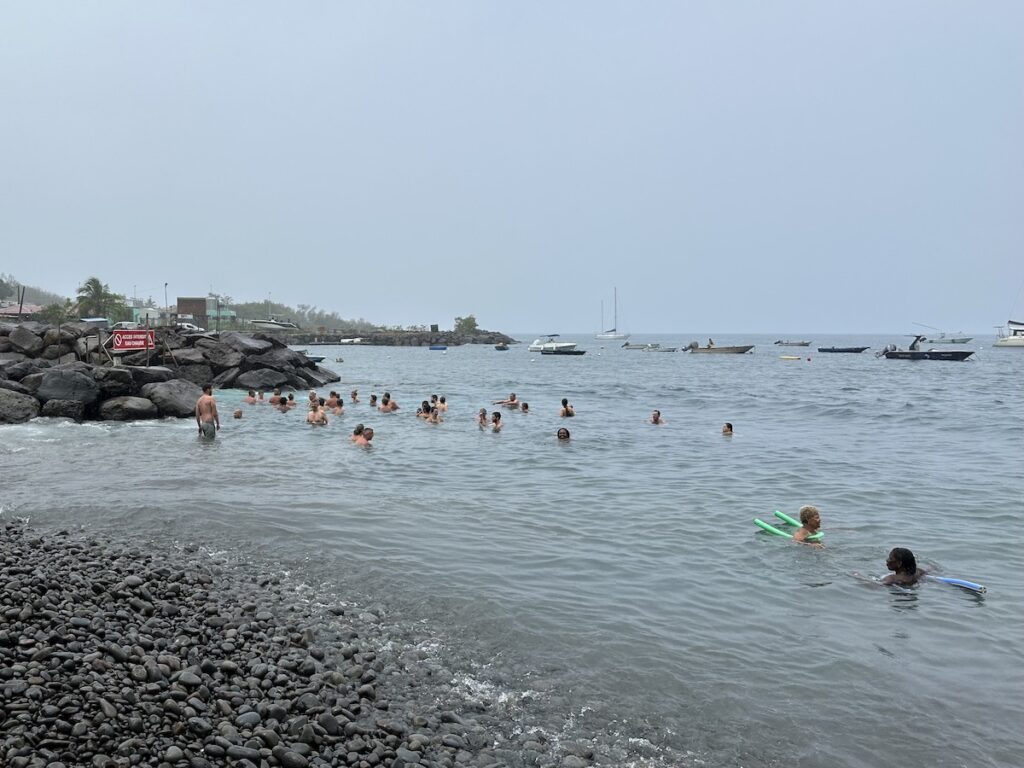 Why not quite as natural as the aforementioned hot springs, this hot water bath in the ocean, a result of the town of Bouillante's geothermal plant, is pretty fun (and safe)! The hot water expelled from the plant is cooled to 45°C and then allowed to mix with sea water as it runs into the ocean.
To get there, look for the restaurant on the beach in Bouillante called Aux Sources Chaudes and park in the lot across the street. The beach is really pebbly (hard on the feet) so you may appreciate reef shoes.
Read recent reviews for the Bain Chaud de Bouillante on Tripadvisor.
7. FORT DELGRÈS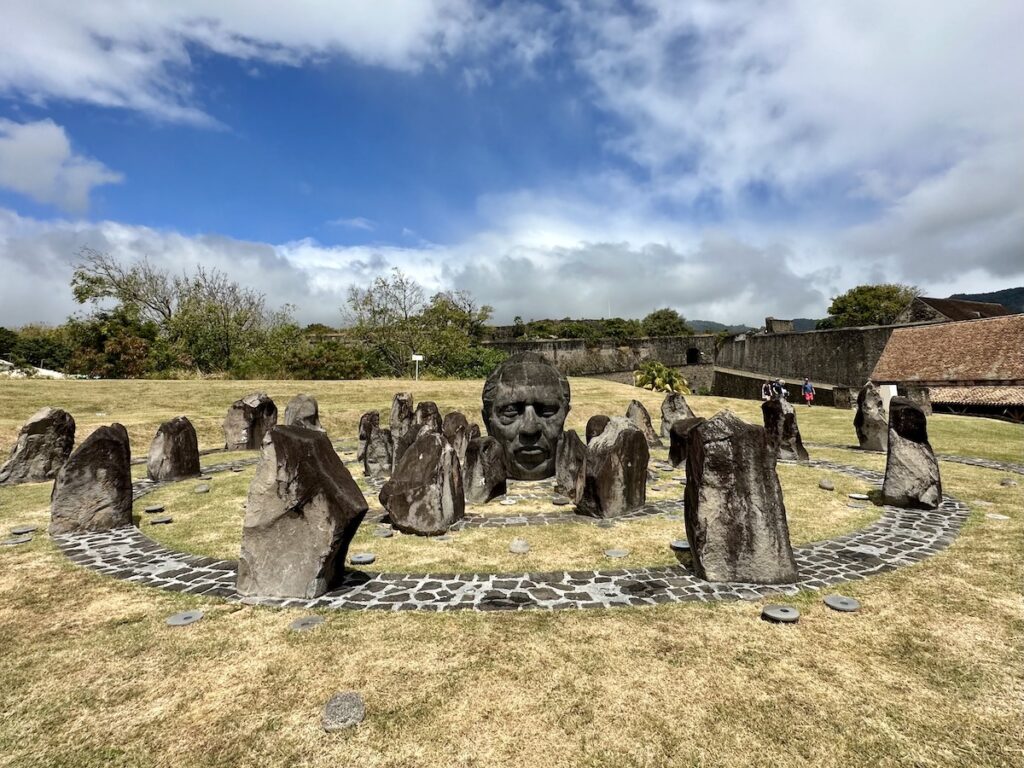 Built in the 17th century, this fort was used as a military base to defend Guadeloupe against foreign invaders. Its name, however, is a tribute to Louis Delgrès, the Guadeloupean revolutionary leader who in 1802 fought against the reinstatement of slavery by Napoleon in the French Caribbean colonies. The fort is an important symbol of Guadeloupe's struggle for independence and freedom.
Learn more in this article on the history of Fort Delgrès (Atlas Obsura). See also recent reviews from visitors on Tripadvisor.
I also highly recommend a visit to the Memorial ACTe Museum in Pointe-à-Pitre. This important institution honours the memory of the transatlantic slave trade and its impact on the Caribbean region. It features an extensive collection of artifacts, multimedia exhibits, and interactive displays that document the history of slavery and its lasting legacy.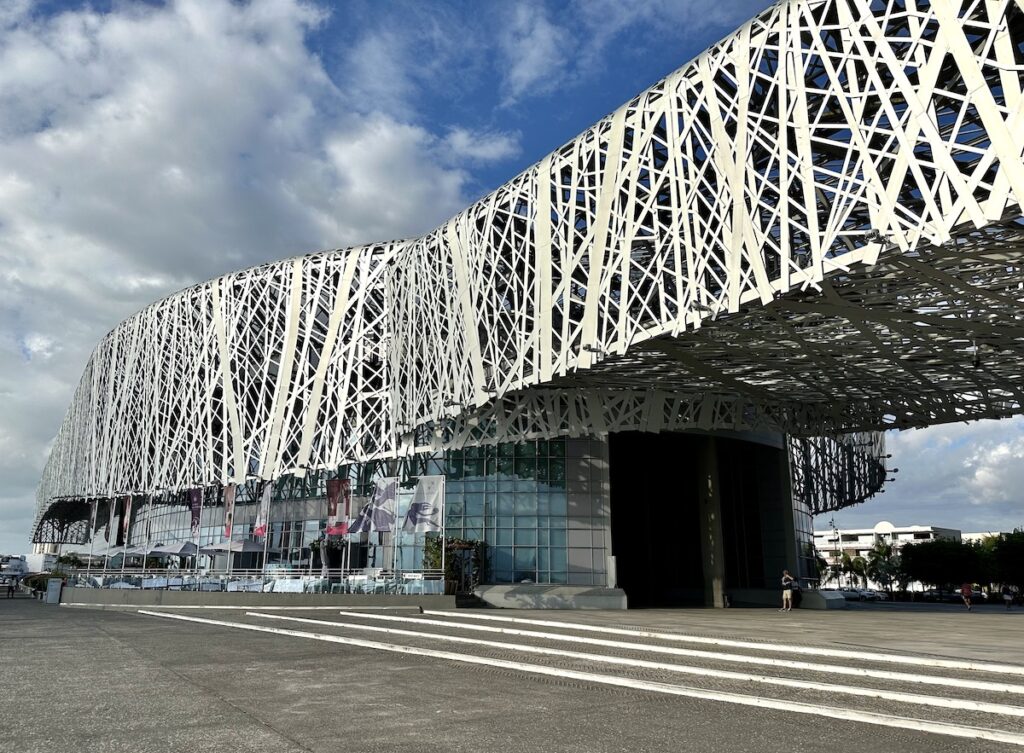 Learn more at memorial-acte.fr or read reviews for recent visitors on Tripadvisor.
8. THE COUSTEAU MARINE RESERVE
Basse Terre has some of the best diving and snorkelling sites in the Caribbean. One of the top places to enjoy the colourful coral reefs and over 160 marine species is the Cousteau Marine Reserve, located just off of Malendure Beach in the town of Bouillante. This marine park has been under protection since 1987 and spans over 200 hectares (including the Pigeon Islands just off shore).
Almost all of Guadeloupe's dive operators are located along the west coast of Basse-Terre, many right in the town of Bouillante. Some top options for diving include PPK Plongée, Atlantis Formation and Le Rand'eau.
For snorkelling trips, Gwada Pagaie rents kayaks and snokelling equipment that you can take out to the Pigeon Islands. We had a great experience with them (3px, 75 euros, 3 hours). The rate included the 3-person kayak, life jackets, a waterproof container and snorkeling gear (although we had our own). It took us about 15 minutes to kayak out to the islands.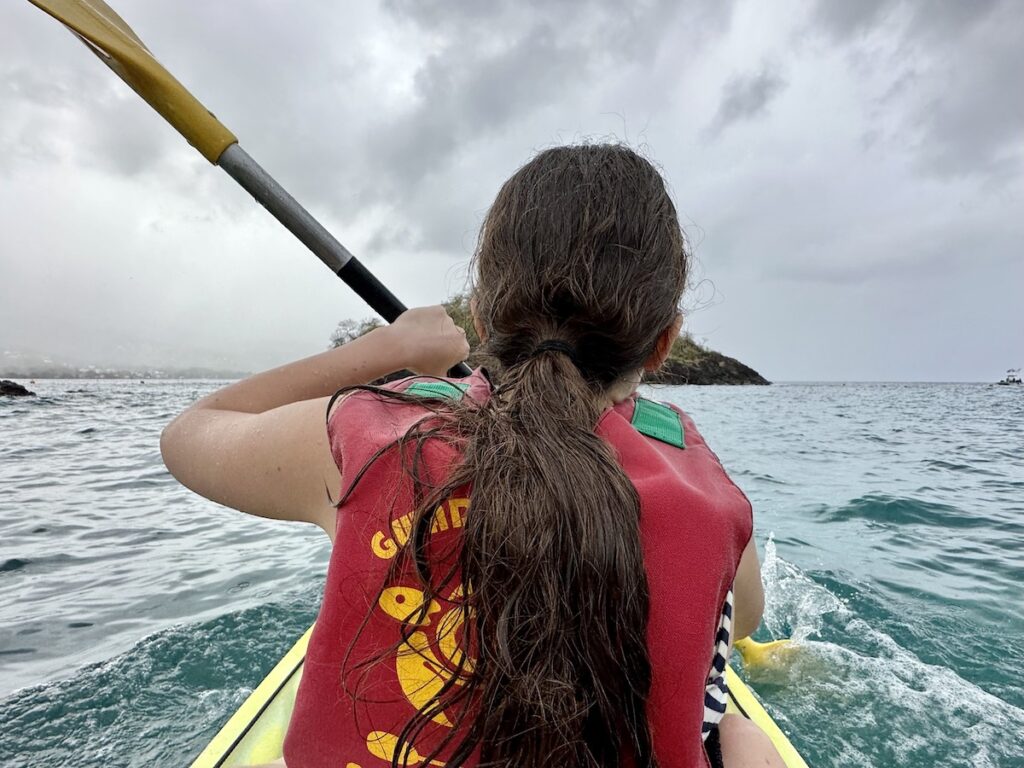 Tip: The Pigeon Islands in the Cousteau Reserve just off of Malendure Beach are a very popular spot for diving and snorkelling and thus can get quite busy. I highly recommend visiting as early in the day as possible (also better for parking). We went at 8am (in the rain!) and we had the whole snorkelling area to ourselves. The fish were so unalarmed by our presence (from years of being protected, I assume) that it reminded us of the Galapagos.
If you would prefer a snorkelling trip by boat, some of the aforementioned Bouillante diving companies offer snorkelling trips as well as diving trips. Several companies also run trips from Sainte Rose in northern Basse-Terre (Gwadaventure & Nico Excurions).
9. DESHAIES BOTANICAL GARDEN
The Jardin Botanique de Deshaies is a 7-hectare botanical garden located on the northwest coast of Basse-Terre. The garden is home to a diverse collection of tropical plants, including palms, orchids, and bamboo. Visitors can also spot a variety of wildlife, such as birds and iguanas, as they stroll through the garden's pathways. The garden's highlight is the collection of water lilies, which bloom in a variety of colors and sizes.
See reviews of Le Jardin Botanique de Deshaies on Tripadvisor.
10. TASTING TOURS
You could spend all day tasting your way around Basse-Terre. Check out these interesting options (especially good if you happen to get a rainy day on Guadeloupe).
RHUM BOLOGNE RUM TASTING
Rhum Bologne is Guadeloupe's oldest distillery and is famous for several award winning blends. The distillery offers an immersive tour that includes the cane plots, the distillery, the bottling line, the aging cellar and of course, a tasting.
Be sure to book ahead. Learn more at rhumbologne.fr. See also reviews from recent guests on Tripadvisor.
BANANA PLANTATION TOUR
Did you know the banana plant is actually an herb? Learn everything you have ever wanted to know (and more) one this semi-guided, one hour tour that includes walking the grounds, banana-tasting and a visit to the banana museum.
Learn more at maisondelabanane.com or read reviews from recent guests on Tripadvisor.
CHOCOLATE MAKING & TASTING
La Maison du Cacao offers a fun and informative tasting tour. Tours run several times a day Tues.-Sat. with a special English tour at 12pm.
Read reviews from recent guests on Tripadvisor.
For a more immersive experience, enjoy a tasting tour, roast your own cacao beans and make your own chocolate bar at gwakako.com. We unfortunately missed out on this activity but when we go back, we are definitely booking it!
Read reviews from recent guests on Tripadvisor.
See also: THE BEST TOURS ON GUADELOUPE (Viator.com)
WHERE TO EAT ON BASSE-TERRE
I rarely write about restaurants, mainly because it is such a vast topic unto itself. I do, however, want to mention a couple of options here because they were so enjoyable.
Ti' Maz is an excellent little bistro at the Marina Rivière Sens in Gourbeyre. Although relatively new, it is quite busy already and you should make reservations in advance. It is part of a complex at the marina that houses about 5 or 6 little restaurants. We found ourselves eating in this area almost every day because the options were so good.
Le Repère is not the kind of restaurant I expected to find in Trois Rivières, Guadeloupe and it was quite a delightful surprise. Why it does not have an extensive menu, the options include several really enjoyable (and ample) charcuterie platters.
I would also really love to encourage you to try a bokit. A bokit is a type of sandwich that originates from Guadeloupe. It typically consists of a deep-fried dough that is split in half and filled with various ingredients such as chicken, fish, vegetables, and spicy sauces.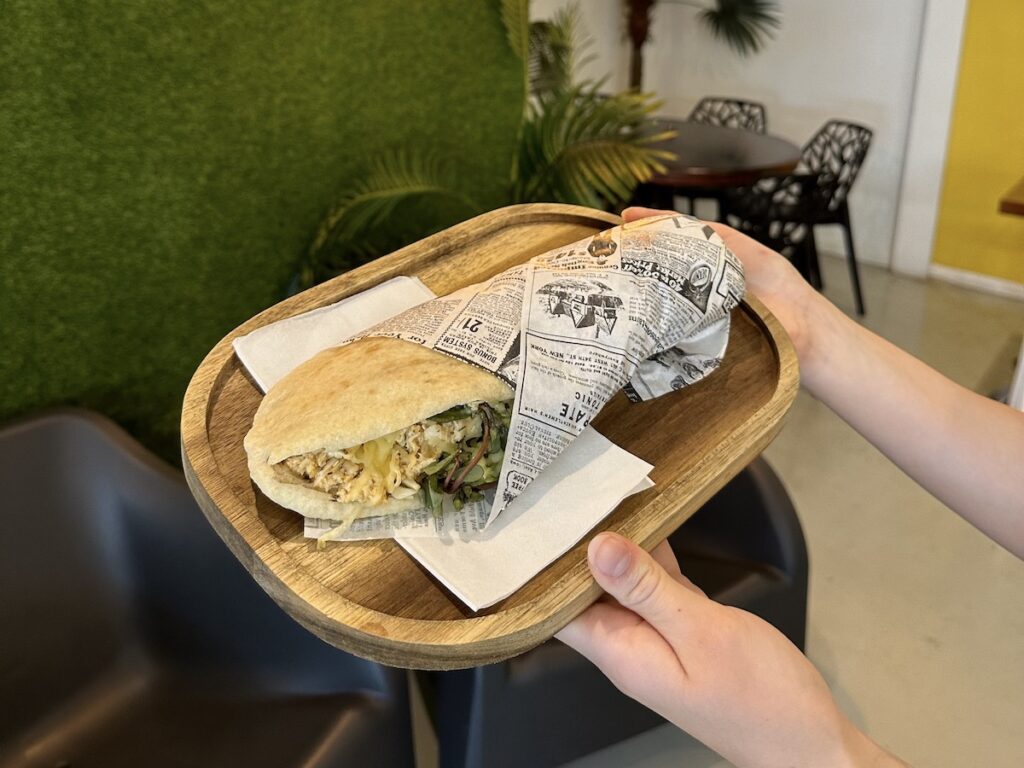 We almost missed out on this experience but were thankfully able to sneak one in before dropping off our rental car at the airport. We also noticed several people at the Bokit Center coming in to buy these delicious sandwiches for their international flights. (So much better than airplane food!)
Learn more in this article about the bokit (BBC).
BASSE- TERRE FAQ's
If I have you convinced that Basse-Terre is right for you, I'd love pass on a little more information to help make your Guadeloupe trip as seamless as possible. If I have missed something, please reach out to me in the comments.
WHEN IS THE BEST TIME TO VISIT GUADELOUPE?
Guadeloupe has a tropical climate, with warm temperatures year-round and a rainy season from June to October. The best time to visit is from December to May, when the weather is dry and sunny.
IS THERE SARGASSUM SEAWEED ON GUADELOUPE?
Yes, typically sargassum seaweed appears on Guadeloupe beaches from April-October. Unfortunately, in recent years, the season for sargassum in the Caribbean has been extending. In 2023 for example, it started appearing on east coast beaches in March.
For your best chances of avoiding this smelly seaweed altogether, visit December – February. For other tips on find sargassum-free beaches on Guadeloupe, see this post.
WHAT CURRENCY DO THEY USE ON GUADELOUPE?
Guadeloupe uses the Euro as its currency, and credit cards are widely accepted. It is recommended to carry some cash for smaller purchases and in case of emergencies.
Note: We used cash only for buying things like fruit and baked goods from roadside stands.
DO THEY TIP ON GUADELOUPE?
Unlike in many other destination where tipping is creeping into the service culture, it not expected on Guadeloupe. When paying with a credit card, tipping is not even given as an option on the keypad.
DO YOU NEED A CAR ON GUADELOUPE?
Yes, you will need to rent a car on Guadeloupe to be able to enjoy Basse-Terre to the fullest. It is just not practical to get around otherwise as the distance are too great. For example, to get from Trois Rivières in the south of Basse-Terre to Deshaies in the north takes roughly 90 minutes (on curvy roads).
Note: Guadeloupe is the only place I have ever come across in the world where you are expected to vacuum and wash your rental car before returning it. It's the weirdest thing but there are lots of places to do this near the airport.
See Guadeloupe rental cars from Expedia or Hertz.
IS IT DIFFICULT TO DRIVE ON GUADELOUPE?
It can be a little tricky, yes. The roads are curvy, slightly narrow and the locals drive really fast. For most drivers, however, it just takes a little getting used to. There are also lots of roundabout so if you are not used to them, brush up on the etiquette.
MANUAL, AUTOMATIC OR ELECTRIC?
Manual transmissions are common in the French Antilles. Having an automatic, however, gives you one less thing to think about while driving. If this is important to you, reserve an automatic rental car well ahead of time (limited supply) and expect to pay more than you would for a manual.
There are a few companies offering EV rentals on Guadeloupe (Jumbo, for example). There are also a few public chargers, but if plan on exploring quite a bit, charging could be challenging (ideally done overnight so you don't have to wait around). At the time of this post (2023) there are only a couple of hotels on the island that have their own EV chargers.
DOES IT RAIN A LOT IN BASSE-TERRE?
As Basse-Terre is more mountainous than Grand-Terre, it gets more rain. And when it rains in the tropics, it pours…that's why it's so green and lush. Thankfully, it's usually not for long.
For planing purposes, especially if you are a hiker, you may want to look ahead at the weather report for the best hiking days. The trails can get really slippery and muddy after a downpour.
QUESTIONS OR COMMENTS
My goal has always been to help my fellow adventurers have amazing trips. I hope I have answered most of your questions in this post, but if not, or if you have a comment or suggestion, reach out.
Please use the comment field below, connect with me via email or on social media (Instagram, Facebook). I love hearing from you!