How to Avoid Sargassum Seaweed in the Caribbean
Last updated on May 1st, 2023 at 03:25 pm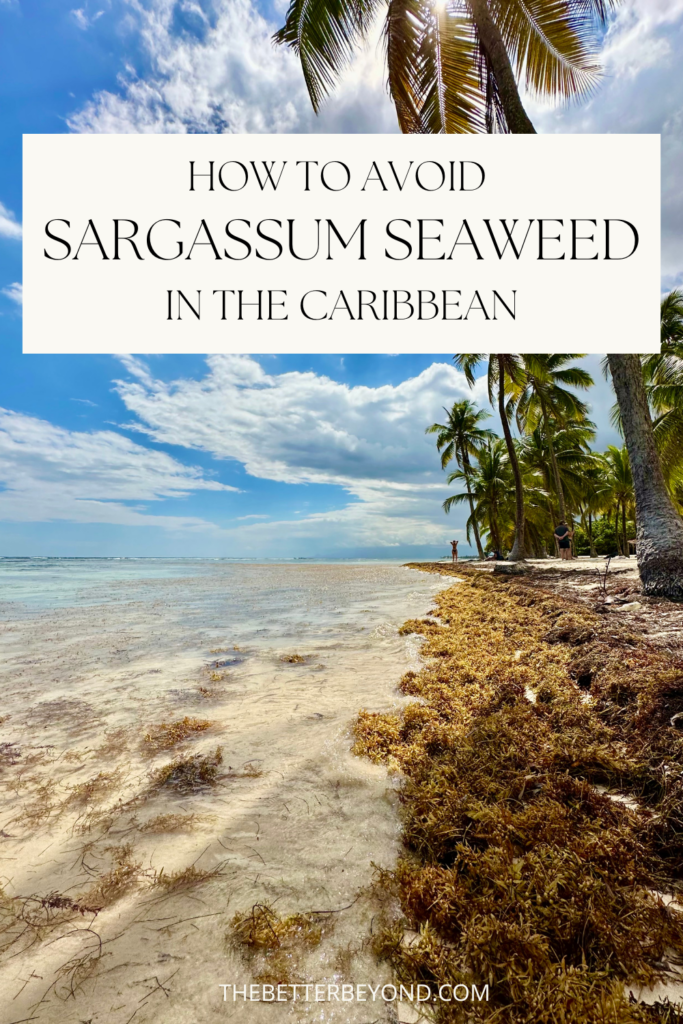 Affiliate Disclosure: This post on sargassum seaweed in the Caribbean may contain affiliate links. If you click a link and make a purchase, I may receive a small commission at no cost to you. All opinions are entirely my own.
"Dad, what's that floating on top of the ocean?" asked a teenager sitting on the plane behind me as we approached the Caribbean island of Guadeloupe. I knew before I even looked out the window what she was referring to – the dreaded "sargassum seaweed".
While new to many, sargassum seaweed has actually been causing problems going back at least as far as Christopher Columbus. (While sailing though the "Sargasso Sea" northeast of the Caribbean, he worried that his ship could become ensnared.) More than five centuries later, this ugly and smelly brown algae began piling up on Caribbean beaches from Anguilla to Tobago.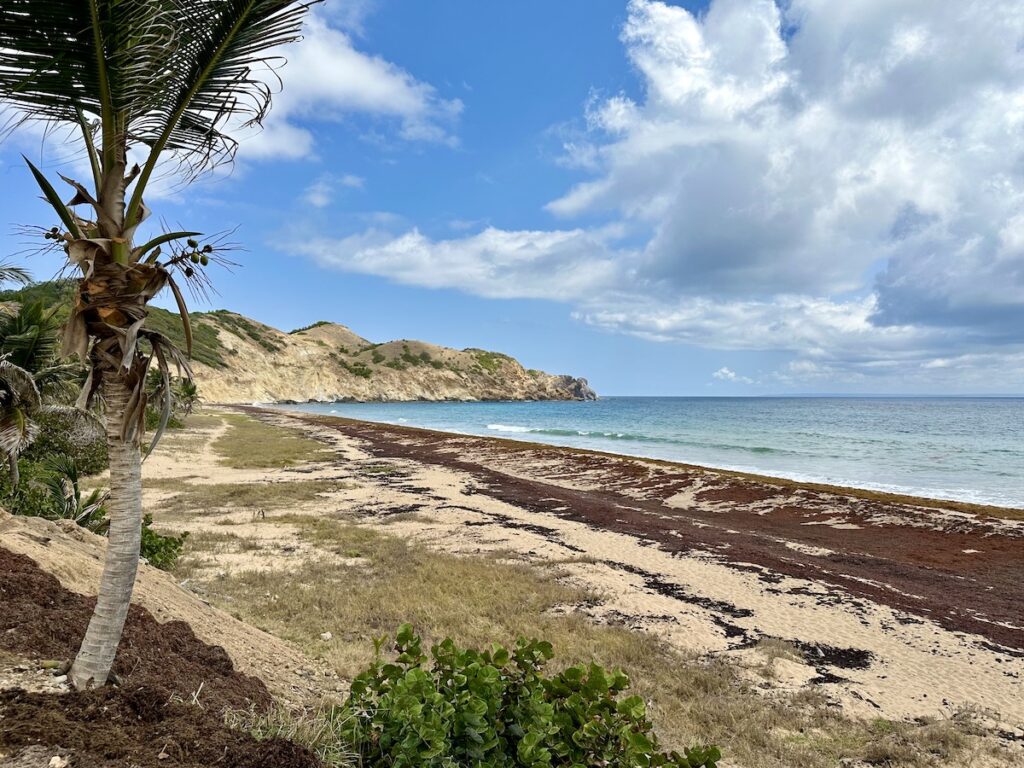 When not removed from beaches immediately, sargassum breaks down in the hot sun, releasing foul-smelling ammonia and hydrogen sulfide gases (think rotten eggs). From 2011 forward (when sargassum seaweed first showed up on Barbados), this algae would start to hugely impact communities relying on beach-destination tourism. It would also grow in scope to include not only Caribbean islands, but also Florida and Mexico's Yucatan Peninsula.
I have watched sargassum become a bigger and bigger issue from the time we first encountered large sargassum blooms in Barbados in 2015. I wrote this post because I know how disappointing it can be to arrive at your dream Caribbean beach to find it covered in a smelly mess of brown seaweed. My goal is to help you avoid the worst of it!
Please use the following menu to find what you need quickly.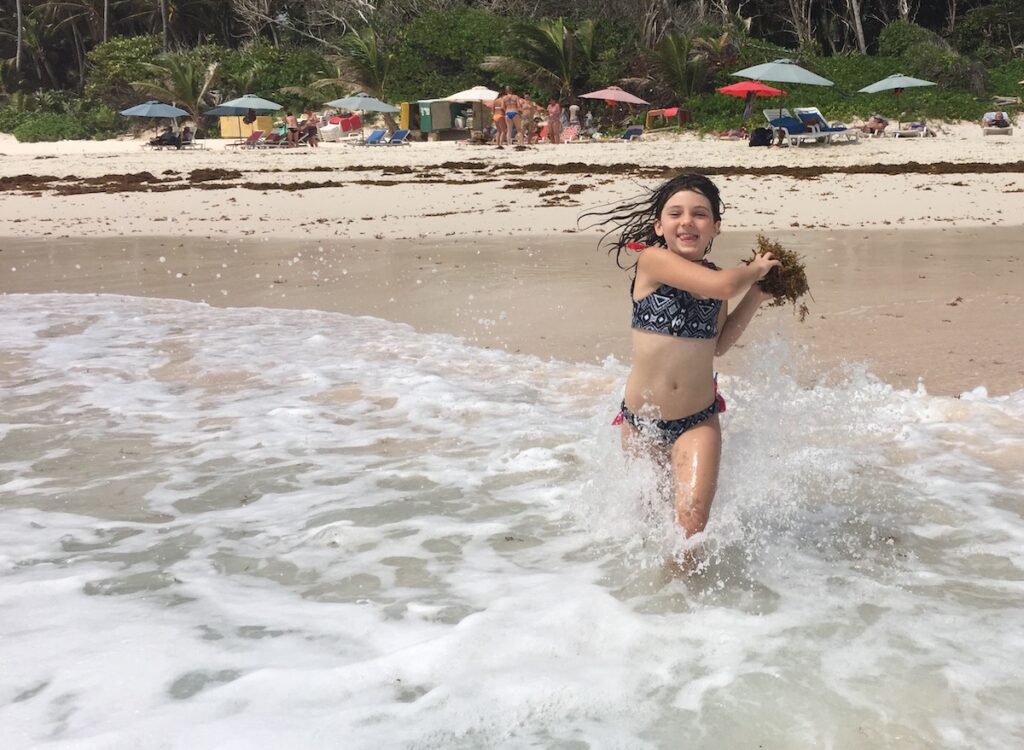 WHAT IS SARGASSUM SEAWEED
Sargassum seaweed is a type of brown algae that historically was found in the Atlantic's Sargasso Sea, just north-east of the Caribbean Sea. The seaweed forms large mats that float on the ocean's surface due to its gas-filled bladders.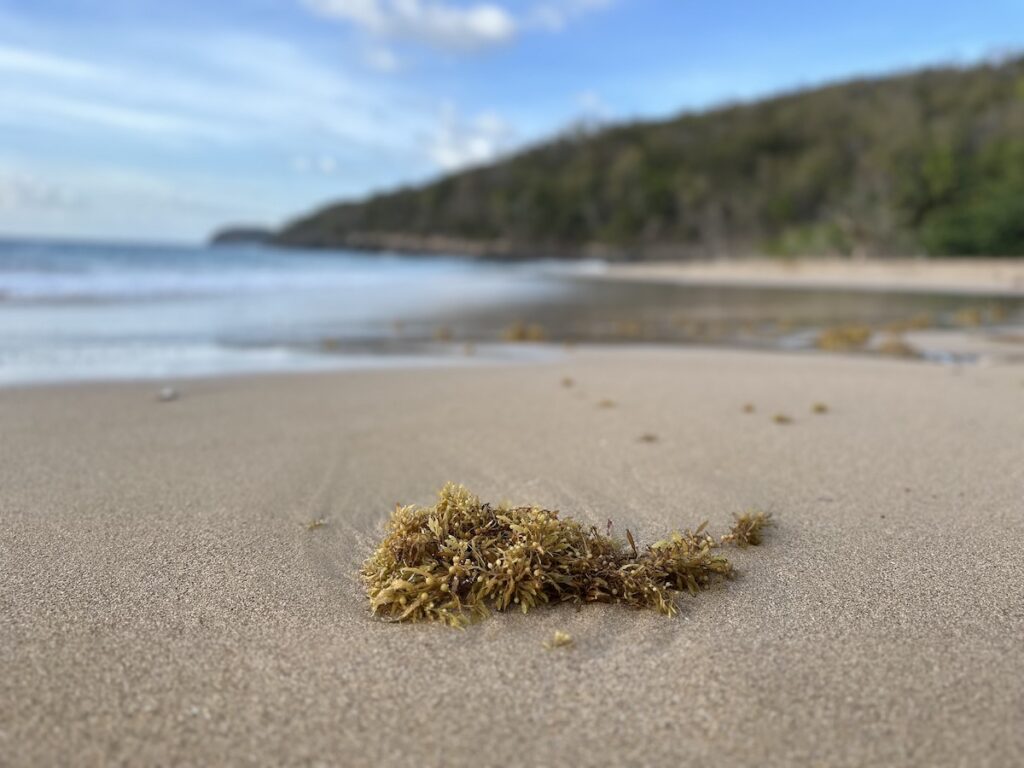 WHY IS SARGASSUM A PROBLEM?
Prior to 2011, sargassum seaweed largely remained contained in the Sargasso Sea, northeast of the Caribbean. The algae would typically just move in a circular rotation out in the open ocean depending on the currents. In fact, these floating mats of sargassum were actually helpful to marine species – providing an important habitat for a variety of organisms, including fish, turtles, and birds
Recent years, however, have seen an exponential growth in the amount of sargassum seaweed in the Atlantic Ocean. A secondary, massive sargassum sea has emerged – referred to as the Great Atlantic Sargassum Belt. This nearly continuous stretch of seaweed runs from West Africa across the Atlantic, through the Caribbean Sea and into the Gulf of Mexico.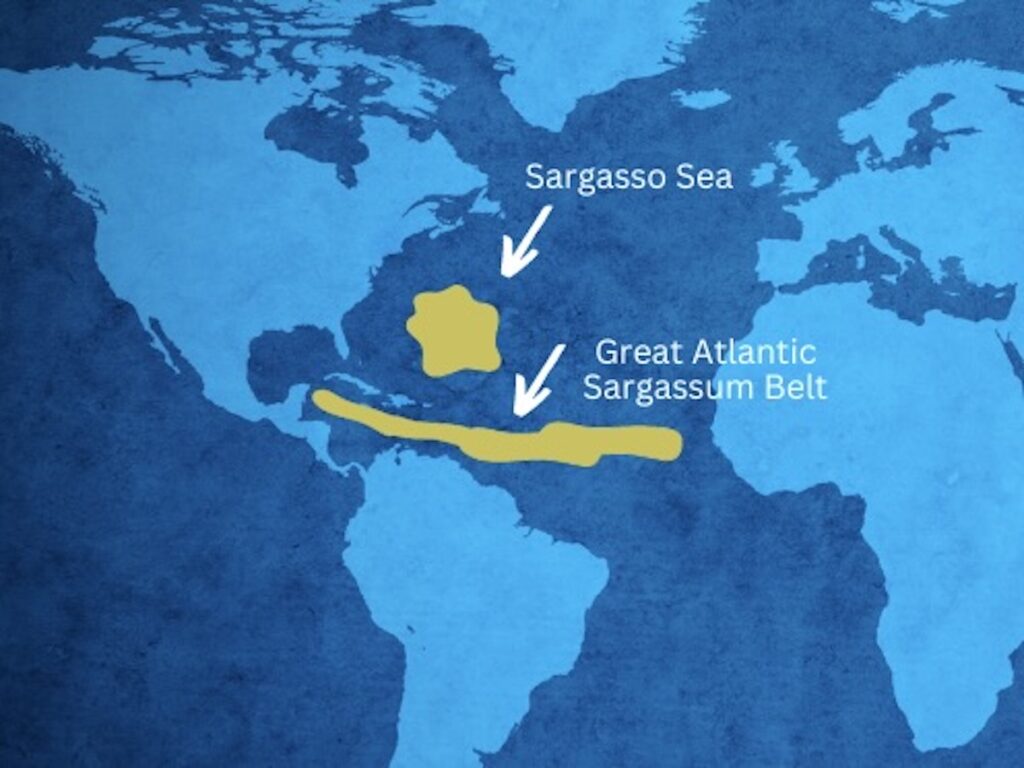 Not only is sargassum algae smelly and ugly, the gases it releases when decomposing can potentially be hazardous to people who are tasked with cleaning it up, day in and day out. Furthermore, in large volumes, it can deprive fish of oxygen and smother whole coral reefs.
WHAT'S CAUSING ALL THIS SARGASSUM?
The exact cause of the increase in sargassum blooms in the Caribbean region is not fully understood. Early theories proposed that it could be linked to changes in ocean currents and water temperatures (climate change).
More recently, scientists have suggested that the cause is nutrient inputs from rivers such as the Congo and the Amazon. (You can think of it like adding fertilizer to your garden.)
SARGASSUM SEASON IN THE CARIBBEAN
Typically, sargassum season in the Caribbean begins in about April and is done by October. In 2023, however, the season started even earlier, with sargassum starting to pile up on Caribbean beaches in March.
The issue even hit the mainstream U.S. media cycle as the "5000 mile-wide seaweed blob that could be seen from space" began to threaten the Florida Coast, in addition to the Caribbean and Mexico.
The general consensus in the scientific community is that this problem is not going away any time soon.
SARGASSUM MITIGATION METHODS
Sargassum has been showing up in the Caribbean since 2011 so most of the islands have had some experience in dealing with it. Typically, as the seaweed washes up along the shorelines, workers remove it and take it away as quickly as possible. Both manual labour and machinery are used – with the seaweed being carted away to locations away from the beach.
WILL SCIENCE SAVE US?
Science and technology are racing to catch up with this problem and are developing innovative solutions to manage sargassum seaweed. These include using satellite images and drones to identify and track the blooms so regions can prepare ahead of time.
Some larger destinations (such as Cancun and Playa del Carmen) are experimenting with booms to stop the seaweed before it reaches the beaches at all. There is also a trial going on in Antigua and Dominica by a company called Seaweed Generation that is attempting to use robots to sink the seaweed at sea.
LEARN MORE:
Article: Could Robots Save us From Sargassum Seaweed? (Zan Barberton – The Guardian, March 2023)
HOW TO AVOID SARGASSUM
This is really what you want to know, right? Yes, you can usually avoid sargassum seaweed on your Caribbean beach vacation. Here's how:
1. TRAVEL OUTSIDE OF SARGASSUM SEASON
By traveling to the Caribbean from November to February, you should be able to avoid the worst sargassum blooms. If you are lucky, you may not see any sargassum at all.
2. VISIT WEST COAST BEACHES
Because the Great Atlantic Sargassum Belt is floating to the east and north-east of the Caribbean, the worst build-up tends to happen on the east, north and sometimes the south coast beaches. The west coast beaches, however, are often unaffected.
As an example, I want to show you two photos taken on the same day in March 2023 from a small Caribbean island called Terre-de-Haut, off the coast of Guadeloupe. The first photo is of a north facing beach, the second of a west facing beach.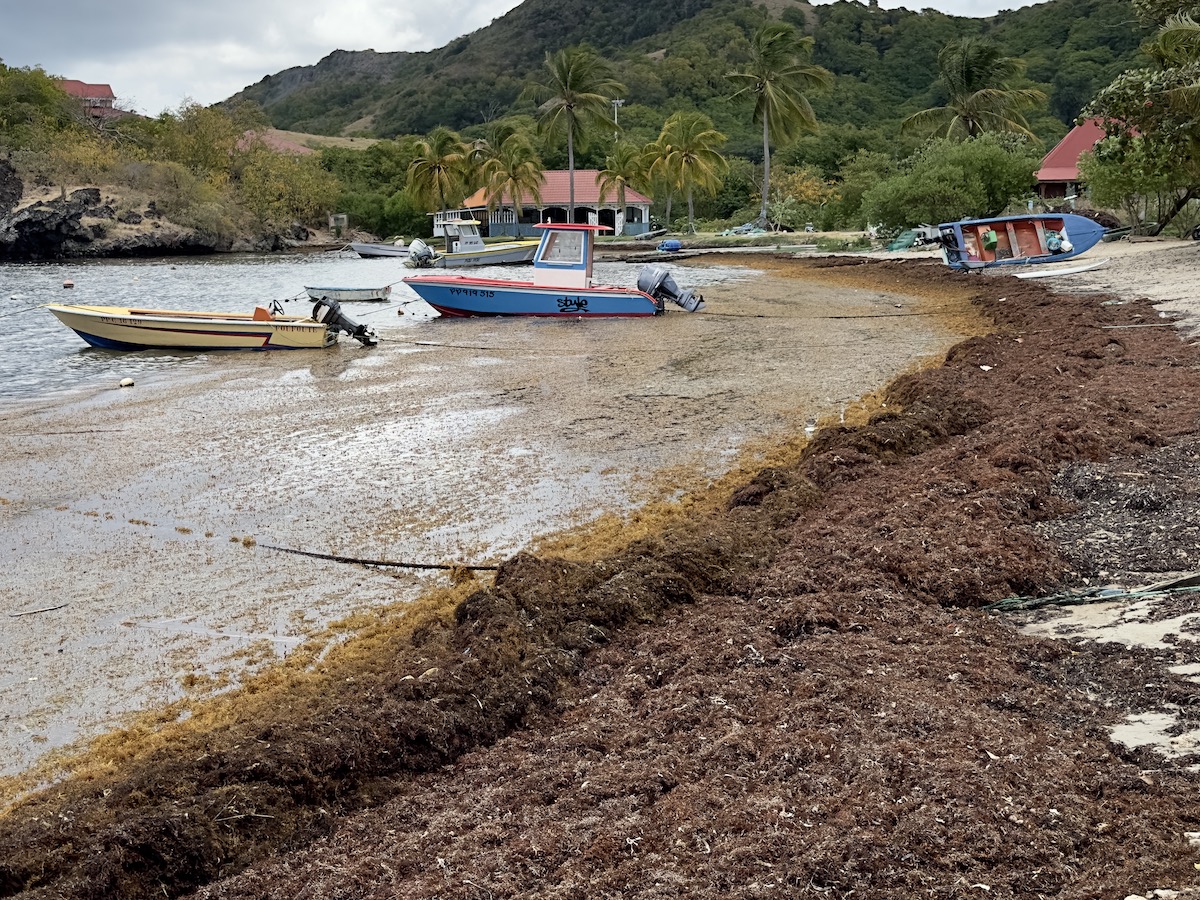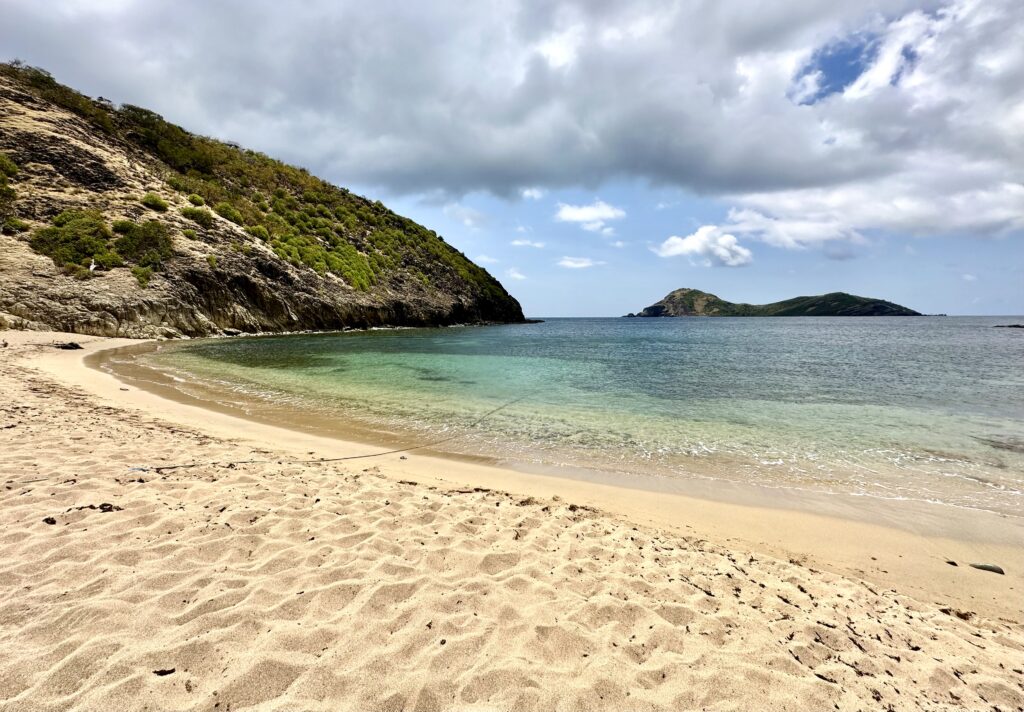 3. VISIT LARGER RESORTS OR COMMUNITIES
Getting rid of sargassum seaweed is an extremely expensive and labour intensive process. For this reason, larger beach communities and resorts, with greater resources, are able to manage this problem better.
Although I am 100% the person who looks for the tiny hotel on the nearly deserted beach, this could be a bad choice when sargassum is present. The problem simply may not be able to be managed effectively.
4. CROWDSOURCE
Make use of travel communities such as local Facebook groups and Tripadvisor forums to monitor the sargassum situation for a particular island. These groups are typically populated by very knowledgeable locals and frequent visitors who can offer up-to-date information.
Likewise, you can often find recent beach reviews (with photos) on Google (sort for "newest"). I have found Google reviews to be more helpful than Tripadvisor lately (Tripadvisor has been losing marketshare to Google for years).
Another potentially helpful source is SargassumMonitoring.com (Facebook Group @sargassummonitoring), which offers a helpful map where users post recent beach photos.
5. USE WEBCAMS
Most islands have webcams set up on popular beaches (usually found on their tourism webpage). As the sargassum situation on any given island can vary with the currents and the tides, take a peek before setting out on your beach day.
I hope this helps! Sargassum does not look like it is going away any time soon. In the meantime, I hope these tips can help you have a more enjoyable Caribbean beach vacation with the least amount of sargassum possible.
RELATED CARIBBEAN POSTS