Terre de Haut, Les Saintes – Guadeloupe – A French Caribbean Island Escape
Last updated on May 1st, 2023 at 03:26 pm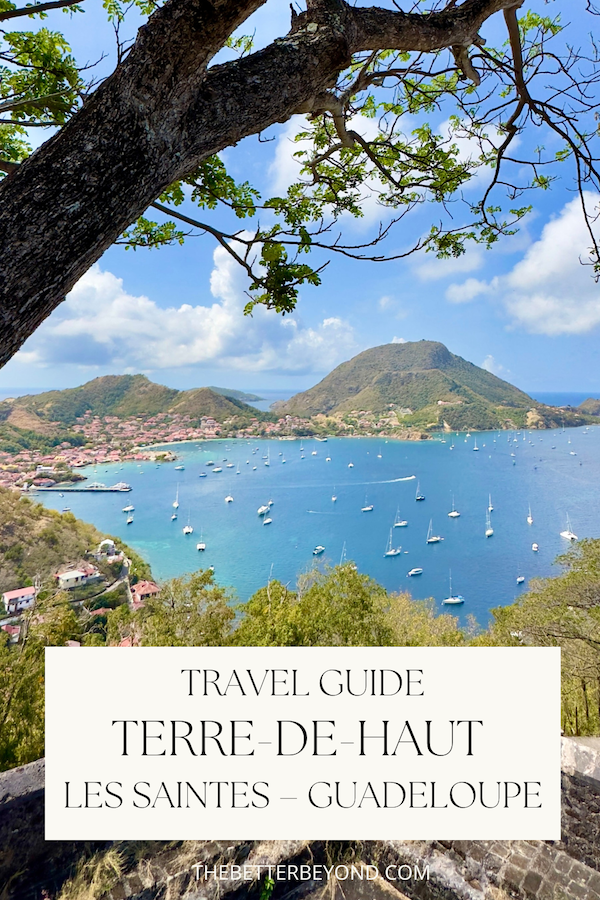 Affiliate Disclosure: This Les Saintes, Terre de Haut post contains affiliate links. If you click a link and make a purchase, I may receive a small commission at no cost to you. All opinions are entirely my own.
My husband and I can't actually remember where we first heard about the tiny Caribbean island of Terre-de-Haut. It was likely featured in a magazine article (yes, the old fashioned paper kind) about dreamy, remote destinations that few people had heard of.
This was way back in 2006, and not unlike today, this topic would send us scrambling down an obsessive trip research rabbit hotel. The destination appealed to so much that we decided to travel nearly 24 hours with a toddler and another on the way to experience this unique island paradise.
And memorable it was! We fell head-over-heels in love with charming Terre-de-Haut and spent many years trying to work our way back – finally booking it again for 2020 (which of course did not happen). Three years later, our timing was finally right and we found ourselves strolling the quaint streets of Terre-de-Haut, Guadeloupe once again. We were delighted to discover that it was exactly as we remembered it.
Want to learn more? Please start with the following short video (< 2 min.) or use the menu to find what you need quickly.
TERRE DE HAUT VIDEO (2 MIN.)
ABOUT TERRE DE HAUT, GUADELOUPE
The Caribbean island of Terre-de-Haut is part of a group of islands called Les Saintes, belonging to France's Overseas Department of Guadeloupe. It can be reached quite easily by ferry from the much larger island of Guadeloupe, where the international airport is located. It is a popular day trip excursion from the mainland but we think it is much nicer to experience over a few days.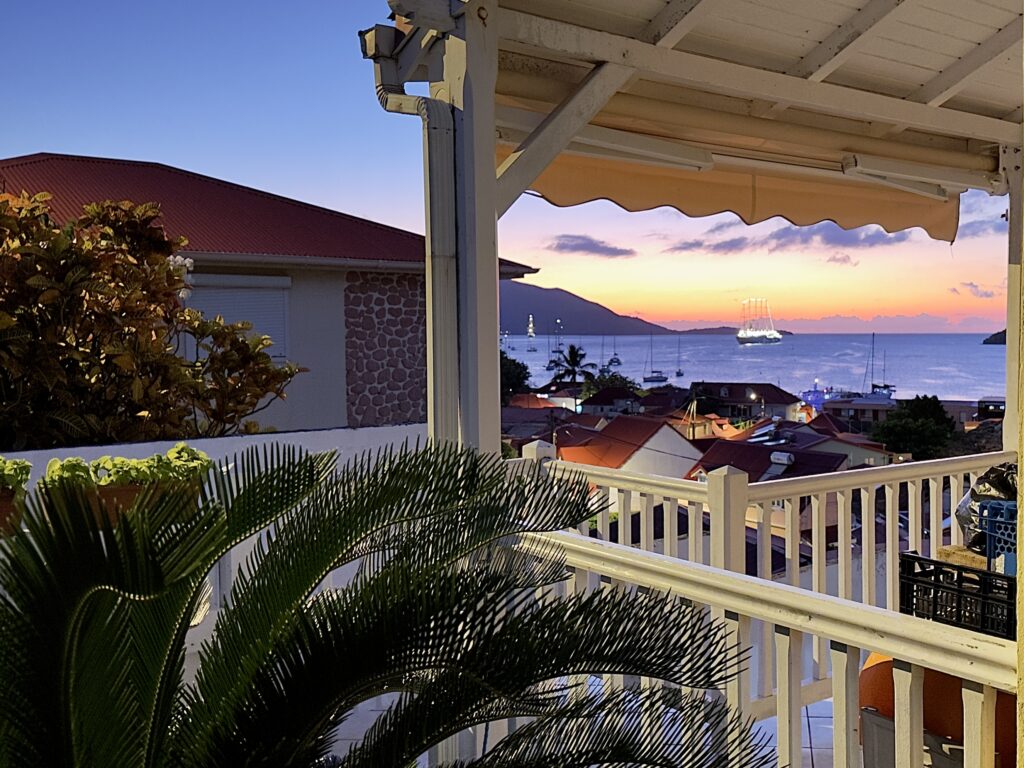 Terre-de-Haut has the feel of a place where time has moved very slowly. Its first (and only) town was settled by French fisherman arriving from Brittany in the 1600s. Nearly 400 years later, their influence and customs, blended with the vibrant Guadeloupean/Creole culture, has created a very unique identity that can be seen in the food, the sweet little houses and the language.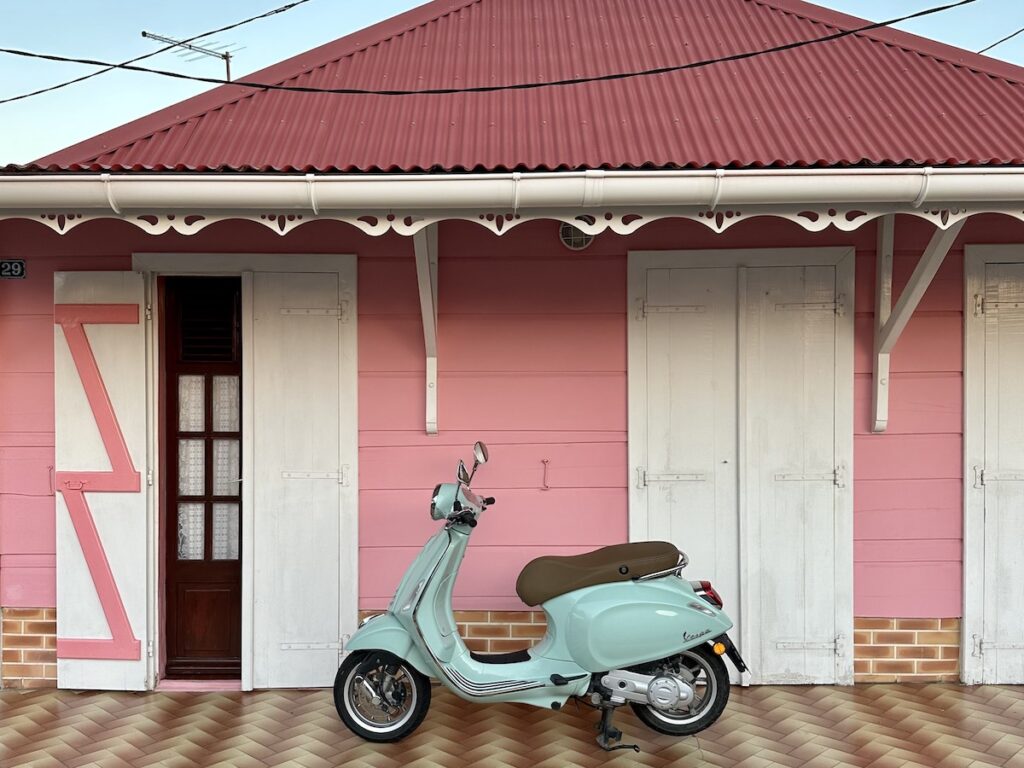 Note: Hundred of years before Christopher Columbus set foot on Guadeloupe, Les Saintes islands were used for hunting and fishing by the Arawaks and later the Caribs . While some of their artifacts have been unearthed, a permanent settlement was never established, likely due to a lack of spring water. Some of these artifacts can be viewed at Terre-de-Haut's Fort Napoleon Museum.
TERRE DE HAUT ISLAND – THE SCENE
The beauty of Terre-de-Haut island is that there is no scene. It is laid back – a little sleepy even. It's the kind of place where residents sit out on the porches of their candy-coloured houses for hours, watching the comings and goings of town, never-failing to offer a polite "Bonjour" or "Bon Soir".
There is also nothing boujie about Terre-de-Haut. There are no nightclubs or beach clubs. Instead, there are cute seaside restaurants (many with toes-in-the-sand dining), charming boutiques, several delightful patisseries and a different crowd-free beach for every day of the week (most with great snorkeling too).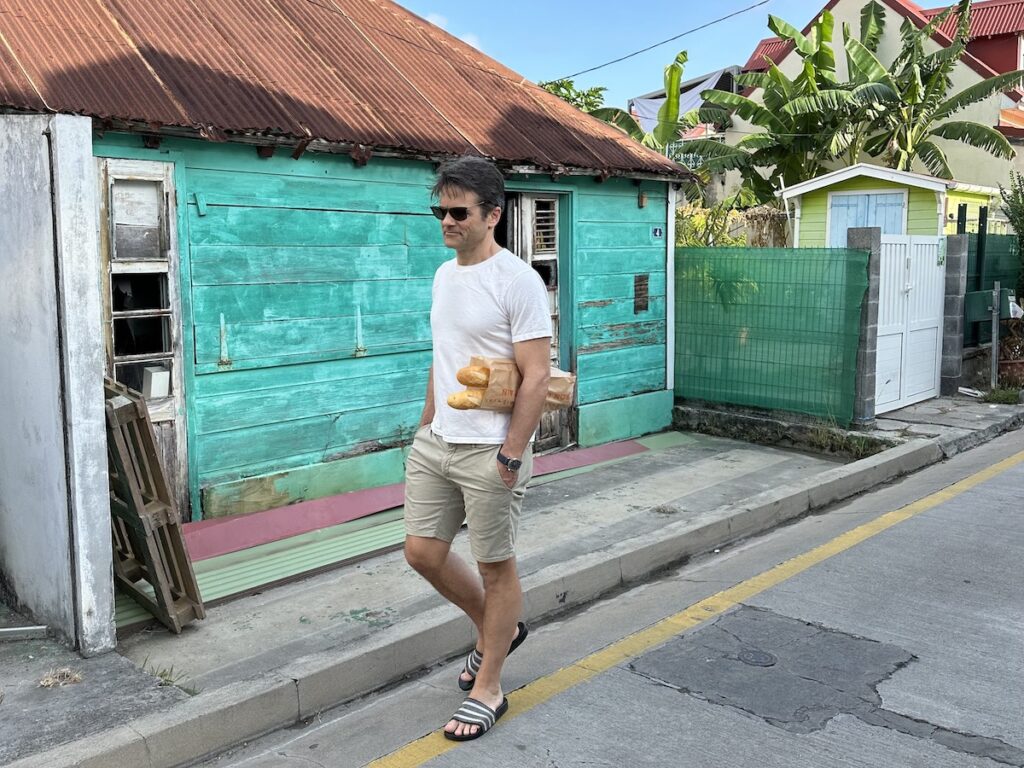 As mentioned, many visitors to Terre-de-Haut come by ferry on day trips from Guadeloupe (it is also a popular cruise ship stop). To really get a feel for the place, however, you should stay a least a night, or better yet, three. The town is at its most charming in the mornings and evenings when it is crowd-free.
True Story: On our recent 5-day stay on Terre-de-Haut, after passing the same man about 10 times on our trips back and forth to town (and being offered a polite "Bonjour" or "Bon Soir" each time), he no longer bothered to modestly slip back inside his house in the evenings whilst smoking in his underwear. Were we shocked? No. On the contrary – we felt welcome.
BEST THINGS TO DO ON TERRE DE HAUT
1. EXPLORE TOWN
This charming village is one of the cutest in the Caribbean, filled with colouful family homes, local shops, and restaurants serving traditional Guadeloupean cuisine.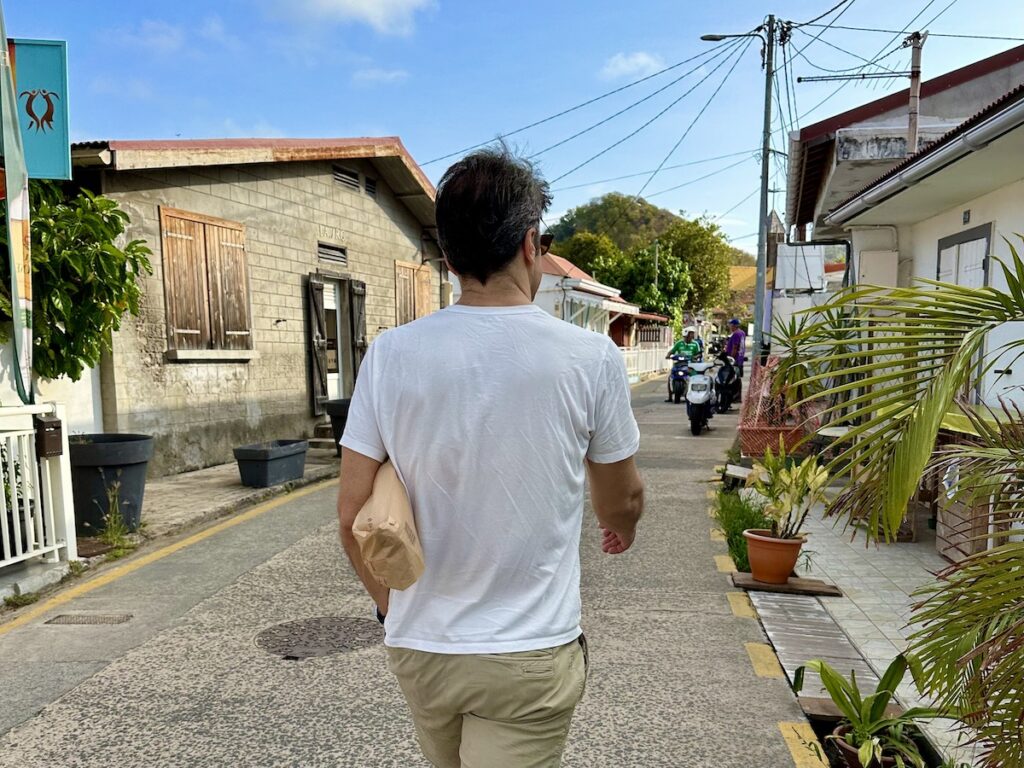 The town is also home to a few historic sites, including the Eglise de Notre-Dame de l'Assomption, a beautiful church built in the 19th century.
2. TERRE DE HAUT BEACHES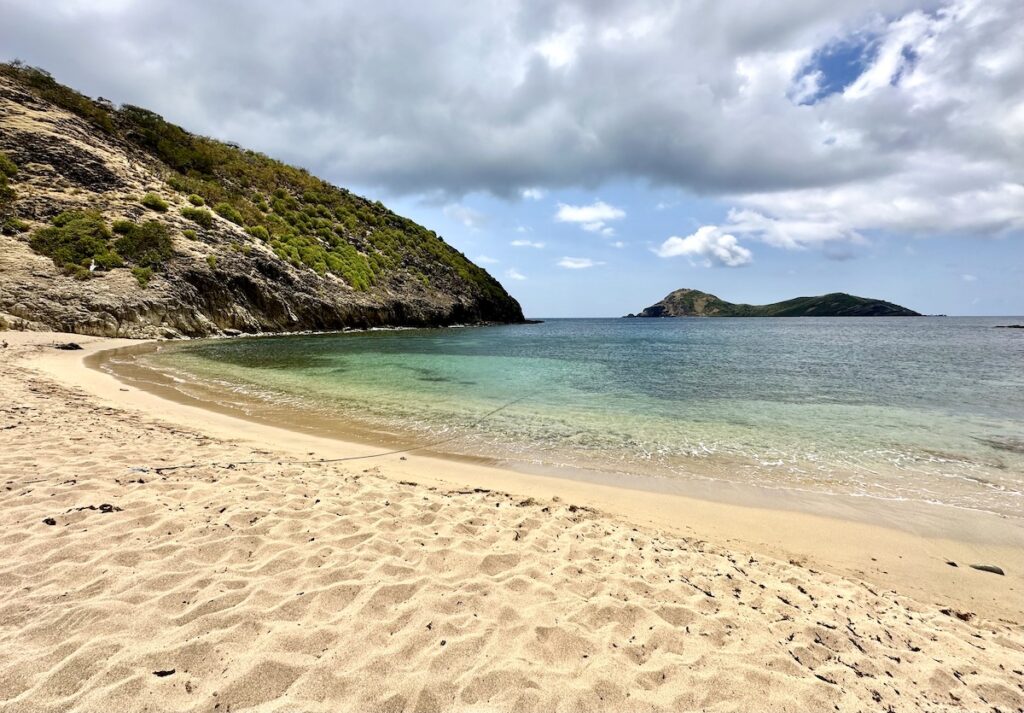 1. PLAGE POMPIÈRE
You would need at least several days to fully explore the beautiful beaches of Terre-de-Haut. One of the most famous beaches on the island is Plage de Pompière. It offers a lovely golden stretch of sand, ample shade under the palms and nice snorkeling. It was a favourite of ours on our first visit to the island many years ago.
Note: On our most recent trip, this beach was covered in nasty sargassum seaweed (this can be a seasonal issue in the Caribbean). See my comments on sargassum (and how to avoid it) in the "Need to Know" section near the end of this post.
2. ANSE DU PAIN DE SUCRE
Often also mentioned as one of the top island beaches is Anse du Pain de Sucre. It has a nice protected bay that is perfect for a dip. It is also an ideal place for snorkeling as its waters are home to an array of colourful marine life, including sea turtles, tropical fish, and vibrant coral reefs.
Try to visit this beach in the morning hours as it gets really busy in the afternoon and it can be hard to find somewhere sit.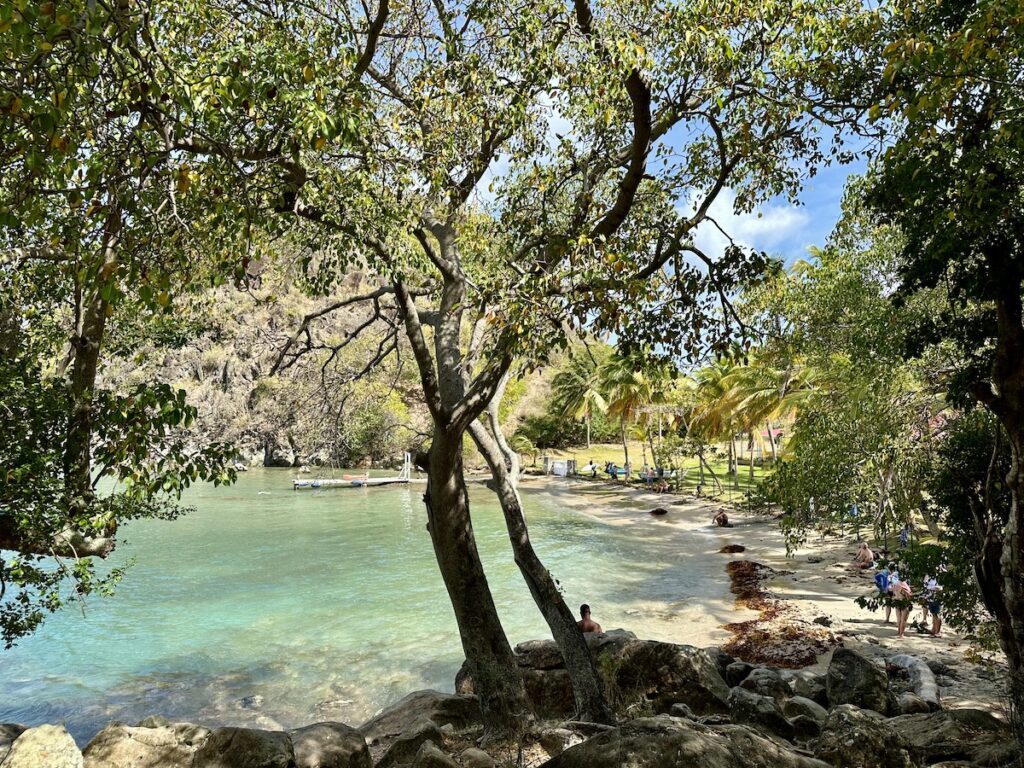 3. ANSE CRAWEN
Personally, we much preferred Anse Crawen over Pain de Sucre (just a 10 minute walk further down the road, after the Hôtel Bois Joli). It's nicely protected for swimming, has very decent snorkeling and the beach area is quite a bit larger. For animal lovers, there are also often feral goats wandering around.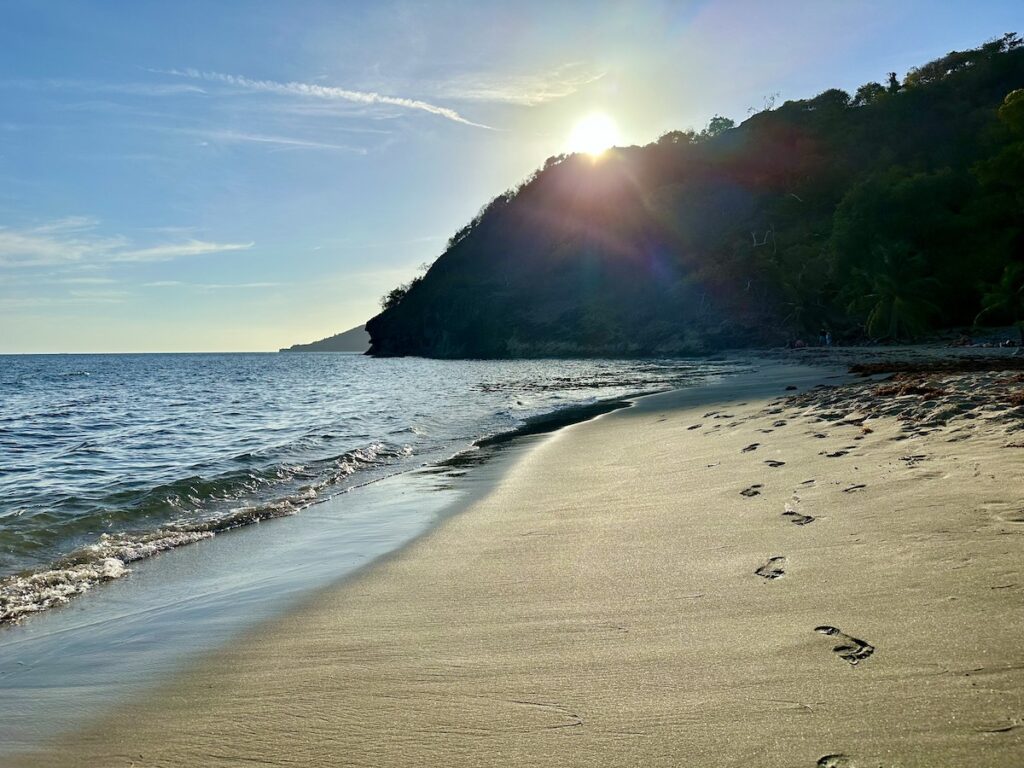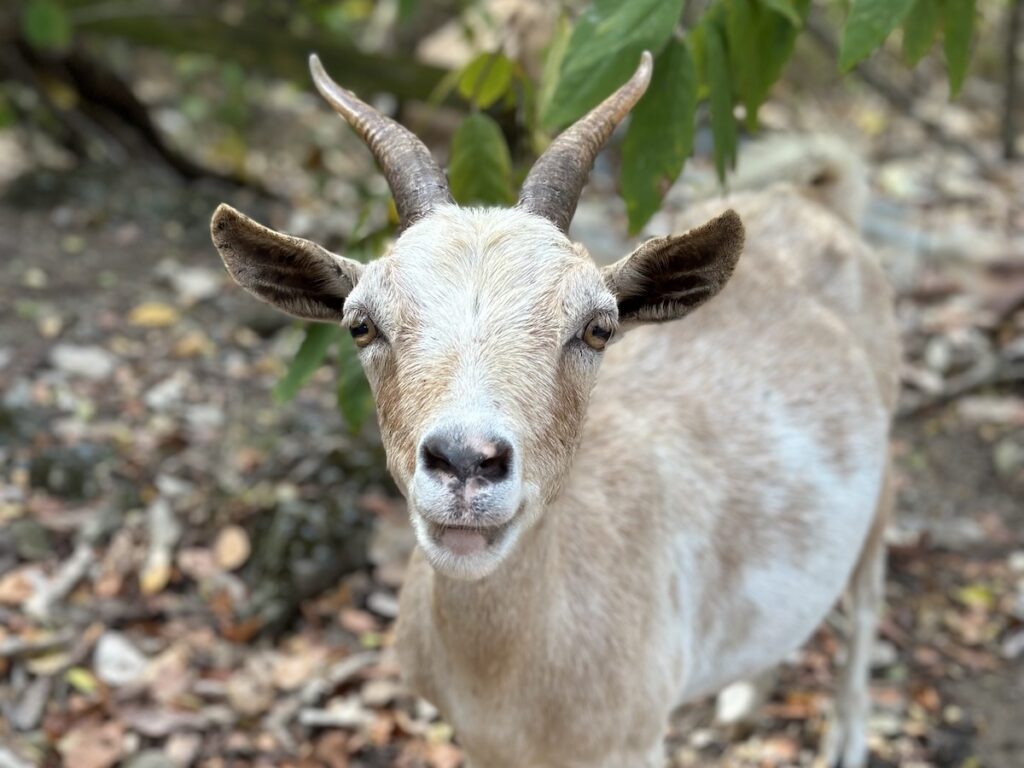 4. ANSE RODRIGUE
The beach we absolutely fell in love with on our most recent trip was Anse Rodrigue. Like Anse Crawen, it is in a protected bay with excellent snorkeling. It is framed by a beautiful meadow dotted with goats and sheep and offers a grassy area and several shade trees. It is a lovely beach for a picnic but it also conveniently has a little snack bar set in behind it with seating and a washroom.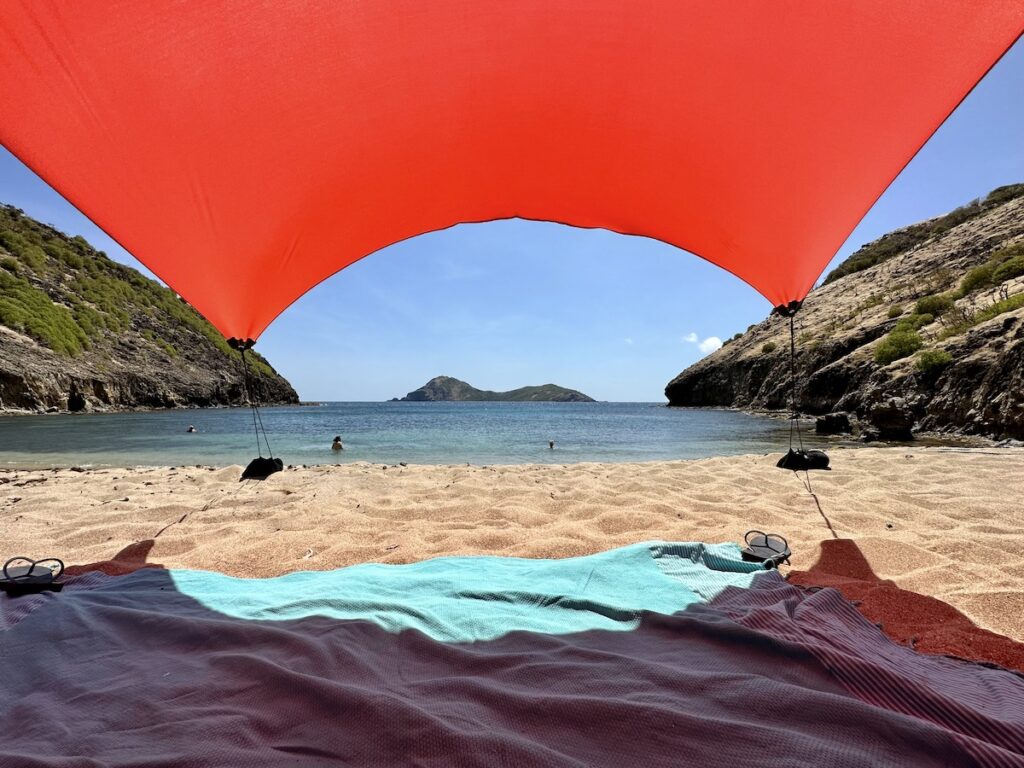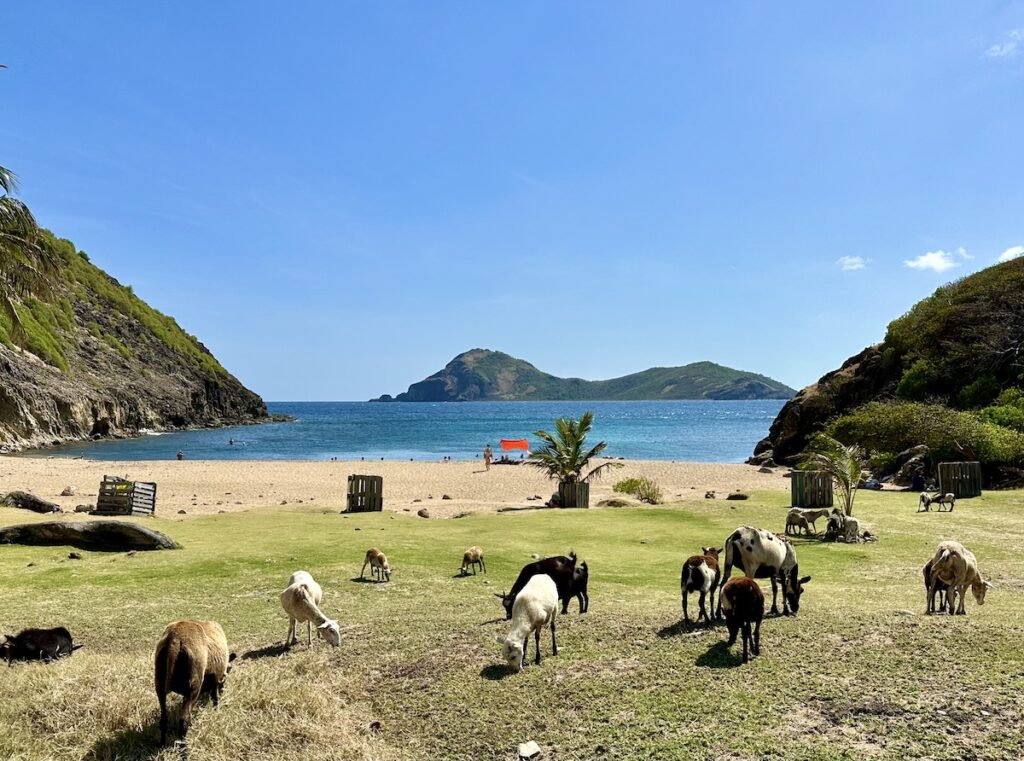 5. ANSE DU GRAND FONT
And finally, although a little busy with fishing boats and other activity, Anse du Grand Font in town can be a nice place to cool off. It is located just east of the LoBleu Hotel and has some interesting snorkeling (lobsters!). It is also a wonderful place to enjoy sunsets (with a cocktail from the locals haunt, Coconuts).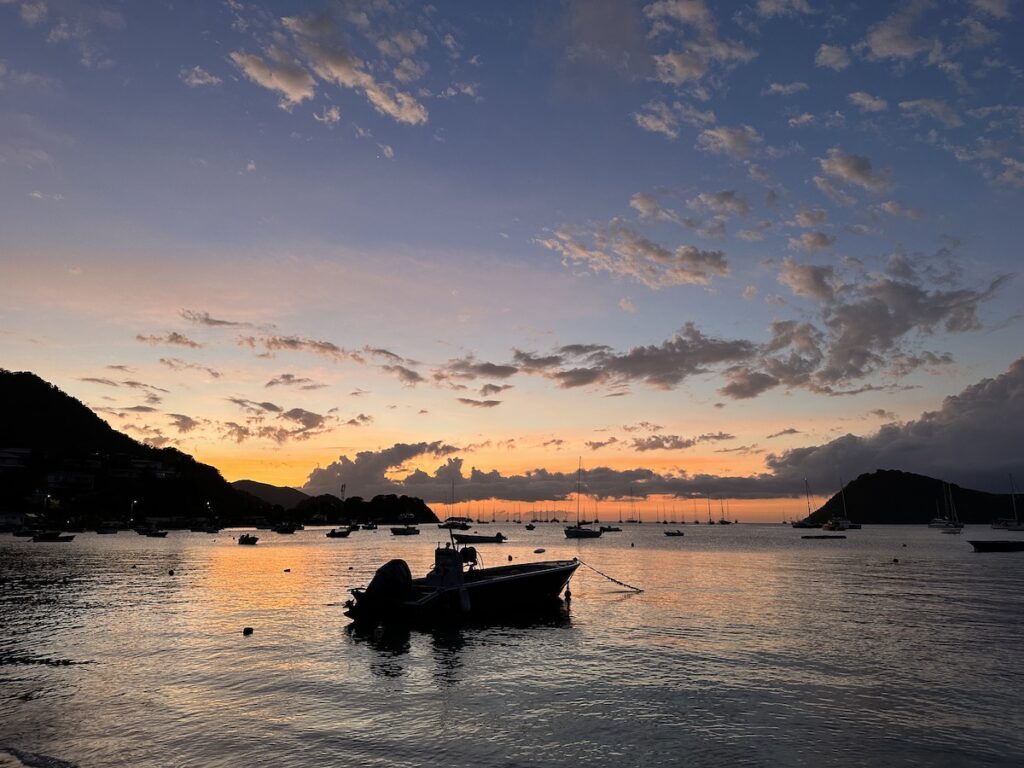 3. FORT NAPOLÉON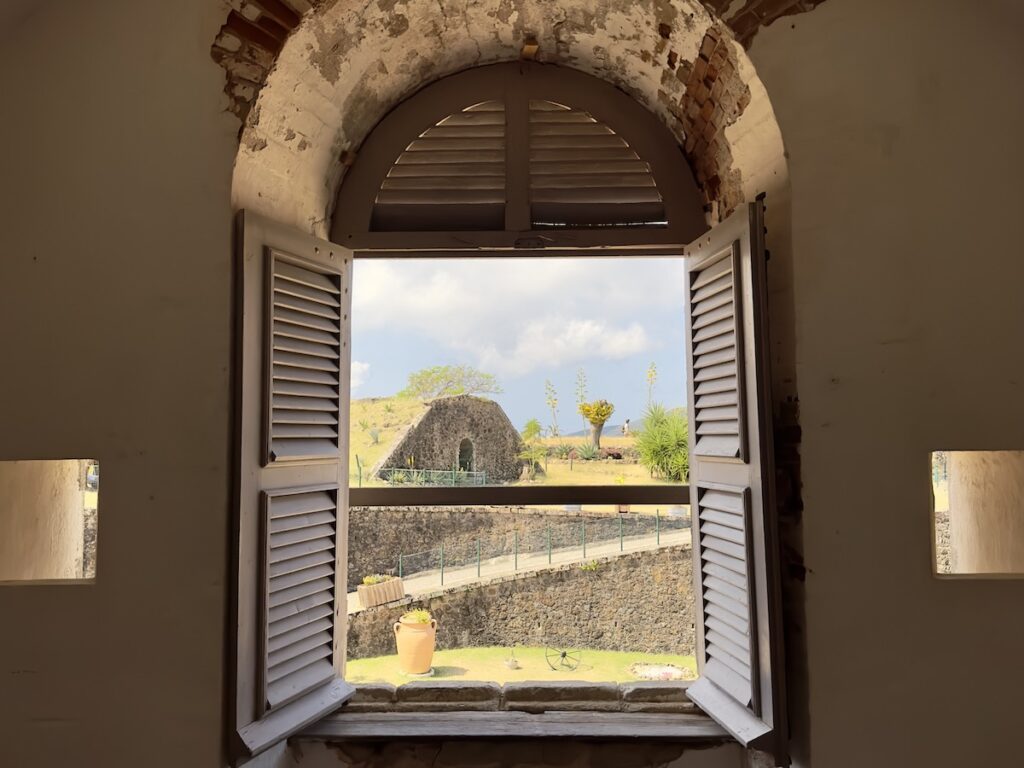 For a little colonial history and a fabulous view of the island, visit this historical landmark above the main harbour. Fort Napoleon was built in the early 19th century to protect the French from invaders.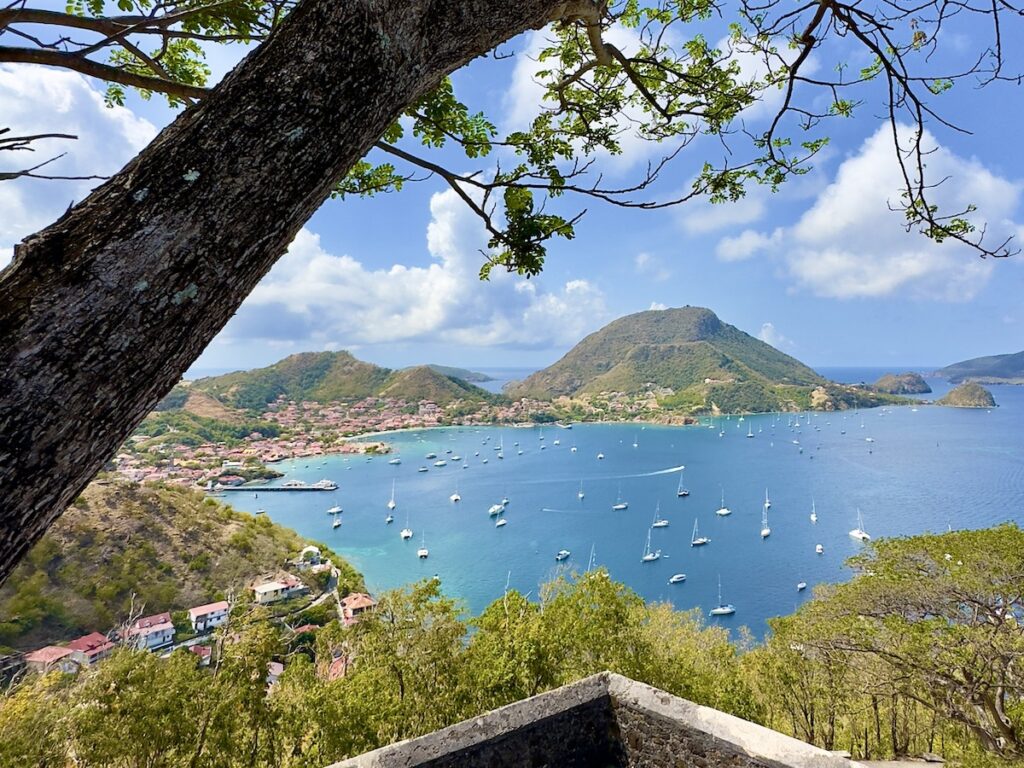 These days, Fort Napoleon houses a museum that showcases the history of the island, including some pre-Columbian indigenous artifacts from the Arawak and Carib.
As a visit to the Fort can be a very warm ordeal, be sure to try the locally made lemonade at the entrance. It's delicious!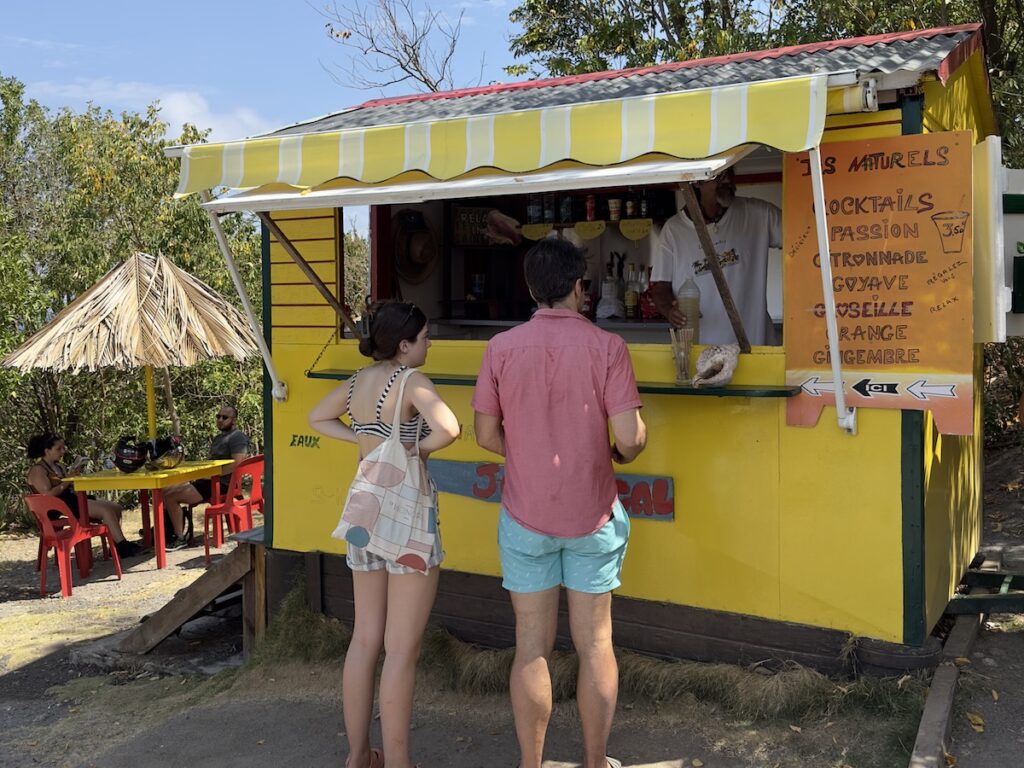 4. HIKE LE CHAMEAU
Get those steps in by hiking to the highest point on Terre-de-Haut. Le Chameau offers panoramic views of Terre-d-Haut and the surrounding Caribbean islands. The hike to the top is challenging (taking close to 3 hours) but the views are worth it.
Bring plenty of water and try to set out early in the morning before it gets too hot. See the trail route on AllTrails.com.
5. EAT LIKE A LOCAL
Trying some of the local specialties is a must on Terre-de-Haut (often involving their bounty of fresh seafood). Most restaurants serve delicious accras (cod fritters), ceviche, and crêpes de poisson (fish crepes). Although we didn't try it, boudin (blood sausage) is also very popular.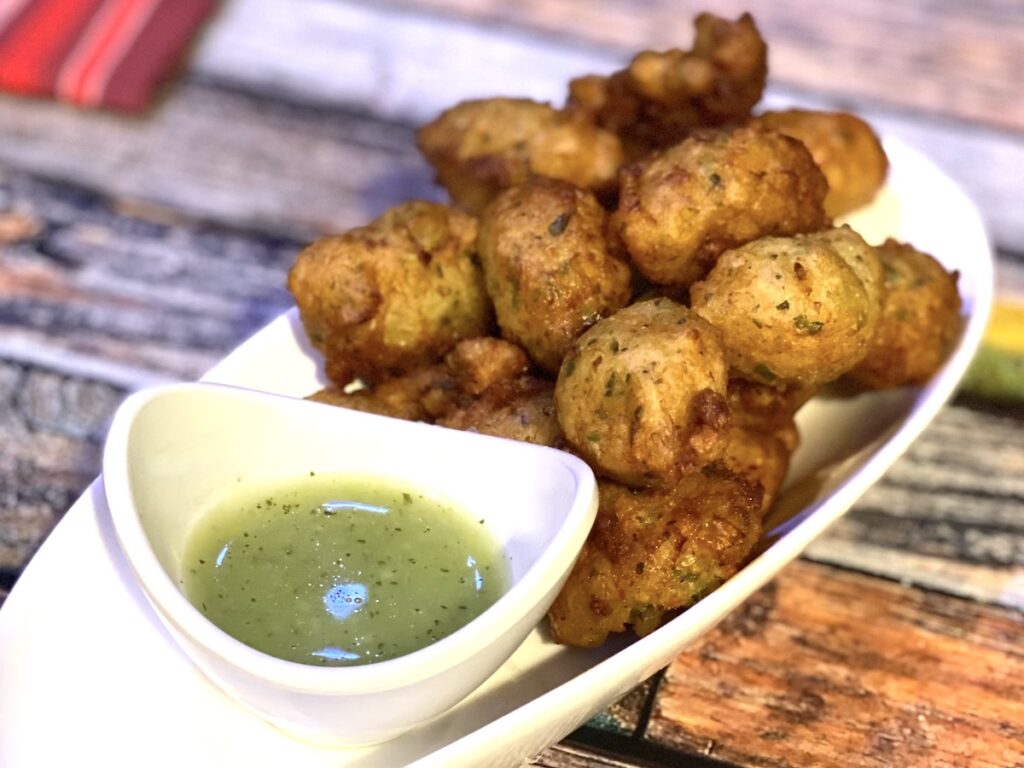 Tourment d'Amour (meaning "torment of love) is also something that must be sampled. You will find the freshly baked sweet treats being sold on the street by the local ladies. The pastry is made from a sweet tart crust filled with a mixture of fruit, coconut, sugar, and vanilla. The filling is then baked until golden brown and caramelized.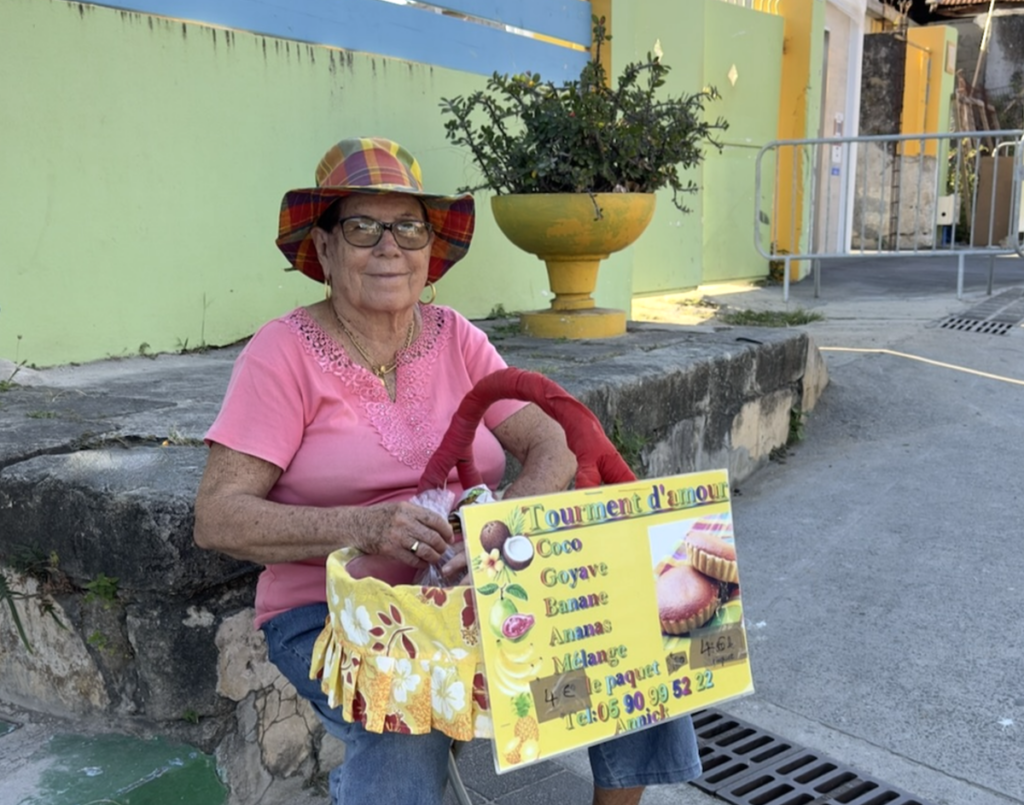 Fancy a picnic while on the island? Ti Santois Boulangerie is a great place to pick up fresh bread and sandwiches. There is also a fancy deli called Robbe Steack that has meats, cheeses and prepared salads. The best gelato can be found right by the ferry terminal at Glaces Pays (go early as top flavours sell out early).
GETTING TO TERRE DE HAUT
While some visitors arrive on the island by sailing vessel, motor vessel or even by private plane (there is a tiny runway), most people get to Terre-de-Haut via the ferry from Guadeloupe. The ferry with the most regular service is CTM Deher. This company runs several ferries a day (25 min.) from the Trois Rivières ferry dock on Basse Terre.
Note: The company Val'Ferry runs sailing from the Point-à-Pitre ferry dock to Terre-de-Haut. While this dock is much closer to Guadeloupe's international airport (PTP), this ferry runs on a much less regular basis (Fri. & Sun. only).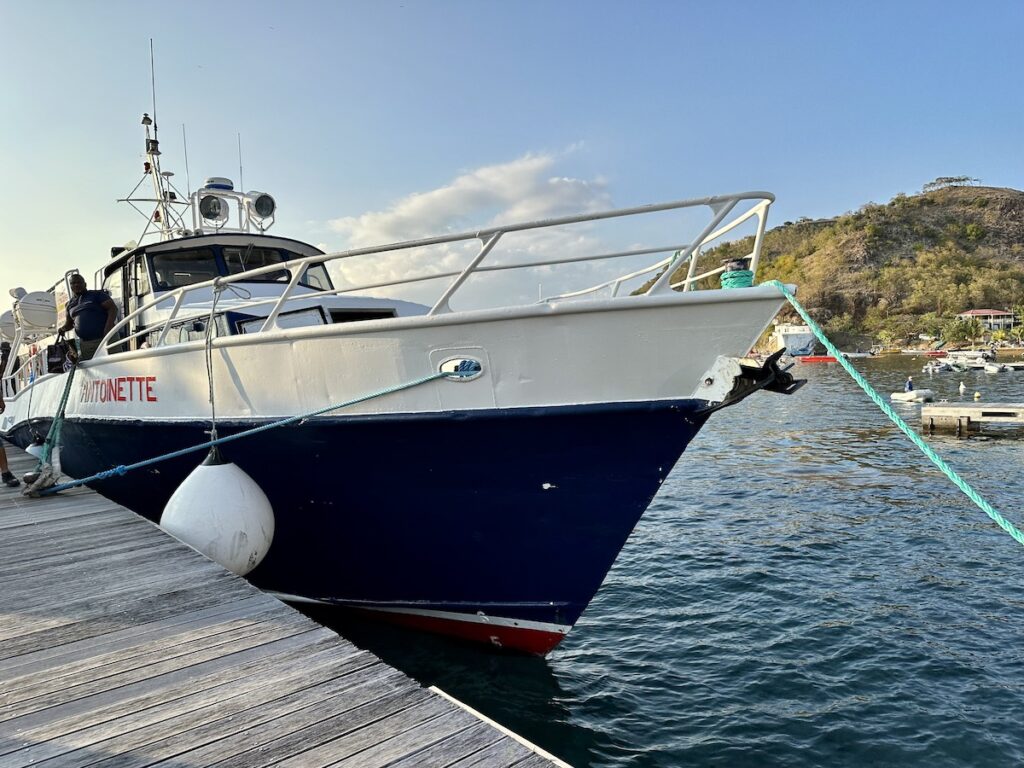 If you plan on sailing with CTM out of Trois Rivières, it is about a 50-60 minute drive to the dock from Guadeloupe's PTP international airport. We hired a private cab (90 euros) but you can also use KaribTours to book a transfer.
Book your ferry tickets at least a week in advance as they do sell out. We arrived at the dock in time to catch an earlier ferry and were able to exchange our tickets at the CTM booth for a fee of 50 centimes/ticket.
This CTM ferry is for foot passengers only – you do not need a car on Terre-de-Haut. If you happen to have a Guadeloupe rental car that you need to park for a few days, there is a parking lot at the dock just past the CTM ticket booth.
Note: You may want to keep your most important items (laptop, phone etc.) on you while you board. We saw the crew drop two bags into the water while loading the luggage!
GETTING AROUND TERRE DE HAUT
The ferry dock on Terre-de-Haut is right in the center of the main village. It's possible to walk to most island hotels, beaches and main attractions. Be forewarned, however, that the terrain is very hilly and the temperatures often high. For this reason, some visitors opt to rent an e-bike, scooter or electric golf cart. These can be in quite high demand so you are best to reserve in advance.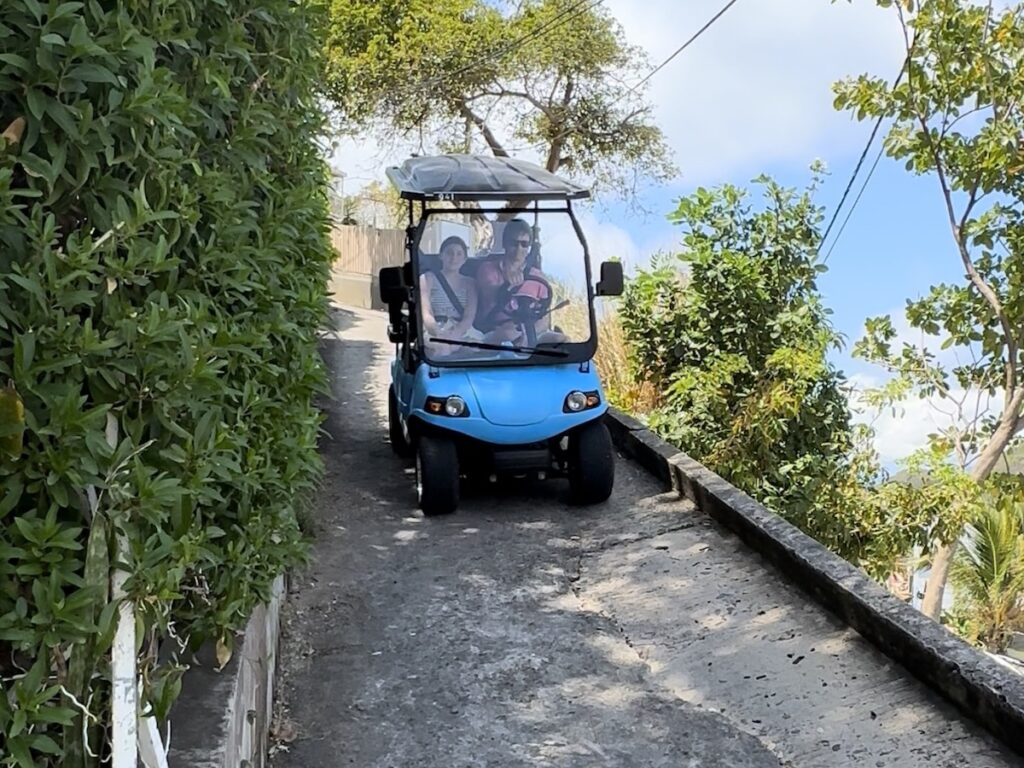 While we had planned on walking everywhere, we ended up renting a golf cart on our third day to fully explore the island (without getting heat exhaustion). We rented with Aqua Blue because of their solid reviews (they were very nice and helpful). If you are traveling with children, they also provide car seats and booster seats.
Note: As we had not reserved with Aqua Blue ahead of time and they were fully booked for days, they told us to come at their opening (8:30am) to see if they had any cancellations and this was successful for us. (90 euros/day).
Another option is Green Bike and Car…but you may want to read the reviews for them first. Those reviews definitely had us steering clear.
TERRE DE HAUT HOTELS & VACATION RENTALS
Terre-de-Haut hotels are all small boutique hotels. On our first trip, we stayed at the very sweet Les Petits Saints. While it is a bit of a heart-pumping walk to reach it from town, it is totally worth it for the view.
Closer to town, and located right on the beach, is the simple, yet charming LoBleu Hotel. This property always gets great reviews on account of the attentive service offered by their management.
See more Terre de Haut hotel and B&B options on Booking.com.
There are also a number of really delightful vacation rental homes on the island. I would love to share the place that we stayed at. I think it is one of the best deals in the Caribbean!
TI CORAIL
Ti Corail is just the most lovely Terre-de-Haut vacation rental. It has 2 air-conditioned bedrooms, an outdoor shower, an outdoor kitchen, living room and patio. It also has a plunge pool with a great view of the harbour. This unit could work well for families with young children, as the pool has a safety gate and there was a playpen in a bedroom closet.
Take a peek at Ti Corail on VRBO or check out the following 30 sec. video. Alternatively, see more Terre de Haut vacation rentals on VRBO.com.
TERRE DE HAUT – THE NEED TO KNOW
I often find that it takes me a few days to figure out how a new place works. Hopefully, these tips will help to make your Terre-de-Haut holiday flow seamlessly.
RESTAURANT RESERVATIONS
The best restaurants on Terre-de-Haut book up ahead of time. Make reservations in advance where possible. Quite a few close on Mon/Tues.
TIPPING
Tipping really isn't a thing on Terre-de-Haut (or on most of Guadeloupe). In restaurants, you will most often be expected to pay up at the bar, and if paying by credit card, an option to tip is not even offered.
DRIVING RULES
Despite being a small island, we were warned that the police do not hesitate to give tickets to golf cart and scooter drivers parking in the wrong place. They will also administer roadside breathalyzer tests if they suspect you have been drinking.
KNOWING A LITTLE FRENCH
Most people on the island do speak a little bit of English, but it really helps to know at least some French. A few weeks of an app like Duolingo or Babble can go a long way.
Note: My husband and I have barely passable French and struggled a little when a ferry boat worker was shouting pre-boarding instructions to a crowd (but I'm confident we still would have managed to get on the boat regardless).
GREETINGS
Even if you don't speak much French, starting your interactions with a "Bonjour" or "Bon Soir" can go a long way in building bridges with the locals – both with people you pass on the street and in stores and restaurants.
STORE HOURS
Shop early or late, many stores close between 12-3pm. Many are also closed on Sundays.
WATCH FOR MANCHINEEL TREES
Please be advised that poisonous Manchineel trees are found on the beaches of Guadeloupe and the Les Saintes Islands. These trees have little green apples on them that are very poisonous. While they can provide nice shade from the sun, if you happen to be under them during a rain, the drips can cause blisters on your skin. Best just to AVOID.
Most of the time (but not always) the trees are marked with red paint around the trunk. There are also usually signs warning of their presence. Learn more about the deadly manchineel tree.
SARGASSUM SEAWEED (AND HOW TO AVOID IT)
Sargassum seaweed started washing up on Caribbean beaches around 2011. It originates in the Sargasso Sea which is just northwest of the Caribbean and floats west with the currents, typically ending up on the east coast beaches. While it has been around in the Sargasso Sea since at least the time of Columbus, the size of the blooms seem to be growing exponentially, likely due to climate change and water pollution.
This new "Sargassum Season" for the Caribbean usually runs from April to August. The photo below, however, was taken from Marigot Bay on Terre-de-Haut in March 2023. At this time, the lovely Plage Pompière and Grand Anse were also covered in sargassum.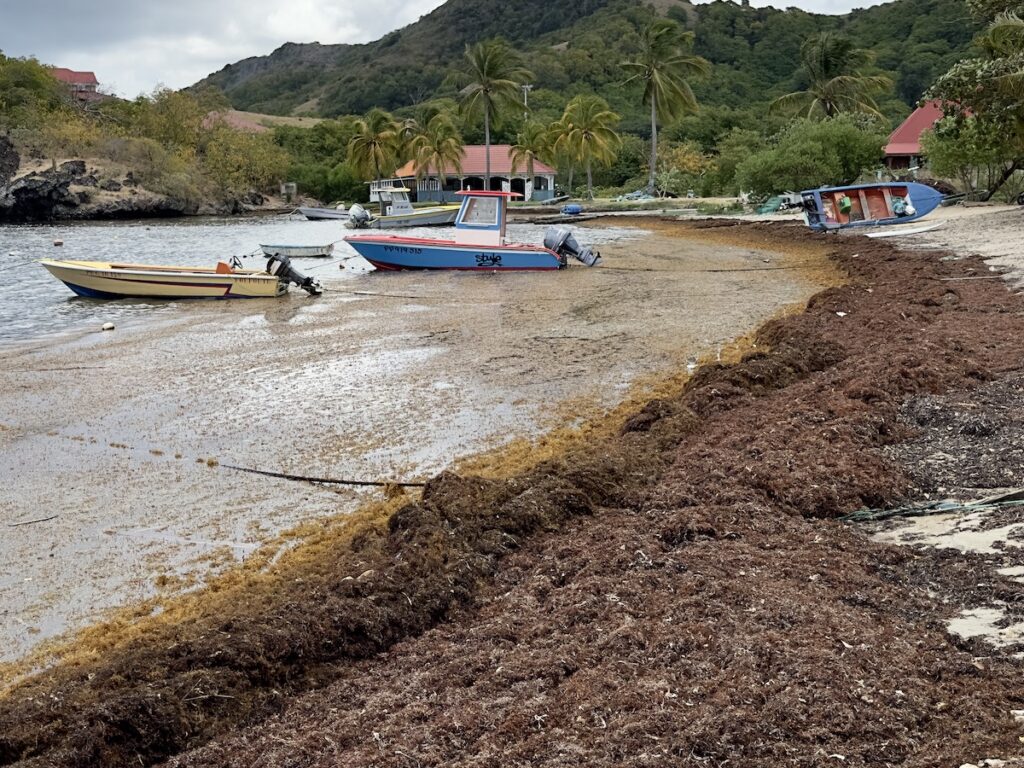 HOW TO AVOID SARGASSUM SEAWEED
Sargassum rarely lands on west coast beaches in the Caribbean, so if you happen to be on Terre-de-Hauit during a bad bloom, try visiting the beaches of Rodrigue, Figuer, Crawen and Pain de Sucre. The photo below was taken at Anse Crawen (west island beach) on the same day as the one from Marigot (east island beach) above. The dark stuff in the water is coral not seaweed!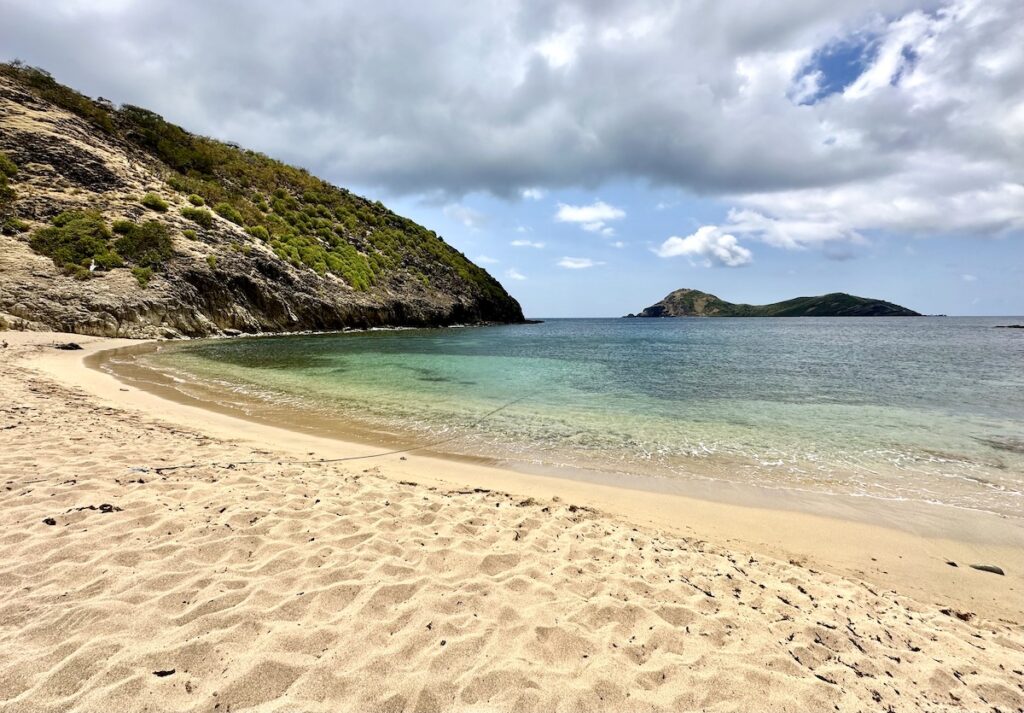 Please forgive my very basic little diagram here, but hopefully this will help you if sargassum is an issue. Also keep this in mind if you are visiting another Caribbean island. Go west if sargassum seaweed is an issue!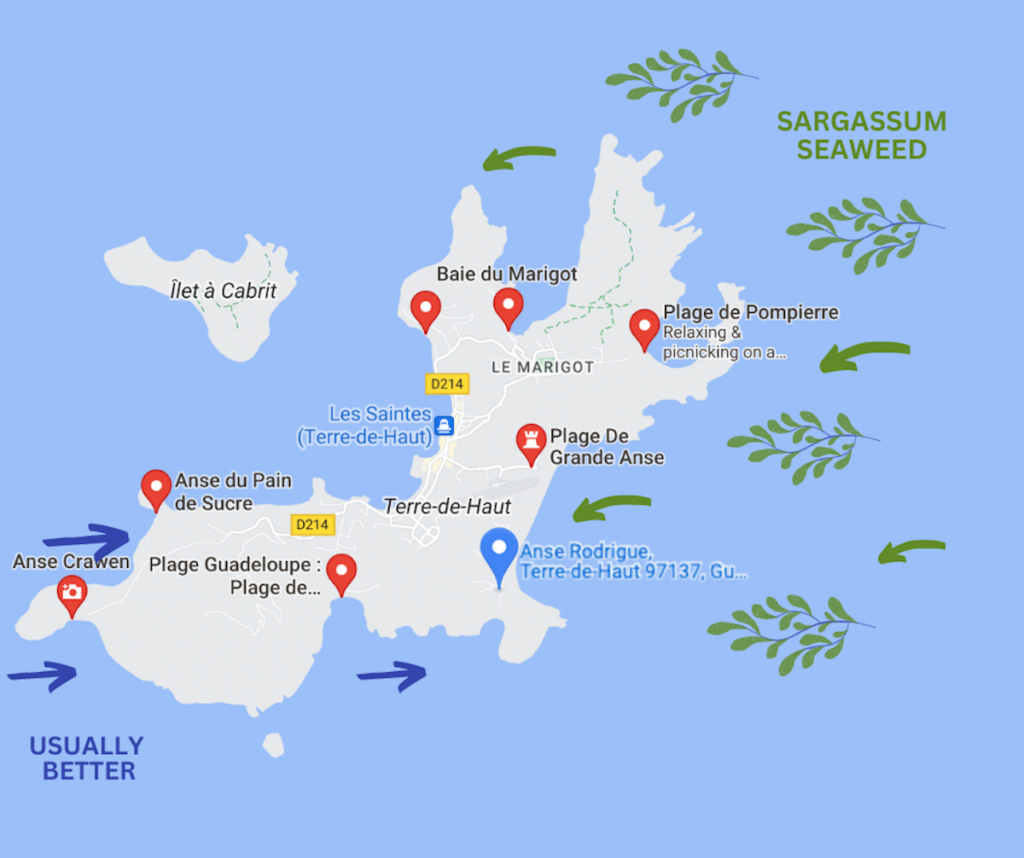 See also: How to avoid Sargassum Seaweed in the Caribbean
I really hope you fall in love with this island just as we have. Feel free to reach out to me in the comments or through my social channels if I can be of any further help. – Tara Cannon
MORE TRAVEL GUIDES