Iceland Winter Packing List – What to Pack for a Winter Trip to Iceland
Last updated on June 27th, 2023 at 04:04 pm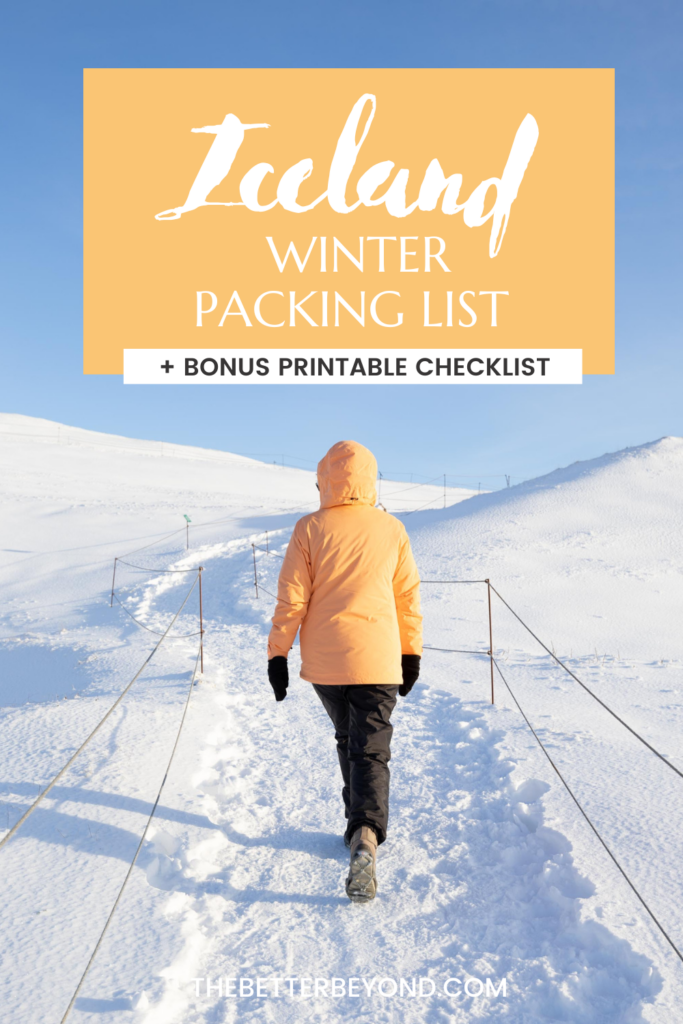 Affiliate Disclosure: This Iceland winter packing list post contains affiliate links. If you click a link and make a purchase, I may receive a small commission at no cost to you. All opinions are entirely my own.
FOREWARD
I asked my friend and Iceland traveling companion Sarah ter Keurs if she would mind writing this post because she is the most organized person I know. Although I pride myself in my packing skills, I did not hesitate to lean on her for a copy of her excellent "checklist" several days before our departure. She thinks of absolutely everything! Thank you Sarah! ~ Tara Cannon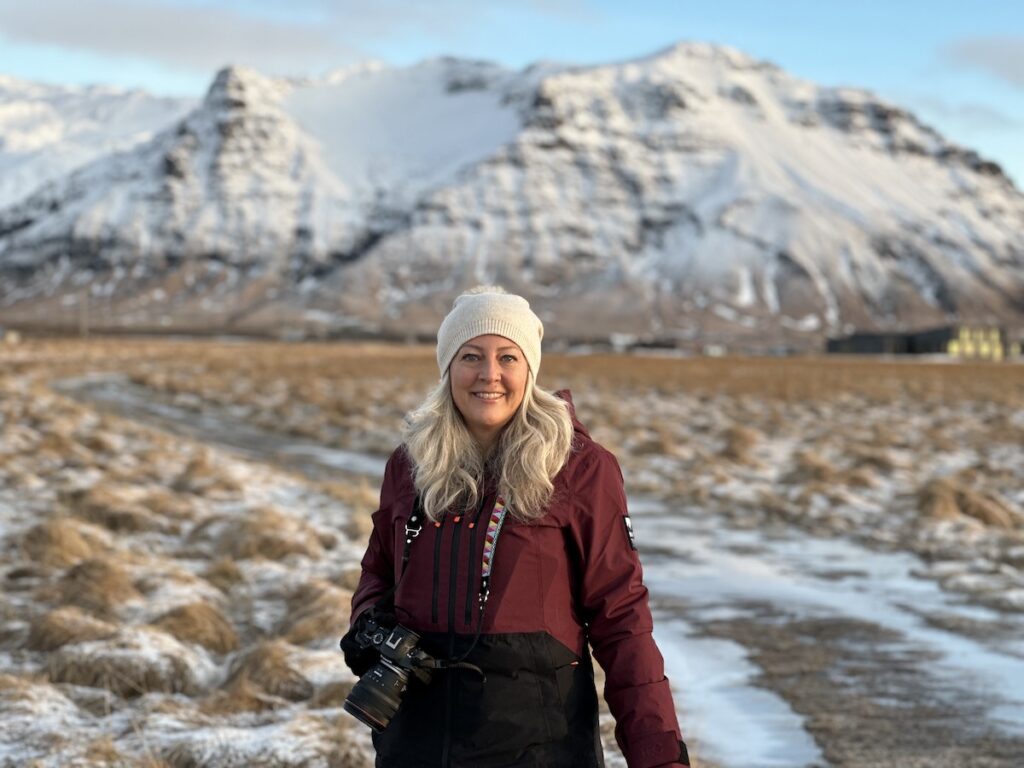 ICELAND WINTER PACKING LIST
By: Sarah ter Keurs
I have to admit, when we first decided to do a girls' getaway to Iceland in January, I was a bit overwhelmed with the thought of what to wear. I always consider packing for a trip a fun challenge to find the perfect balance between having what I need to be completely comfortable and minimizing my luggage.
Fortunately, living on the west coast of Canada and being a winter-loving person, I already had a range of winter clothes for Iceland that would work for our road trip adventure. I'm excited to share my packing list in hopes it will help you prepare for what to wear in Iceland in winter.
If you are headed to Iceland in November, December, January, February or March, this Iceland winter packing list is for you! Please use the menu above to find what you need quickly. You will also find a handy printable Iceland packing checklist at the end of the post.
ICELAND PACKING CONSIDERATIONS
When deciding what to pack for Iceland in winter, consider what kind of traveling you are going to do. We were planning on five days of self-guided road-tripping along the south coast of Iceland, seeing waterfalls, ice-caves, hunting for the Northern Lights, and then spending a few days in the city of Reyjavik. We also planned on one day-trip to drive the Golden Circle.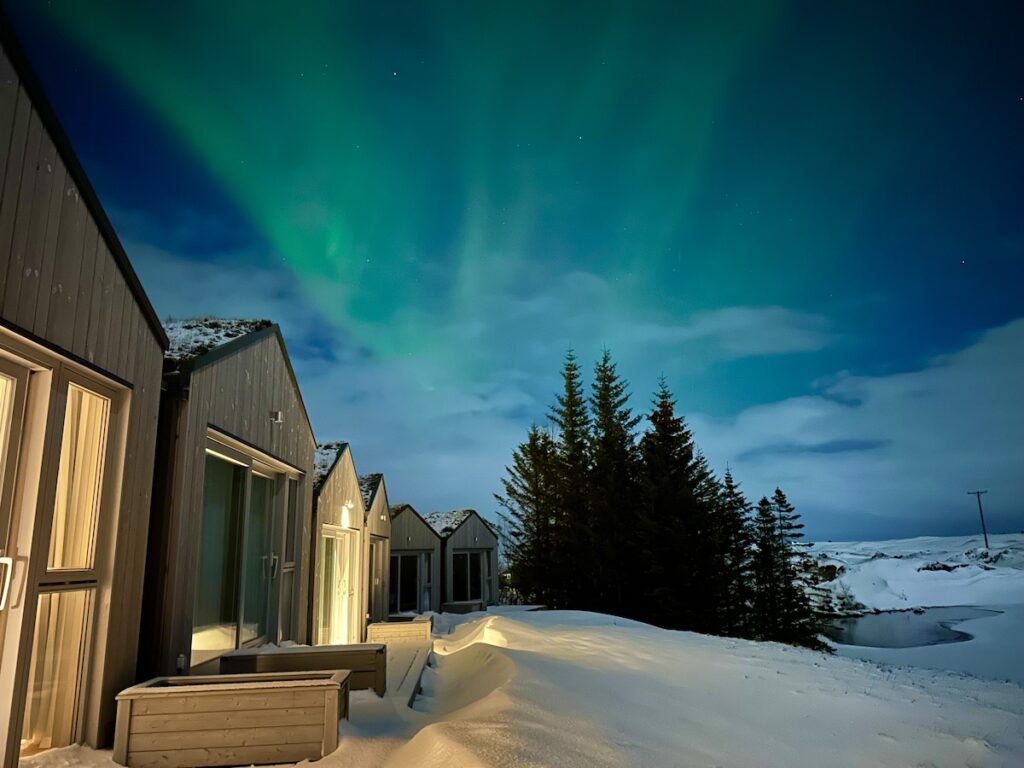 It was January, so the reality is that winter weather in Iceland can range from rain to wind to sleet to snow…all in ten minutes. We knew that we needed reliable Iceland winter clothing and outerwear for sightseeing, as well as so more casual options for evenings at the hotels on the road-trip, and a few nicer "going out" clothes for our urban evenings in Reykjavik. If you are only going for a few days and doing a Golden Circle tour, you might pare down your packing list.
WHAT IS WINTER REALLY LIKE IN ICELAND IN JANUARY?
I was a little surprised at the temperatures in Iceland in January. I was expecting it to be much colder than it was and as a result, I think I would revise my Iceland winter packing list if I were going again. You can expect the average low to be approximately -3 degrees Celsius (26.6 degrees F) and the average high temperatures to be 3 degrees Celsius (37.4 degrees F).
This is true throughout winter in Iceland. The gulf stream brings relatively warm water up from lower latitudes. It can be, however, VERY WET. When you get wet, the windchill will make it feel much colder. When selecting clothes for Iceland in winter, consider packing first and foremost for the wet and the wind.
The short video clip shown below was taken from our trip to Gullfoss waterfall on a Golden Circle day trip. As you can see, wind and rain are the prevailing weather features!
DRESS IN LAYERS, BUT DON'T PACK TOO MANY
My Iceland packing list included three base layers made of merino wool on both top and bottom. Merino wool is light, breathable, and will keep you warm. Plus, it resists odor so merino wool can be worn several times. On top of that, I layered a micro fleece pullover. Paired with my outerwear, I was more than warm enough for our winter sightseeing adventures.
Although I packed three base layers, I ended up wearing only two of them. When one base layer got wet, I put it on our room radiators to dry overnight. Save yourself the space; two sets of base layers is sufficient for a week. If you are really desperate while you are there, almost all of the major sights have beautiful gift stores with a huge selection of clothing.
DRESS FOR DINNER IN THE CITY
Icelanders in Reykjavik dress up to go out for dinner and drinks. In the restaurants that we ate in, there was no fleece or hiking boots.
The women wear beautiful, fashion forward chunky sweaters paired with warm and stylish pants and skirts (leather, vegan leather, wool etc.), and often fur or faux fur coats and stoles.
Men typically wear jeans or dress pants paired with either a collared shirt or a dressy sweater.
ICELAND WINTER PACKING LIST
1. JACKETS AND OUTERWEAR
WATERPROOF OUTER SHELL
I feel like there is no amount of waterproofing that can prepare you for Iceland in the winter! If you need to buy new outerwear, do be sure to check the waterproof rating.
A good example of this was Tara's outer shell which was rated to 28,000mm kept her dry (Burton AK). My ski jacket, also waterproof but rated at 20,000mm, failed to keep me dry after being outside for a couple of hours in the wind and pounding rain (Montec). It is suitable for skiing and snowboarding, but not ideal for Icelandic winter sightseeing which took us through rain, snow, sleet, and hail.
Ideally, you want water to bead on your outerwear. In the photo below, you can see that the black jacket in front looks shiny and slick. This is because the water is not being repelled. This gentlemen would most certainly have been soaked (and likely very uncomfortable) after this 3 hour ice cave tour.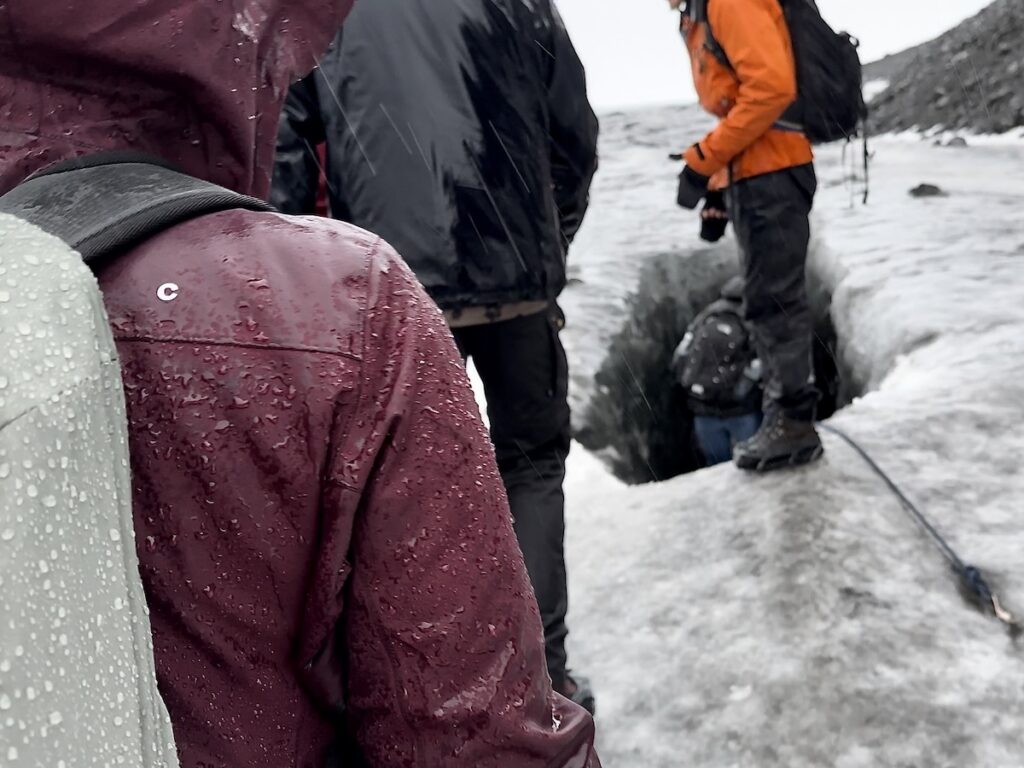 I also wore waterproof pants which kept me dry for the most part. Tara was quite disappointed in her "waterproof" pants which she described as "Totally useless!" In general, I'd highly recommend purchasing the best, most highly rated waterproof gear you can afford. You will NOT regret it.
LONG OR SHORT PUFFER JACKET
In addition to my ski jacket, I also packed a long Canada Goose puffer coat which was absolutely perfect for walking around in Reykjavik with nicer dinner clothing, and also served to keep me warm in the car after having gotten soaked on two occasions.
I'd highly recommend adding two winter coats to your Iceland winter packing list so that you have a back up while the other one is drying out, or at the very least, a puffy liner for under your waterproof shell that can double as a nicer coat for walking around in the city.
2. TOPS
BASE LAYERS
Base layers are essential to keep you warm throughout the day. A thermal Merino wool top is an excellent choice because of its breathability and resistance to odor. It is also very thin, so easy to pack. I'd recommend adding two to your Iceland winter clothes packing list.
Shop Smartwool merino base layers.
MID LAYER
To wear over the thermal layer, I wore a light micro fleece pull-over but you could also choose to purchase one of the very beautiful Icelandic wool sweaters. They make an excellent souvenir and will keep you toasty the whole trip. I also packed two cashmere sweaters which offer excellent warmth, are very thin, and look super stylish for going out at night.
Shop microfleece mid-layers.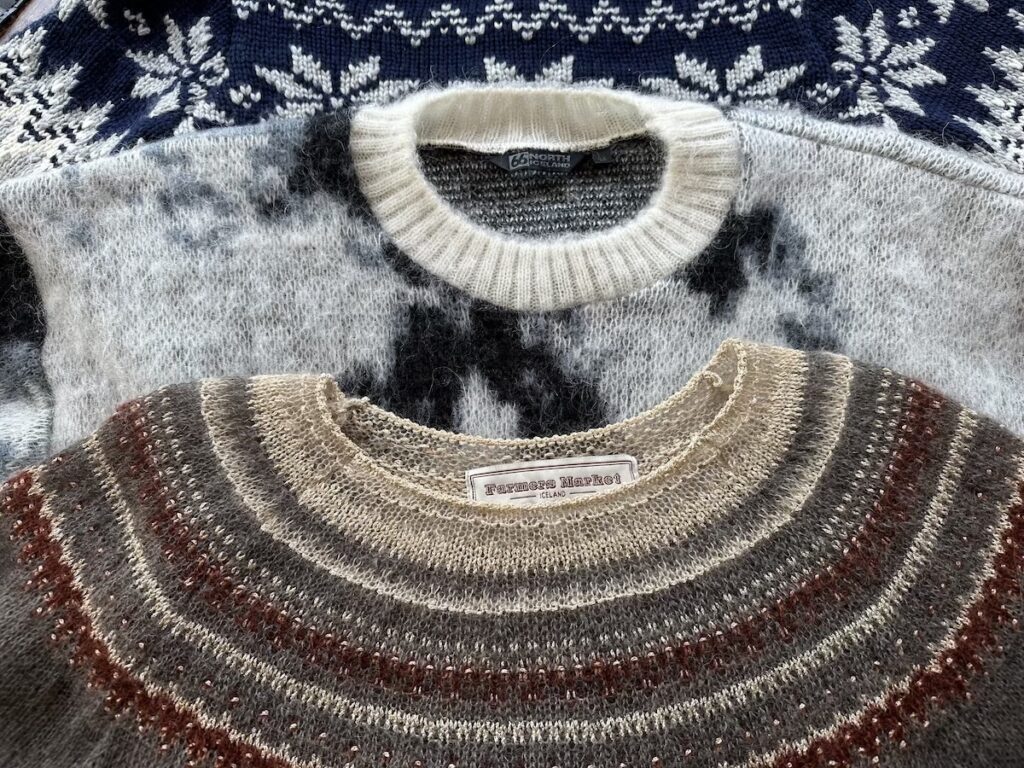 FLANNEL SHIRT
I did pack one flannel shirt which was an excellent choice for the day when we had to hang around in the hotel due to the winter storm. I probably wouldn't pack it again as it took up space and my cashmere sweaters would have done the job.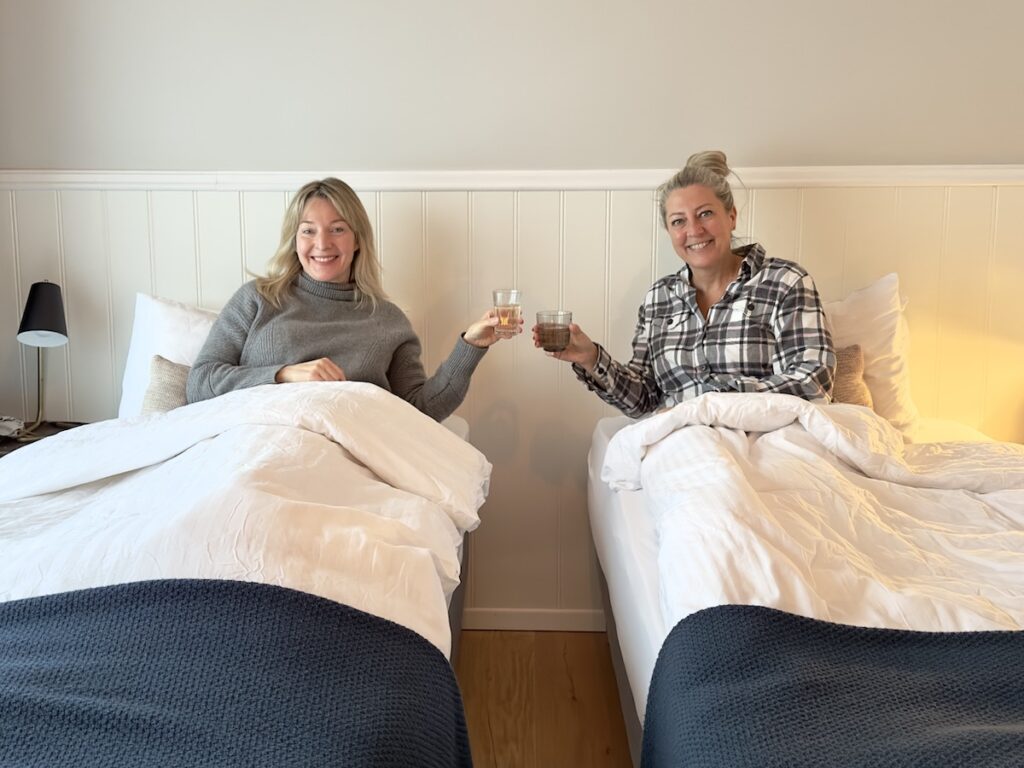 BLOUSES
I packed two blouses for going out in Reykjavik in the evening and I used both of them. They were very small and light to pack, didn't wrinkle and were super stylish for our evenings in the city.
TOPS FOR MEN
For a night out in Reykjavik, a collared shirt or light sweater paired with jeans or dress pants will do the job.
3. BOTTOMS
BASE LAYER
As mentioned above, the merino or thin fleece base-layer is essential to keep you warm while sightseeing outside all day.
WATERPROOF FLEECE-LINED PANTS
I wore a pair of waterproof fleece-lined pants which were absolutely perfect for the whole trip. They are essentially hiking pants. I had considered packing my ski pants, but they are so bulky and I wasn't convinced that they were totally waterproof. I made the right decision with these pants and continue to wear them back at home for long dog walks in the rain and snow.
Shop fleece-lined waterproof pants.
JEANS
I wouldn't necessarily recommend packing jeans for Iceland, however, I have a pair that are really comfortable and were my flight pants. I did wear them for walking around town on our shopping day. You could also get away with nice jeans during the evening in Reykjavik if paired with a dressier top.
We saw people wearing jeans while sightseeing however, and I could feel their pain. They soak up water and will keep you frozen the entire day. Jeans are NOT a good choice if you want to stay dry and comfortable.
DRESS PANTS
I packed a pair of pleather pants and ended up wearing them two different evenings because they were warm and very stylish. I felt completely comfortable walking outside through the snow and also sitting in a trendy restaurant.
The key here is to wear something that is made from a heavier weight fabric that can keep you warm and protect from the weather.
Note: You definitely do not see bare legs in Iceland in the winter. If a skirt or dress is worn, it is always paired with warm tights.
4. SOCKS AND FOOTWEAR
WARM SOCKS
I packed merino wool socks which were perfect. I think thinner merino socks are better so that they can dry overnight if they get wet. Thick ski socks are warm, but they can take a long time to dry and who wants to wear wet socks! I also packed my rechargeable battery-powered socks, but I didn't use them at all because my feet just weren't that cold.
Forgot yours? Like sweaters, beautiful wool socks are sold all over Iceland and make great souvenirs.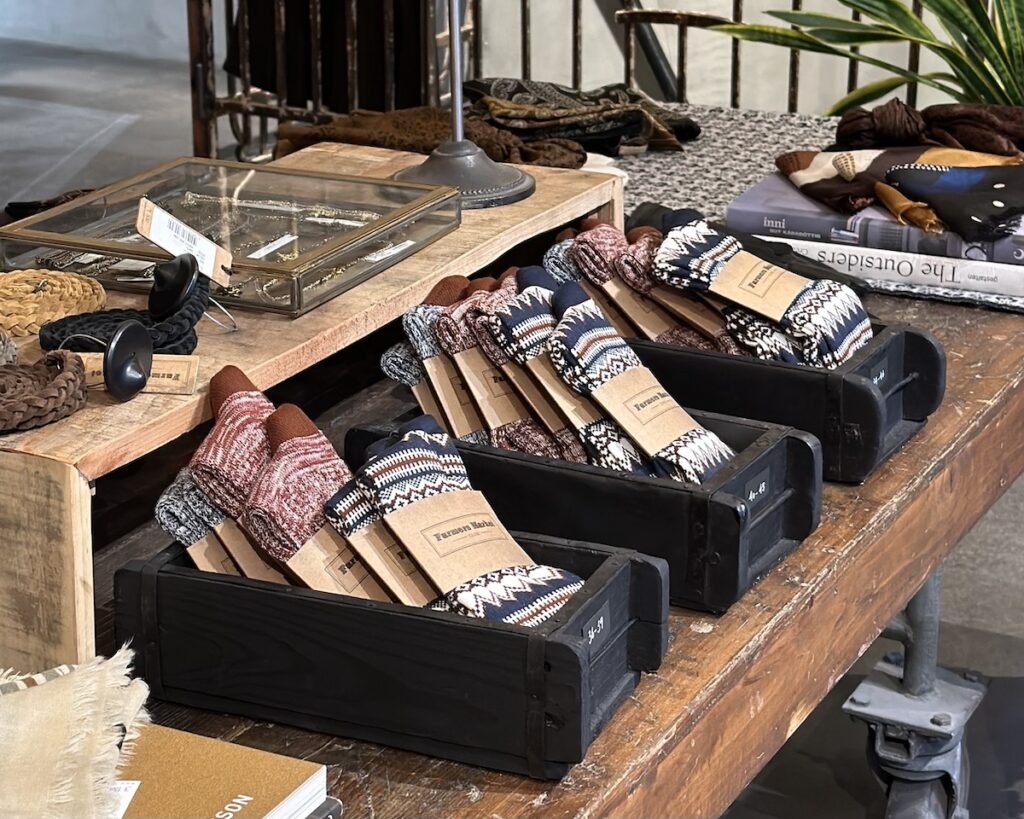 CASUAL SOCKS
I included a couple pairs of casual socks for walking around town and also to wear with my nicer outfits.
BOOTS
I am notorious for packing a lot of footwear and this trip was no exception. I can honestly say, however, that I used each and every pair. It may seem excessive, but I actually brought two pairs of winter boots and I am so glad that I did.
I loved my Manitobah Mukluks for wearing on the airplane and walking around the hotel. They are waterproof and so warm and cozy, like wearing slippers. Unfortunately, on the worst day of weather, I wore them, and they did soak through. I've worn them all winter at home in rain and snow and have had dry, warm feet, but they were no match for the Icelandic wet!
The second pair of boots that I packed were the Sorel Women's Tivoli IV PARC Boot which are rated for snow and rain and are also waterproof. Again, they were fantastic for the majority of the trip and were a breeze to slip into my microspikes (more on those later). Just be careful walking through streams. The water will come in through the top of the boot. Armed with two pairs of boots, I was able to alternate days and have mostly dry feet.
Shop Sorel women's winter boots and men's winter boots.
I also brought a pair of casual leather boots for wearing around the town and dress shoes with a sensible heel for dinners (I didn't see anyone wearing high heeled shoes in Reykjavik). A pair of dress booties worked well for Tara and looked very fashionable. Keep in mind that many of the sidewalks in downtown Reykjavik are heated, so not super icy.
MICROSPIKES
If you don't have microspikes (a.k.a ice cleats / crampons), add them to your Iceland packing list right away! They were an absolute necessity for the entire trip. Microspikes are chains and small spikes that are slipped over your footwear for added traction through snow and ice.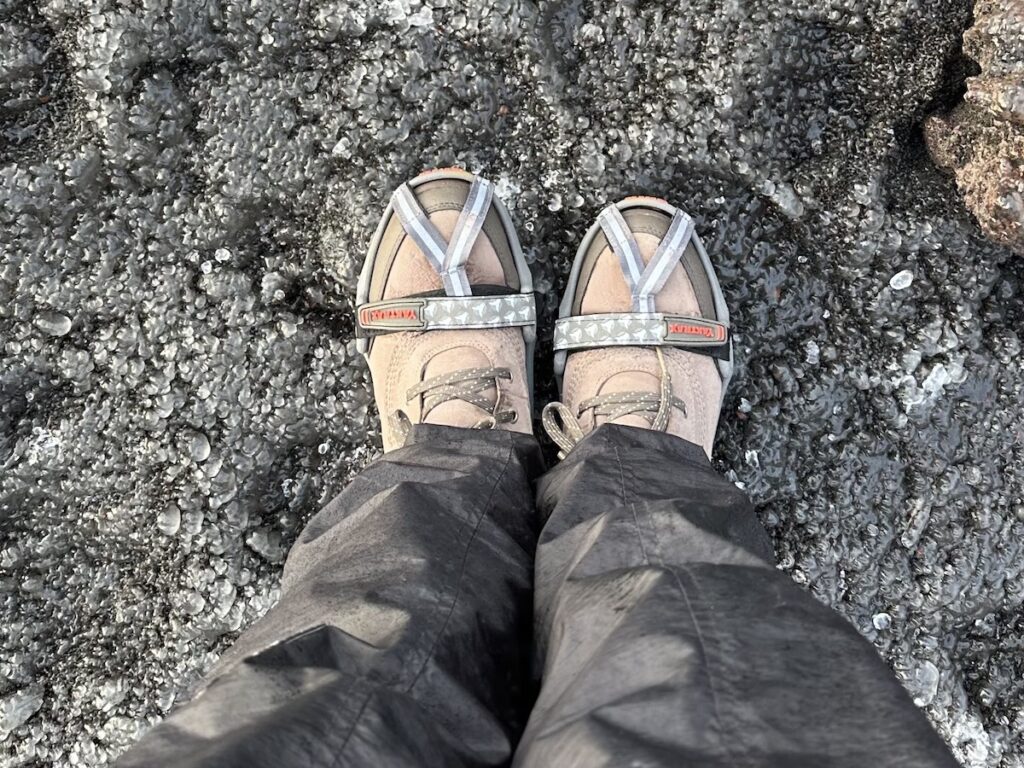 We walked confidently across icy paths to view the waterfalls while other less prepared visitors would be doing the ice shuffle to make it across safely in their running shoes. I did not find them heavy or cumbersome to wear or carry around.
I want to share with you a quick little video to illustrate why microspikes matter. See below.
I wore relatively inexpensive IceTrax V3 Tungstens microspikes while Tara wore Yaktraks. Both models worked well but the IceTraxs were a little easier to pull on. There are also some boot brands that have flip up microspikes. See options from Olang (they have the best selections).
Shop for women's microspikes and men's microspikes.
FLIP FLOPS
If you plan on visiting one of Iceland many hot spring pools, flip flops are handy to have for walking from the locker room to the pool entrance. They can also double as a pair of hotel room slippers.
5. HANDS AND HEAD
MITTENS AND GLOVES
I included three pairs of gloves and mittens and I am so glad that I did. My ski gloves were waterproof and paired with the liner, kept my hands toasty warm. On days when I was using my DSLR camera, I paired the glove liners (which are touch-screen friendly) with a pair of ice-fishing mittens that flip open when I wanted to take photos. Very handy.
Shop Touchscreen-Friendly Glove Liners and Waterproof Convertible Mitts.
NECK AND HEAD
To keep the wind off my neck, I packed a balaclava which I really appreciated on our windiest day. I also packed two toques. I packed a cashmere wool scarf, but didn't use it because it seemed bulky with all my other layers.
BATHING SUIT AND TRAVEL TOWEL
Of course if you plan on visiting any of the many hot springs, you'll want to bring a bathing suit. Both the Blue Lagoon and Sky Lagoon had towels available for our visit. There are, however, many other pools and hot springs where you will need to bring your own towel.
Shop Quick Dry Travel Towels.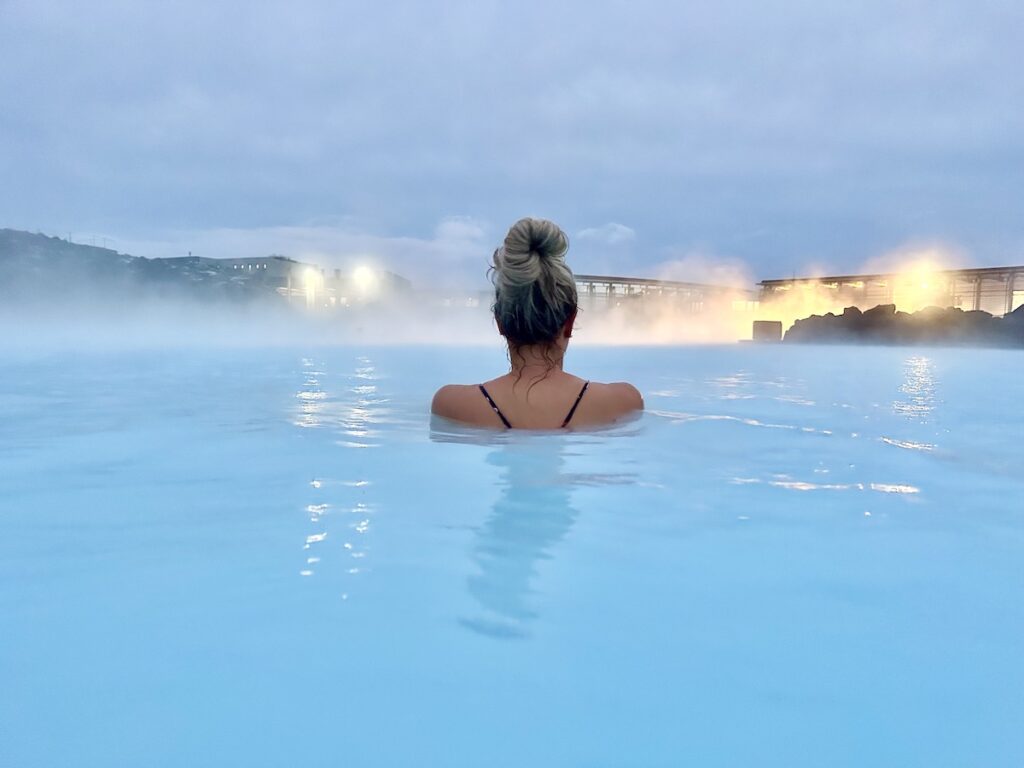 6. LUGGAGE
SUITCASE VS. DUFFEL
When first planning my packing, I considered what kind of baggage would serve me best. I'd read numerous posts about packing for Iceland, so I was prepared for the volume of clothing and outdoor wear I would have to bring, but the question was, what would be better: a suitcase with wheels or a duffel bag for my checked baggage.
I opted for a 60L duffel because I knew that at a couple of the hotels we might have to lug our baggage through the snow and ice from the car to our room. Turns out this was a really good call for the most part. I think a suitcase would have been unwieldy to carry, especially down the icy path and metal staircase at the one hotel. It was also great to throw it into the back seat when we were tight for space in the car.
The only thing that would have been even better is a duffel with wheels, so that when we were on smoother ground, I could drag it along. In addition to the duffel, I also had a small wheeled carry-on and a camera backpack which served as my personal item.
PACKING CUBES VS. VACUUM BAGS
One thing that I noticed when I started to pack is that I was quickly running out of space in my luggage because of how bulky winter clothing is. There are a couple of solutions for this problem.
Tara travels with packing cubes that compress which are ideal and seemed to work really well for her. She prefers the ones made by Lean Travel for their strength and durability. (They don't rip under pressure like some other, cheaper brands.)
Shop LeanTravel compression packing cubes.
For the first time, I tried using the self-vacuum plastic bags to get the air out of the bulky clothing and outerwear to be able to fit more into my bags. I thought they worked really well and I'd highly recommend them. The ones I bought don't need a tool to take the air out; you just roll the clothing-filled bag and the air is pressed out through a one-way channel system at the other end. Very efficient.
Shop Travel Space Saver Vacuum Storage Bags.
7. OTHER THINGS TO PACK
Again, I love the challenge of packing to be comfortable and that includes having comforts while on the road or in a hotel room.
MINI SPEAKER – It was great to listen to music on our day in the hotel room during the storm!
CHARGING STATION – It can be convenient to be able to charge all your devices at one charging station. Don't forget that Iceland uses the standard Europlug socket with two round prongs. For these plugs, you can use adapter types "C" or "F".
APPLE MAGNETIC CHARGER – If you are primarily an Apple user, you may find having a magnetic wireless charger helpful.
PORTABLE POWER BANK – There were a few times when it was handy to be able to recharge on the go.
REUSABLE WATER BOTTLE – The tap water is delicious in Iceland so fill up your bottle each morning!
THERMAL TRAVEL MUG – If you are going to hit the road early in the morning, a travel mug is handy.
TRAVEL TOWEL – Many hot springs and public pools don't offer towels. Depending on where you are visiting, you may or may not bring one.
WAIST POUCH – I always seem to have a lot of things to bring with me, but I didn't want to lug around a purse. A waist pouch was perfect and was small enough to fit into my camera bag for sightseeing. Both Lululemon and Herschel Supply Co. have some nice options.
DAY PACK – For long tour days, a lightweight, and ideally waterproof backpack can be handy. It can provide easy storage for your phone/camera, water bottle, snacks and any extra clothes that you may want to keep with you. Osprey, Patagonia and Ar'teryx all have some good options..
WATERPROOF PHONE CASE – You are going to want to take photos while you are in the hot springs. Use a waterproof case to keep your phone dry and safe.
BATHING SUIT WET BAG – After your hot springs visit, use a wet bag to keep your suit separated from your other belongings.
Traveling through southern Iceland in the winter was an unforgettable experience. Because we planned and packed well, we had the right clothing for winter in January and could focus our attention on the sights instead of the temperature and weather. To state the old adage, there is no bad weather, only bad clothing choices.
ICELAND PACKING LIST PRINTABLE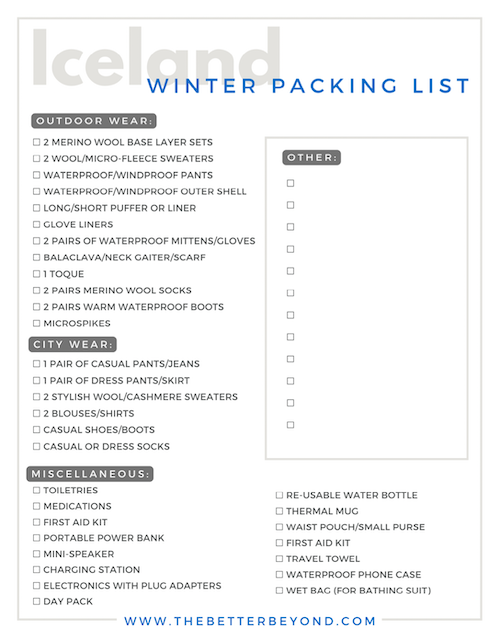 FURTHER READING
ABOUT THE AUTHOR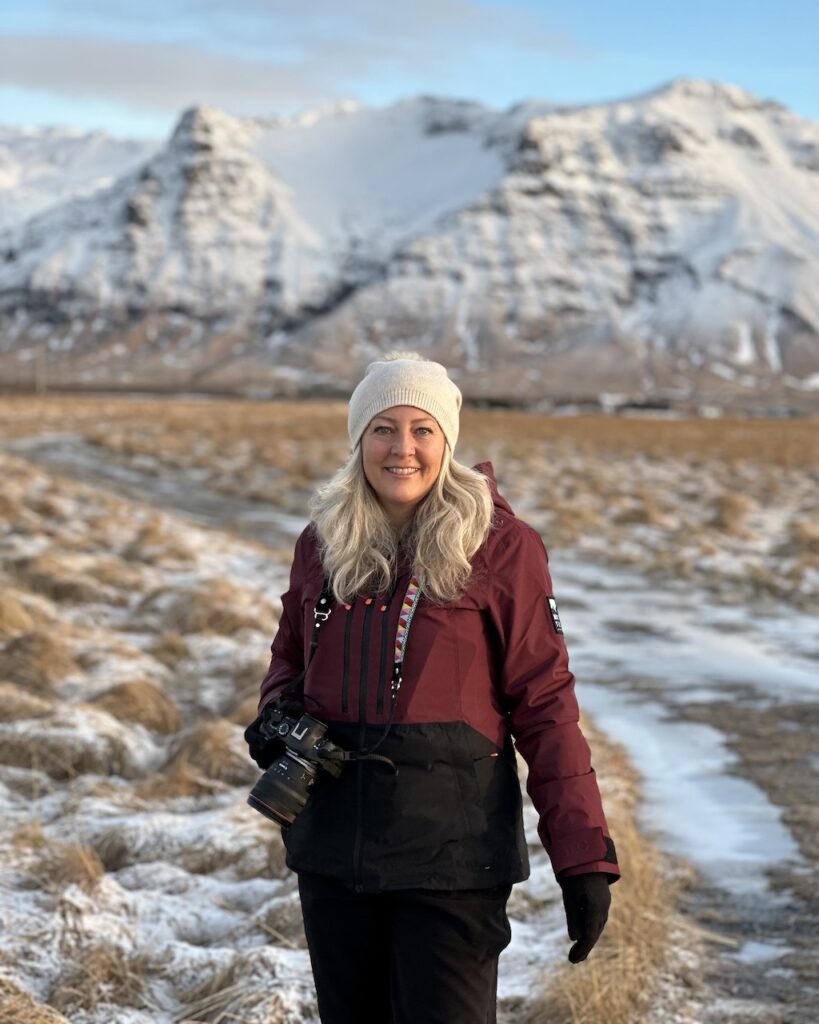 Sarah is an educator, traveler, photographer, and lover of all things delicious. On the weekends when she isn't running kids around to lacrosse and field hockey games, you can find her cooking or building charcuterie boards to take to her wine or book clubs! She is happiest in the snow, but also enjoys paddle boarding in the middle of the lake in summer and getting to the airport very early to savour the anticipation of traveling to somewhere new! You can find her on Instagram at @sterkeurs.
RECOMMENDED