10 Best Things to do in Iceland in the Winter (2024)
Last updated on December 5th, 2023 at 04:20 pm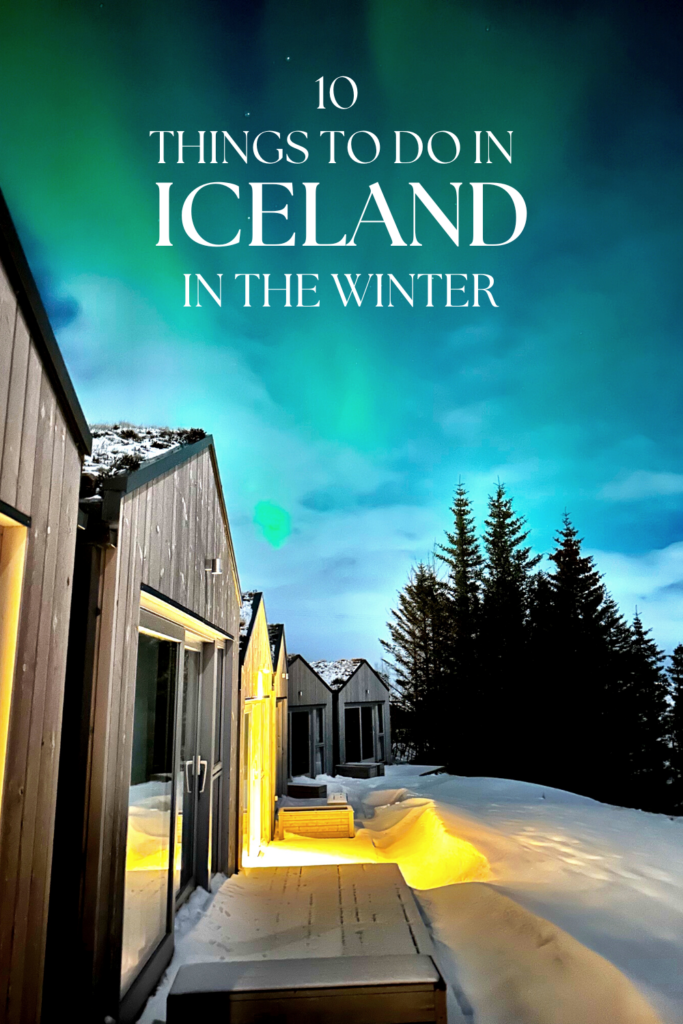 Affiliate Disclosure: This post on Iceland in Winter contains affiliate links. If you click a link and make a purchase, I may receive a small commission at no cost to you. All opinions are entirely my own.
ICELAND IN WINTER – INTRODUCTION
If you are researching an Iceland winter holiday, my guess is that you have probably been seduced by photos of the the Northern Lights surreally dancing above a frozen waterfall, or by a dream-like video of some gorgeous person slowly moving through a aqua-blue ice cave. I know that's what hooked me!
Personally, I can't get enough of Iceland's magical frozen landscapes. Perhaps that is why I have visited Iceland in the winter twice, and only once in the summer (it's also brilliant in the summer of course… just with more people visiting).
Iceland in the winter months has so many magical experiences to enjoy – from gorgeous geothermal pools to world-class dining. For this reason, I can't wait to share with you the following list of the 10 best Iceland winter activities.
Have questions? Feel free to reach out to me in the comments. I love hearing from you. You can also find our most recent trip in my Instagram highlights (@thebetterbeyond).
Please use the following menu to find what you need quickly. For a quick 3-minute overview, start with this video – otherwise just hop on down to the next section for the details.
ICELAND WINTER TRIP VIDEO (3 MIN.)
WINTER IN ICELAND – TOP 10 EXPERIENCES
1. SKY LAGOON
If you are planning your first trip to Iceland, I know that visiting the Blue Lagoon will be at the top of your must-see list. But…I want to let you in on a little secret…I think the Sky Lagoon is even better! (If you have the time, I would actually visit both. That is what we did on our most recent Iceland winter trip.)
Like the Blue Lagoon, Sky Lagoon is a large and beautiful pool warmed by geothermal heat and carved into lava rock. There are several things that make it extra special though, including the fact that it is built with an infinity edge along the ocean – making the two bodies of water seem to blend into one.
THE EXPERIENCE
The Sky Lagoon offers a very special 7-step ritual that includes a cold water plunge, a gorgeous dry sauna, a specially formulated rejuvenating salt scrub and a beautiful steam room. And after all that exhausting activity, you can just float on over to the swim-up bar for a refreshment.
The 7-step ritual is included with the Pure Pass. Something I really appreciated about this option was the fact that you are escorted to your own private changing room with a shower. It just makes the whole experience seem so much more relaxing as you aren't jostling for space with other people.
Note: A less expensive Lite Pass which includes the hot pool and the cold water plunge pool is also available.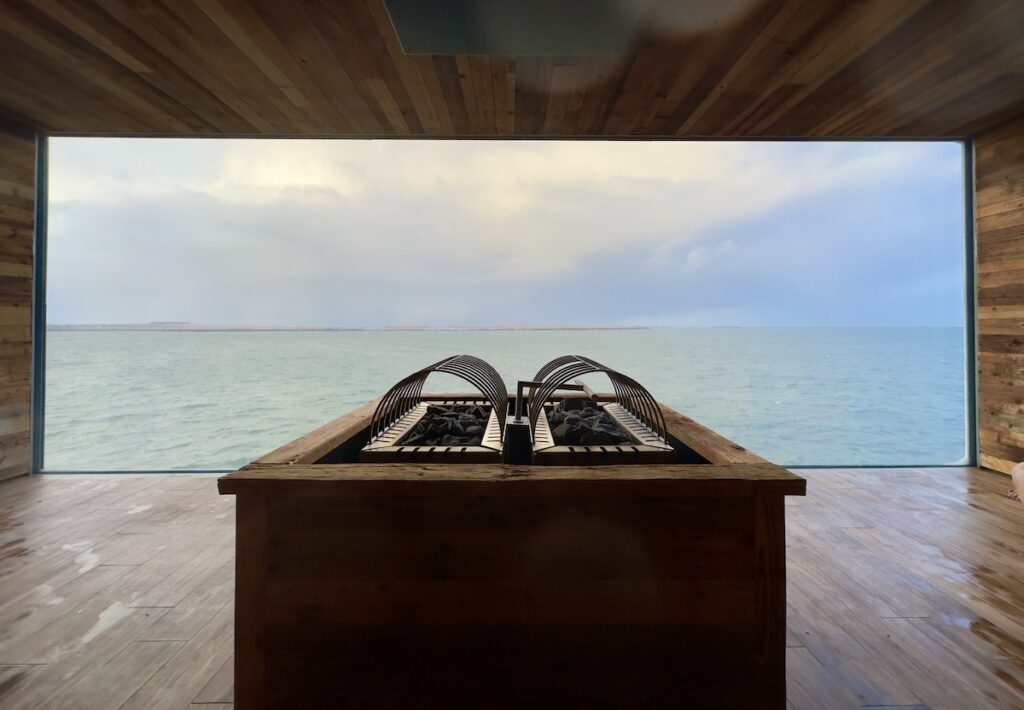 Don't rush off after leaving the lagoon though! Sky Lagoon has a lovely cafe and bar (with some beautiful Icelandic tasting platters). There is also the most thoughtfully curated boutique. (I'm still thinking about some things that I wish I had purchased there!)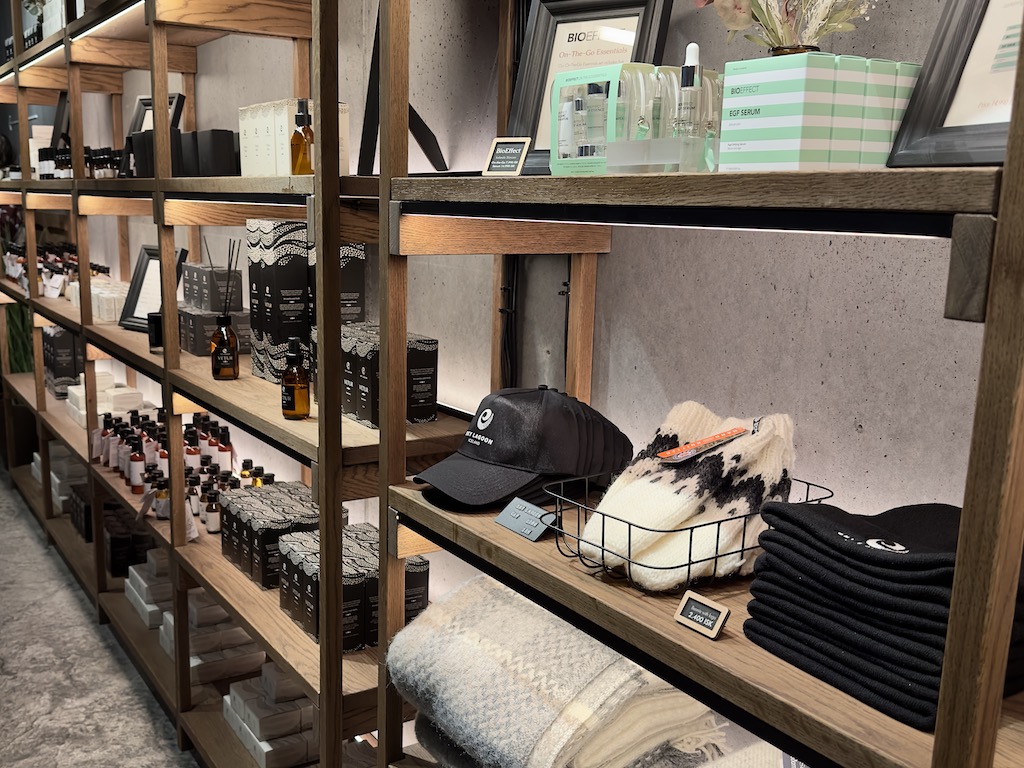 GETTING THERE
The Sky Lagoon is located just a 15 minute drive outside of Reykjavik city centre. If you do not have your own transportation, shuttle service can be booked with your ticket.
Tip: Weekdays are quietest as many locals like to visit on the weekends.
To learn more or to book, see SkyLagoon.com. See also recent reviews on Tripadvisor.
2. THE BLUE LAGOON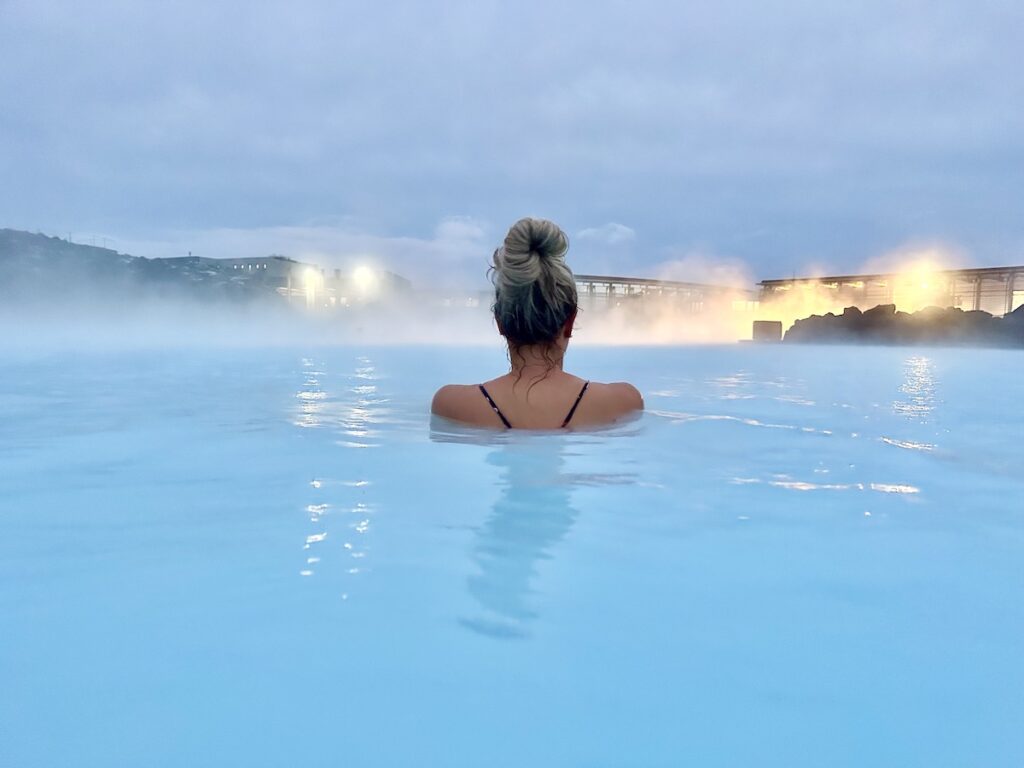 The Blue Lagoon has long been one of the most popular attractions in Iceland. Yes, I've knocked it down a notch to #2 here…but it's still pretty lovely. The waters at this geothermal spa are full of minerals and said to have healing properties. The surrounding lava fields create a surreal backdrop for a unique and unforgettable experience.
Note: The minerals from the Blue Lagoon can be really hard on your hair and will leave it feeling like straw for a few washes. Either keep your hair out of the water or coat it with conditioner beforehand.
The Blue Lagoon offers several different packages for visitors. Every package include use of the lagoon, a mask, a drink from the swim-up bar and the use of a towel. The Premium Pass includes 2 additional masks, use of a robe and a glass of sparkling wine if you are dining at Lava restaurant.
Additional facilities at the Blue Lagoon include a cafe, the aforementioned Lava restaurant (it's really very good) and the relatively new Retreat Spa (offering a 5 hour experience). For parents, the Blue Lagoon welcomes kids 2 and above and the Lava Restaurant offers a kids menu.
The Blue Lagoon is located right near Keflavik International Airport so it makes for a convenient pre or post flight experience. To learn more or book, see BlueLagoon.com or recent visitor reviews on Tripadvisor.
See also these Blue Lagoon package options that include transportation from Viator.com.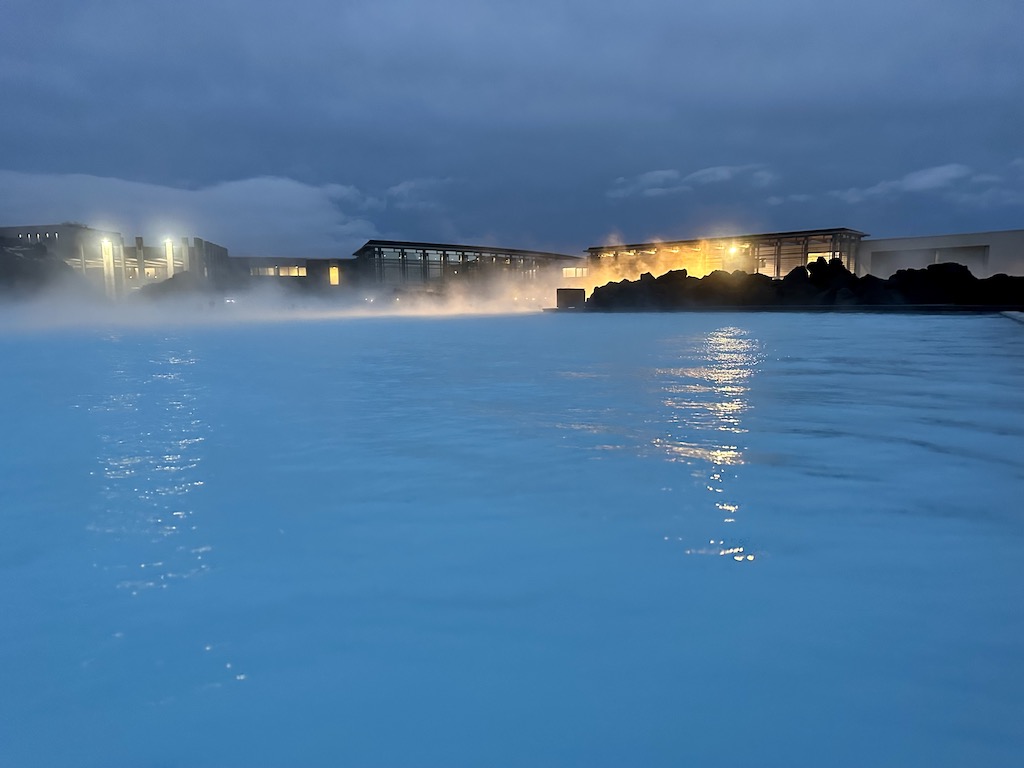 Note: If you plan on visiting the Blue Lagoon Iceland in winter following an early morning arrival into Keflavik airport, you may find yourself visiting in the dark. For example, sunrise in January happens between 10-11am! It's kind of fun though. On a recent visit, everyone seemed a little giddy floating around in the pre-dawn hours..
3. THE GOLDEN CIRCLE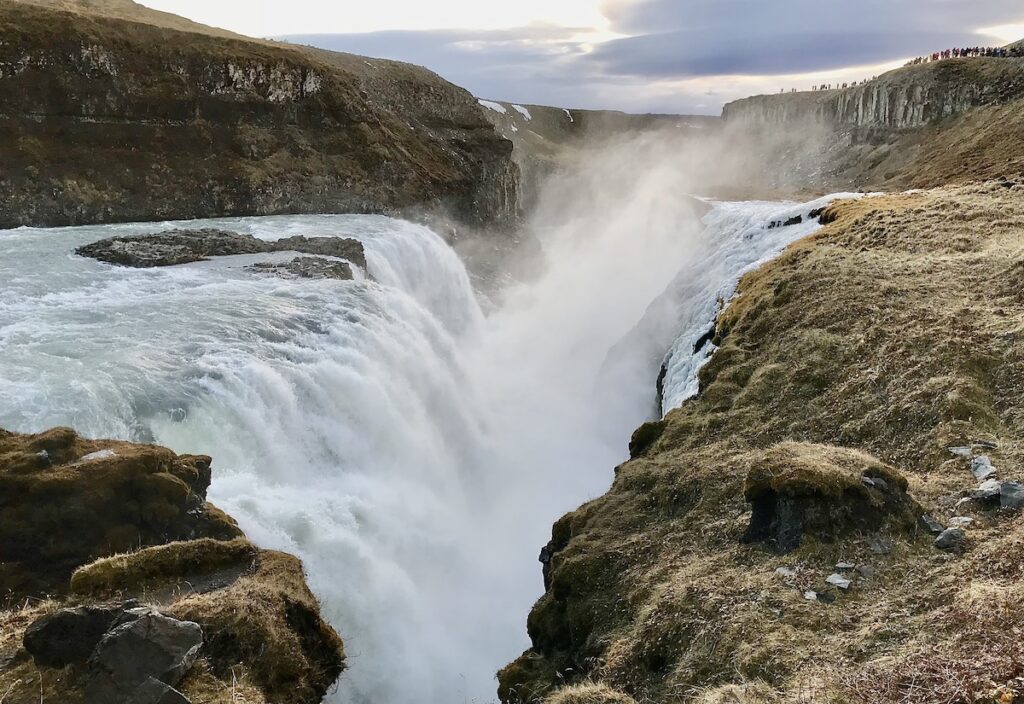 The Golden Circle is a day trip loop from Reykjavik that takes you to some of the most stunning and iconic natural wonders of Iceland, including Gullfoss Waterfall, Geysir Hot Springs, and Thingvellir National Park. Despite its immense popularity, it is absolutely a must-do as it showcases some really spectacular natural features in Iceland, without having to travel far and wide.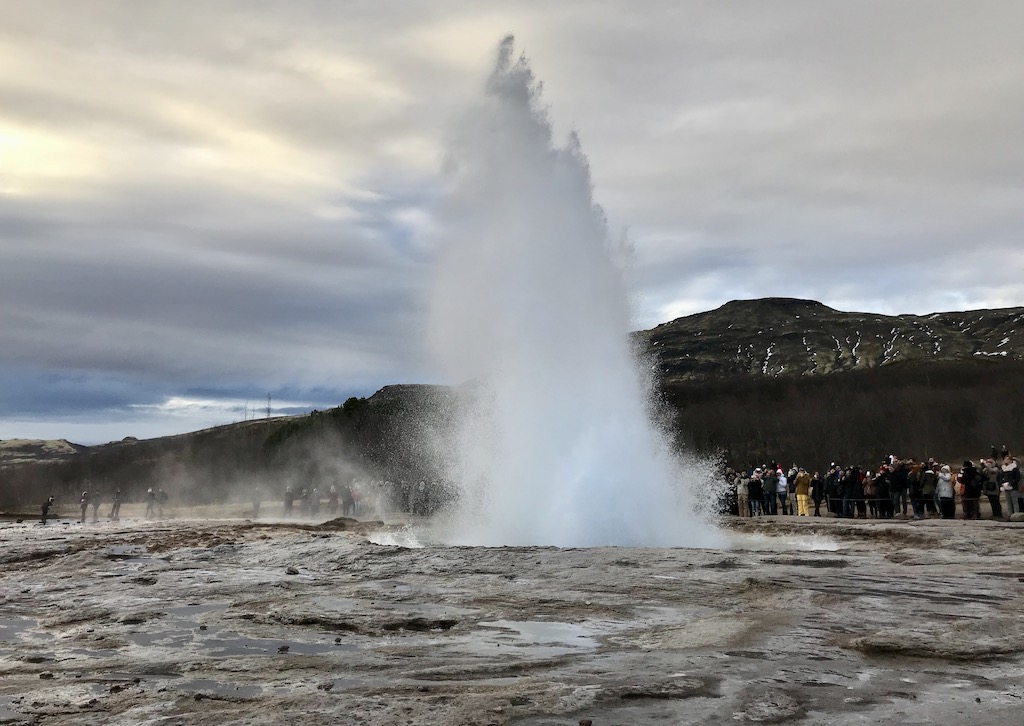 SELF DRIVING THE GOLDEN CIRCLE
While it is possible to self drive the Golden Circle in winter (we have done it twice), the road conditions can be a bit dicey. I would only suggest this if you are comfortable with winter driving. This option can shorten your time out (no hotel pick ups/drop offs) and can give you the ability to make some extra stops (like for delicious ice cream at Efstidalur ll Farm).
GOLDEN CIRCLE WINTER TOURS
Alternatively, there are dozens of winter Golden Circle tour options to choose from. The most highly rated tours book up weeks in advance, although they usually offer a flexible cancellation option. If possible, I would suggest checking the weather report ahead of time and trying to adjust your tour to a different day if the weather looks poor.
We did not have that flexibility on a recent trip to Iceland in February and let me show you what it was like at Gullfoss. Not only were we being pelted by sleet – it was also almost impossible to stand up straight to take photos and video!
In contrast, the following video is from Gullfoss on a November Golden Circle trip with much more favourable weather.
Personally, I have had an excellent tour experience while working with a company called Hidden Iceland. They run some wonderful Golden Circle and South Coast Iceland itineraries out of Reykjavik.Please feel free to use the promo code PINTSIZE10 for a 10% discount on their small group tours. See also reviews for Hidden Iceland here.
Anecdotally speaking, I happened to meet an off-duty Hidden Iceland guide on our most recent visit to Reykjavik and he couldn't help but sing the praises of his company. He said that they are the only tour company in Iceland that removes seats from Sprinter Vans to reduce capacity and improve guest experience.
3. VISIT THE BLUE ICE CAVES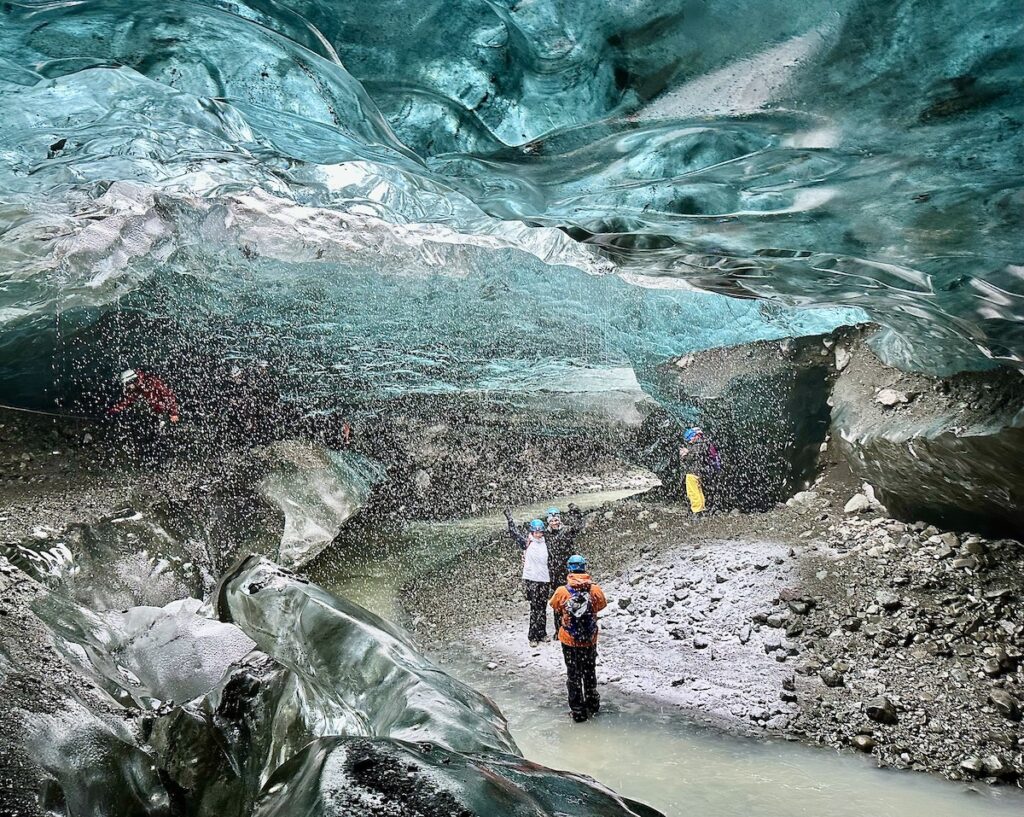 Photos of the blue ice caves were what first sent me scrambling to find my way to Iceland during the winter. From October to April you can visit these majestic and otherworldly crystal caverns inside the Vatnajökull Glacier, uniquely formed each year from glacial melt.
ICELAND BLUE ICE CAVE TOURS
The blue ice caves are located on the South Coast of Iceland. While in theory it is possible to visit them as a day trip from Reykjavik, it is going to be a 12 hour outing. Most of that time will be spent on a shuttle bus.
The better option is to take a 2-day or multi-day blue ice cave tour that also includes some of the other amazing tourists sights along Iceland's South Coast (Reynisfjara Black Sand Beach, Diamond Beach, Seljalandsfoss Waterfall, Jökulsárlón Glacier Lagoon and more). Once again, my preference is the tour company Hidden Iceland, but you can also find several other options on Viator.com.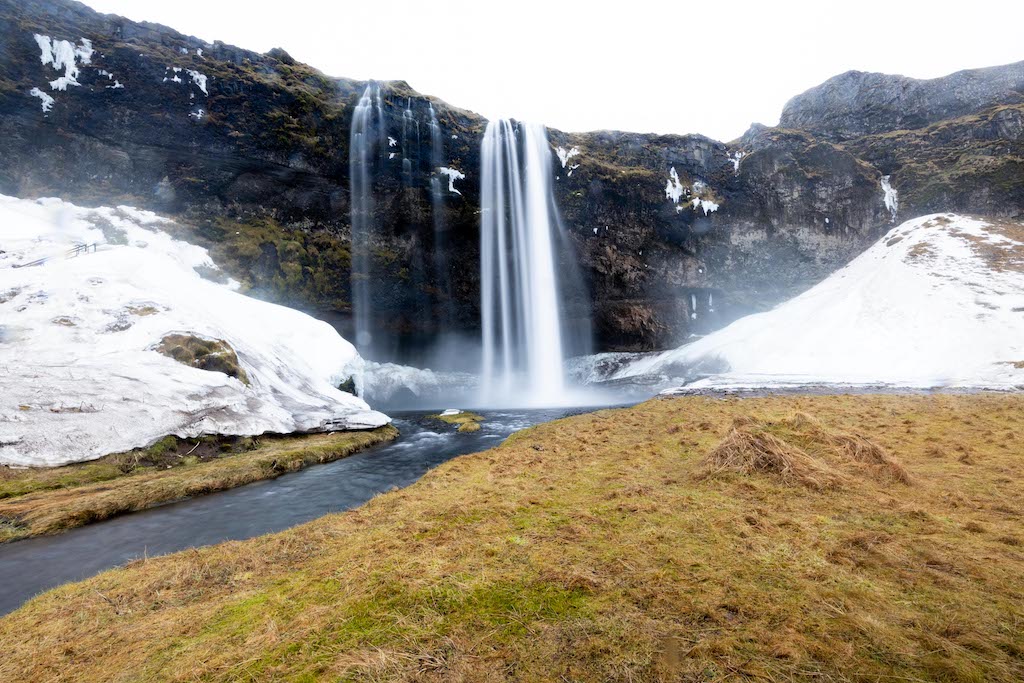 SELF DRIVING SOUTH COAST ICELAND
It is also possible to self-drive the South Coast Iceland in winter (we did) but you will want to have a 4WD vehicle and be comfortable driving in all kinds of road conditions. In this case, you can book a blue ice cave tour directly with the tour company Local Guide of Vatnajökull. Their tours leave in the morning and afternoon from the Jökulsárlón Glacier Lagoon parking lot (across the street from Diamond Beach).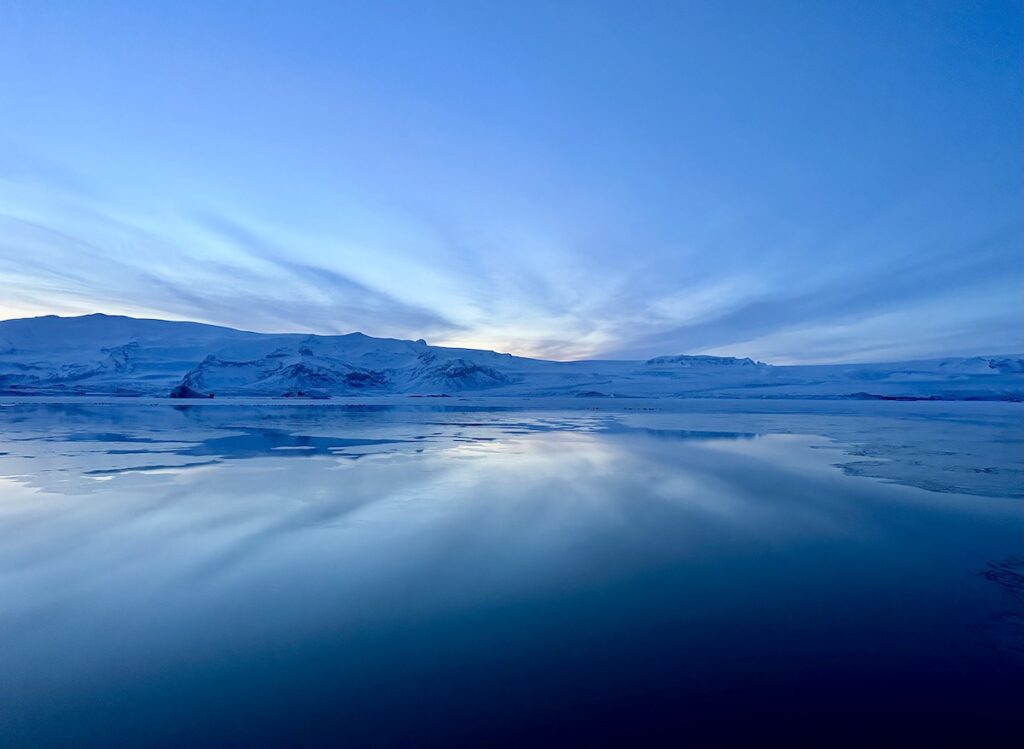 Tip: When you visit Iceland in winter, you should be aware that due to bad weather, tours sometimes get cancelled. If seeing the blue ice caves is your one must-see Iceland winter attraction, then try to schedule it near the beginning of your Iceland winter holiday. This way, if your tour is cancelled, you can try to reschedule it for another day. (This happened to us but Local Guide of Vatnajökull managed to squeeze us in the following morning.)
4. SEE THE NORTHERN LIGHTS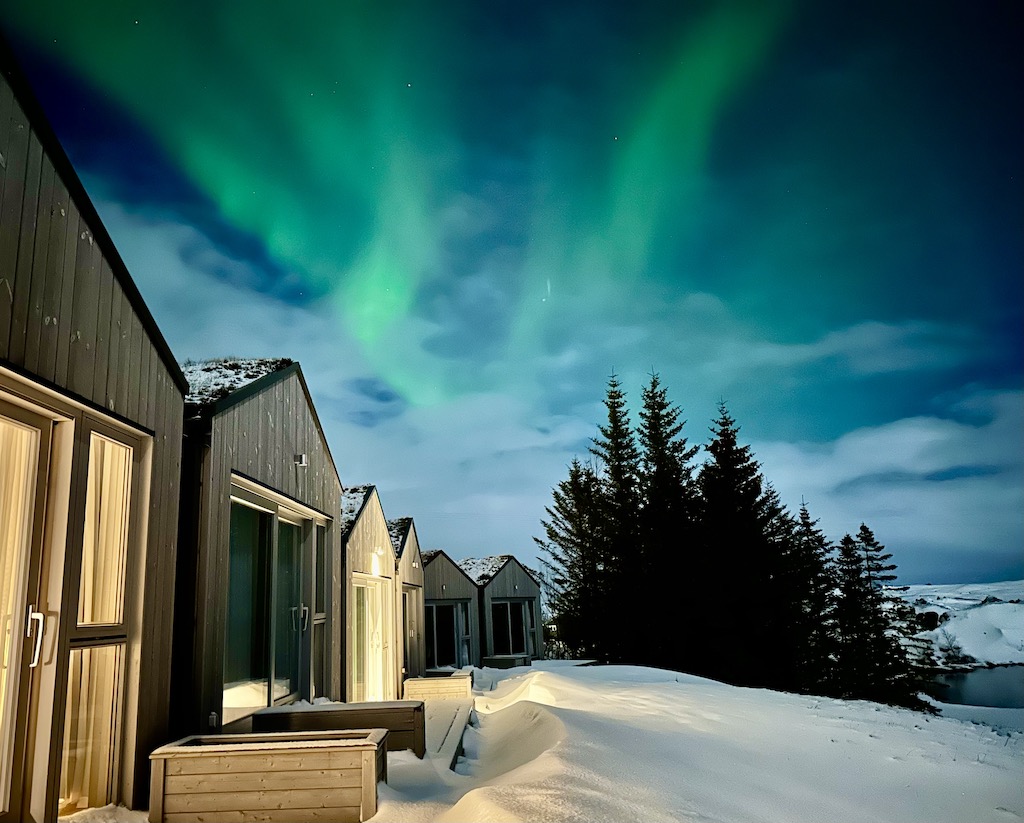 Iceland is one of the best places to see the Northern Lights, and winter is the perfect time to witness this spectacular natural phenomenon. Many tour operators offer night trips from Reykjavik to seek out the Aurora Borealis. If you have an Iceland rental car, you can also try your luck by heading out into the countryside on your own (away from the city lights).
Even better, is if you have the opportunity to spend a few nights on the South Coast of Iceland. Most accommodations in this area have very little light pollution and can be great for Northern Lights viewing. The above photo was taken outside the Magma Hotel in South Iceland at about 11pm in early February.
Tip: We would not have seen the Aurora Borealis in Iceland were it not for the app Hello Aurora. Based on your location, it provides you with an estimate of how likely you are to see them. The auroras started to appear in the night sky above us when the app showed a probability of >30%. The photo above was taken when it hit 50%.
5. GO WHALE WATCHING
Despite the cold temperatures of winter, whale watching is still possible in Iceland. Tour operators offer boat trips that let you experience the impressive giants of the sea in their natural habitat.
During the Reykjavik winter, the whale boat tours are typically done in a large vessel with ample (warm) interior space. In the summer, visitors also have the option of choosing a tour in an open RIB boat (like the ones shown in the photo above).
See options for Reykjavik winter whale tours on Viator.com.
6. EXPLORE REYKJAVIK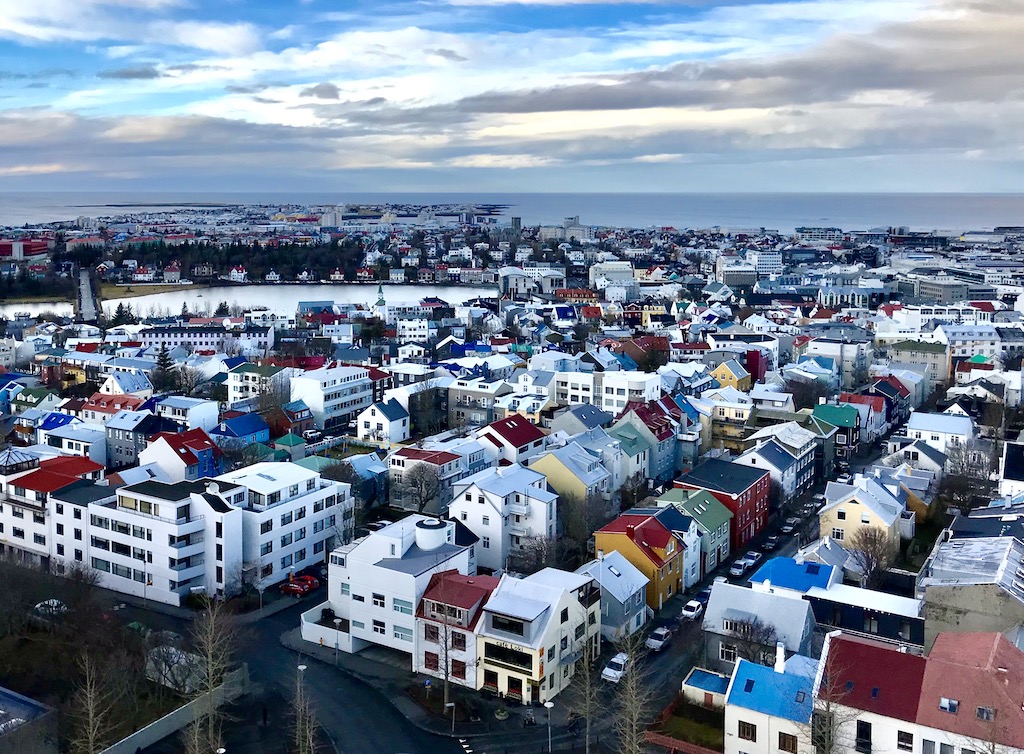 Reykjavik is Iceland's capital and largest city, and a great place to explore in winter. There are plenty of interesting sights to see, including the iconic Hallgrimskirkja church, the beautiful old harbor, and the vibrant downtown area.
Reykjavik in winter is easy to navigate on foot (most sidewalks are ice-free from geothermal heating below). There is abundance of nice shopping, excellent dining establishments, and world-class museums, all within the compact city core.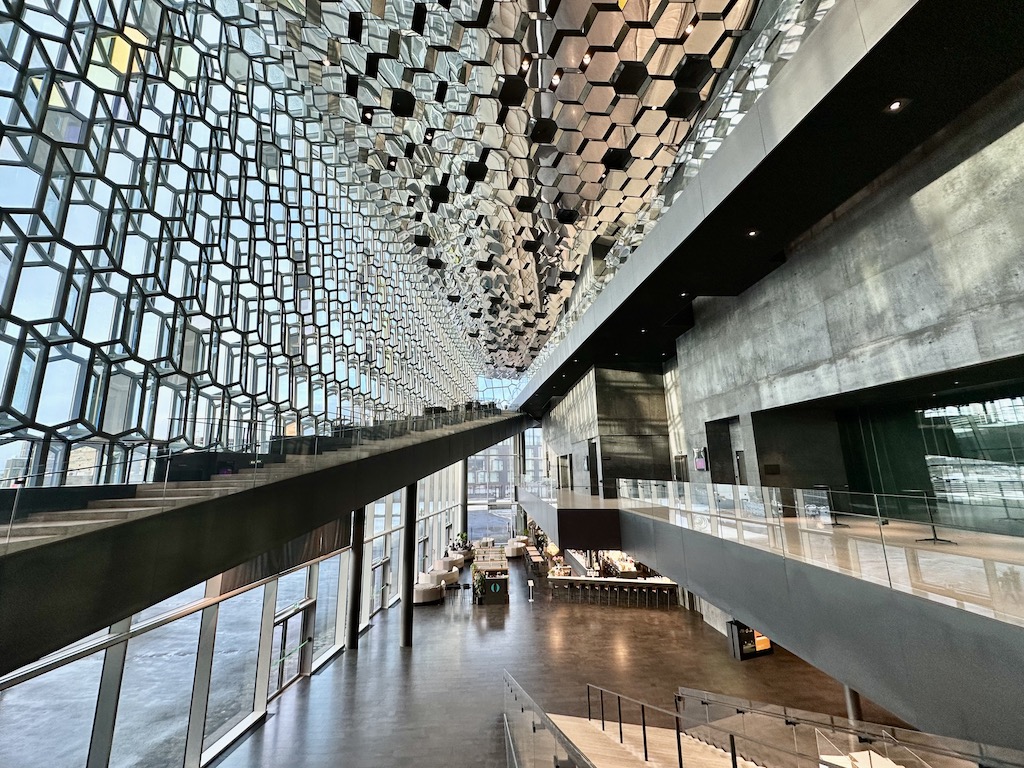 While exploring the city, be sure to stroll along Laugevegur shopping street, admire the swans on Tjörnin Pond, walk the sea wall to the Sun Voyager sculpture and pop into the beautiful Harpa Concert Hall (home to the Icelandic Opera).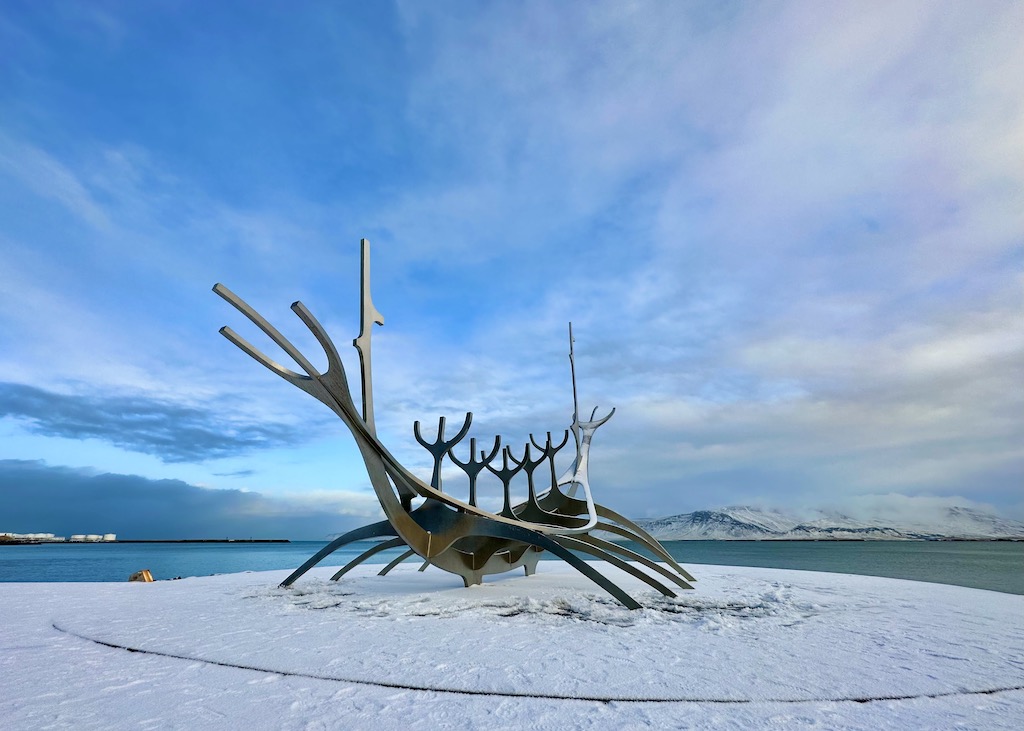 Personally, I don't think you need a tour to explore Reykjavik. If, however, you really want to do one, I would suggest a foodie tour to familiarize yourself with some traditional Icelandic dishes and delicacies.
The Reykjavik Foodie Adventure gets great reviews on Viator.com.
P.S. If someone tells you that Iceland doesn't have good food…ignore them. They don't know that they are talking about. Reykjavik has some absolutely world-class restaurants, as do numerous destination lodges around the country. (See these 7 Top Restaurants in Reykjavik from TimeOut and this Forbes article on Michelin star chef Gunnar Karl Gíslason.)
REYKJAVIK WINTER FESTIVALS
Attending a festival in Reykjavik is a great way to experience the local culture and maybe even meet some Icelandic people! Two to enjoy in winter are:
Thorrablot – A traditional mid-winter festival, typically held in the months of January and February. It is celebrated with feasting on traditional Icelandic food such as hákarl (fermented shark) and svið (sheep's head). Numerous restaurants in Reykjavik offer special menus during this time.
Reykjavik Winter Lights – A festival to celebrate the return of longer daylight hours and featuring a variety of light-based installations and fun events.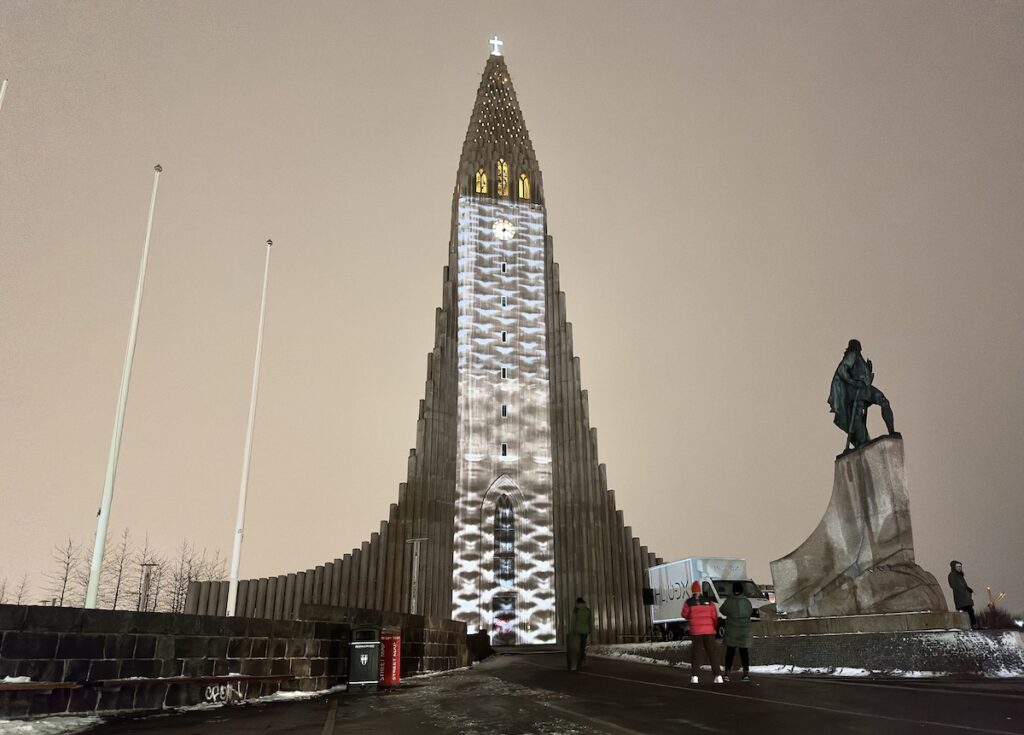 True Story: At a little bar frequented by locals during the Reykjavik Winter Lights festival, my friend Sarah and I chatted with a member of the Iceland national football team, Iceland's only ever Playboy Playmate (they were not together), and a man who was responsible for restoring the oldest building in Iceland. Meeting people (other than just fellow tourists) really enriched our whole Iceland winter experience!
8. GO SNOWMOBILING
You're planning an Iceland winter holiday because you want an adventure, right? Then how about a little snowmobiling on a glacier? Most snowmobiling tours have you zipping across Langjökull Glacier, several hours drive east of Reykjavik.
Iceland snowmobiling tours typically depart from Gullfoss Waterfall parking lot. From there you board a giant truck for the ride to the glacier. As this is the furthest point from Reykjavik on a Golden Circle Tour, it can make sense to combine the two activities.
Check out these great Iceland snowmobiling options on Viator.com.
9. HORSEBACK RIDING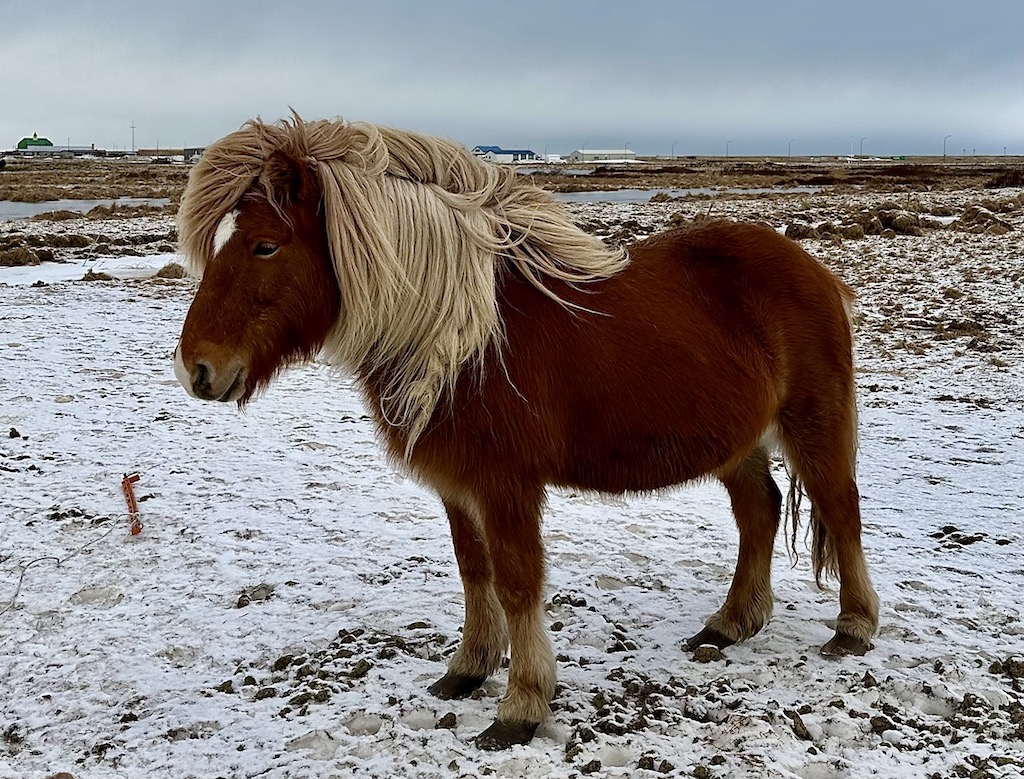 While a much more popular activity in the summer, yes, you can go horseback riding in Iceland in winter. Thankfully, the outfitters will also provide you with some extra winter layers to keep you cozy!
Several options close to Reykjavik include: Islenski Reidskolinn, Ishestar Riding and Eldhestar. See also these horseback riding options from Viator.com.
10. VISIT THE PERLAN MUSEUM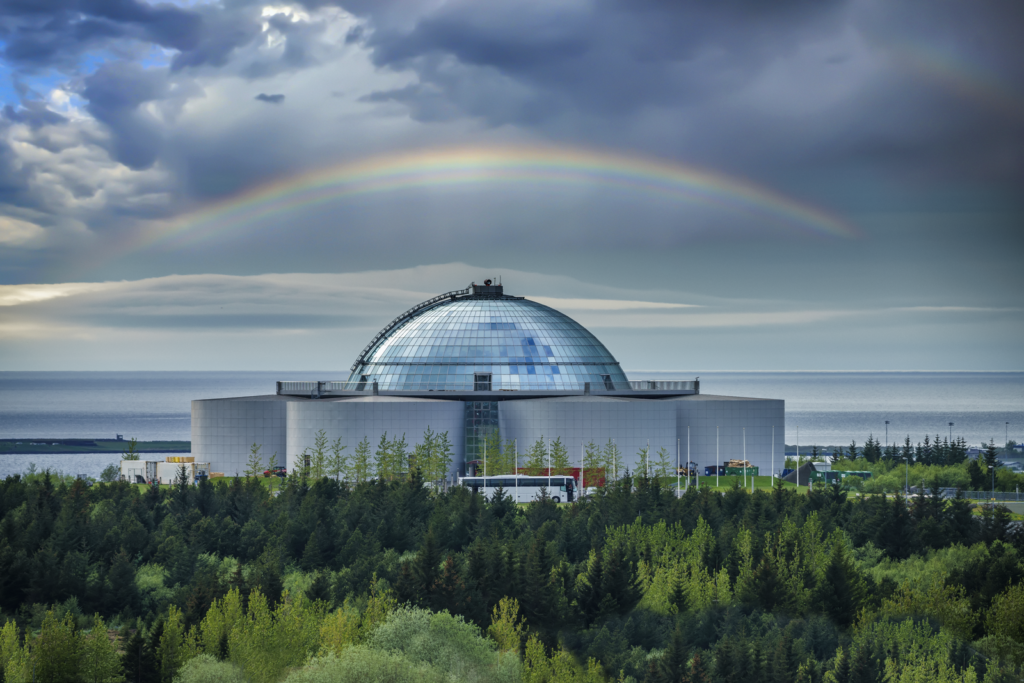 T Museum is situated on the top of Öskjuhlíð hill and is easily recognizable by its distinctive glass dome structure. The museum is dedicated to showcasing the unique natural wonders of Iceland, including glaciers, volcanos, and the Northern Lights, through interactive exhibits and immersive experiences.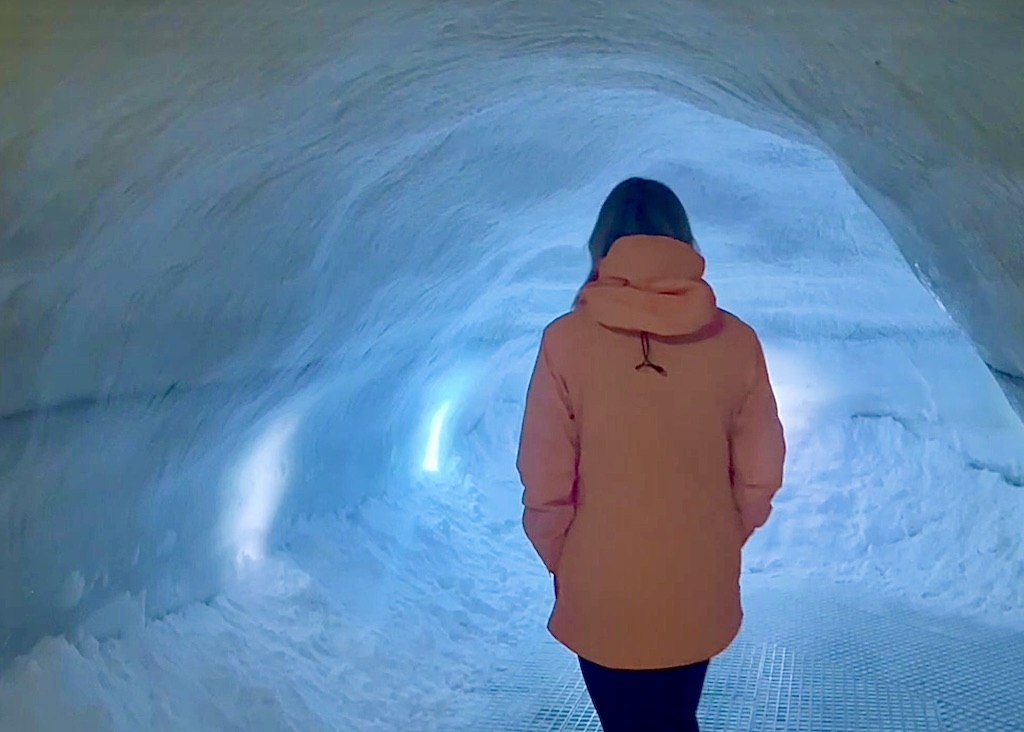 One of the most popular attractions at the Perlan Museum is the Wonders of Iceland exhibition, a man-made ice cave, where visitors can experience the feeling of walking through a glacier, as well as a planetarium show that recreates the Northern Lights. a a the )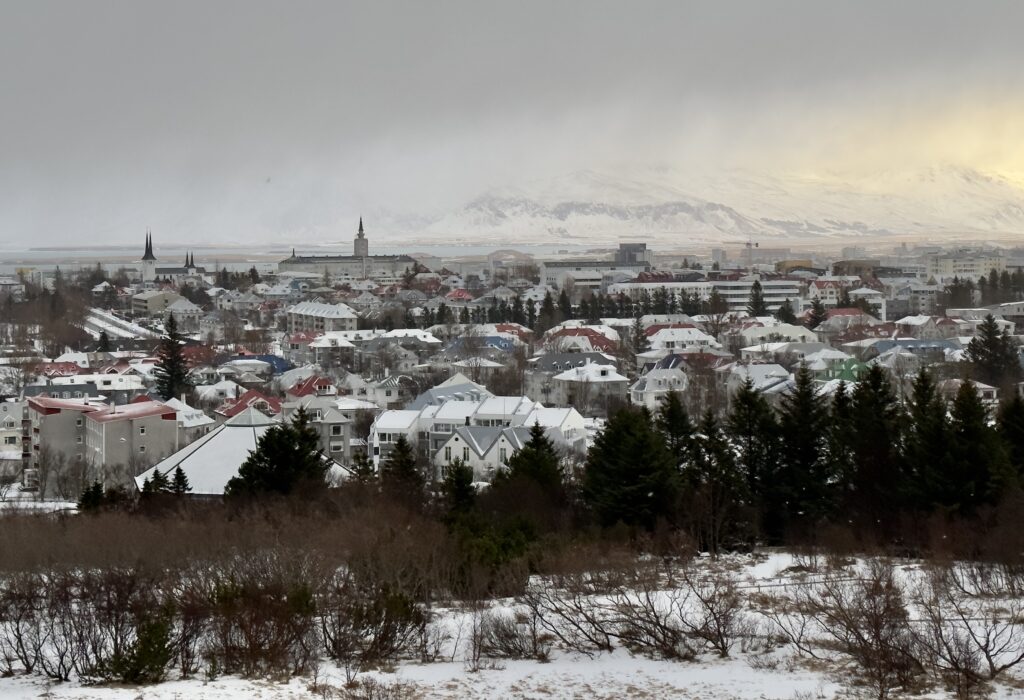 In addition to the Wonders of Iceland exhibition, the museum also houses a fine-dining restaurant, an observation deck with stunning views of the city, and a gift shop selling Icelandic souvenirs and products.
Learn more about the Perlan Museum at Perlan.is or read reviews from recent visitor on Tripadvisor.
RELATED POSTS