The Marietas Islands Hidden Beach – Mexico
Last updated on May 23rd, 2023 at 08:57 pm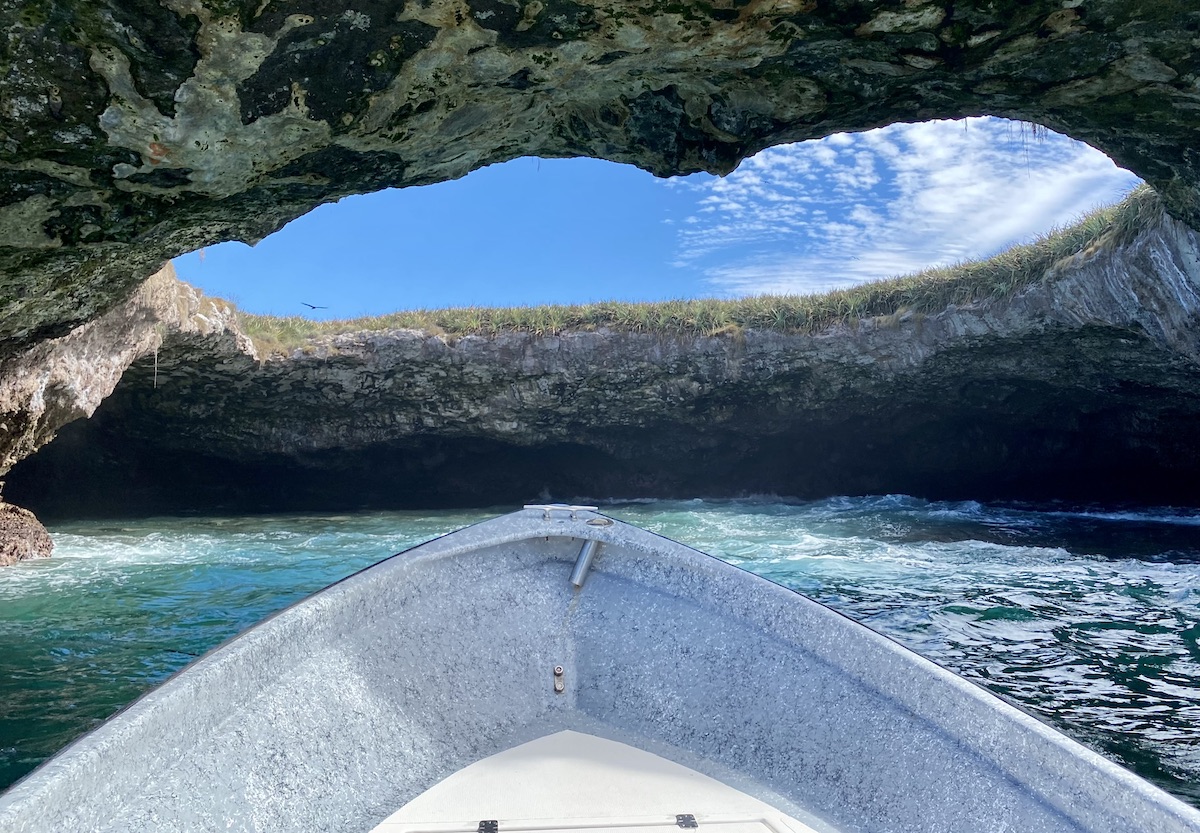 While on a little getaway to Mexico's Riviera Nayarit, I set out to find an interesting Puerto Vallarta eco tour. I wanted something that would showcase the natural beauty and marine life that is so abundant in the region.
I was simply delighted when I discovered a half day trip to the Marietas Islands Hidden Beach. Located within the nearby Unesco Biosphere Reserve, this secret beach could be reached by a short 15 minute boat ride from Punta Mita. (Boat tours also run right from Puerto Vallarta.)
See Also: Day Trip to the Marietas Hidden Beach Tour (Viator)
About The Marietas Islands Hidden Beach
The Marietas are made up of 2 uninhabited islands formed thousands of years ago by volcanic activity. They are an important breeding ground for numerous species of birds including Frigatebirds and the Blue-Footed Booby. With 44 species of flora and fauna, these islands are often referred to as Mexico's Galapagos.
The Hidden Beach is unique in that it is located inside a crater on one of the two protected islands. It can only be reached via a guided boat tour followed by a short swim. This special location is the only place within Marietas National Park that visitors are allowed to set foot on land.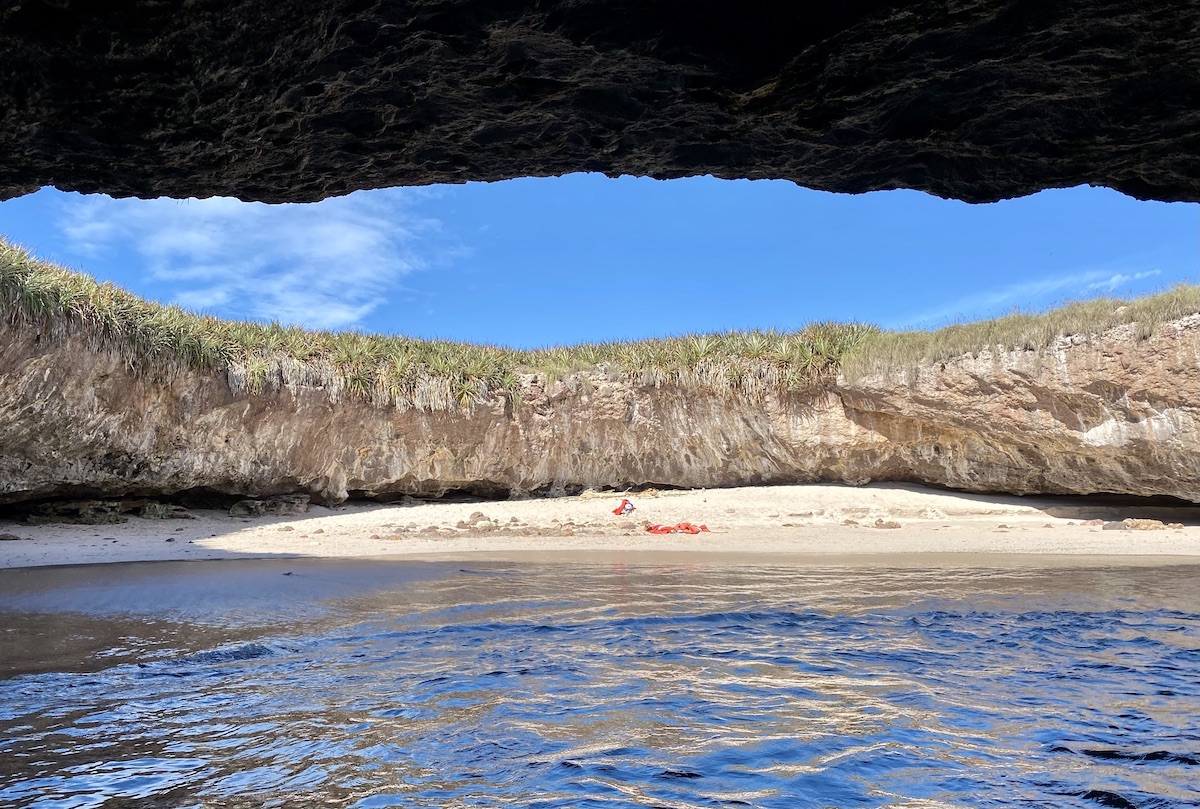 Upon arrival to the islands, guests don a lifejacket and helmet. They then swim with their accompanied guide about 75m through a rock archway to the beach. The visit must coincide with low tide when there is plenty of room to clear the rock shelf.
With only 117 daily visitors permitted to visit The Beach of Love or Playa del Amor (as it is also known), it is one of the more exclusive day trips from Puerto Vallarta.
In the Banderas Bay waters surrounding the 2 islands, there is also so much more to see. Guests often have the opportunity to view sea turtles, dolphins and even giant manta rays.
During the winter months (Dec.-Apr) humpback whales are often spotted. Snorkeling is also typically offered on a Mariettas Islands tour. Guests can enjoy the beautiful tropical fish that live in these crystal clear waters.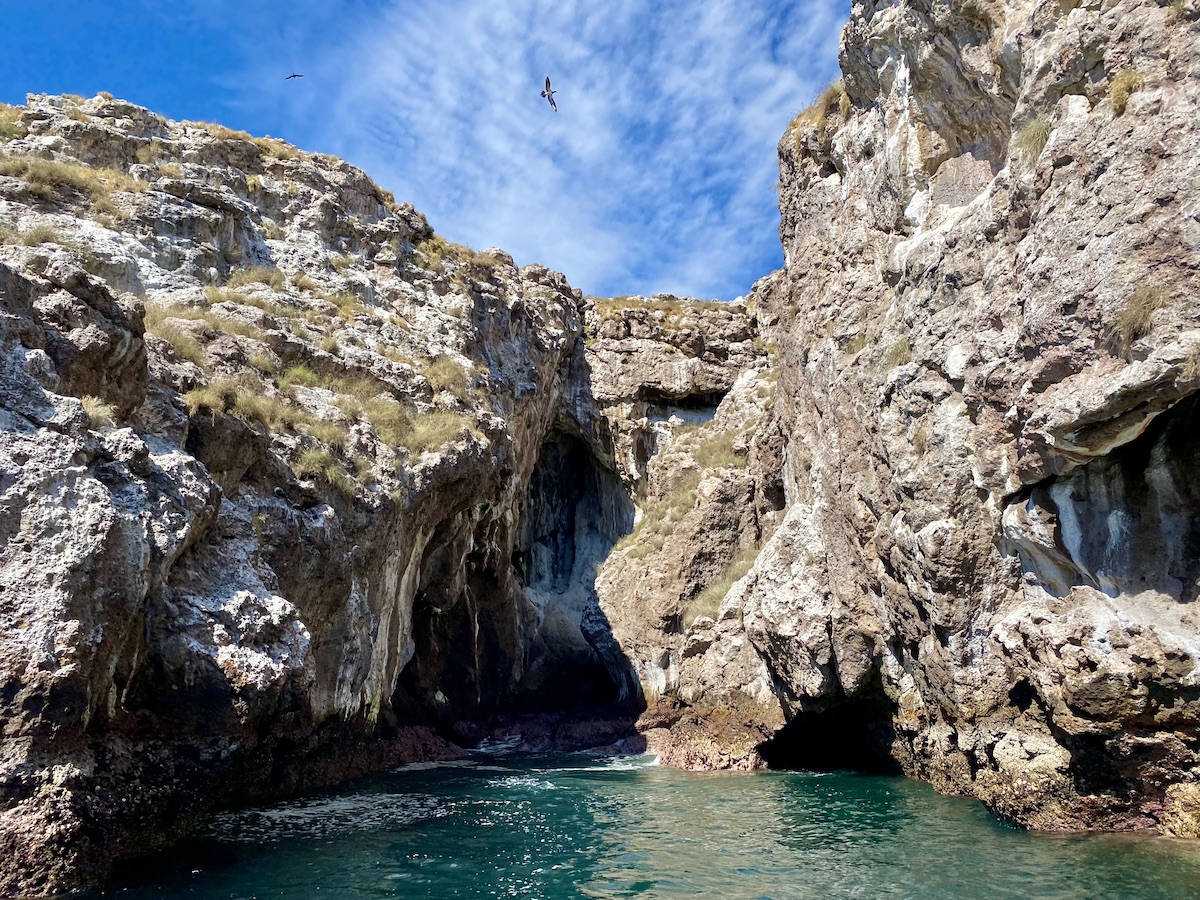 A Bit of Marietas Islands History
The Marietas have not aways been protected. In fact, in the early 1900s, the Mexican government used these islands for military target practice. It's thought that the giant hole that made this unique Mexico Hidden Beach possible was likely caused by an explosion. (This is also true of many other large craters and unusual rock formations on the islands.)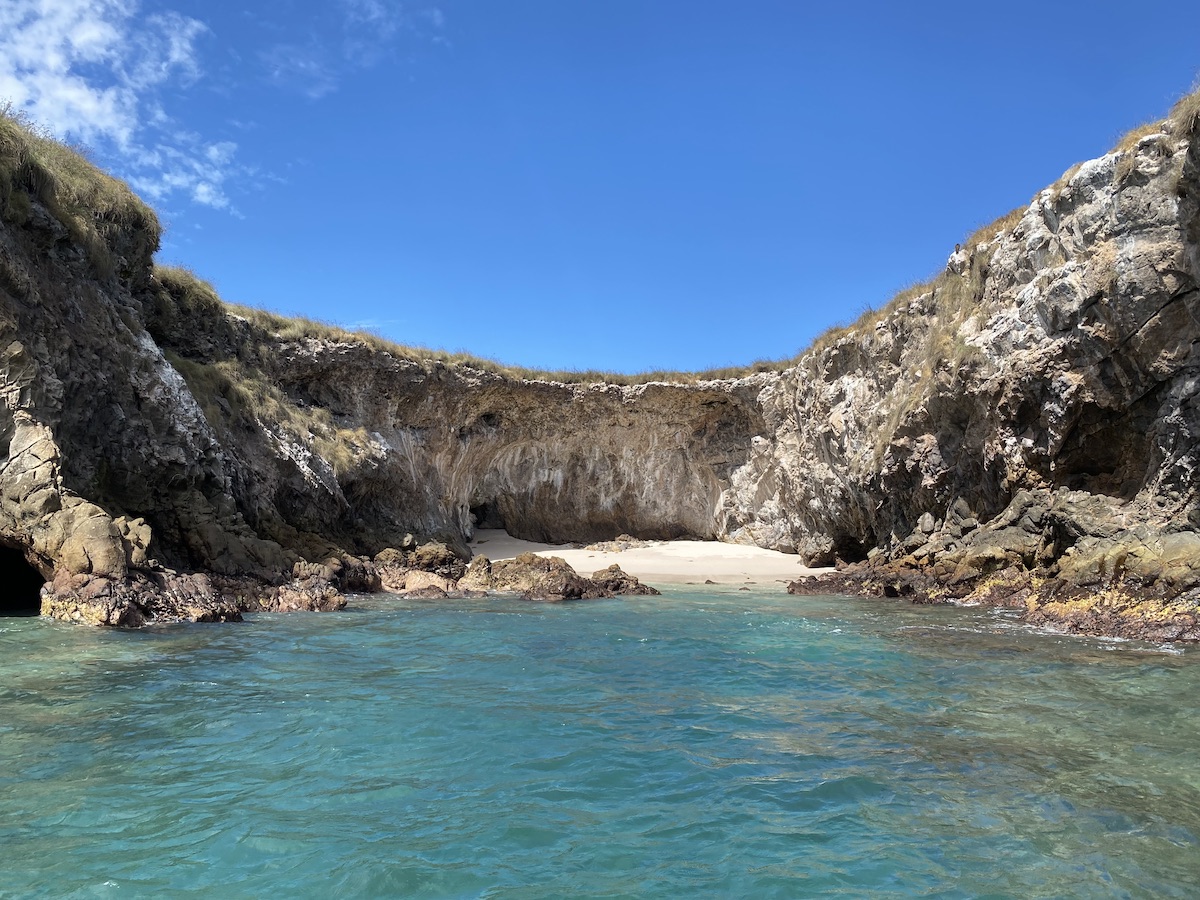 Thankfully, starting in the 1960s, famed oceanographer Jaques Cousteau began the fight to gain protection for this unique environment. While it didn't happen over night, in 2005, the Marieta Archipelago was granted National Park Status. The biosphere was added to the World Heritage List in 2008.
Why You Can't Walk on The Marietas Islands

There is a reason that special places need to be protected from the perils of over-tourism. In 1997 a Canadian tourist accidentally set fire to the islands, killing hundred of Blue-Footed Boobies and Brown Boobies.
By 2016, enticing social media photos of this amazing hidden beach in Mexico had made a trip to the Marietas Islands a very hot ticket. Thousand of tourists were booking Puerto Vallarta Hidden Beach boat tours daily. Their impact was causing a momentous amount environmental destruction to the islands.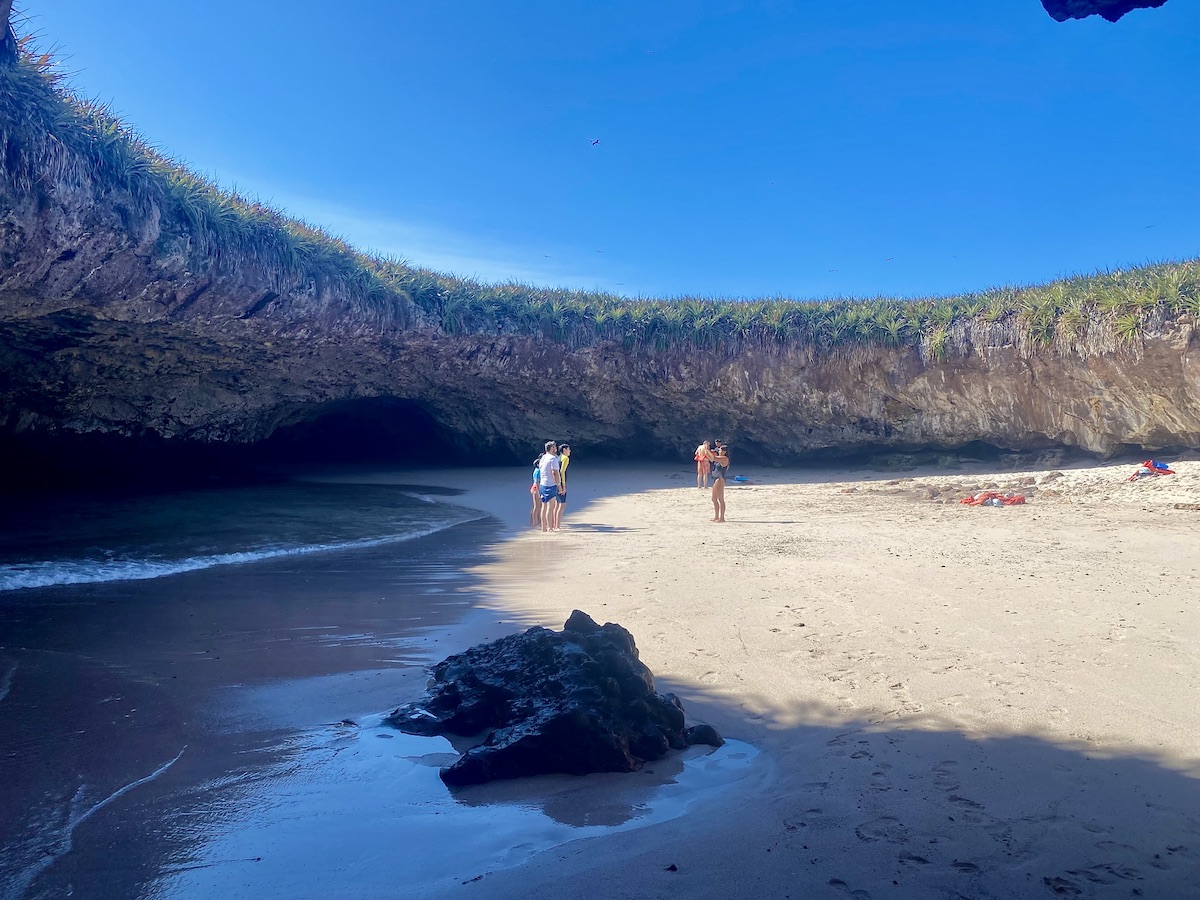 For a short period of time in 2016 the islands were shut down to tourists. A new plan needed to be put into place. The reopening of the Hidden Beach came with many new restrictions. These included a carefully selected group of licensed tour operators bringing only a limited number of guests daily. (117 total for all boats combined, from Wednesday to Sunday only.)
The Experience
We booked a private, half day Hidden Beach Marieta Islands tour through our hotel (Imanta Resort) for $150 USDpp. We took a cab to the dock near Punta Mita and were shortly on our way with our captain and a guide.
On this particular January day, about 10 male humpback whales were putting on an amazing show. We chose to delay our arrival to the islands so that we could enjoy watching them first. The beauty of having a private Marietas Islands tour is that it allows for this kind of flexibility.
Upon arrival to the islands, we were issued a wristband and helmet by the park rangers. (They are stationed in a boat right outside the entrance to the Hidden Beach.) With lifejackets and helmets on (both required), we joined our guide in the water for the 75m swim through the rock archway to the beach.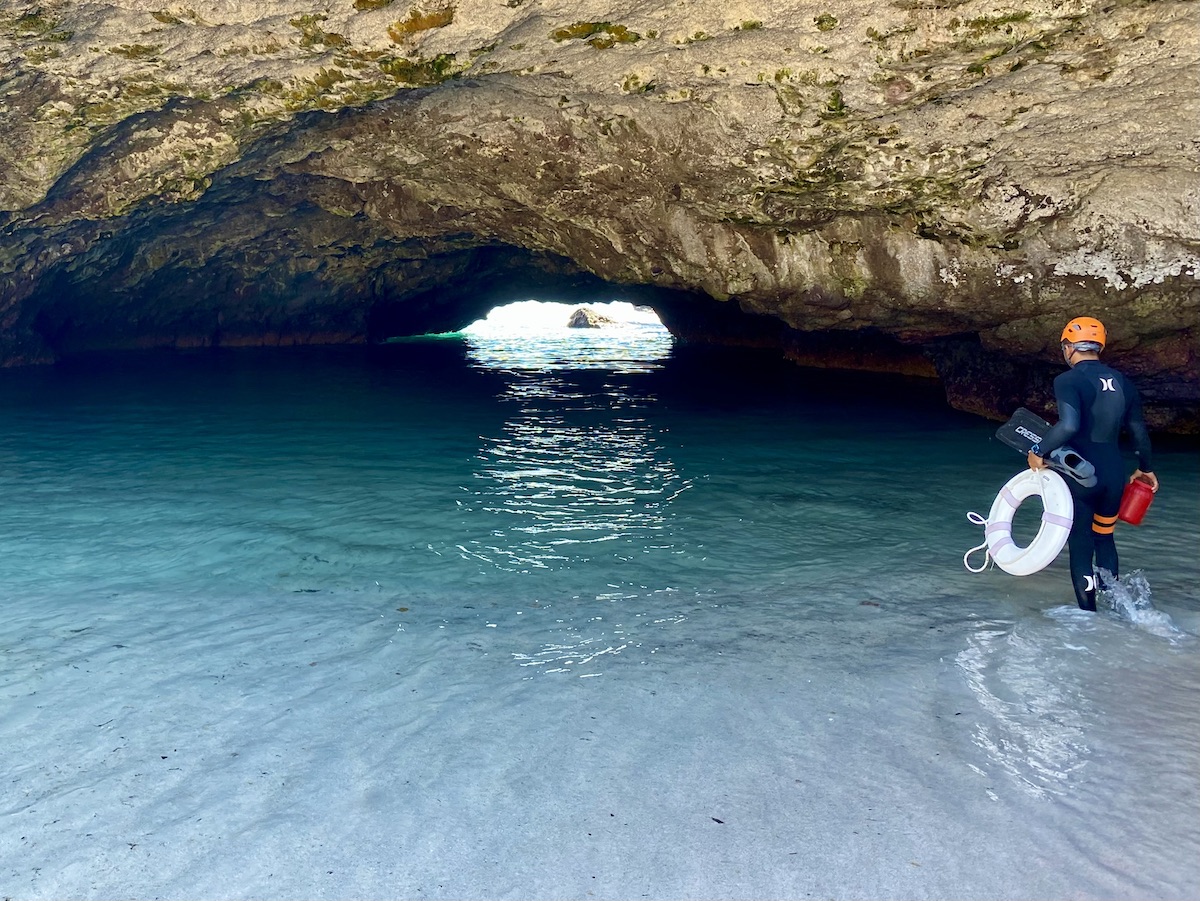 While the swim isn't far, the water can be choppy and the current moderately strong. For this reason, guides always carry a life ring along with them should any guest need a rest or a tow.
Note: There are days when these wild Pacific Ocean waters make it too rough to visit the Hidden Beach.
Personally, I love that only 117 guests are allowed to visit this beach each day. On our visit, there was only one other group there. We even had the beach all to ourselves for about 10 minutes.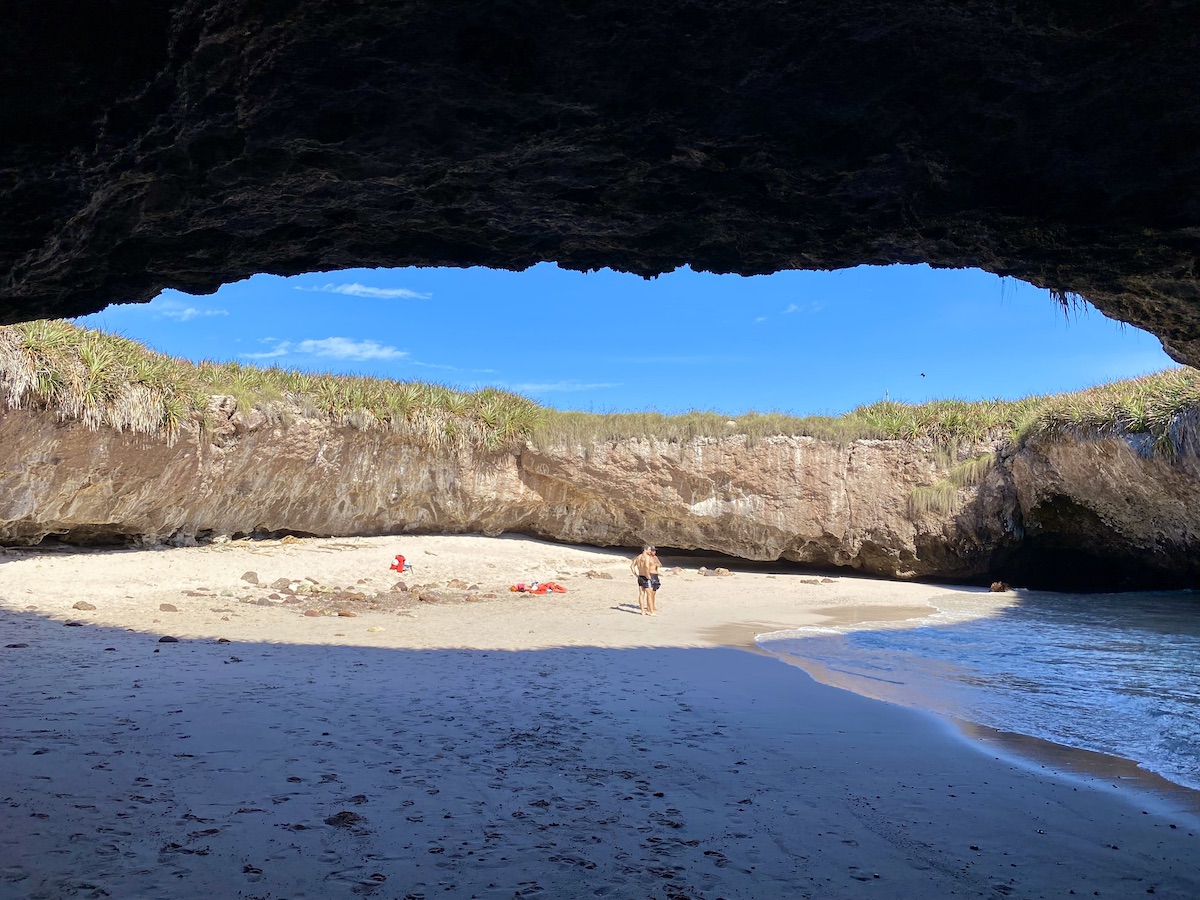 For the rest of our tour, we circled the islands in the boat. We learned about the conservation work, the flora and fauna and enjoyed some pretty snorkeling spots. (The fish were more plentiful than what we have seen elsewhere in Mexico.)
Note: With or without a visit to the Hidden Beach, a trip the Marietas Islands from Puerto Vallarta or Punta de Mita makes for a great day on the ocean.
How to Book a Marietas Islands Hidden Beach Tour
While hotels may have a preferred tour operator they use, there are several Marietas Islands Hidden Beach tour options that can be booked on Viator. Just remember to book early as this tour often sells out. (It does not run on Mondays or Tuesdays.)
I also want reiterate that even if you cannot visit the Hidden Beach, I still think that a snorkeling and wildlife viewing trip to the Marietas Islands is a great way to spend a day.
See options:
Know Before You Go
Guests need to be at least 12 years to visit the Hidden Beach.
For safety reasons, expectant mothers and people with heart conditions are restricted from visiting the Hidden Beach.
Please use a reef-friendly sunscreen.
Due to varying ocean conditions, entry to the Hidden Beach may not be guaranteed. (Some tours offer the option of a complimentary visit on another day.)
Related Posts