15 BEST BOUTIQUE HOTELS IN MEXICO CITY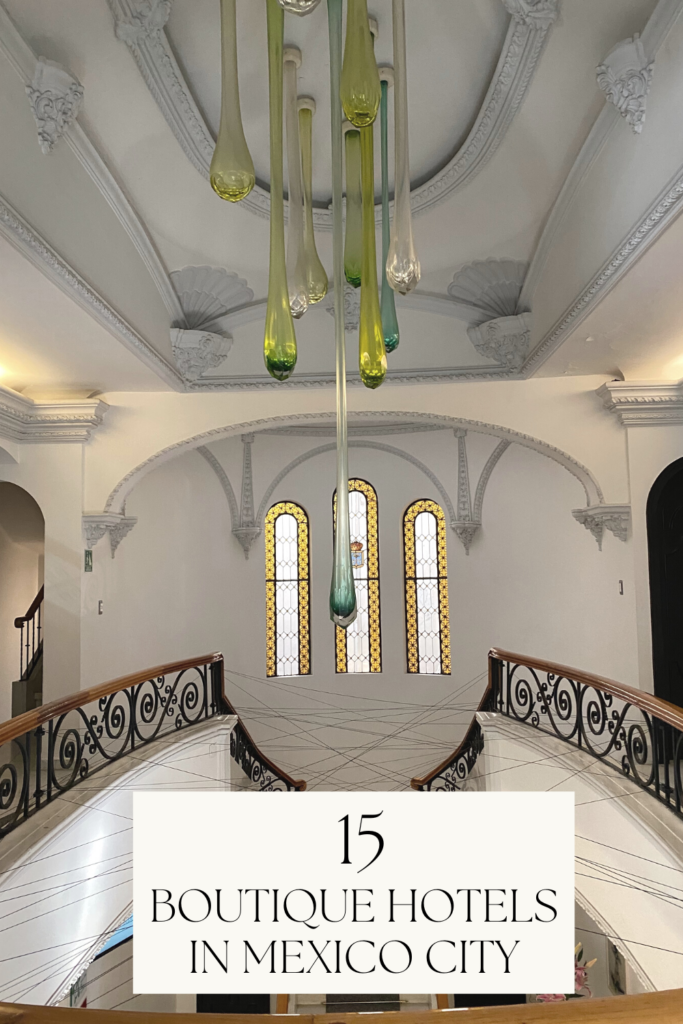 Affiliate Disclosure: This Boutique Hotels Mexico City post contains affiliate links. If you click a link and make a purchase, I may receive a small commission at no cost to you. All opinions are entirely my own.
Looking for the best boutique hotel in Mexico City? I know for me, finding the perfect small hotel, with just the right vibe, can be absolutely critical to the success of a trip.
I'm far too embarrassed to share with you exactly how much time and effort I put into this task (it's a borderline obsession) but it's suffice to say that I don't want you to have to do the same. For this reason, in this post I will share with you this list of the coolest hotels in Mexico City for the boutique hotel-lover – carefully curated from numerous trips to this vibrant, culturally-rich, and colourful city.
Before we get started, I want to provide a little bit of essential information to help you find the absolute best boutique hotel Mexico City pick for your trip. Alternatively, use the menu below to quickly find what you need or go straight to the list.
WHERE TO STAY IN MEXICO CITY
Mexico City or CDMX (Ciudad de México) is one of the most populous cities in the world (+20MM inhabitants) and has a very large footprint. It can be quite overwhelming to try to figure out where to stay.
I will describe in detail below the best neighbourhoods to stay in while visiting Mexico City. It is useful to know, however, that most boutique hotel Mexico City properties are located in the neighbourhoods surrounding Bosques de Chapultepec Park.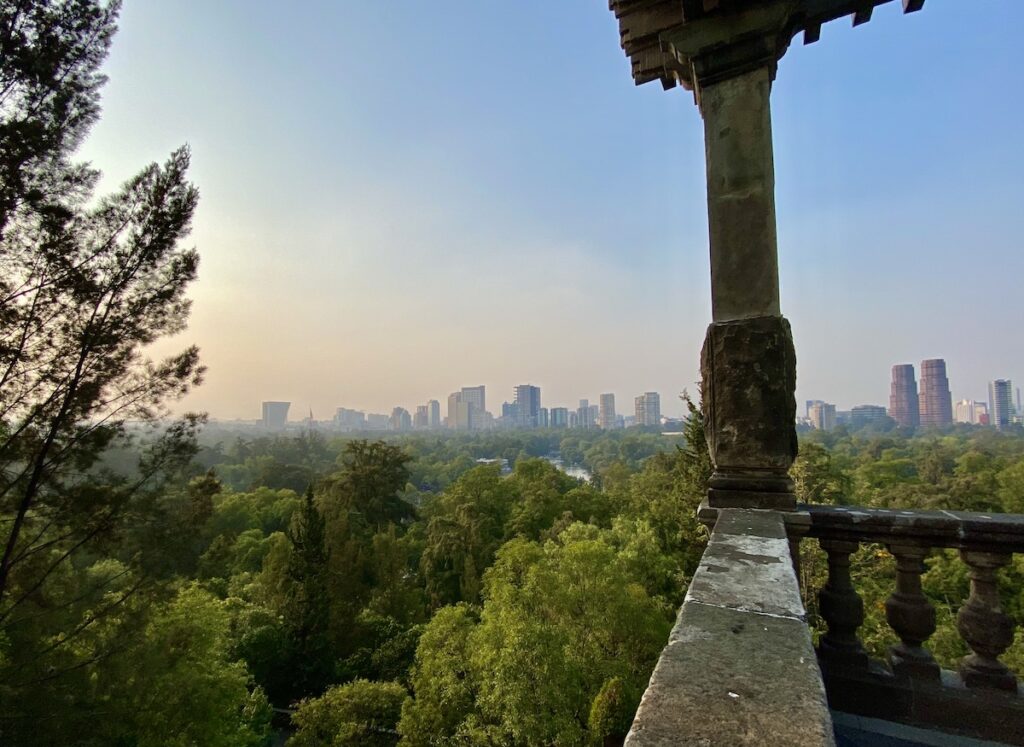 Often referred to as "the lungs of Mexico City", this sprawling central city park reminds me a lot of NYC's Central Park. It is also a cultural centre in its own right – with no less than 11 museums within its boundaries!
This giant green space is bordered by some of the nicest city real estate. These neighbourhoods include Polanco, La Condesa and Roma Norte. If you are a foodie, this is also where you are going to find some of the best restaurants in the city. (Mexico City has a phenomenal food scene – make restaurant reservations early!)
BEST MEXICO CITY NEIGHBOURHOODS
When looking for the best boutique hotel in Mexico City, you may want to first consider which neighbourhood suits your style the best. The most stylish boutique hotels in Mexico City are typically located in just a few neighbourhoods which I will outline below.
LA CONDESA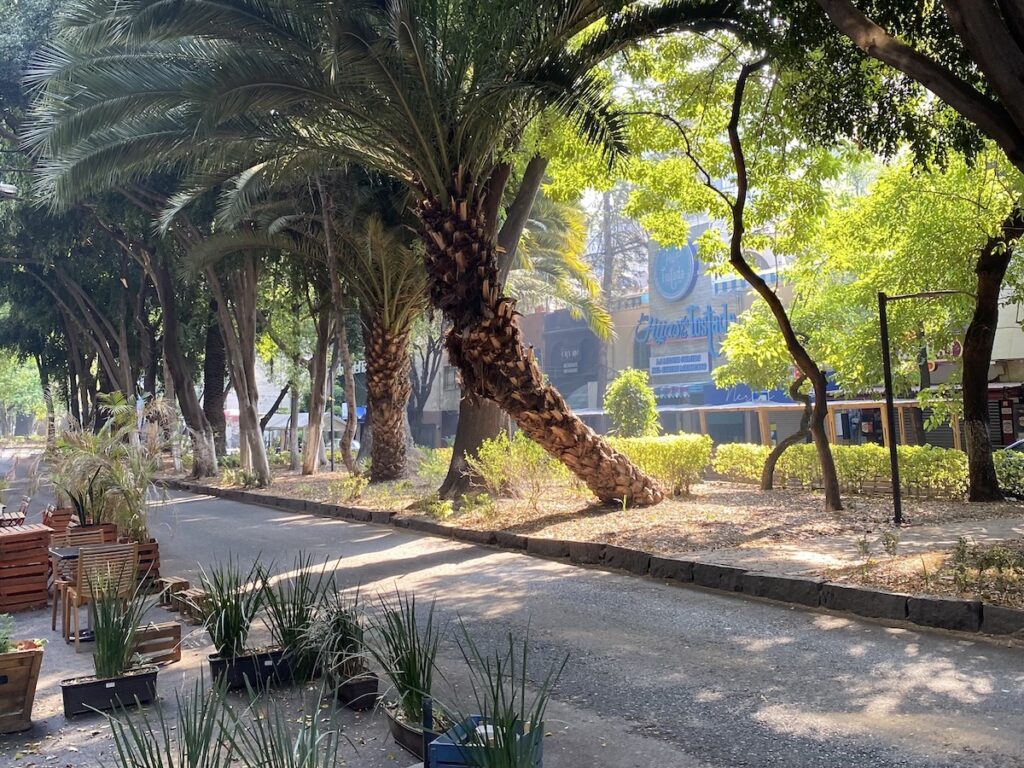 The first thing that might strike you about La Condesa is how green the neighbourhood is. This residential area is full of beautiful parks, tree-lined boulevards and art deco buildings.
It is a perfect neighbourhood to explore on foot or on bike. There are also many good restaurants and cafes in the area. Alternatively, you are just a short cab/Uber ride away from many more in nearby Roma Norte).
ROMA NORTE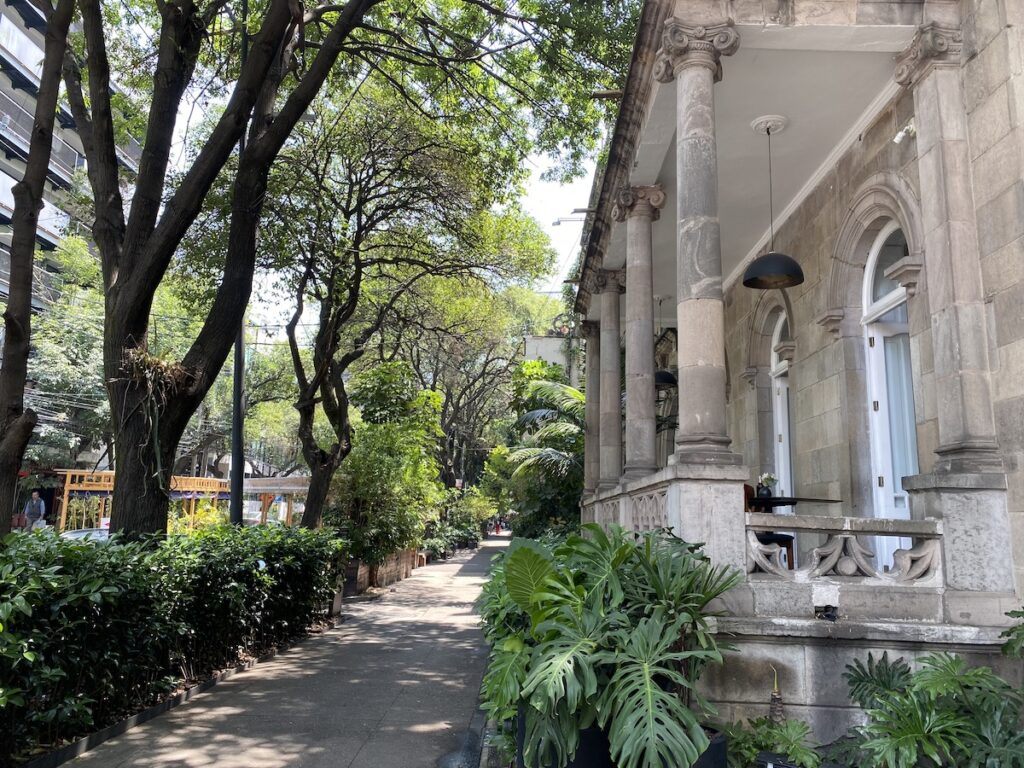 I would describe Roma Norte as a little hipper than La Condesa, but also a little edgier. (Isn't that the case with most trendy neighbourhoods?) Like Condesa, the streets are full of colourful art deco mansions and beautiful cafes. It also home to some of Mexico City's nicest design hotels, independent clothing boutiques, art installations, and more. Furthermore, Roma Norte is where you will find some of the most talked about patio bars and restaurants in the city including Contramar, Polpo and Rosetta.
POLANCO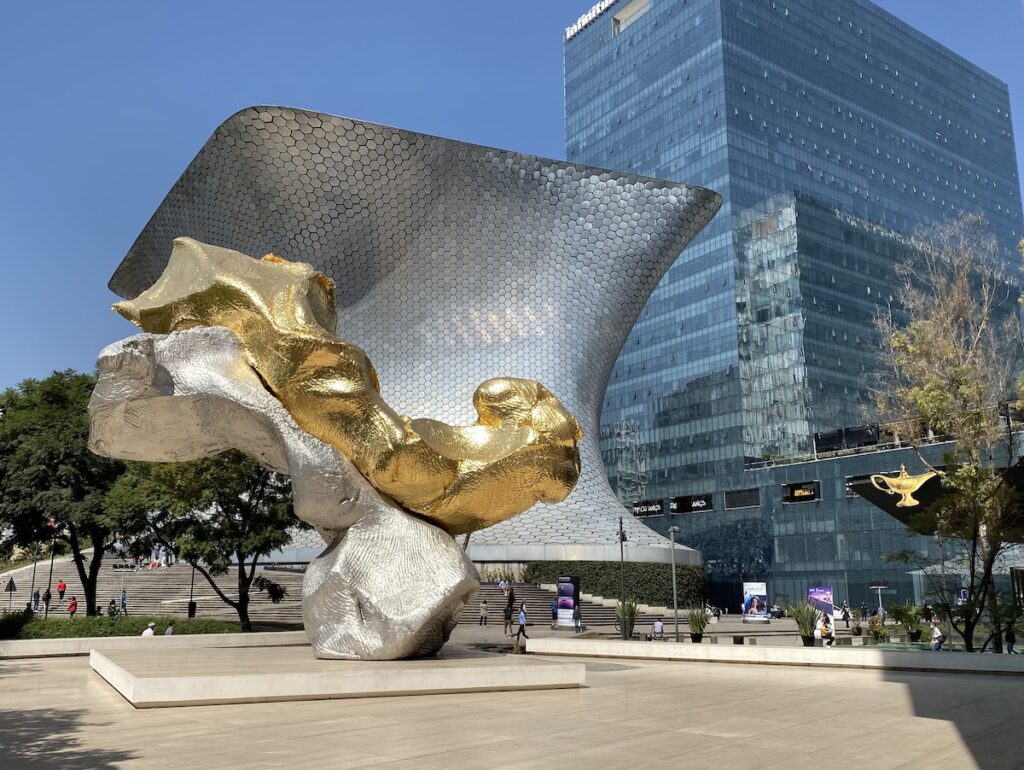 Posh and picture-perfect Polanco is where you are going to find your super high end shopping, multiple art museums and your showy see-and-be-seen bars and restaurants. It is also home to two of Mexico City's most lauded restaurants (Pujol and Quintonil).
Note: On our first trip to Mexico City, while lunching on a patio in Polanco, it took my husband and me a little while to register that the men in suits hanging around on the sidewalks were bodyguards for some of the city's elite also dining nearby. This is either going to make you feel super safe in Polanco or super unsafe, depending on your perspective.
COYOACÁN
While Coyoacán is a little distance from the central action of Mexico City, it is highly likely that you will spend at least part of your trip in this neighbourhood. Coyoacán's quiet streets are full of old mansions and former country estates. It is home to the Frida Kahlo Museum, the Diego Rivera Anahuacalli Museum, the San Juan Bautista Church (one of the most beautiful churches in Mexico City) and the Mercado de Coyoacán.
OTHER AREAS
REFORMA
This area is great if you are looking for a larger hotel in CDMX like the St. Regis, The Marriott, The Hilton or The Sofitel, but not great if you are looking for a Mexico City boutique hotel experience. The hotels along Paseo de La Reforma (one of the city's largest boulevards) are typically of the large chain, skyscraper variety.
Now of course, these giants come with some amenities that even the best boutique hotel in Mexico City may not be able to offer, such a pool, a spa, a choice of bars and restaurants, and a large fitness facility. See Reforma hotels.
SANTA FE
Compared to the historical architecture on display in most of Mexico City, Santa Fe is shiny and modern. Much of the neighbourhood has been developed over the past 20 years. It is home to many company head offices and is popular place to stay if you plan to combine both business and leisure. That said, it is a little far from the main attractions of Mexico City and is not serviced by the Metro. See Santa Fe hotels.
CENTRO HISTORICO
Home to many historical landmarks, Mexico City visitors are drawn to this area to stroll the gigantic Zócalo Plaza, visit the art nouveau Palacio de Bellas Artes, the Metropolitan Cathedral, the pedestrian-only Calle Madero and the Mercado de Artesanías (traditional craft market).
This area is a little grittier, and while a must-see, it is not my first choice in terms of areas to stay in Mexico City. That said, you will find several nice design hotels at decent prices (much less expensive than Polanco and Roma Norte). See Centro Historico hotels.
BOOKING TIPS FOR MEXICO CITY BOUTIQUE HOTELS
LOCATION
Many of Mexico City's major tourist attractions and museums are located in, or close to, the central Bosques de Chapultepec (Chapultepec Park). By booking a hotel in one of the surrounding neighbourhoods (Polanco, Roma Norte or Condesa), you can minimize your travel time between attractions and have more time to enjoy the city.
AIR CONDITIONING
Mexico City can get hot and muggy at certain times of the year, with the hottest months being March-June. It is nice to have a hotel room with air conditioning. Most of the hotel rooms listed in this post do offer that feature or it has been otherwise noted.
BOOK EARLY
The best Mexico City boutique hotels get fully booked up months in advance. Reserve as early as possible for your dates to get your perfect hotel.
24 HOUR FRONT DESK / SECURITY
In a foreign city, it can be comforting to know that there is always someone right downstairs should you have an issue. This can be especially true if you don't speak the local language. All the Mexico City boutique hotels listed in the post have someone at the front desk / or on duty 24 hours a day.
FAMILY ROOMS
It can been tricky to find Mexico City family hotels, especially when you prefer boutique hotels (which often cater to romantic getaways). For boutique family friendly hotels in Mexico City, check out the Pug Seal Polanco Anatole France, Casa Dovela and The Red Tree House in Condesa, and Casa Jacinta in Coyoacán.
If you do not have any luck with any of the hotels listed above, you may also want to look at Sonder.com. This company offers service apartments around the world, including Mexico City and you can filter for features such as "apartments with a doorman".
15 BEST BOUTIQUE HOTELS IN MEXICO CITY
POLANCO BOUTIQUE HOTELS
If you are looking for the best boutique hotels in Polanco, Mexico City – here they come – and there's quite a few! It's no surprise that this swanky neighbourhood has the highest concentration of luxury boutique hotels in Mexico City considering all the fine restaurants, beautiful cocktail bars, luxury stores, art museums and parks nearby.
1. THE WILD OSCAR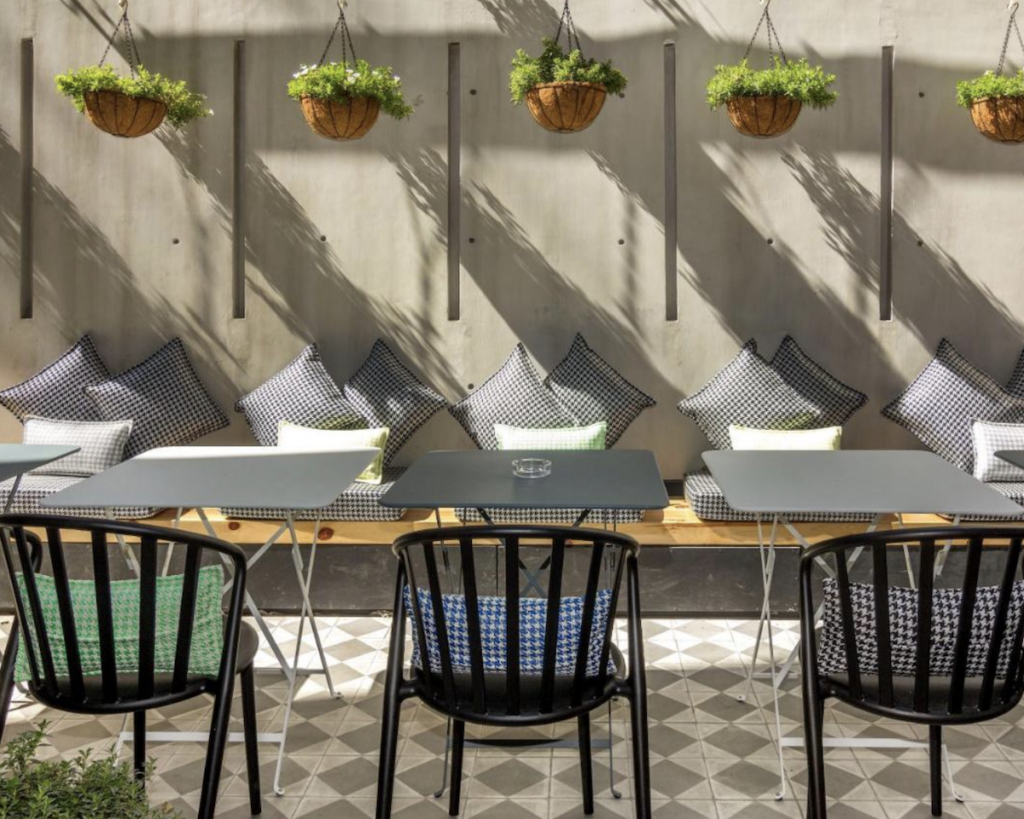 The Wild Oscar is a beautiful 28-unit Polanco luxury boutique hotel located on a quiet residential street within walking distance of Polanco parks, restaurants, museums and shopping. It offers private residential-style guest rooms, with free wifi, air conditioning, a smart TV, mini fridge, Nespresso maker, organic Loredana toiletries, bathrobes and slippers.
Guests love the on-site restaurant and bar (Constance) that is available exclusively to those staying at the hotel. The property also has a small fitness centre, rooftop terrace and meeting rooms for business travelers.
The Wild Oscar has bicycles for loan and is also within walking distance of Chapultepec Park, the National Museum of Anthropology and the Tamayo Contemporary Art Museum.
2. PUG SEAL ALLAN POE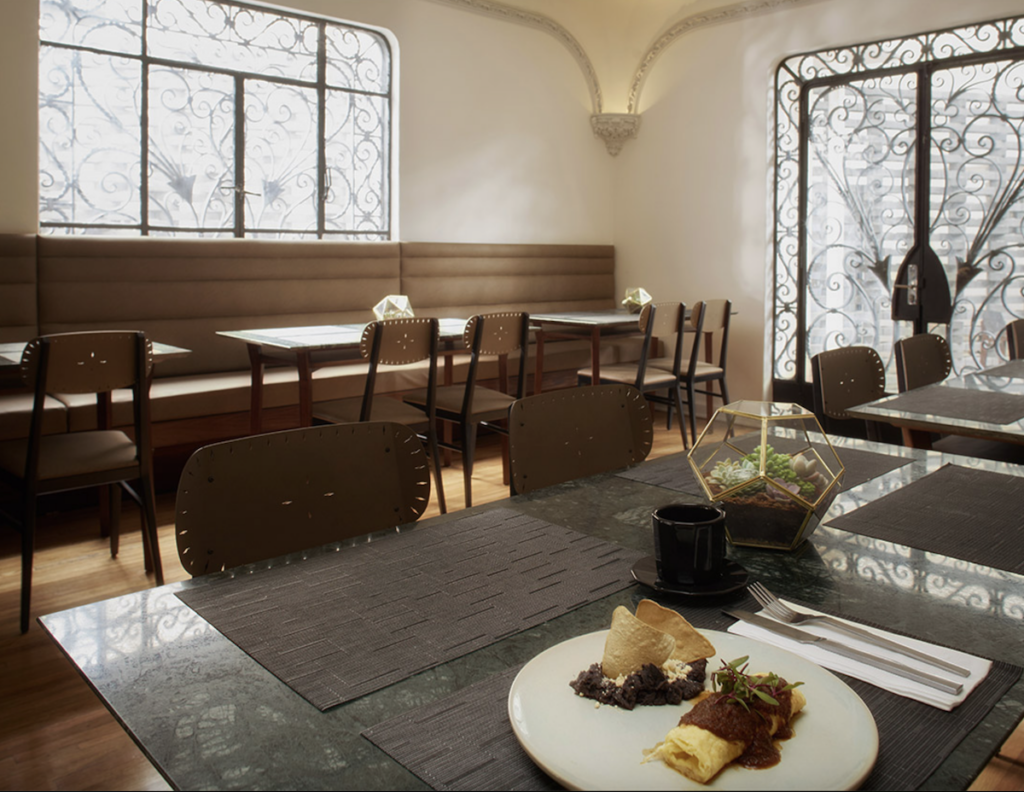 The Pug Seal Allan Poe is a 20-room hotel within easy walking distance of the Jumex Museum, The Soumaya Museum, Polanco's lovely Lincoln Park and some of Mexico City's best restaurants.
The property offers a variety of room configurations, suitable for single travelers, couples, and even rooms large enough for a family. Hotel features include express check-in, free wi-fi, a gorgeous outdoor garden, an honour bar, a concierge service and complimentary bikes for loan*.
*Tip: On Sunday mornings between 8am-2pm the Paseo del Reforma (one of CDMX's major thoroughfares) is closed to traffic. This is only a 5 minute ride from the Pug Seal and it's a lovely time to experience the core of the city traffic-free.
Rooms at the Pug Seal Allan Poe Polanco offer air-conditioning, flat screen TVs, an in-room minibar (stocked with some complimentary beverages) and organic toiletries. Some rooms also have a balcony and a kitchenette. The complimentary breakfast offered at this lovely Polanco boutique hotel is divine!
3. CASA POLANCO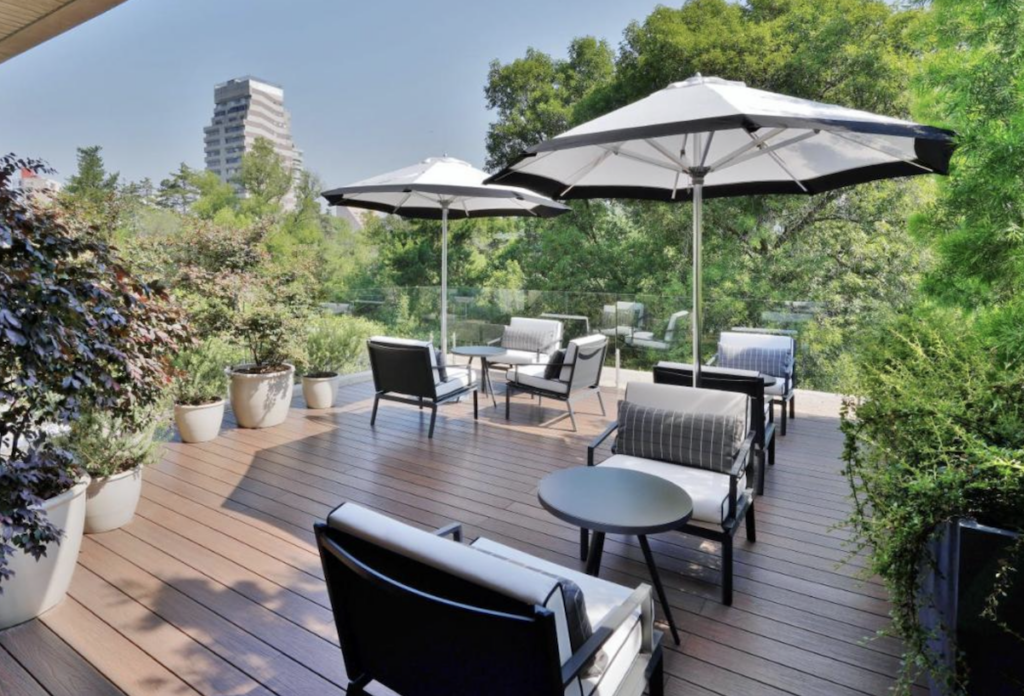 The new Casa Polanco 19-room boutique hotel is located in a beautifully restored mansion. It is in a brilliant location close to Polanco restaurants and shopping. It is right across the street from Lincoln Park, and just a short walk to Paseo de Reforma, Chapulepec Park, the National Anthropology Museum, The Museum of Modern Art and the Tamayo Museum.
This lovely small hotel in Polanco features express check-in and check-out, a 24-hour front desk, room service, allergy-free rooms, loaner bikes, free WiFi, a fitness center and a "Spa Cabin".
Guest rooms offer air-conditioning, a wardrobe, a kettle, a minibar, a safety deposit box, a flat-screen TV and a coffee machine. Select rooms have a patio.
Guests at Casa Polanco Hotel Boutique can enjoy a à la carte or an American breakfast.
4. THE ALEST (OPENED 2021)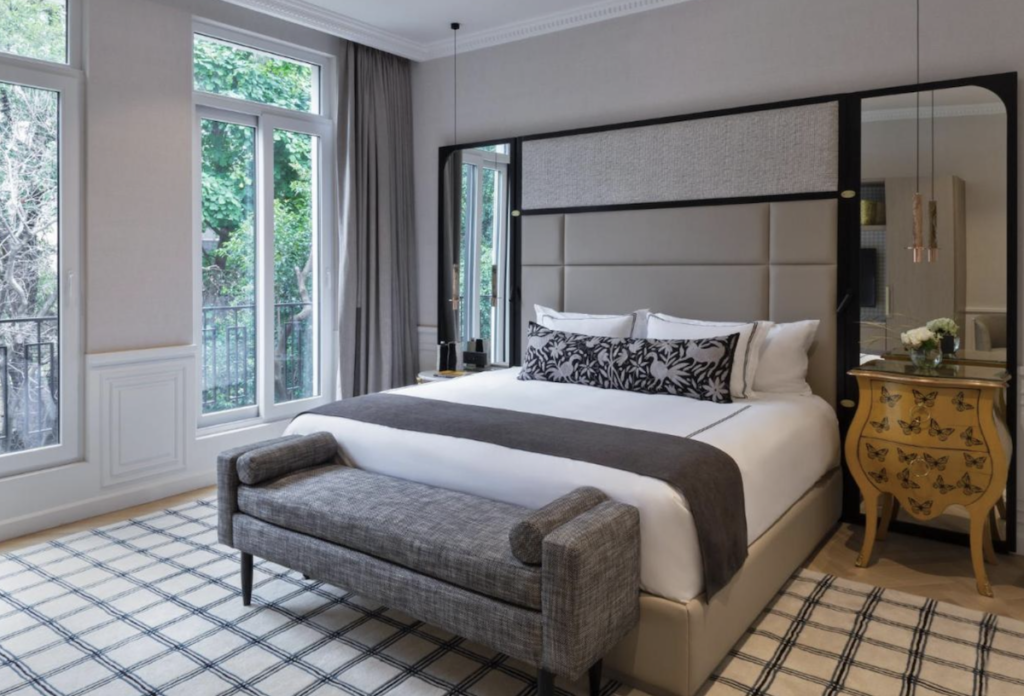 Another recent addition to the Polanco luxury boutique hotel scene is the gorgeous Alest Hotel. It's hard not to be impressed by the polished British-inspired façade and the contemporary lobby, restaurant and bar. The hotel is in an excellent Polanco location, close to the neighbourhood's best shopping and restaurants, and just a short walk to the National Museum of Anthropology and the Museo Tamayo.
Even if you are not staying at the property, stop by for a cocktail (curated by the team behind the famous Coctelería Limantour) and visit their lovely boutique Casa Ku, full of beautiful, locally designed goods.
The Alest offers air-conditioned rooms, with wifi, a wardrobe, Nespresso coffee maker, large flat screened TV, safety deposit box, bathrobes, slippers, luxury toiletries and a minibar with complimentary drinks and snacks. The hotel also has a concierge, tour desk, room service and bicycles for loan.
5. PUG SEAL POLANCO ANATOLE FRANCE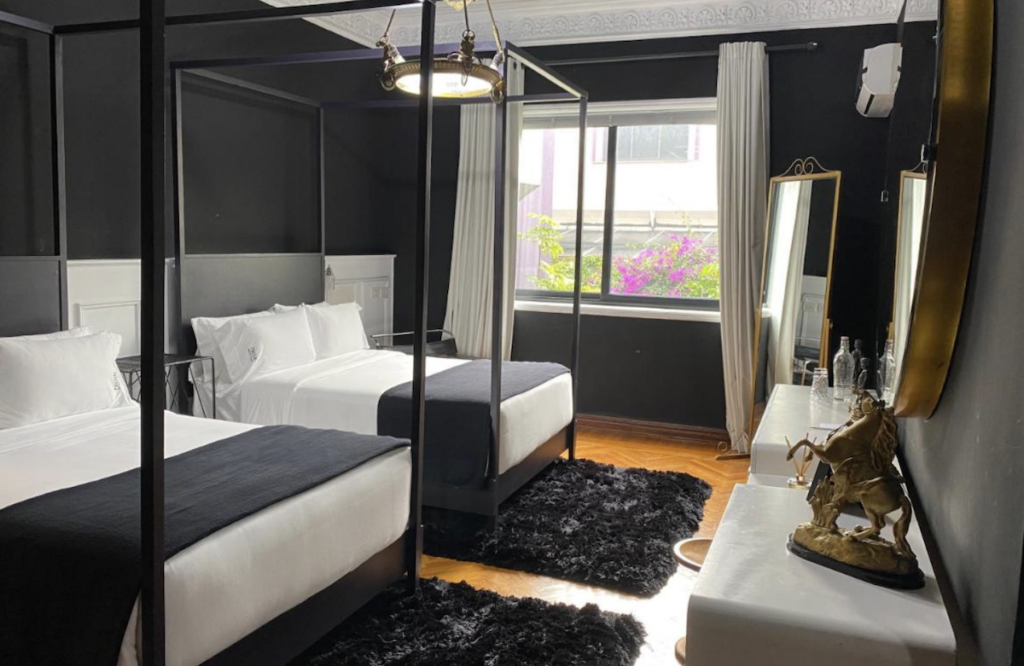 Like its sister hotel, the Allan Poe, the Pug Seal Polanco Anatole France is in a convenient Polanco location, close to the Soumaya Museum, the Jumex Museum and a ton of great restaurants, cafes and bars.
This property offers 24 hours security, concierge services, daily housekeeping, a daily à la carte breakfast, free private parking, a business centre and bikes for loan.
The luxuriously appointed rooms at this lovely Polanco boutique hotel offer air-conditioning, a desk, a safety deposit box, a flat-screen TV, a balcony and free wifi.
Note: For those looking for a Mexico City family hotel, the Anatole France has several larger suite options (sleeping up to 5).
ROMA NORTE BOUTIQUE HOTELS
If you are looking for Roma Norte, Mexico City hotels, here are the best of the best in the boutique hotel category.
6. THE BRICK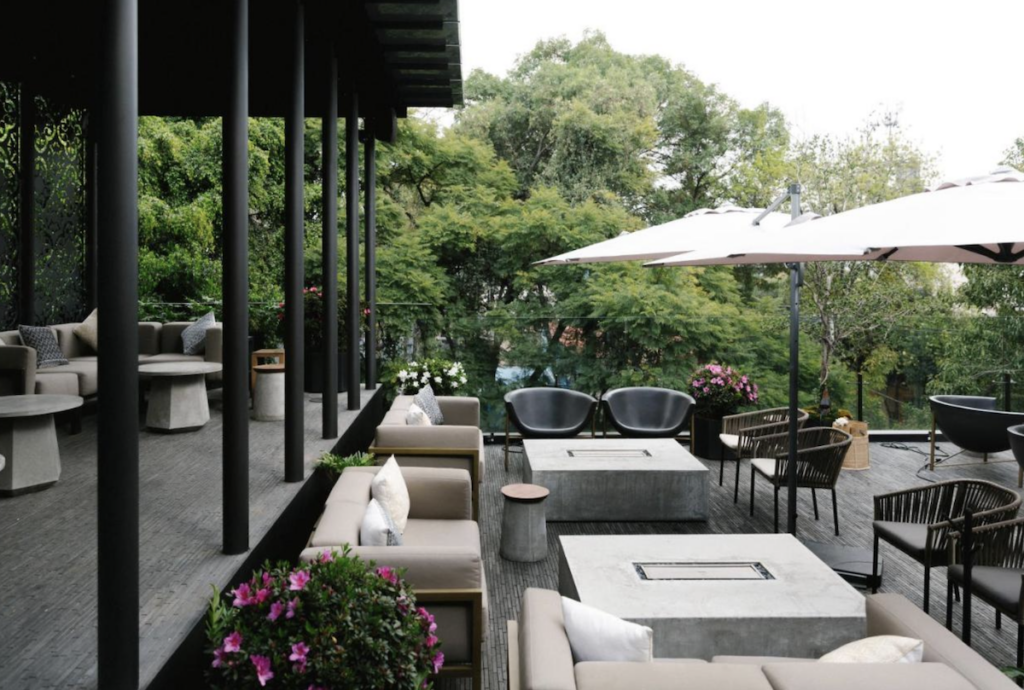 The 17-room Brick boutique hotel in Roma is located within a completely restored Belle Époque mansion. It is found near the center of Roma Norte, with everything you need just steps away – including excellent boutique shopping and fabulous restaurants. The Brick also has its own beautiful restaurant, rooftop bar, gorgeous outdoor patio, and lovely full service spa.
The stylish rooms at this beautiful design hotel in Mexico City feature air conditioning, free Wi-Fi, flat-screened TVs, top quality Egyptian cotton bed linens, bathrobes, slippers, Persea toiletries, a minibar and a coffee maker. Room service is also available.
7. CASA GOLIANA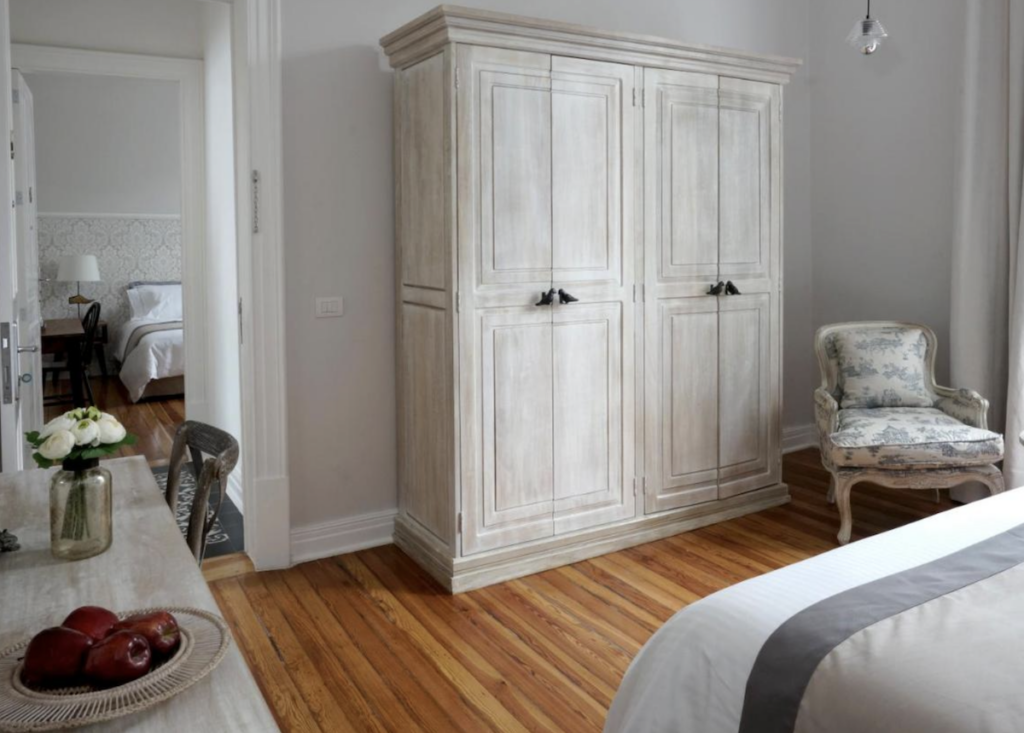 Casa Goliana is a beautiful 8-room Roma boutique hotel in a restored 20th century mansion. It is conveniently located within walking distance of many wonderful Roma Norte restaurants and shops. This property offers the personal service of a high-end hotel and the cozy comfort of a quiet Roma Norte B&B (breakfast included, of course ).
Each room at Casa Goliana is uniquely furnished. Room features include air conditioning, daily housekeeping, wifi, flat screen tvs, high thread count linens, luxury toiletries, bathrobes, slippers, and a safe.
Bonus: It's Green! This property runs on 100% renewable energy collected from solar panels.
8. IGNACIA GUEST HOUSE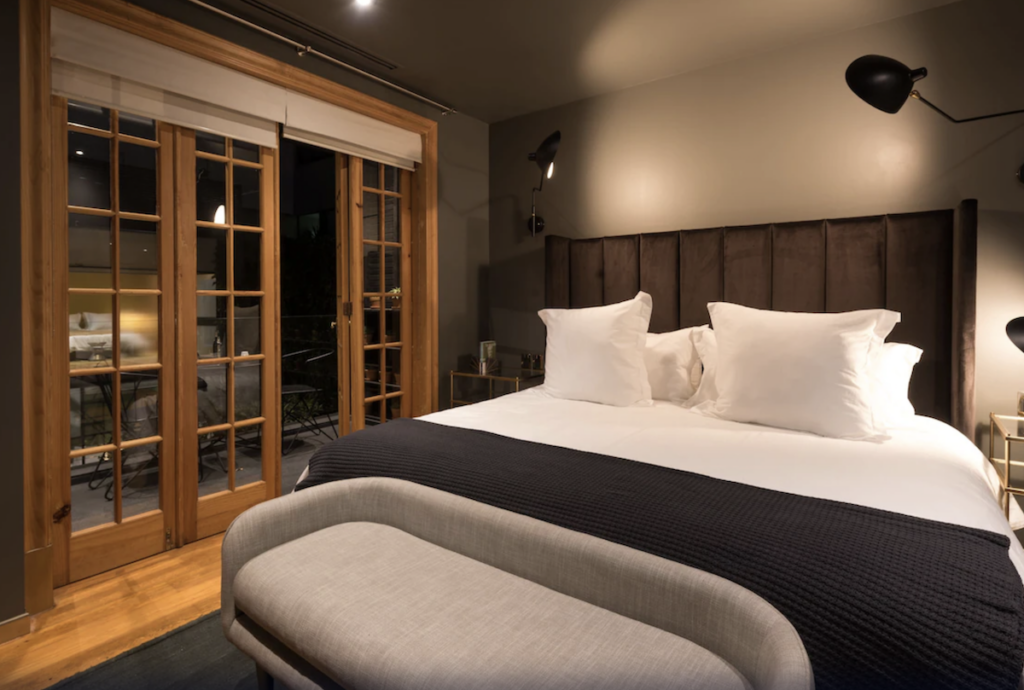 The Ignacia Guest House perfectly blends the history of a 100+ year old Roma mansion with modern design. It sits right on the border of Roma Norte and Roma Sur but still within easy walking distance of the neighbourhood's most desirable restaurants and shops. The very popular food market "Mercado Roma" is also only a 7 minute walk from this lovely property.
Each of the 9 rooms at The Ignacia offers air conditioning, satellite TV, complimentary in-house movies, luxury toiletries, free wifi, a room safe and daily newspaper. Also included in a stay is a delicious complimentary breakfast and a daily cocktail hour in the beautiful garden courtyard.
9. NIMA LOCAL HOUSE HOTEL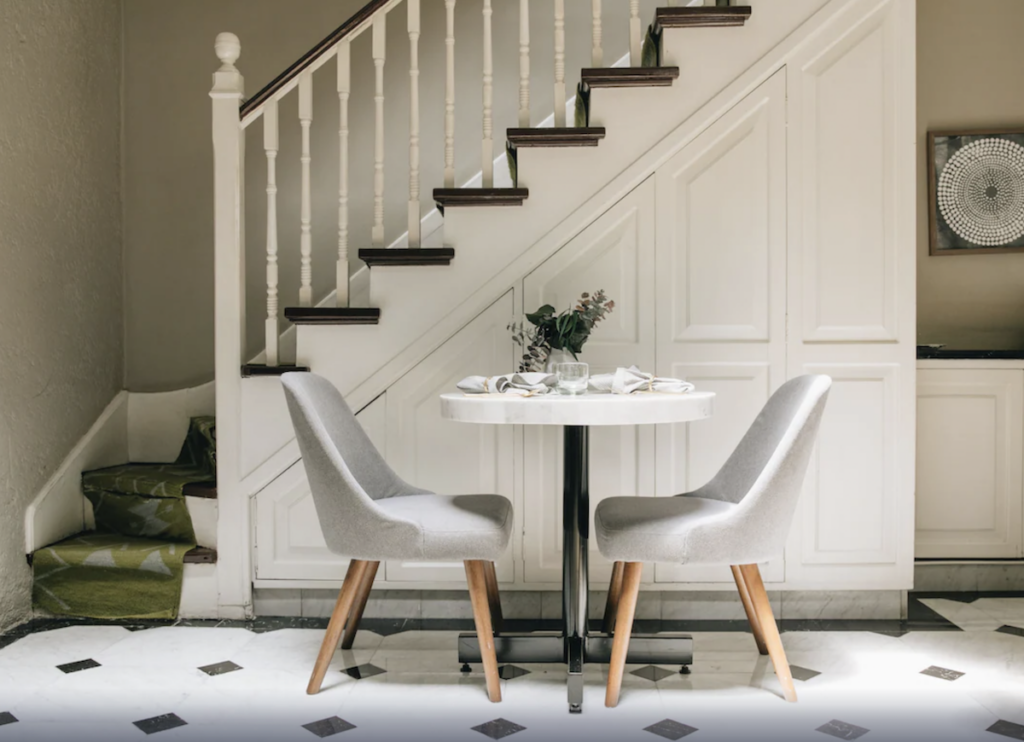 If you are looking for a cozy and stylish boutique hotel in Roma Norte, the 4-room Nima Local House is a true gem. It is also in the perfect neighbourhood location with the famous Panderia Rosetta just a 3 minute walk away, as well as some really great independent boutiques, bars and restaurants.
Each unique room at this property features a king size bed, a balcony, air conditioning, daily housekeeping, high speed internet, a smart TV (with Netflix), a room safe, a dry minibar, Persea toiletries and a Nespresso machine (upon request).
The shared areas of the house include a beautiful living room, a rooftop garden and a business center. The Nima Local house offers a concierge service and 24 hour security.
10. LA VALISE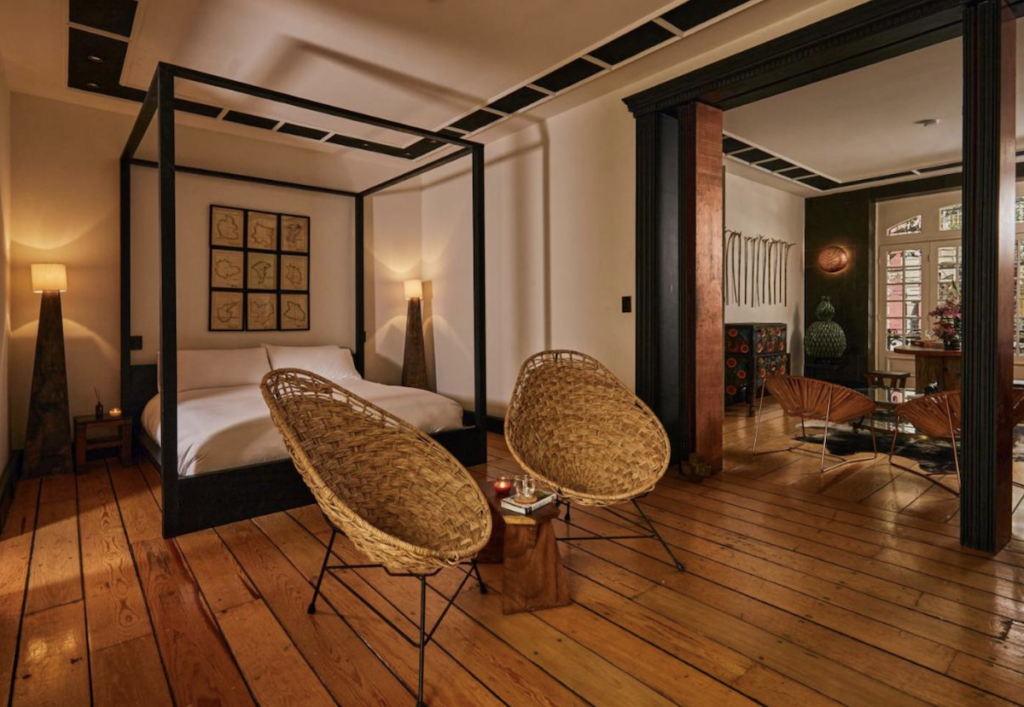 La Valise is a very special boutique hotel in La Roma with three gorgeous and spacious suites (1000 sq. feet each). The suites are perfectly located in the heart of the neighbourhood and right above one of Mexico City's most famous restaurants – Rosetta.
This suites at this exclusive property all feature air conditioning, daily housekeeping, free wifi, a flat screen TV, a Nespresso machine, a complimentary stocked minibar, a seating area or terrace, luxury toiletries, bathrobes and room service from Rosetta.
Note: La Valise is and adults-only property.
CONDESA BOUTIQUE HOTELS
11. OCTAVIA CASA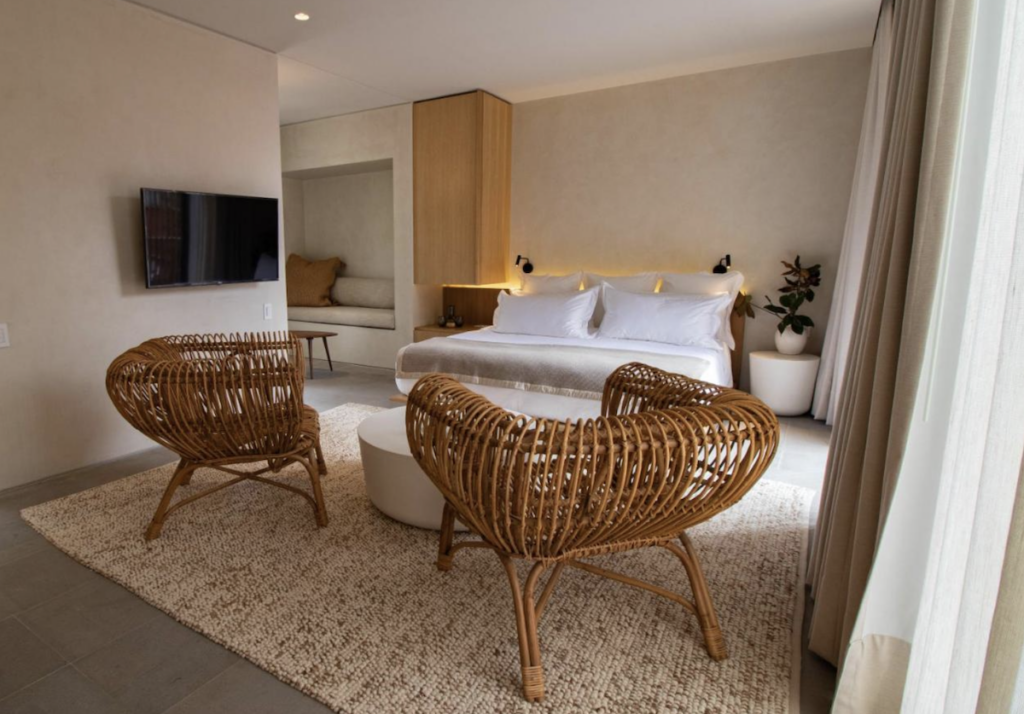 Octavia Casa is perfect for the minimalist. This beautiful design hotel in Mexico City's Condesa neighbourhood provides a welcome retreat after a busy day of sightseeing. This 7-room property is just a short distance from Chapultepec Park and Castle, the Tamayo Museum and the National Museum of Natural History.
All of the rooms feature a king bed, air conditioning, daily housekeeping, free wifi, a smart TV (with Netflix), a safety deposit box, bathrobes, a coffee machine and minibar. Breakfast is available for an extra fee.
Note: Octavia Casa is not able to welcome children under the age of 12.
12. CASA DOVELA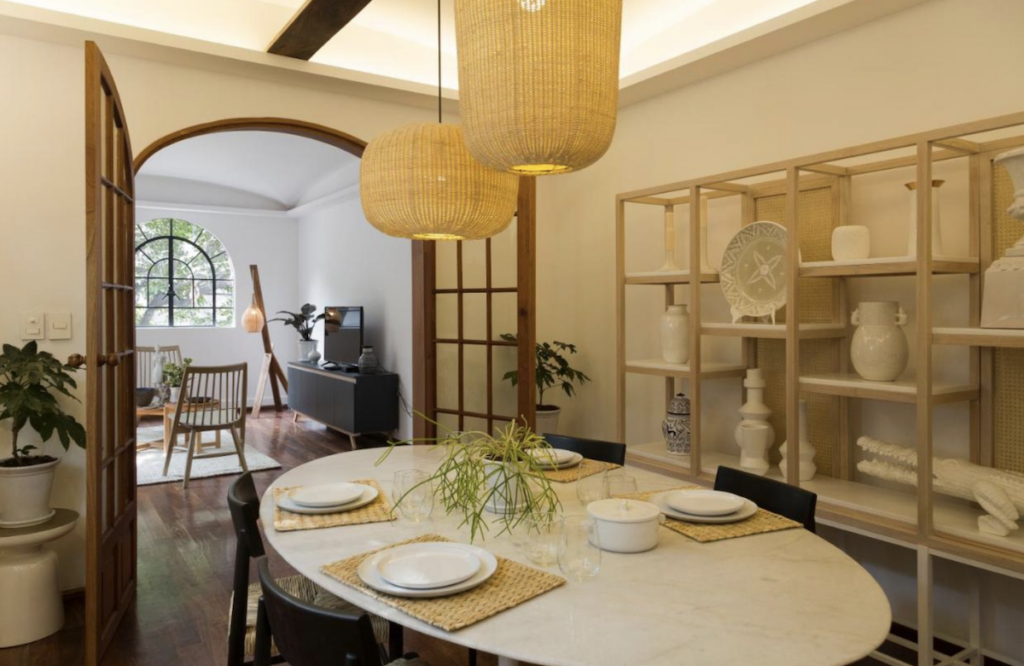 Casa Dovela is a thoughtfully decorated, 3-suite property on a quiet Condesa street. It is a great choice for those looking for a little more space without sacrificing style or service. (Exactly why I chose this hotel for a trip with 2 girlfriends where we wanted our own bedrooms.)
The suites at Casa Dovela all have a fully equipped kitchen and seating area. Room features include flat screen TVs (with streaming services), a laptop safe, toiletries, coffee/tea, and a selection of complimentary snacks and non-alcoholic drinks.
The property offers daily housekeeping, a concierge service and 24 hour security. Guests can also arrange to have breakfast from a local restaurant delivered to their suite.
Note: The one shortcoming of Casa Dovela is the fact that the suites do not have air conditioning (although they are able to provide electric fans).
13. CASA DECU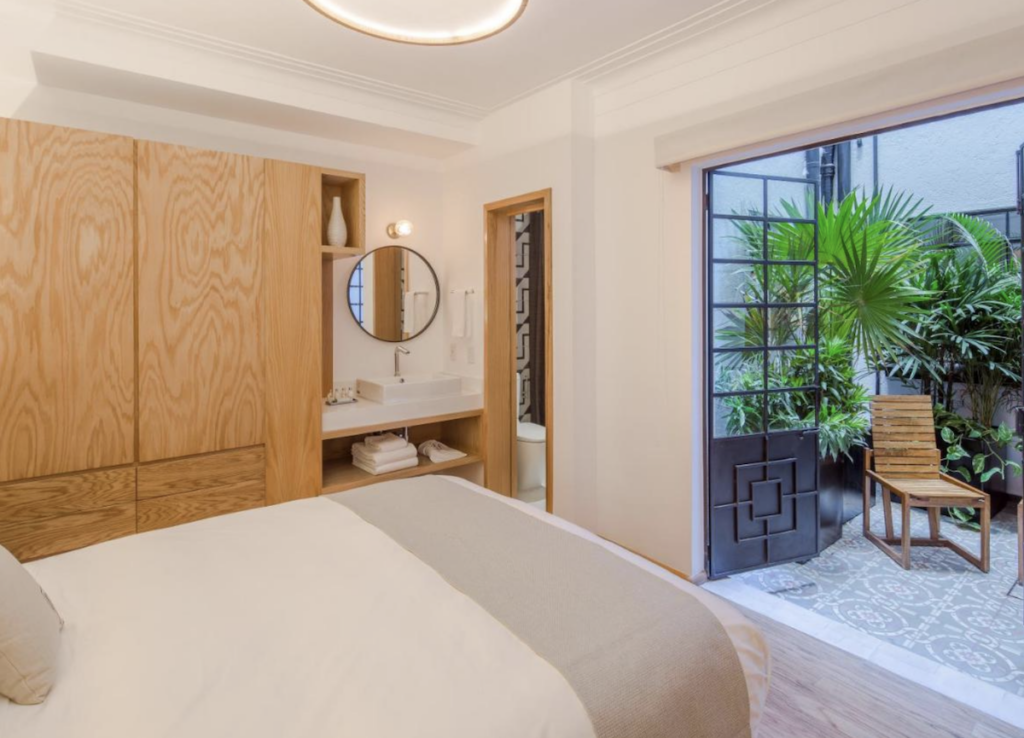 Casa Decu is a bright and modern Condesa boutique hotel with 27 rooms, including some 2 bedroom suites (suitable for families). One of the things that guests love most about this lovely design hotel in Mexico City is the rooftop patio, where a complimentary breakfast is served each morning.
The property offers daily housekeeping, a 24 hour front desk, laundry facilities and a small gym on the rooftop. Room features include a wardrobe, free wifi, flat screen TVs and a safety deposit box.
14. THE RED TREE HOUSE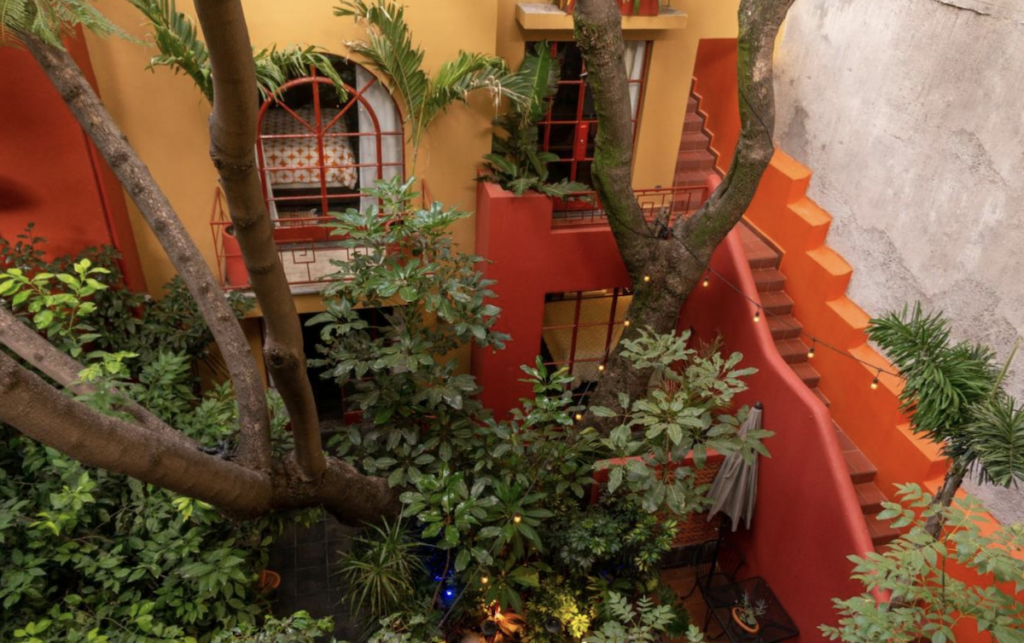 The traditionally-styled Red Tree House has long been one of the hardest Mexico City boutique hotel reservations to secure. This highly rated and very popular hotel property has just 11 room and suites, including several larger options that can sleep up to 6 people.
The property is located very close to Chapultepec Park and Castle as well as many excellent Condesa cafes, bars and restaurants. Hotel services included a concierge, a 24 hour front desk, daily housekeeping and laundry services. There is also a shared garden and sun terrace for guest use.
Note: This property welcomes children ages 8 and up.
COYOACÁN BOUTIQUE HOTELS
15. CASA JACINTA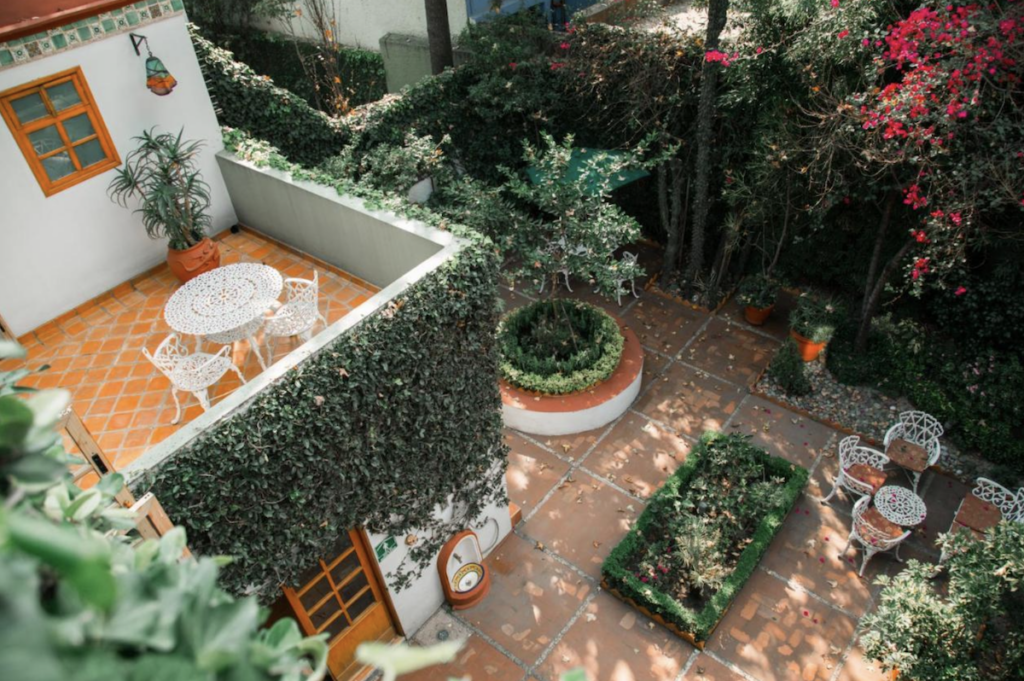 Casa Jacinta is a classicly restored colonial guest house located in the historical Coyaocán neighbourhood close to the Frida Museum, Casa del Indo, the Coyoacan Food Market, Viveros de Coyoacan Park and numerous cosy restaurants and bars.
The rooms are traditionally furnished and include daily housekeeping, free wifi, a flat screen tv and use of the garden and sun terrace. A daily continental and American breakfast is included. Some room are large enough to accommodate a family (4-5 people).
Note: Casa Jacinta does not have air conditioning.
RELATED POSTS