Purcell Mountain Lodge – Luxury Backcountry Hiking in B.C.
Last updated on October 9th, 2023 at 03:44 pm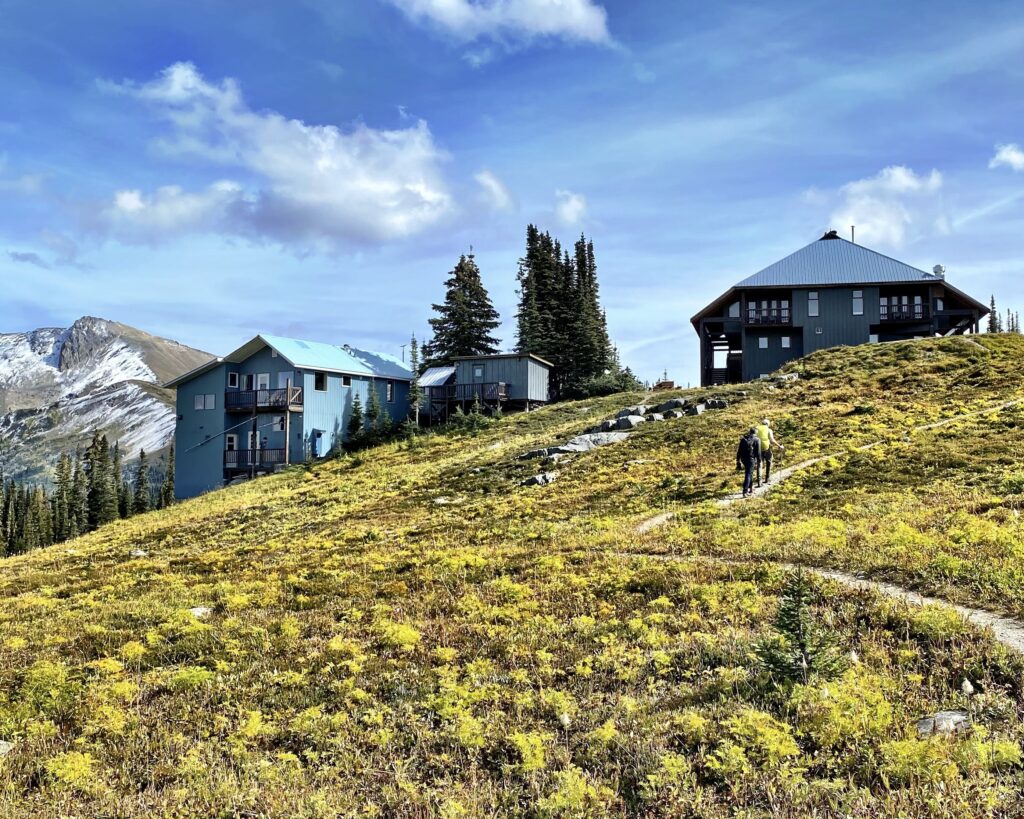 Disclosure: We were welcomed by Purcell Mountain Lodge as hosted guests. All opinions are entirely my own.
24 hours after stepping off of one the most exciting and beautiful helicopter rides of my life, I still could not wipe the smile off my face. My husband and I had just spent an extraordinary 3 days at Purcell Mountain Lodge, where we had hiked over mountain and through valley, dined on the finest of fare and enjoyed the company and captivating stories of fellow-adventurers.
Did I mention that we saw a grizzly bear in the wild? Oh wait…that's for later!
Why Purcell Mountain Lodge?
Purcell Lodge had been on my radar for several years after stumbling across it while researching backcountry lodges of BC for a 20th wedding anniversary trip. (Truth…while researching "luxury backcountry lodges of BC".) Although we didn't manage to get there to celebrate that particular occasion, it had been lingering on my travel bucket list ever since.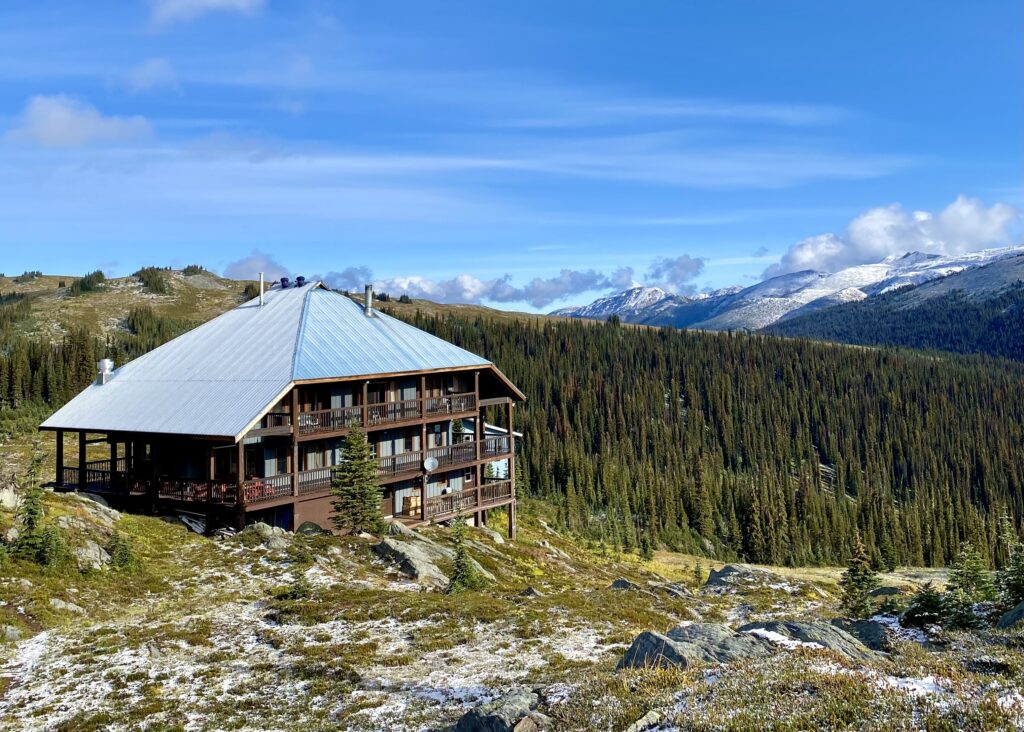 It wasn't just the opportunity to hike through beautiful alpine meadows surrounded by the majestic Columbia Mountain Range that appealed to me. It was the whole experience – the helicopter ride, the in-house chef, the wood burning sauna…oh yes, and the indoor plumbing and hot water! (The latter two items being quite a rarity in the backcountry.)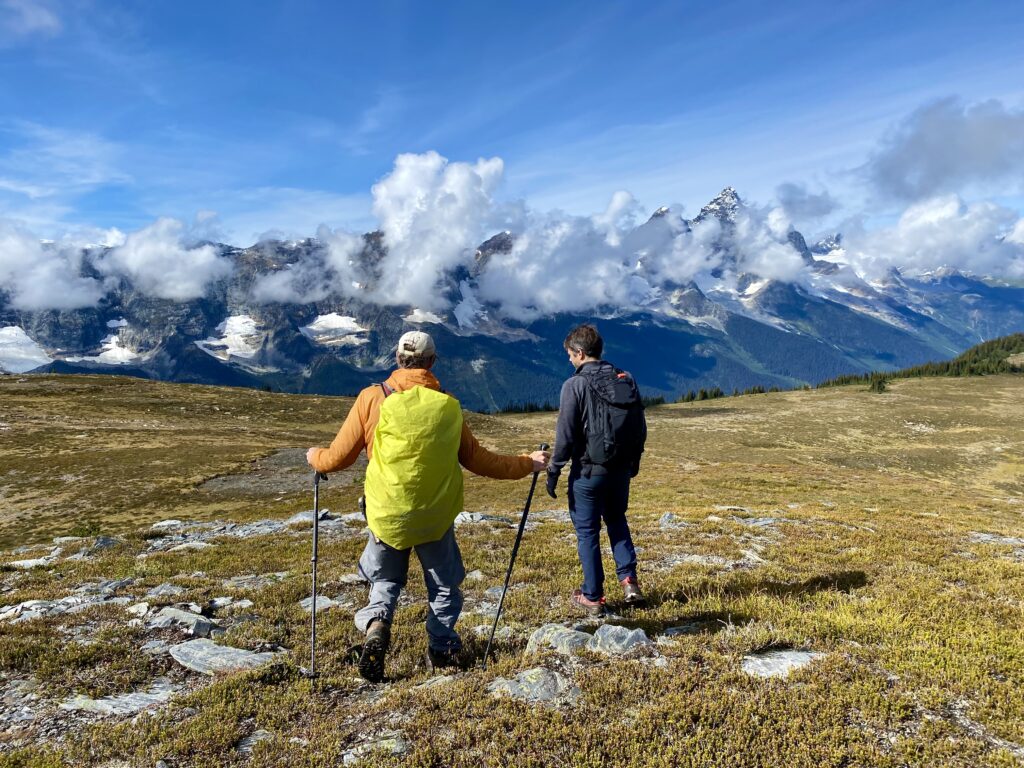 Alpine Hiking Program at Purcell
During the summer and early fall, Purcell offers two different hiking programs – a weekday 4-night stay or a weekend 3-night stay. Further options include guided or self-guided hikes, and main lodge or exclusive hut accommodations (the latter allows for self-catering).
We chose the fully guided and catered, 3-night weekend option in the main lodge because, well…you only go around once! Read on to learn what our once-in-a-lifetime adventure was like.
Note: Guests can also rent out the whole lodge for families/large hiking groups, or for special events such as weddings.
The Experience
On a cool and crisp early September morning (7am), my husband and I gathered with other excited guests at the hanger of Alpine Helicopters in Golden. (With such an early start, most guests stay in Golden the night before.)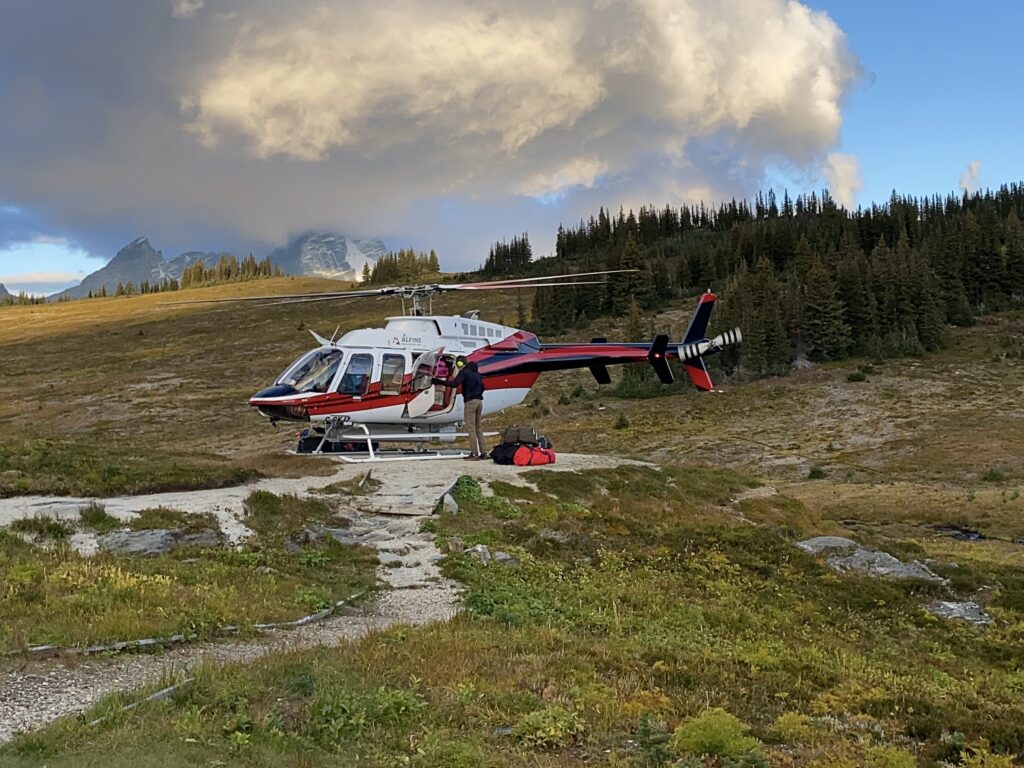 Less than one hour later, we found ourselves enjoying a beautiful breakfast in the alpine (courtesy of the talented Chef Josef Mitteregger), followed by a briefing on the upcoming days' activities by the Purcell Mountain Lodge team.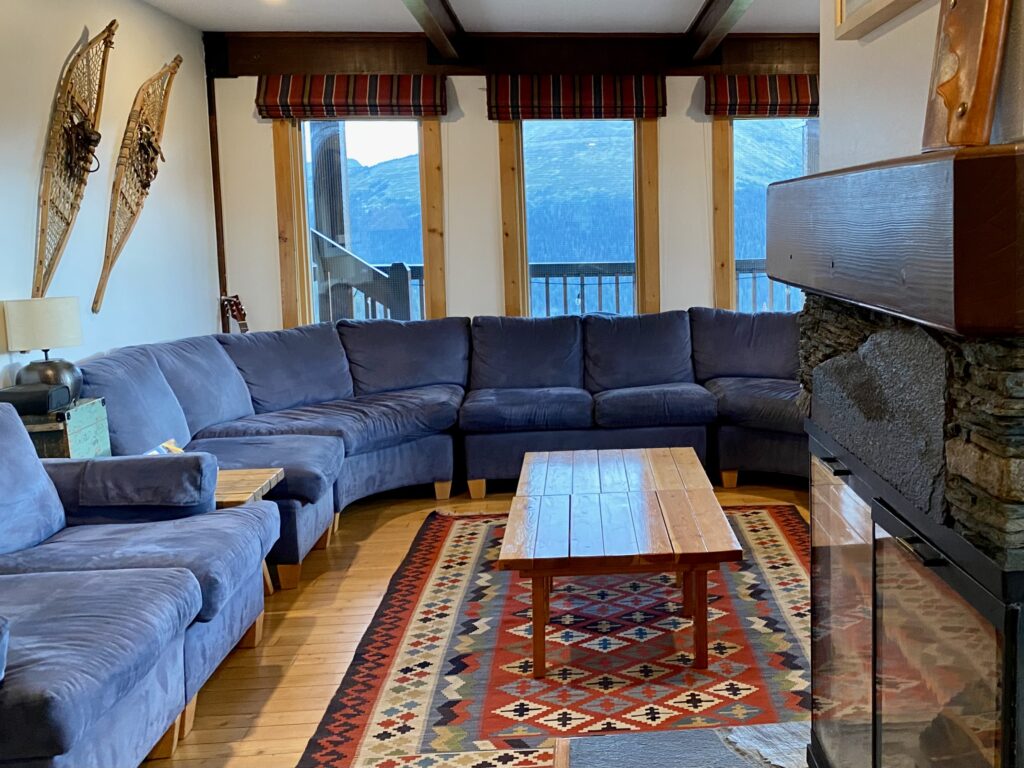 Our group for the weekend included a couple on a romantic getaway who were relatively new to hiking, as well as a group of 5 experienced hikers who had chosen a self-guided hiking option. The Purcell team seemed easily able to manage our various hiking levels, so that all guests' expectations were met.*
*Note: This was very appreciated, as pre-trip, I was a little anxious that we would be put into an expert-level hiking group and that I would be the weak link. You know the one – that person who people are dying to vent about as soon as they are out of ear-shot.
As it was thankfully orchestrated, however, we would set out each morning with our ACMG certified guide Jason (Loree), the other couple, and a flexible plan. Part way through, the other couple might peel off to enjoy a picnic by a lake and then return back to the lodge on their own while we carried on. (They of course would be well-briefed on the return route and equipped with a radio and bear spray.)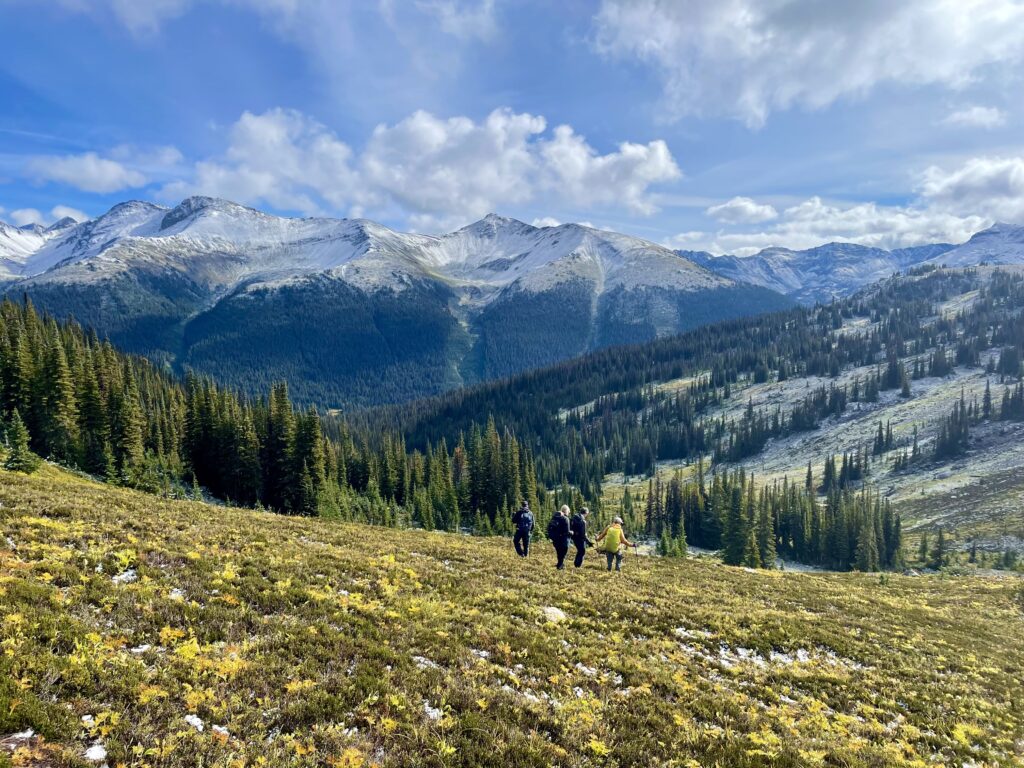 The Hikes
Over 3 days, our fantastic guide Jason patiently navigated us through alpine meadows, up slopes with names like Knee Grinder and to spectacular lookouts like Bella Vista. On our final day, he even coaxed us (well me…my husband doesn't need coaxing) up to the peak of Copperstain Mountain with its absolutely unforgettable views of the Selkirk Mountain Range.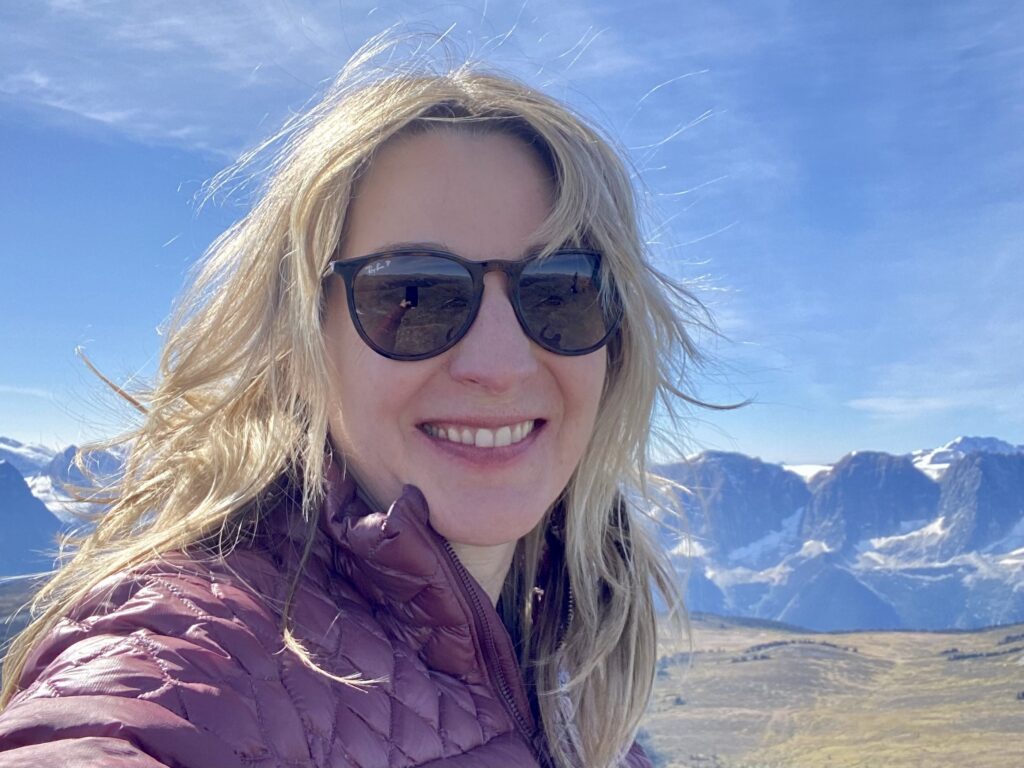 Dining
I would be remiss if I failed to mention just how much the fine cuisine added to our already wonderful experience at Purcell Mountain Lodge. Each meal (and even the daily packed lunch) was something to truly look forward to – always hearty, healthy and imaginative. The chef was also easily able to accommodate a guest with quite a restrictive diet – making her something delicious and equally special for every meal.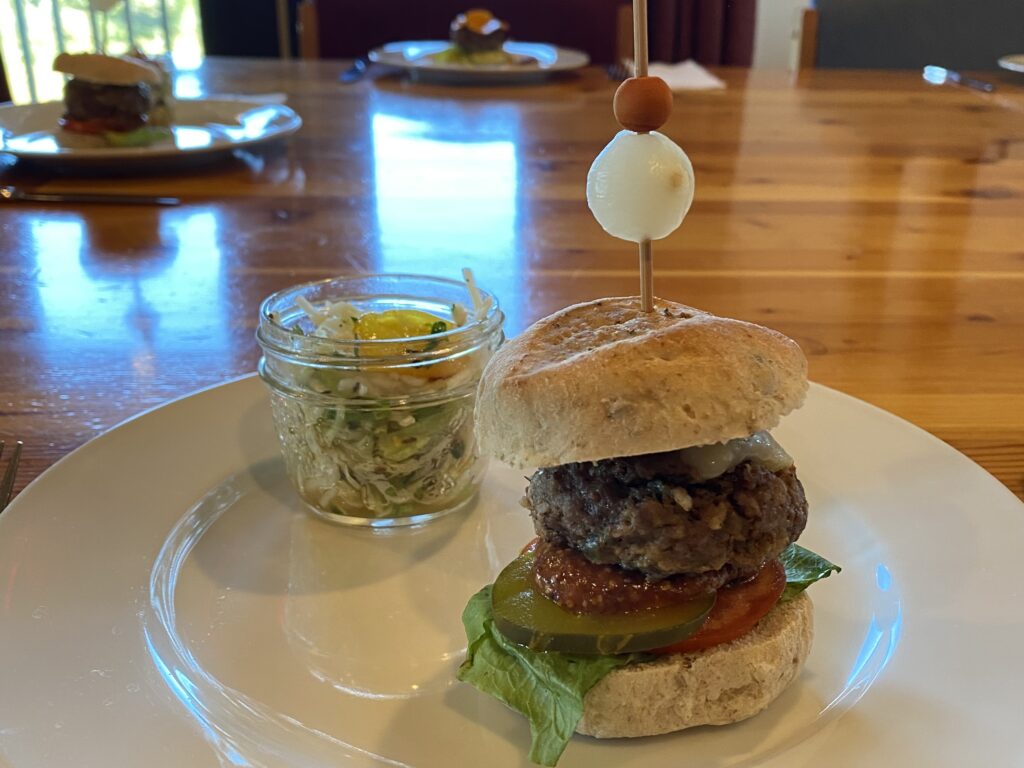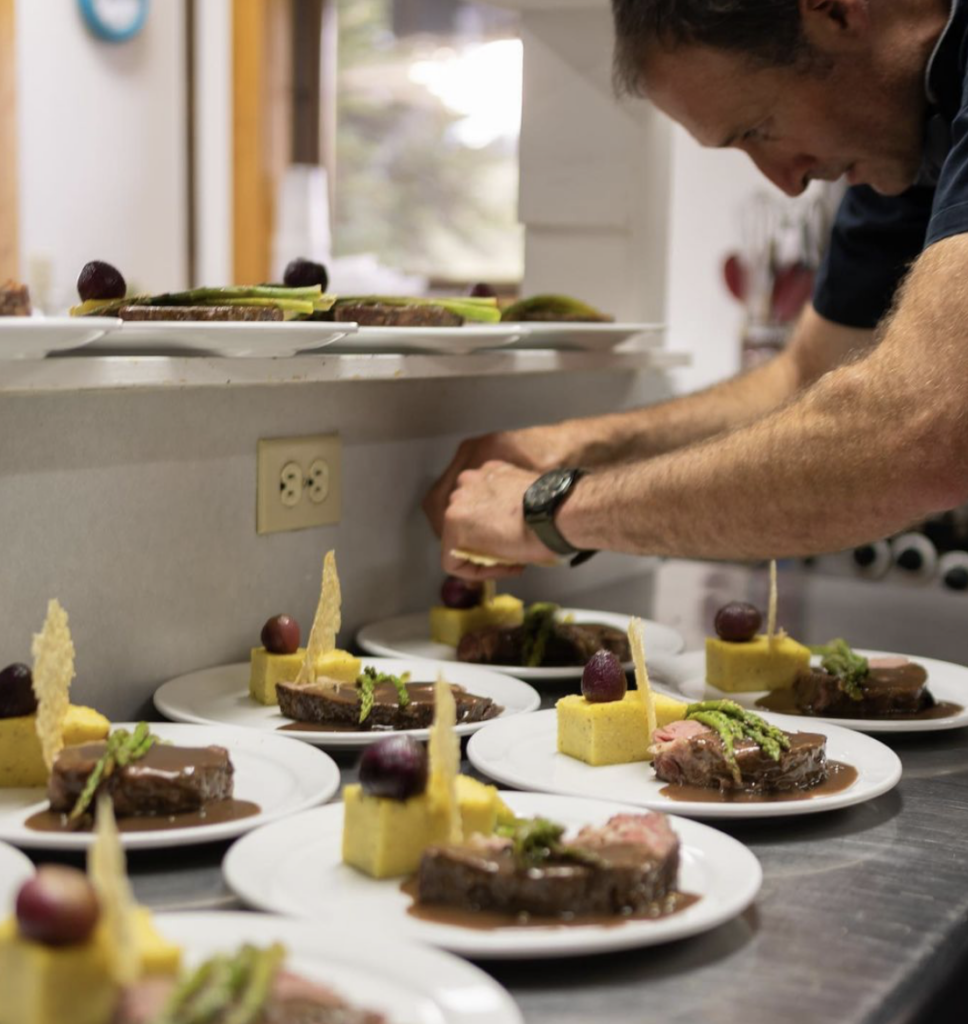 Note: The lodge has a surprisingly nice assortment of wine (at an additional cost), especially considering its remote mountain location.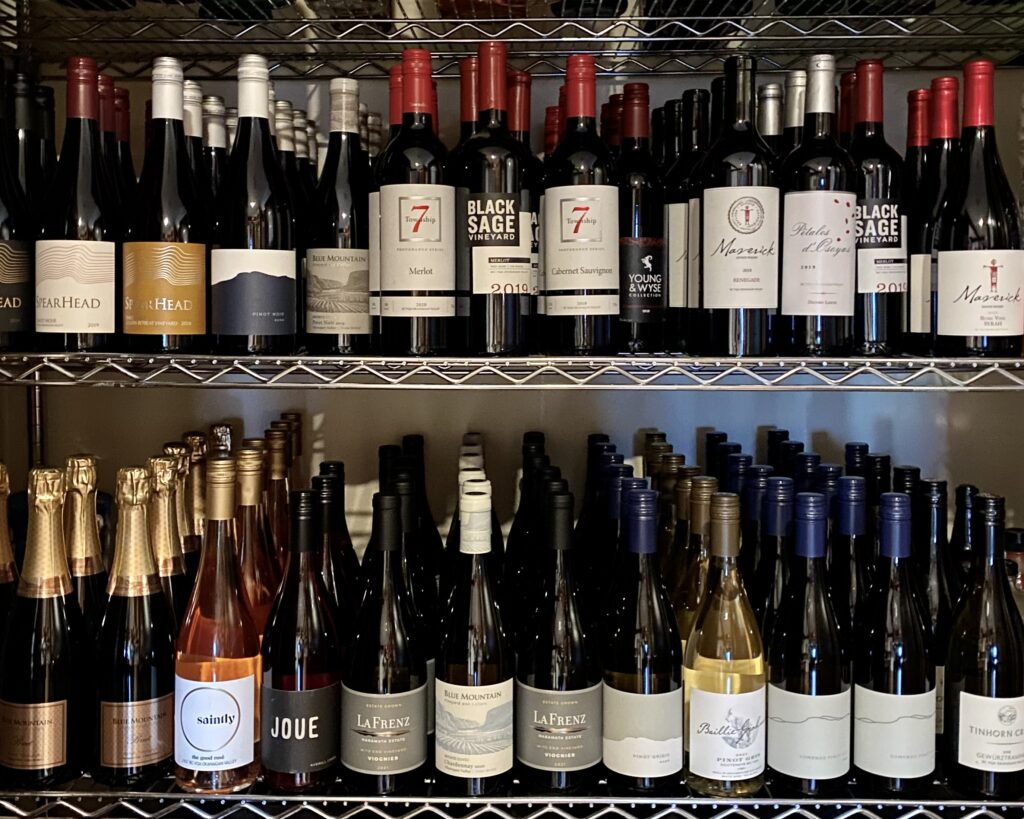 We Saw a Grizzly Bear
I was so hoping to have the bucket list experience of seeing a grizzly bear (or 4) at Purcell Mountain Lodge. The way I imagined it, was that I would be sitting enjoying happy hour from the relative safety of a 2nd floor Adirondack chair, and a bear would just saunter on by below.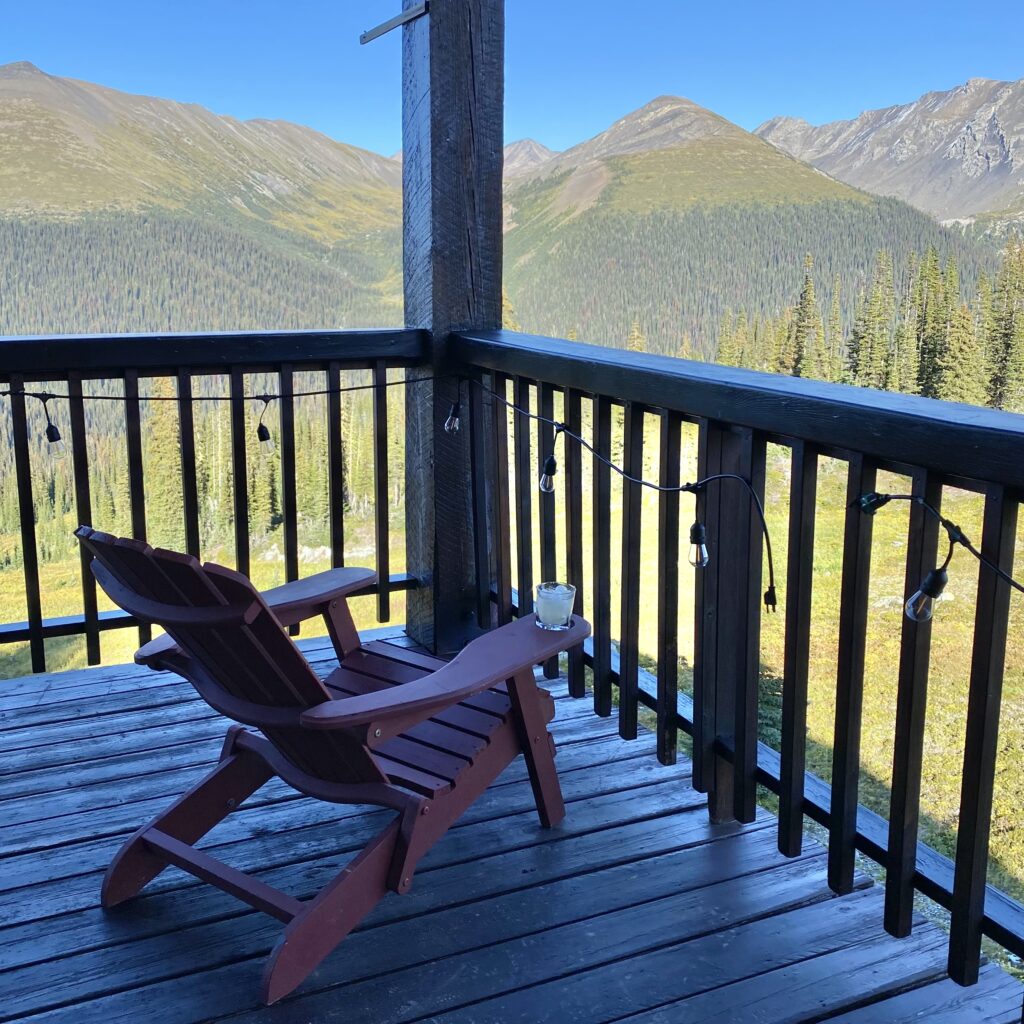 As you can see from the Purcell Mountain Lodge Instagram feed., this does sometimes happen!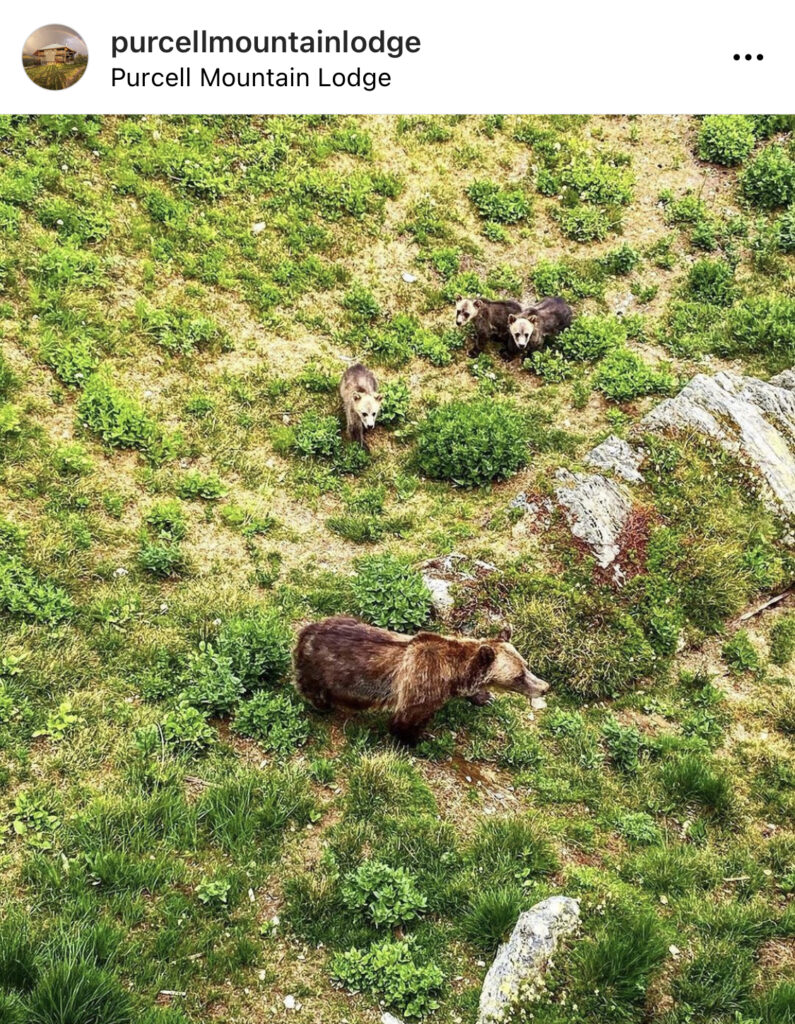 Fate, however, had a different plan in store. On our final hike of the trip, we happened across a 450-pound male grizzly in an alpine meadow. He was heading directly across our path up ahead, at a very comfortable distance (500m). We made the decision to just sit down and watch him until he disappeared over a ridge, giving us one last, lingering stare.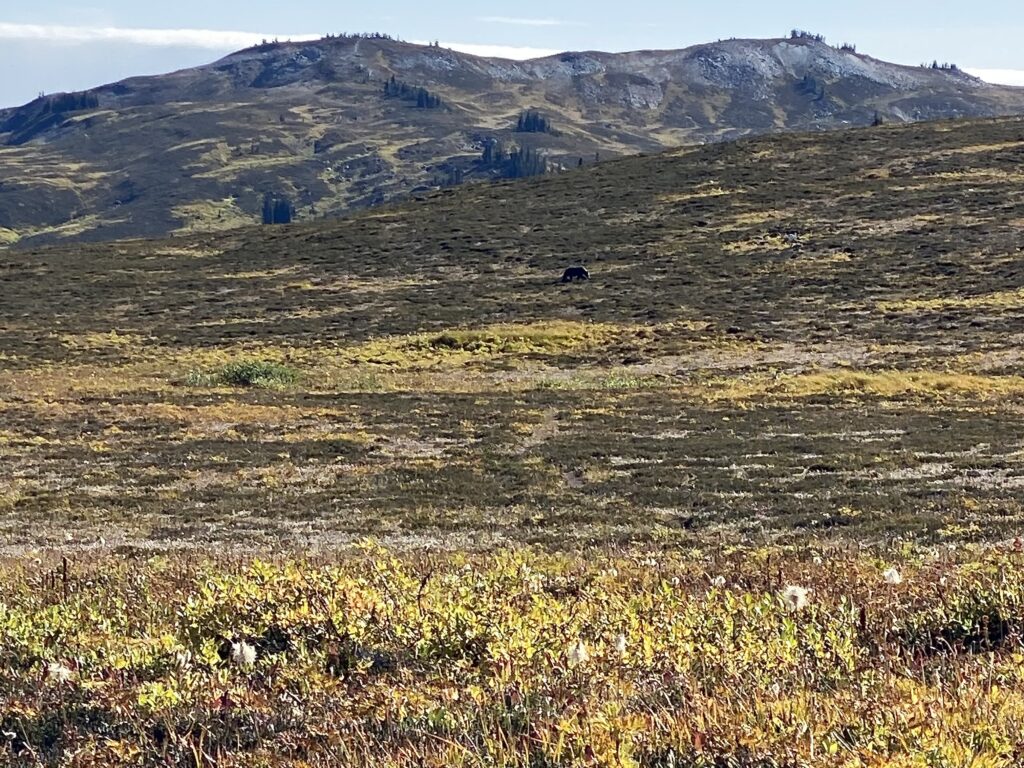 It seemed as if he was gone for good. That is, until we saw him again. He was now closer (300m) and it appeared that he would be crossing back again in front of us. What was even more exciting (scary), was that we were now in the trees and couldn't keep a clear sightline to him. He just kept disappearing and then reappearing…closer.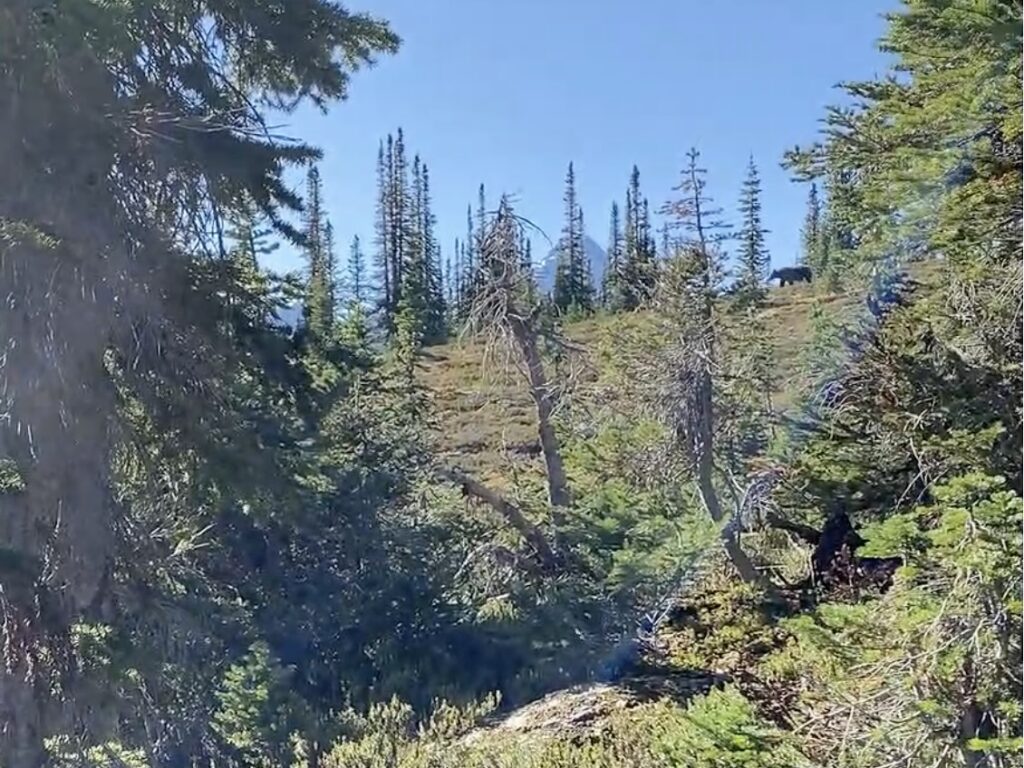 Note: When we next saw him, at about 70m away, I decided to pause documenting our adventure. We've all seen how that can go – I went with self-preservation over social media infamy.
Fun Fact: Grizzly bears can run up to 56km/hour.
Where the Heck is the Bear?
For the next little while, we shuffled slowly along, almost glued together as a unit. Our calm and collected guide Jason took up the lead, bear spray in hand, regularly calling out to the bear so as not to surprise him.
I chose the role of lookout, scouring the landscape in any direction that Jason was not able to look. I couldn't help but reflect back on his words from earlier in the day: "There have been no grizzly bear attacks on groups of 4 people or more." (We were 3.) As unlikely as it might have been, I was mentally preparing for a re-enactment of the grizzly bear scene from Leonard DiCaprio's The Revenant.
Truth: This peaceful bear had no interest in us at all.
After what felt like an eternity (20 minutes from first sighting), we eventually saw our bear again, at a much more comfortable distance. Our guide radioed ahead to the lodge to alert guests that he would be passing by right around happy hour – as if right on cue.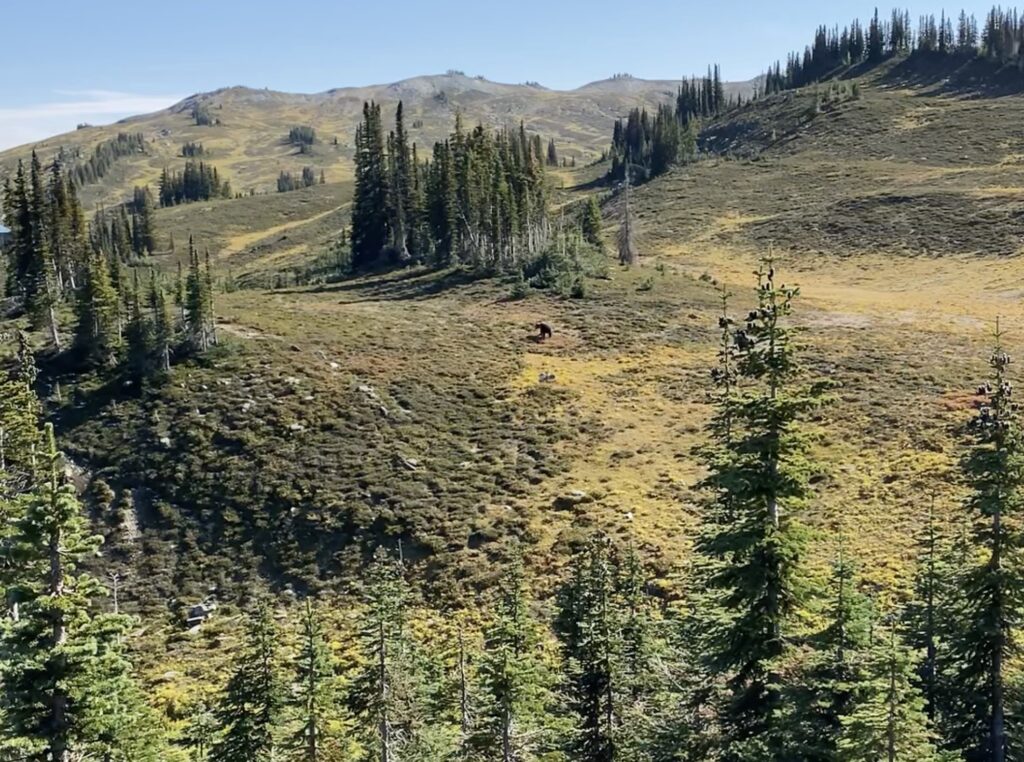 More About Purcell Lodge
The alpine hiking experience at Purcell Mountain Lodge includes the helicopter ride to and from Golden, fully guided hikes with an ACMG certified guide, cozy accommodations and delicious and creative meals.
Things to Know
Packing: The lodge provides a very thorough packing list. We needed almost everything on it during our August stay – from long underwear, toques and gloves, to the t-shirts and tank tops we peeled down to midday. Two things not on the list that I would recommend, are a light robe to get between your room and the shared showers/bathrooms (there are 3 of each in the main lodge) and a pair of slides to wear out to the sauna (instead of having to put hiking boots back on.)
Connecting: While you are encouraged to unplug at Purcell Mountain Lodge, you can get online if necessary for a small daily fee. Some of the most fun we had, however, was connecting the old fashioned way each evening with fellow guests and staff over board games and cards.
Booking: Make reservations for summer early. Special places like this often book a year or more out, especially for key weeks like when the alpine meadows are in full bloom (late July – mid-August).
Winter: Can't make it in the summer? Purcell Mountain Lodge is just as popular in the winter as a backcountry ski touring destination.
Getting There
Purcell Mountain Lodge is located at 2200 metres in the northern Purcell Mountain Range. Guests arrive via a 15-minute helicopter ride from Golden, BC. (3 hr. drive from Calgary, 9 hr. drive from Vancouver).
Note: As the helicopter departure is quite early, most guests overnight in Golden. If you have the time, however, I highly recommend spending several nights in this fun B.C. mountain town. Surrounded by no less than six National Parks, it is an outdoor adventurer's dream!
See also: The Best Things to do in Golden, B.C.
Final Thoughts
Over the past few years, my husband and I have had some extraordinary bucket list experiences in British Columbia but this one was our favourite thus far. Whether you are an avid backcountry hiker, or you are new to the sport and looking for a special adventure, I think you will love it.
I also want to comment on the value of the experience at Purcell Lodge. While the cost of an adventure holiday like this is typically quite dear, when you consider what you are getting, it actually provides very good value. Compare it to, for example, a stay at the nearby Fairmont Lake Louise in summer high season, and you will find that your room alone is going to cost you as much as the whole experience at Purcell Mountain Lodge. Add in guided hikes, meals, and 2 helicopter rides – and you could easily end up paying double.
P.S. Earlier in this post I described this as a once-in-a-lifetime experience, but I am already plotting a return for wildflower season!
Learn more at PurcellMountainLodge.com and read recent guest reviews on Tripadvisor.
Related Posts