Imanta Resort – Punta Mita, Mexico
Last updated on May 23rd, 2023 at 08:58 pm
A SECLUDED RIVIERA NAYARIT BOUTIQUE HOTEL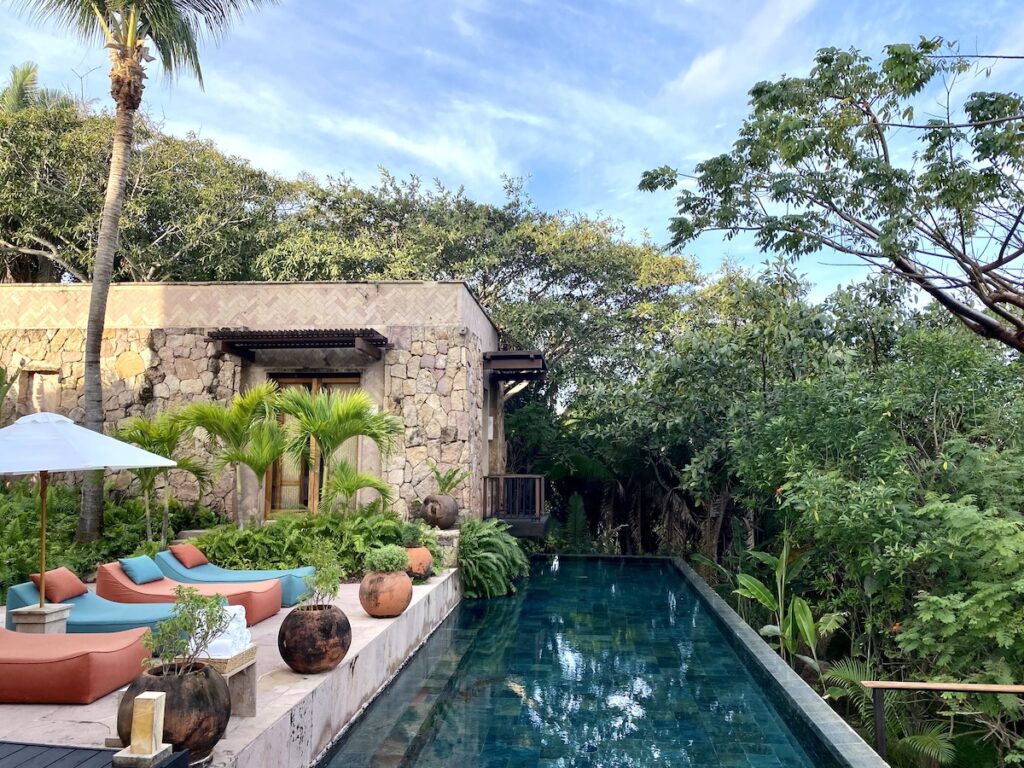 After far too many months at home, my husband and I had the opportunity to visit friends at their lovely new home in Puerto Vallarta. Wanting to be good guests who did not overstay our welcome (and to hopefully earn a return invitation), we decided to spend the latter half of our sun-filled week at a hotel property.
With a passion for green properties and tucked-away boutique hotels, we set our sights on finding a secluded Puerto Vallarta eco resort. Now, anyone familiar with this area of coastline will know that this is a large ask. This beautiful stretch of sand is, for the most part, occupied by large hotels – which is hardly surprising considering the fact that PV has been experiencing a tourism boom since the 1960s.
Not quite finding what we were looking for right in Puerto Vallarta, we extended our search north to include Sayulita and Punta Mita boutique hotels. We eventually stumbled across Imanta, and although pricey, it seemed to tick all the boxes and be worthy of a splurge..
IMANTA VIDEO (1 MIN.)
Want a quick little peek first? Here is 1 minute of the gorgeous Imanta.
A BIT OF IMANTA HISTORY
Imanta was conceived by businessman and Mexican national Juan Mario Sahagún. Along with architect Bob Shemwell and his team from Overland Architecture & Urban Design, they set out to build a sustainable, Aman-inspired resort on the Riviera Nayarit, that paid homage to the country's Mayan history.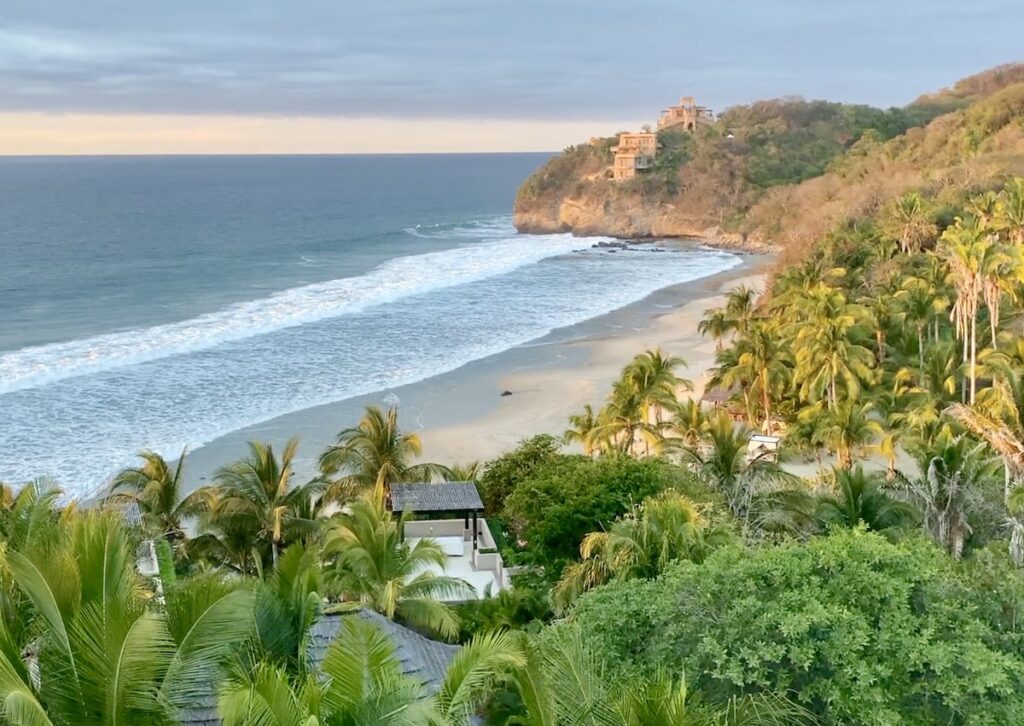 On such a unique piece of land, encompassing 250 acres of ocean-front jungle, an immense amount of care was taken to avoid disturbing the landscape.
The ultimate positioning of the suites and villas, for example, was chosen to avoid the watershed, while also providing for maximum guest privacy. There was also no artificial lighting or buildings placed close to the beach, with this coastline being an important nesting area for sea turtles.
Harmony between humans, flora and fauna is what Imanta set out to achieve. The property was designed to be free of manicured lawns and gardens. This has allowed for the native wildlife to coexist with the resort's pampered guests.
ABOUT IMANTA RESORT
A Relais & Châteaux Property
THE RESORT
This luxurious boutique hotel consists of 10 suites and 2 villas (casonas). All of them are nestled into the natural landscape (most with private pools). There are also two small pools on the property, one of those being at the beautiful rooftop observatory (shown below).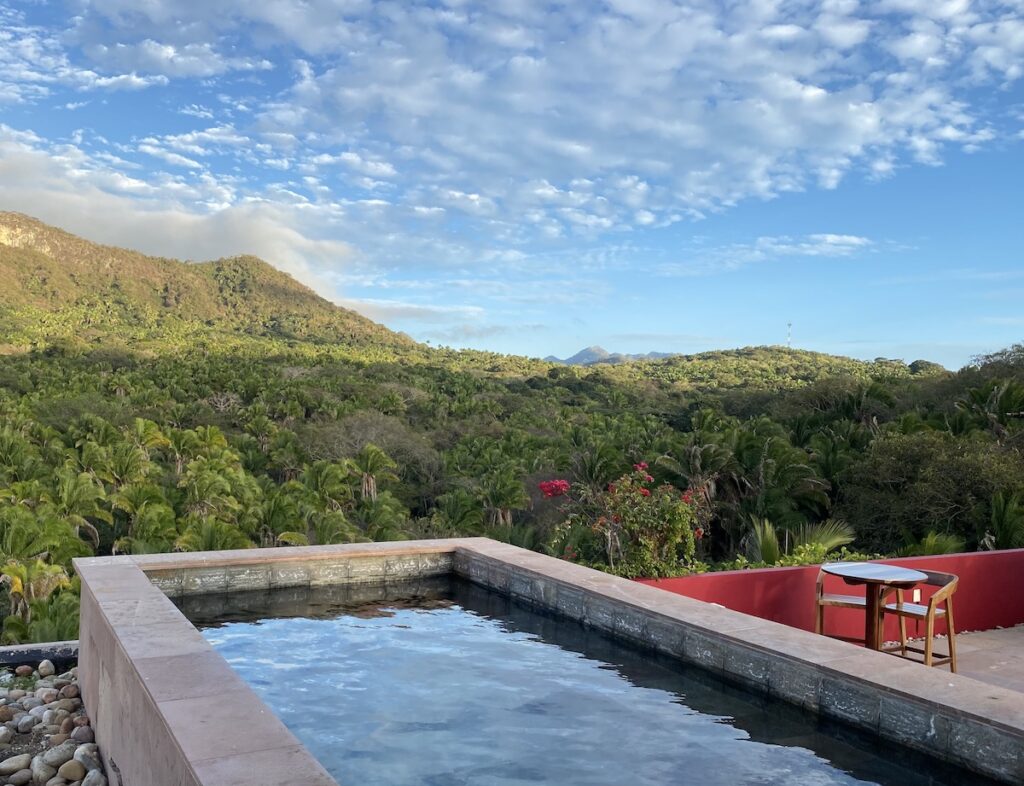 Property amenities at Imanta Resort include beach-front loungers and daybeds (with food & beverage service), a gorgeous jungle spa and a thoughtfully curated boutique.
Note: Swimming in the ocean may be possible on calm days at Imanta but for our 3-day stay in January, the water was too rough. Nonetheless, the view was consistently amazing.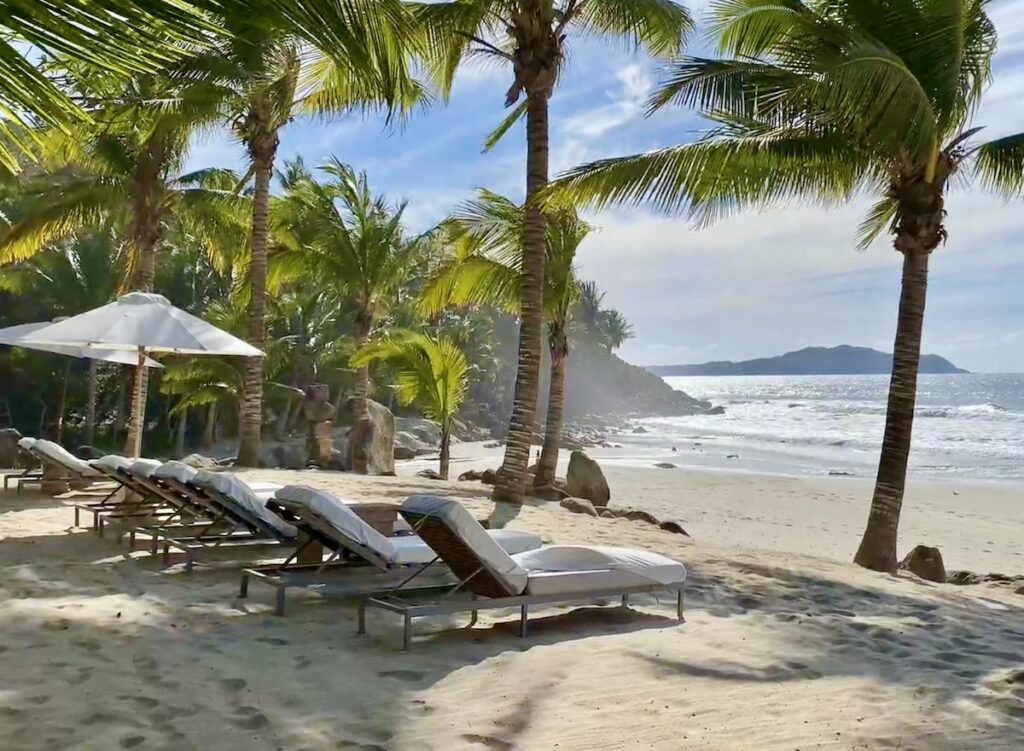 THE SUITES
Imanta's beautifully appointed suites are all very private and spacious. Even the standard Jungle View Suite that we had booked was a surprising 1900 ft². (175 m²). Our room had a king size bed, a daybed, a full table, a desk, his and hers sinks, 2 walk-in closets, a private terrace with loungers and an outdoor stone bathtub.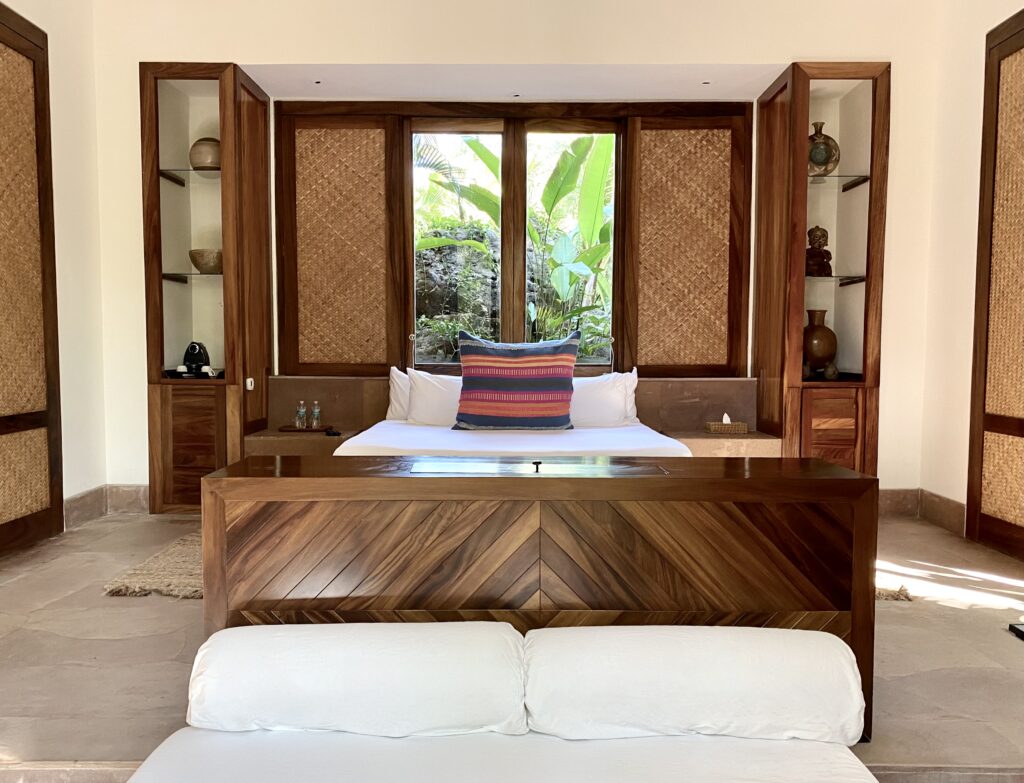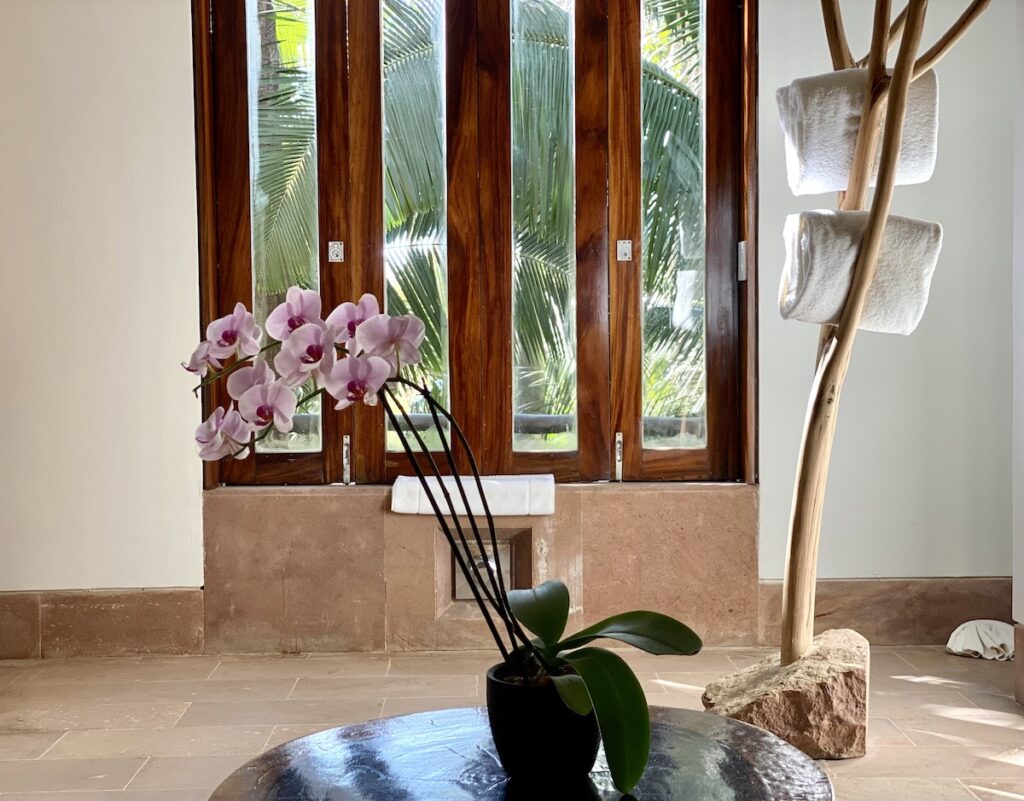 All suites at Imanta Resort have air conditioning, wifi, a Nespresso maker and a complimentary minibar stocked with non-alcoholic beverages.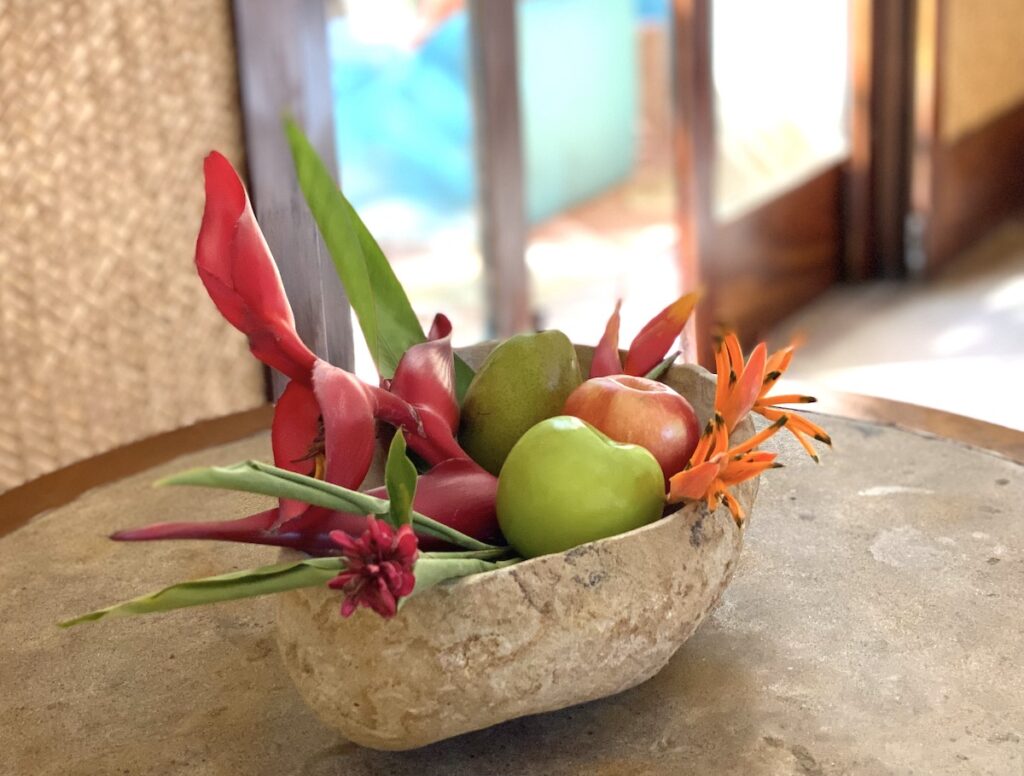 Upon arrival, guests are greeted by a "soap butler" who offers up a choice of scent for the stay. A little over the top? Sure. Did I love it? Very much so.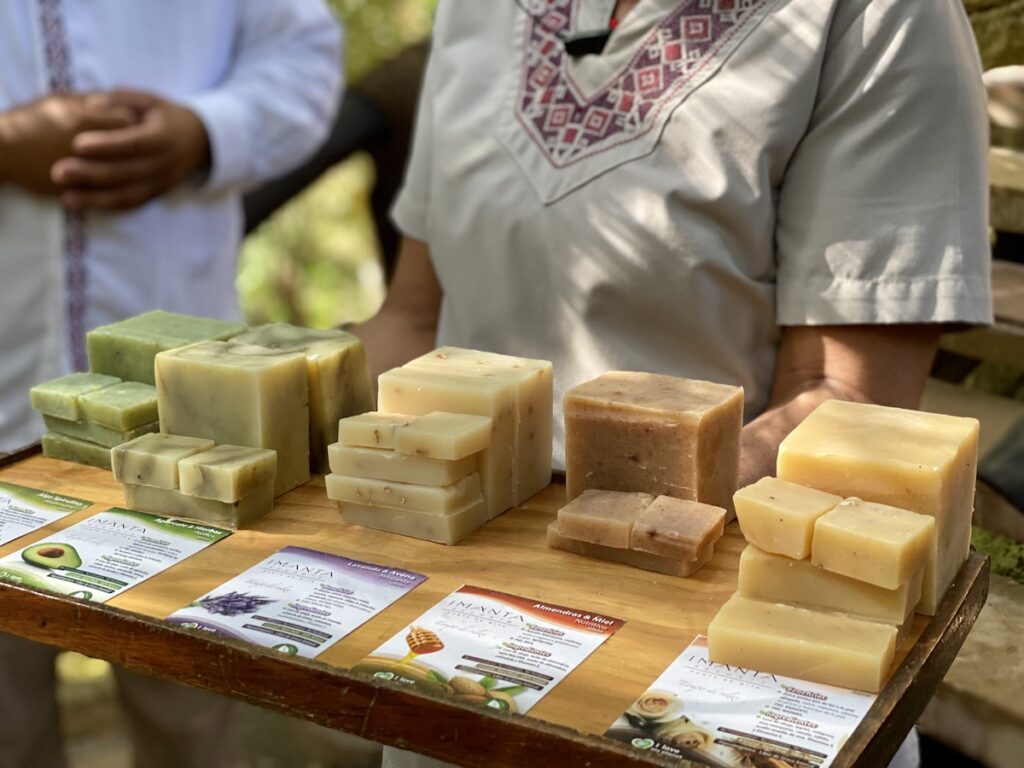 In addition to the 10 suites, Imanta also has 2 fabulous 3-bedroom casonas (villas) that can sleep up to 6, as well as their piece-de-resistance, The Treehouse, offering the ultimate jungle experience.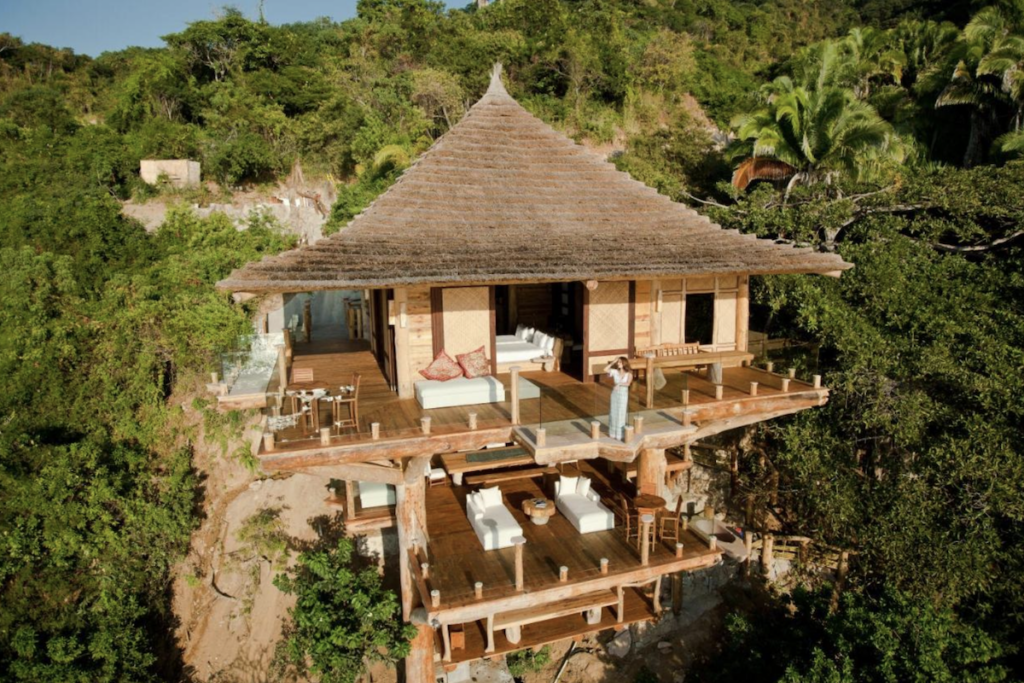 DINING AT IMANTA
Imanta offers toes-in-the sand dining for both breakfast and lunch at their oceanside restaurant Tzamaika, while dinner is served at their more formal Tukipa restaurant, with views over the jungle and ocean. In-room dining is also available.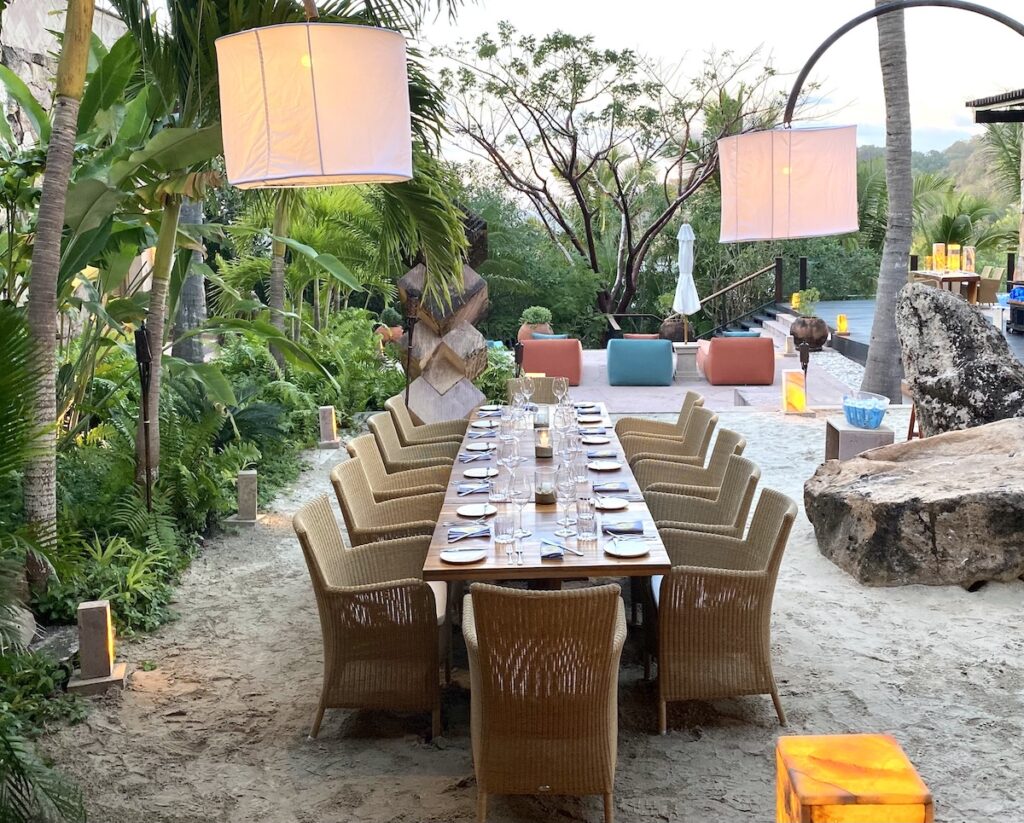 Not to be missed for a sunset cocktail (or mezcal tasting) is the absolutely gorgeous terrace rooftop bar and observatory.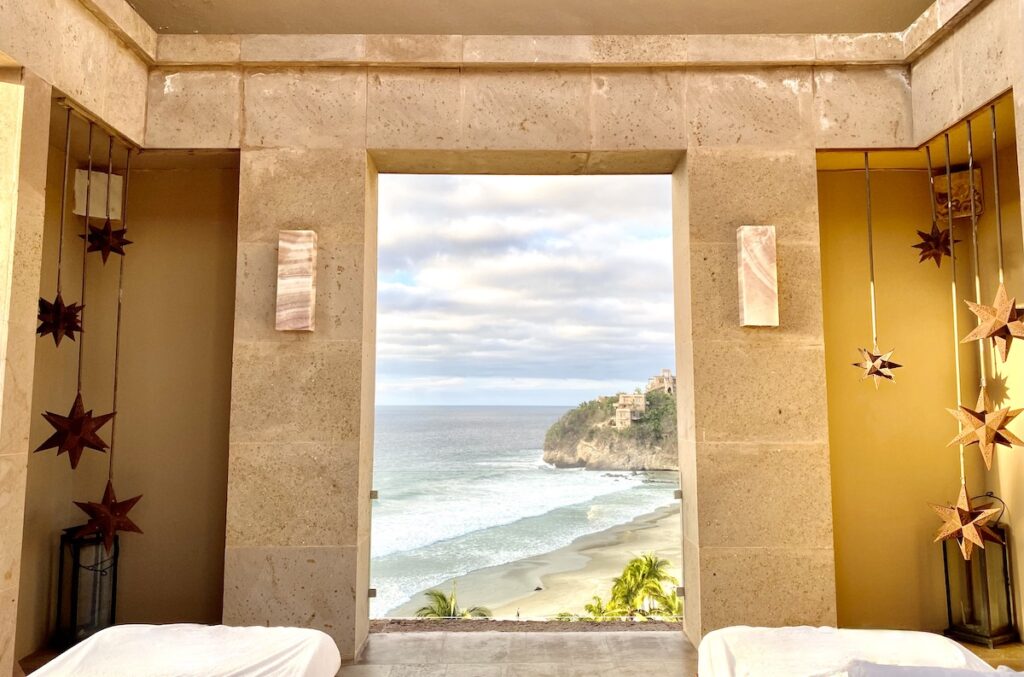 THINGS TO DO AT IMANTA
The resort offers guided nature hikes along the coastline and to the top of nearby Monkey Mountain.
For guest seeking a little pampering, the Jungle Spa is a very beautiful and unique experience.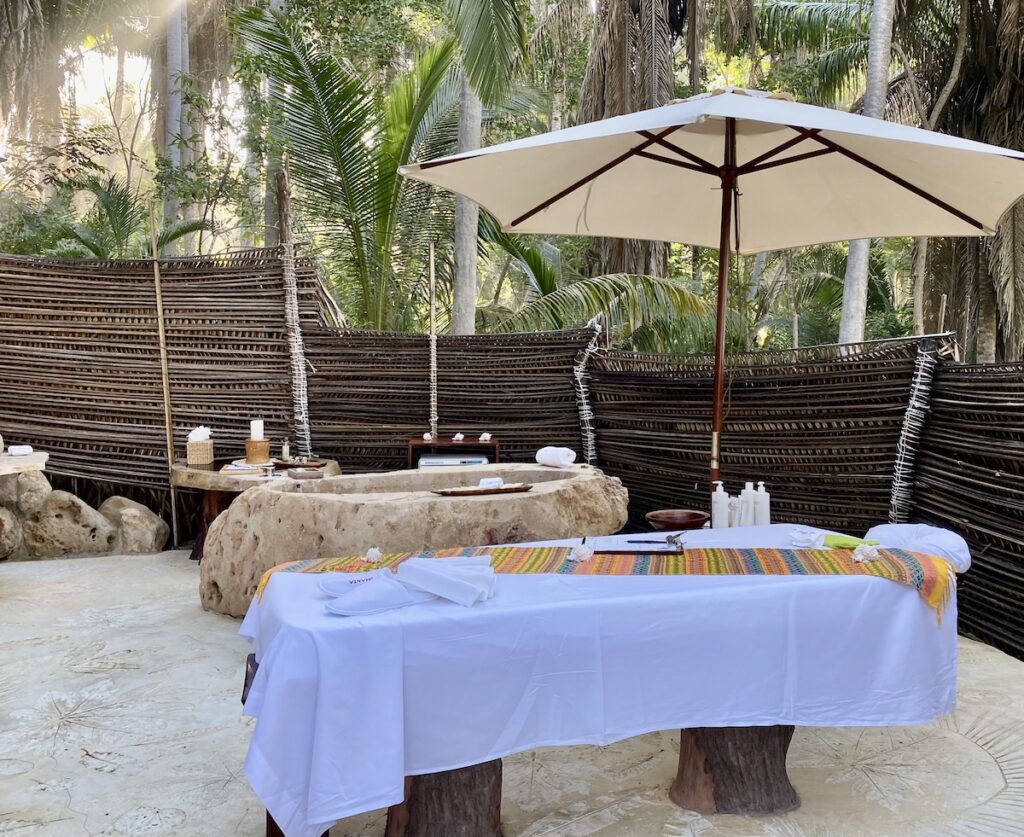 There are also a variety of off-site activities offered at the resort. These include a highly recommended half day trip to the Marietas Islands Reserve and National Park, where you can do some snorkeling and swim to the Hidden Beach. On our trip, we were lucky enough to enjoy some fantastic humpback whale sightings as well.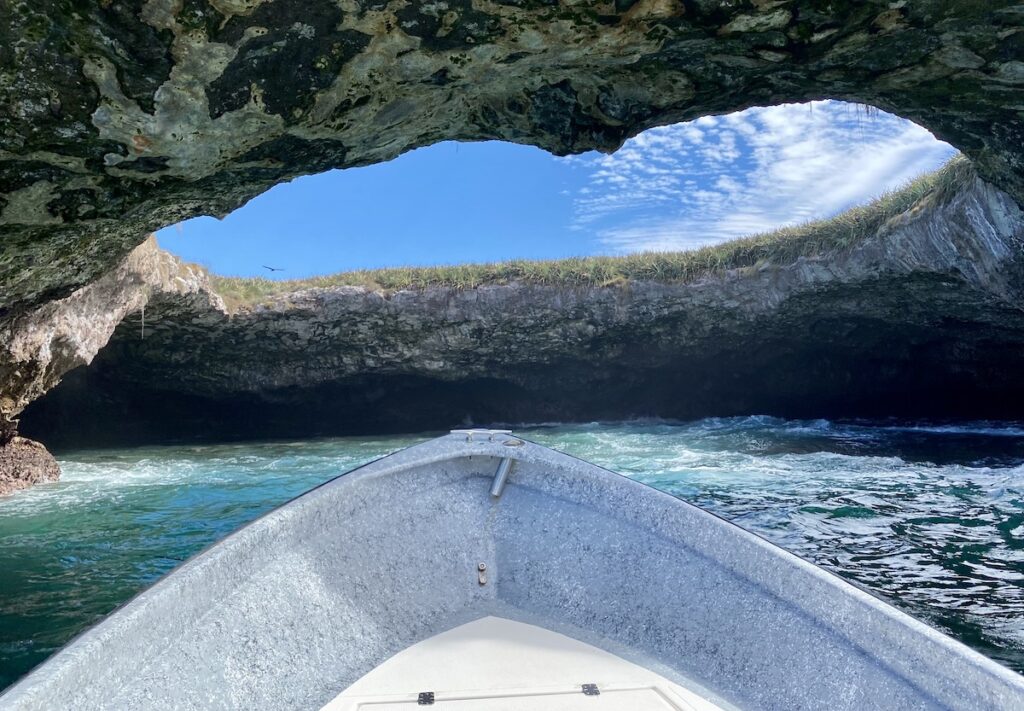 GETTING THERE
So often with unique retreats like Imanta you have to travel long and far. The beauty of this special spot, however, is that it is only a 45 minute drive from Gustavo Díaz Ordaz International Airport in Puerto Vallarta which has non-stop service from dozens of North American cities.
WHO IMANTA IS FOR
If you are looking for a quiet (and luxurious) escape to nature, and value your privacy, Imanta may be just what you are looking for.
While nearly full at the time of our visit, we generally only saw other guests at a distance, or briefly at dinner. Thankfully, my husband and I still like each other and have things to talk about after more than 20 years of marriage – otherwise this would not have been the place for us!
WHO IMANTA ISN'T FOR
It's not for extraverts looking to meet new friends. It is also not for people who loath little creatures. On our first evening, I looked up to find a family of coatis staring through the window at me. Another quietly walked by me the following day as I sat by the pool. This, I love…but I know it's not for everyone.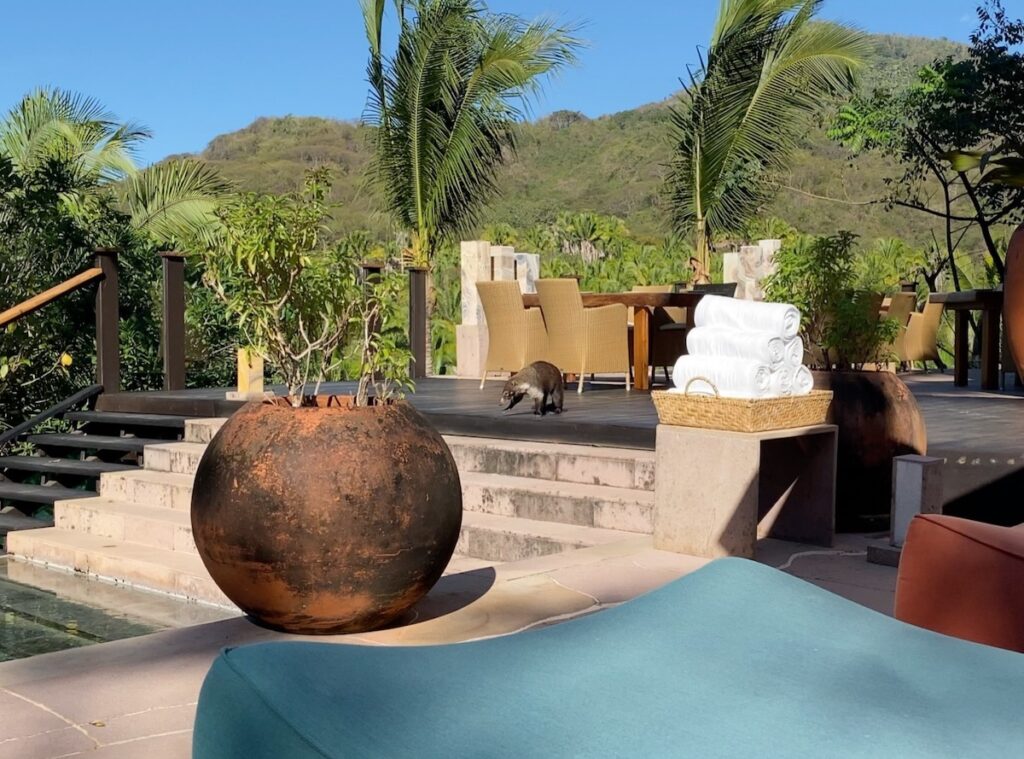 I would also say that I think Imanta makes for a better romantic getaway than it does a family vacation spot (unless of course, you can rent one of those stunning 3-bedroom casonas).
WHAT I'D LOVE TO SEE
Imanta seems to have done a lot right in terms of lowering their impact on the environment with their well thought out resort. I would love, however, to see them find a solution around water purification in lieu of offering their guests plastic bottles (I know it's possible). We probably went through 20 bottles during our stay, and every time one was opened, I flinched.
Furthermore, while the resort offers some really great activity options including guided nature hikes and day trips to the protected Marietas Islands, the fact that they also offer ATVing seemed a bit off-brand.
LEARN MORE
Read reviews from recents guests on Tripadvisor or check for availability on Booking.com.
Note: Imanta is frequently fully booked. Although a little further from Puerta Vallarta (south, rather than north), you may want to also take a look at Las Alamandas. We had a beautiful stay there once and long to return.
FURTHER READING