A Guide to 3 Days in Vernazza, Cinque Terre, Italy (2024)
Last updated on December 5th, 2023 at 04:20 pm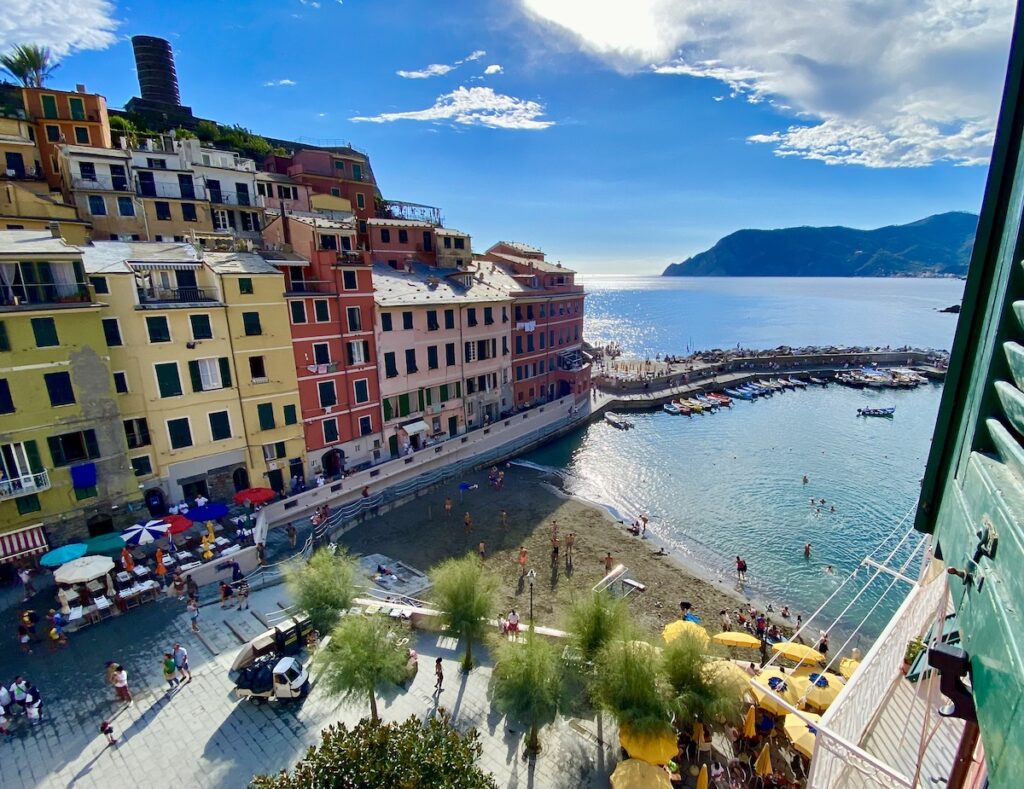 A stay in Vernazza saved what had been, quite honestly, a rather disastrous August trip to Italy. From a villa host who cancelled on our family group of 15 shortly before our trip (and re-listed on another site for more money), to Covid basically taking down my sister's whole family, one-by-one, during our two week stay in Tuscany – let's just say, things had gone extraordinarily sideways.
Thankfully, a 3 nights stay in Vernazza, one of five small, car-free villages that make up The Cinque Terre on Italy's Ligurian Coast, finished up our trip on a much-needed high note.
Why Vernazza?
Almost as an afterthought when planning our Italy trip, I decided to tack on 3 days in The Cinque Terre (just for our family of four). The allure of visiting these 5 small, pedestrian-only villages, was intended as a way to decompress after an action-packed Italy itinerary of museums and visits to ancient walled-cities. Cinque Terre was where we would unwind by the seaside before returning home.
I chose the town of Vernazza because it was said to be one of the prettiest villages of the Cinque Terre. I booked it with some hesitation though, as I knew it would be a complete zoo in August. My thought process was that by making it our base, we would have the opportunity to explore the town early in the morning (my favourite time) and late in the evening, free of the day-trippers.*
*Lots of people visit the 5 towns in one day and just linger in each about the time it takes to snap a picture or two. The hours of 10am – 4pm look like this (see image below). The second image was taken at 8am.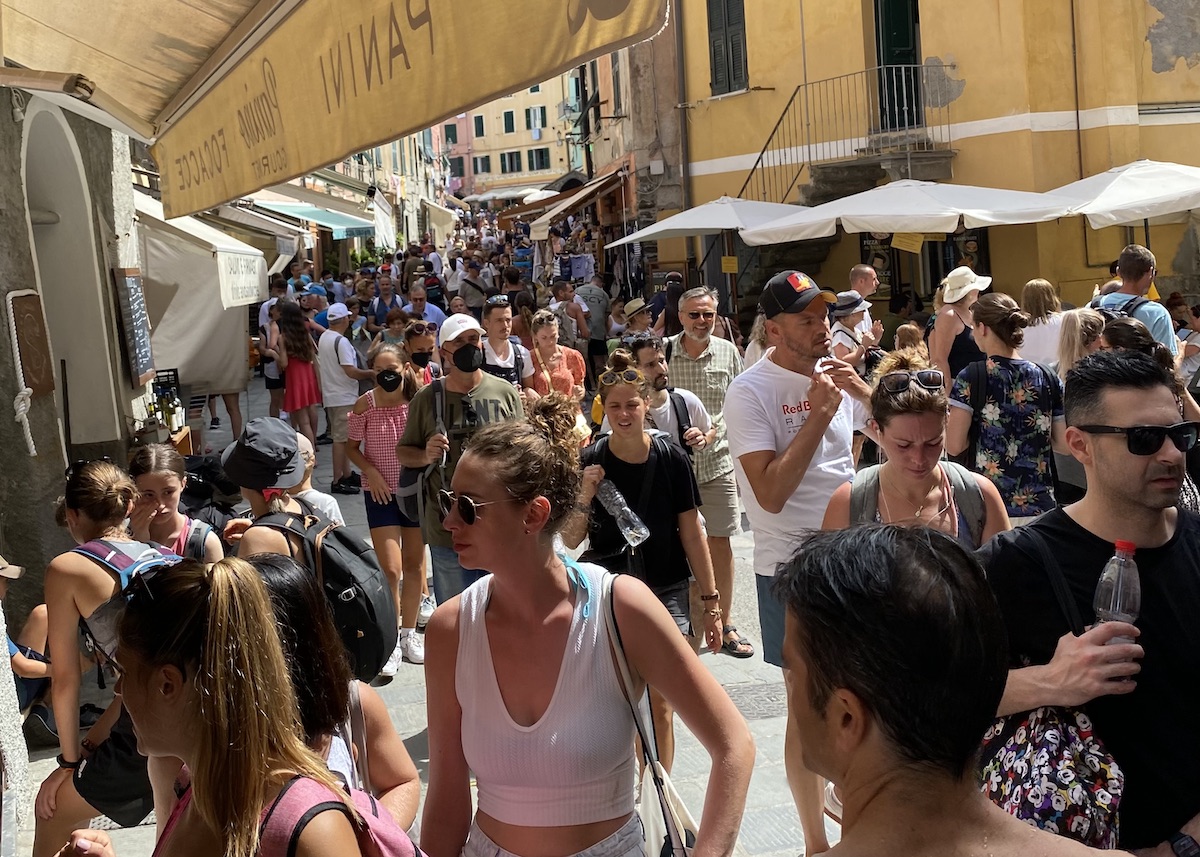 Our Stay in Vernazza
We arrived into Vernazza off of a packed train at about 1pm and into an even more jammed train station. We had left our rental car parked behind in the northern town of Levanto. (The best way to reach Vernazza is by hopping on the Cinque Terre Express train. It stops in all 5 towns as well as Levanto to the north and La Spezia to the south.)
Upon arrival in Vernazza, we then had to maneuver our way down to the harbour towards our vacation rental like fish swimming against a sea of humanity. I couldn't help but wonder if we had made a huge mistake as we weaved through the crowds and trudged up numerous flights of stairs with our luggage in the August heat.
After collapsing on the sofa for a short while, I eventually made my way up to our rooftop deck, above the crowds. It is here where my love affair with Vernazza began.
I had specifically chosen an apartment with a view of the harbour and the town square because I am a people-watcher. From both the living room and the rooftop deck, I could have full view of the action, without actually needing to be in it. We could go for a dip in the sea of humanity (or the actual sea) and then retreat to our tranquil (and air conditioned) apartment when needed.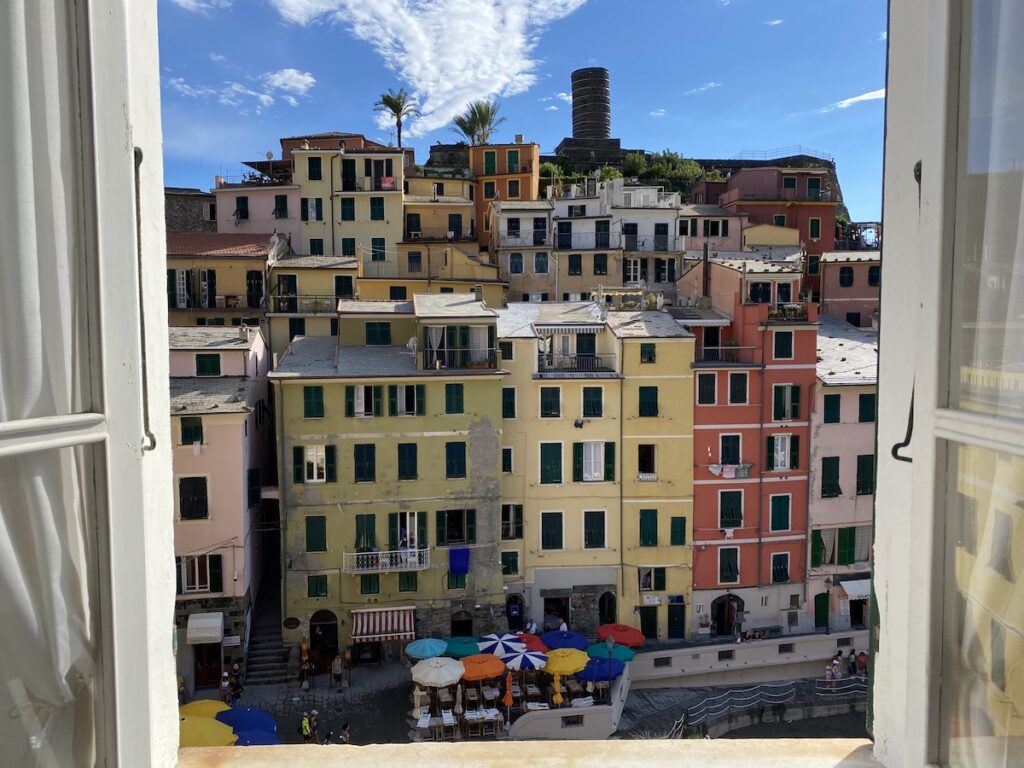 Things to do in Vernazza
What I really loved about Vernazza is that you can fill your days with activities, or have an equally wonderful time just taking in the village's unique beauty in a more relaxed fashion. That said, here are the things we enjoyed most.
1. Meander the Streets
We enjoyed our mornings in Vernazza most, when the town was almost entirely ours. We would make our way up the main street, beyond the train station, following our noses to a charming, locally-run cafe (Il Pirate delle 5 Terre).
The busier midday hours are a great time to explore some of the inside passages to escape the crowds. It is in these back corridors that you can discover some of the more charming and less touristic little bars and restaurants (more on this later).
Note: Be sure to climb the steep stairs to the ancient Doria Castle (Castello Doria), originally built to help protect the town from pirates, and offering a beautiful view.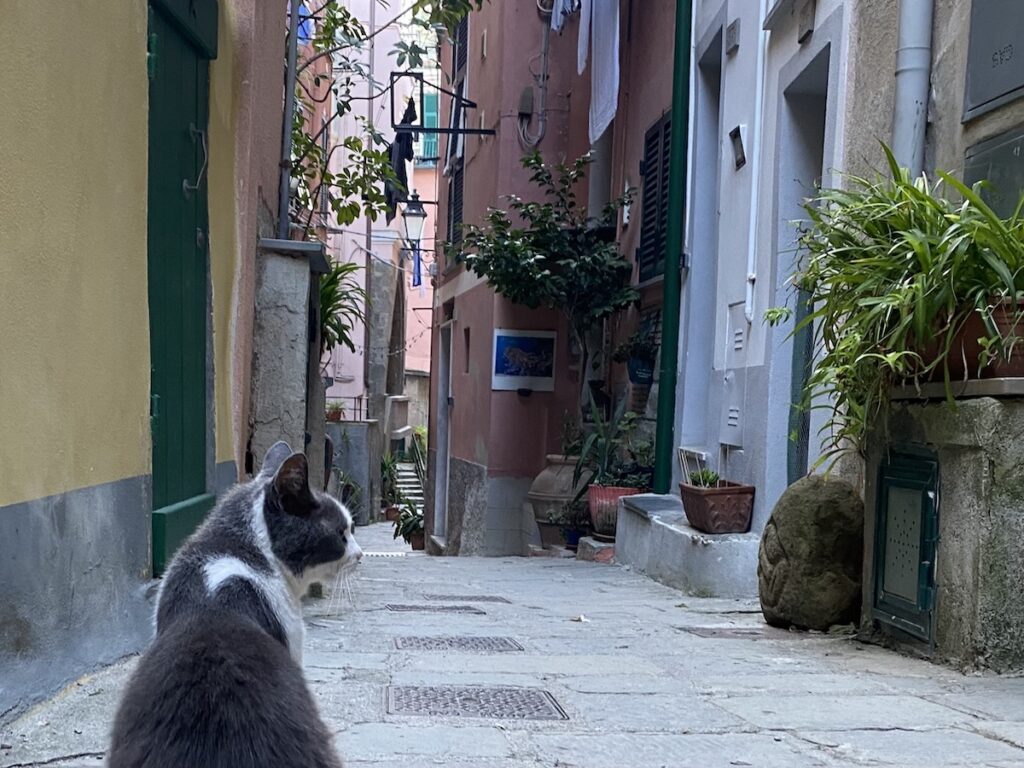 Despite being awash with tourists, Vernazza also has a vibrant little community (of around 750 people). I loved observing the older gentlemen playing cards on the square in the evenings. I also really enjoyed watching the teen boys peering out their windows and signaling to each other as they waited for a short shower to clear the beach of tourists in order to resume their ongoing futbal match.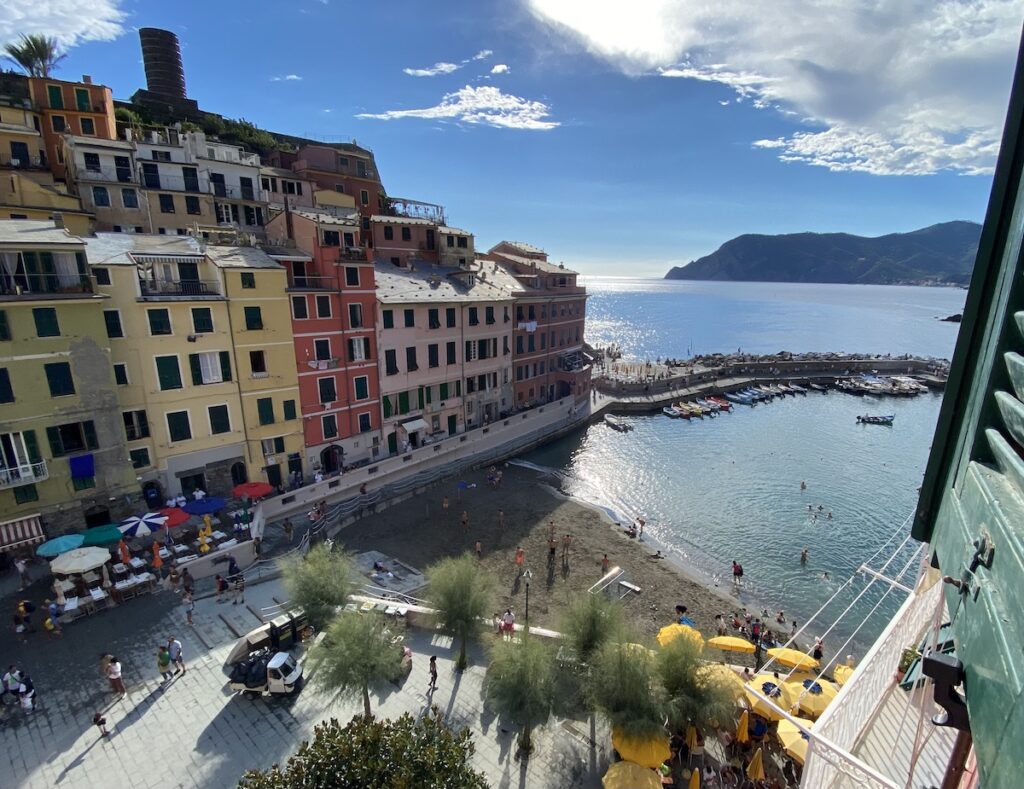 2. Swimming in Vernazza
While the small sandy beach in Vernazza is not as pristine or expansive as the beaches in the neighbouring town of Monterosso al Mare (which are lined with private beach clubs), it is big enough from which to enjoy a refreshing dip. Visitors (as well as locals) are also just as likely to lay their towels along the rocky shoreline to enjoy some time in the sun.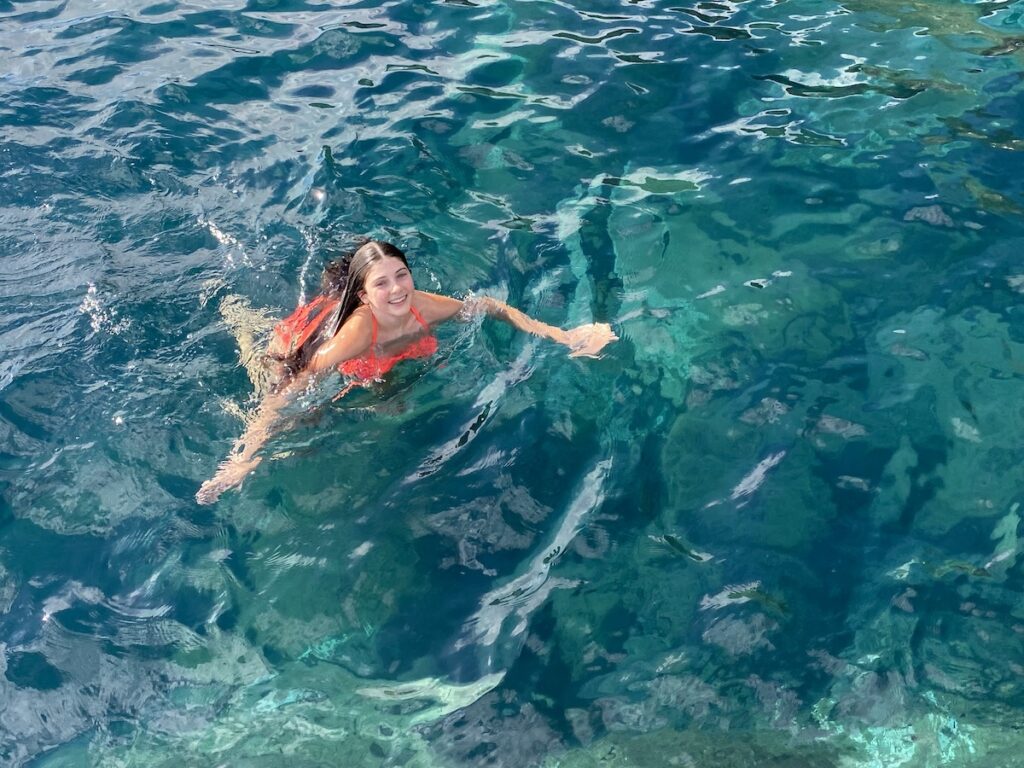 Note: Some websites report a second beach that you reach through a cave on the main street. At the time of our visit this entrance was closed and the beach was non-existent, presumable washed away by winter storms.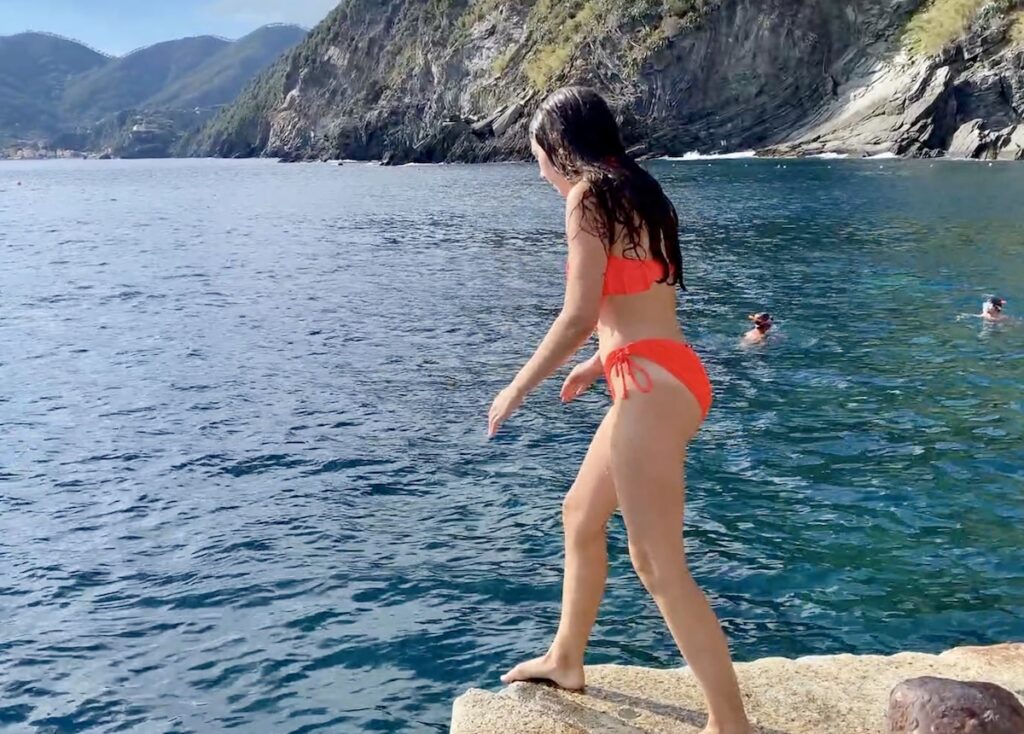 Our favourite place to swim in Vernazza was at the tip of the harbour where you can jump off into the deep aqua-coloured water. (There is a ladder making climbing out a little easier).
3. Hiking from Vernazza
While it was never in our plans to hike to all 5 towns (the trail was partially closed), we did at least want to hike to neighbouring Monterosso al Mare as this trail was said to have some of the best views. The hike offers the postcard-perfect shot of Vernazza as well as a chance to see the terraced gardens and vineyards along the way.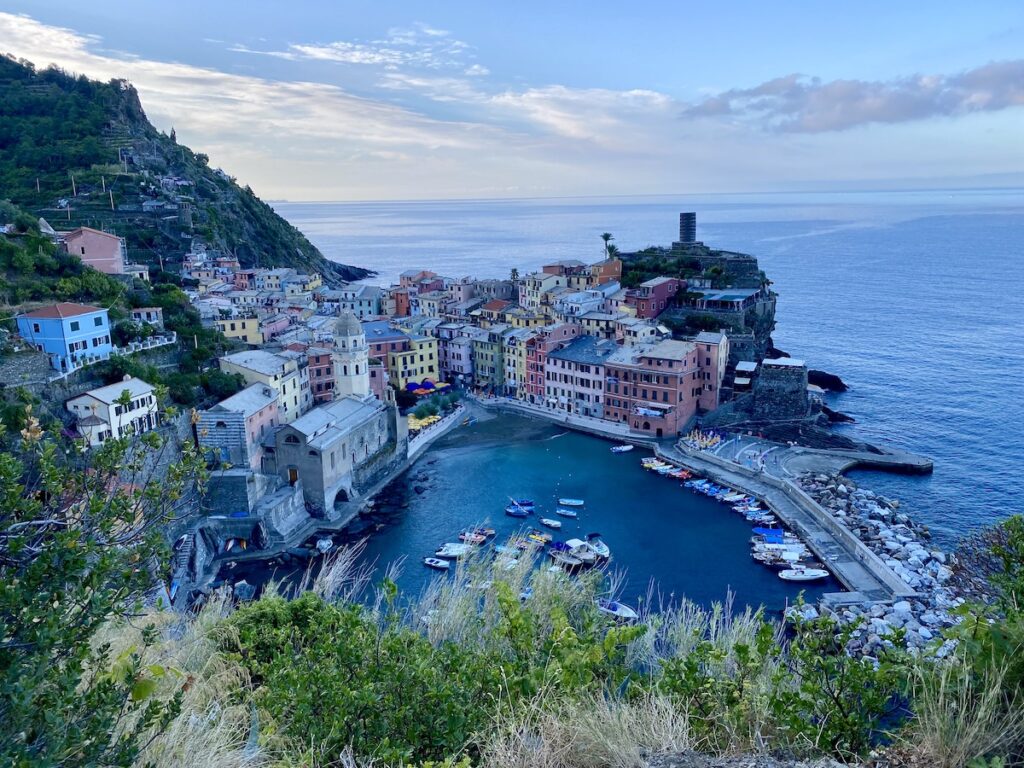 Hundreds, if not thousands of tourists do this hike every day during the summer months. By leaving Vernazza at 7:30am, however, we we able avoid most of them. The beauty of doing the hike at this time was also that it was only about 22°C/72°F degrees out and the trail was almost entirely in the shade (the mercury would later climb to nearly 30°C).
The hike took us about 75 minutes at a brisk walking pace. We arrived in Monterosso just in time for breakfast, followed that with a visit to a beach club, and finished up with a gelato stop before taking the train back to Vernazza.
Note: I brought my hiking shoes along specifically for this part of our Italy trip, which was a pain because I like to travel light. My husband and teens just wore their regular running shoes which seemed fine on a dry day (but they are also kind of mountain goats). Flip flops are prohibited on the trail but you see people wearing all kinds of ridiculous footwear.
How to Hike The Cinque Terre
The "Blue Trail" is the name of the hiking path that connects the five towns of Monterosso al Mare, Vernazza, Corniglia, Manarola and Riomaggiore. The trails can be hiked in either direction.
To do the full hike, a Cinque Terre Trekking Card (7.5€ adults, 4.5€ child) is required. The passes are checked only on the sectons between Monterosso-Vernazza and Vernazza-Corniglia.
Due to winter erosion and landslides, it is not always possible to hike to the 5 towns. For example, the Blue Trail between Manarola and Riomaggiore (a.k.a. "The Via dell' Amore") is closed until at least July 2024. While most people connect the dots along this section by hopping on the train, you also have the option of taking a more difficult route (the "Via Beccara") over the mountain.
See also: Cinque Terre trekking pass information and current trail conditions.
4. Vernazza Wine Tasting
Want to sample some of the wine made from the grapes grown right on The Cinque Terre's own terraced hillsides? Book a wine tasting at Cantino Cheo, located just 100m above the Vernazza train station.
Since 2004, this winery has recovered about 2 hectares of abandoned or semi-abandoned vineyards to produce a range of Cinque Terre DOC wines, including the local favourite Sciacchetra (a sweet white usually paired with cheese or dessert).
For tasting reservations and tours, see Cantino Cheo.
5. Boat Trips from Vernazza
There is nothing quite like seeing the beauty of Cinque Terre from the water and a boat cruise from Vernazza is a great way to do it. You have a couple options at your disposal.
The Cinque Terre Ferries
Enjoy these hop-on, hop-off ferries for beautiful views of The Cinque Terre and access to 4 of the 5 towns. (The ferry does not stop at Corniglia as it is the one town that is on a cliff top, not on the water.)
The ferry picks people up and drops them off right onto the boardwalk at the tip of Vernazza's harbour. The whole scene is a little amusing as the ferry simply lowers a bridge and guests hang on for dear life as they navigate the crossing with the boat rocking in the waves. It's a little chaotic, but it all seems to work (and quickly).
The ferry runs from March until mid-October. Tickets can be purchased from a well-marked stand about 25 meters away (daypass = 37€/adult, 15€/child) . Do not purchase tickets in advance as it is not necessary and the ferry does not run if seas are too rough.
See also Cinque Terre Ferry Schedules.
Note: This is the same point where people like to jump into the water. You can see the swimmers taking a break on each side of this photo.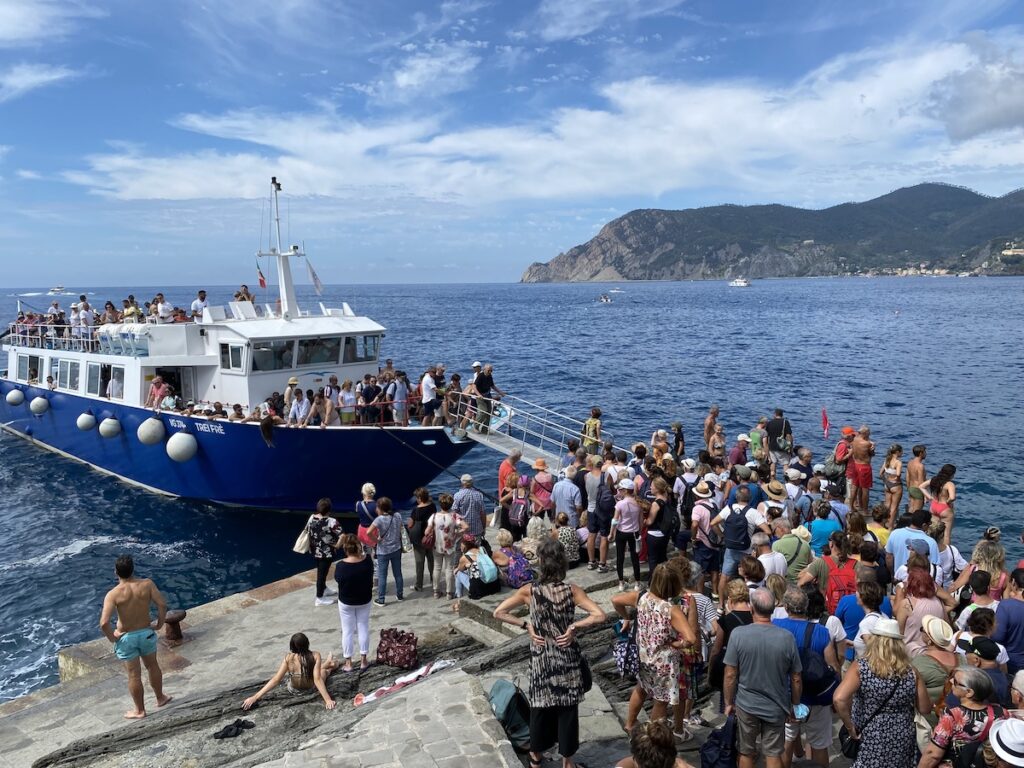 Take a Cinque Terre Boat Tour
Most Cinque Terre small group boat tours leave from the neighbouring towns of Monterosso al Mare or Levanto. This can be fine for a daytime trip (only a short train ride away), but this makes a sunset cruise more difficult as trains runs very infrequently in the later evening hours.
Some boat trips will pick you up and drop you off in Vernazza, but be aware that if it is a group tour, you may be picked up along the way and miss some of the sights. If you book a private tour, a Vernazza pick up and drop off should be possible.
Check out these Cinque Terre Boat Tours from Viator!
Finally, there is at least one company that leaves right from Vernazza (for sunset cruises too). For more information see Nord Est Vernazza or read their Tripadvisor reviews here.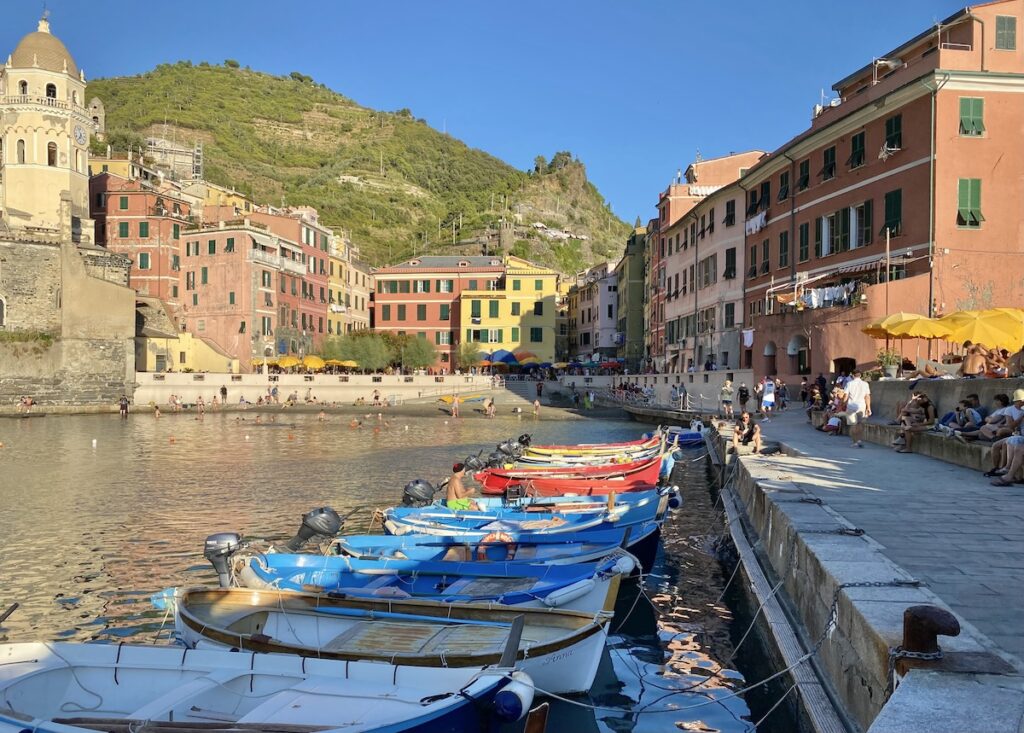 6. Visit a Beach Club in Monterosso
Visiting a beach club is a pretty quintessential Italy travel experience. The beach in Monterosso al Mare is almost entirely lined with beach clubs. There are also four tiny public beach sections but these fill up very quickly during the summer months.
We paid 35 euros for two beach chairs and an umbrella, despite there being four of us. We only planned on staying for a short dip so it seemed excessive to pay double that.
Note: The signs at the beach club said "max 3" but they were not concerned that there were 4 of us. This seemed to be the norm as we noticed other families bringing along extra chairs and gear all to set up underneath one umbrella.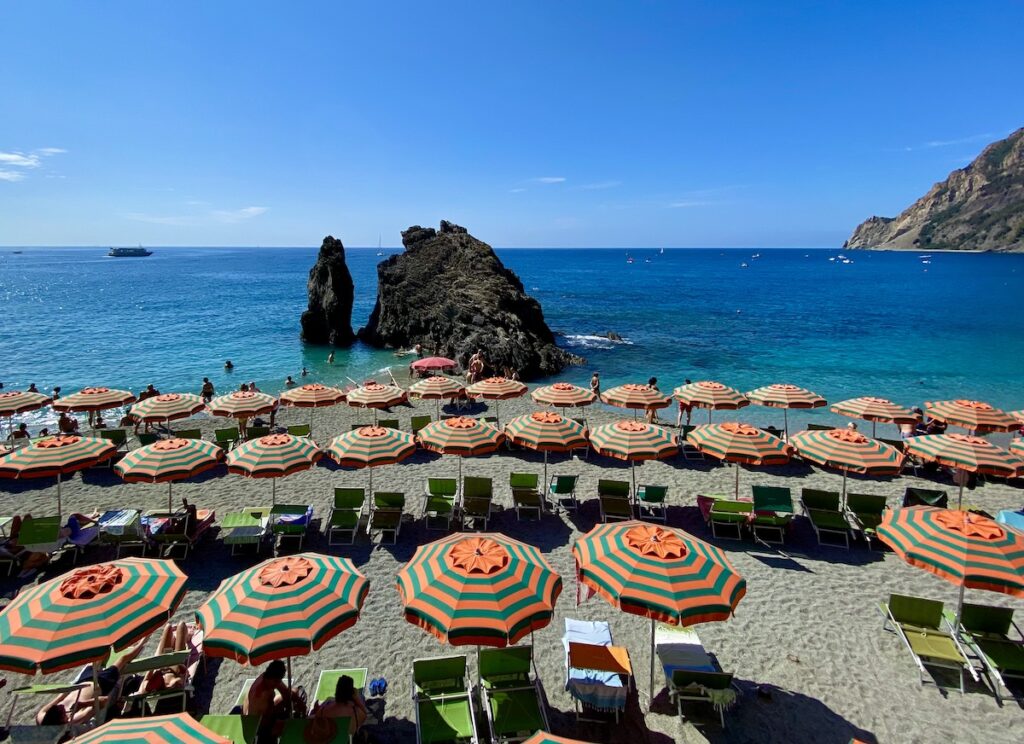 We happened to get to Monterosso Al Mare very early in the day and had no problem getting beach chairs. On busy days, however, they can be sold out by noon. I found this post on how to reserve Monterosso beach chairs online and thought it might be useful. (I found it after our trip).
7. Village Hopping
Of course you have not only come to Vernazza to see one town. From this base, it is very easy to pop over and visit another town either by train, a hike, ferry or water taxi. As mentioned before, we hiked from Vernazza to Monterosso for breakfast, a swim and gelato and were back to our vacation rental by lunch time (via a 5 minute train ride).
On another day we took the train south to Cornignlia for a sunset cocktail before returning to Vernazza for dinner.
Note: Once again, we just really tried to avoid visiting the other villages in the peak 10am-4pm when trains and streets were packed with tourists.
Where to Eat in Vernazza
It is hard to ignore the visual appeal of the restaurants on the square on Vernazza's harbourfront…but there are better options.
For breakfast, the Il Pirata delle Cinque Terre is quite delightful. Owned by two brothers, the cafe serves up an overwhelming assortment of fresh pastries.
On Italian Service: I was rather amused by the fact that one day one of the brothers was telling us how we should order their fresh juice smoothies (we did – delicious) and the next day (at the same time), we were told that it was far, far too early to be ordering such a thing. This kind of irregular service doesn't actually bother me that much…unless it affects a timely arrival of my morning coffee.
For lunches we enjoyed more casual fare including salads from The Lunch Box, fresh takeout seafood from Il Gattaccio and tasty focaccia from Batti Batti', where there ladies often sing while they serve you.
Fun fact: Focaccia was invented in The Cinque Terre.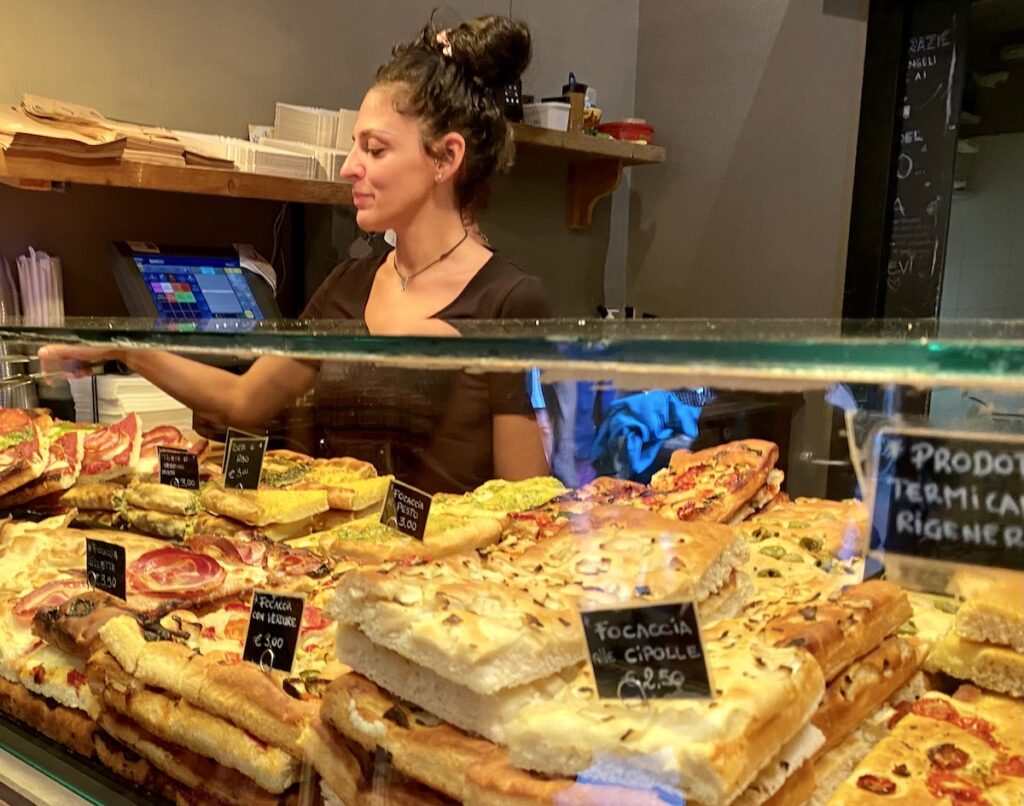 We discovered the wonderful Gianni Franzi Deck for aperitivo (the traditional Italian pre-dinner drink and snack). It is well worth the climb up several narrow stairways to get to this pretty spot that most tourists seem to miss.
Note: The Deck is only open for hotel guests for breakfast but is open to the public for evening cocktails.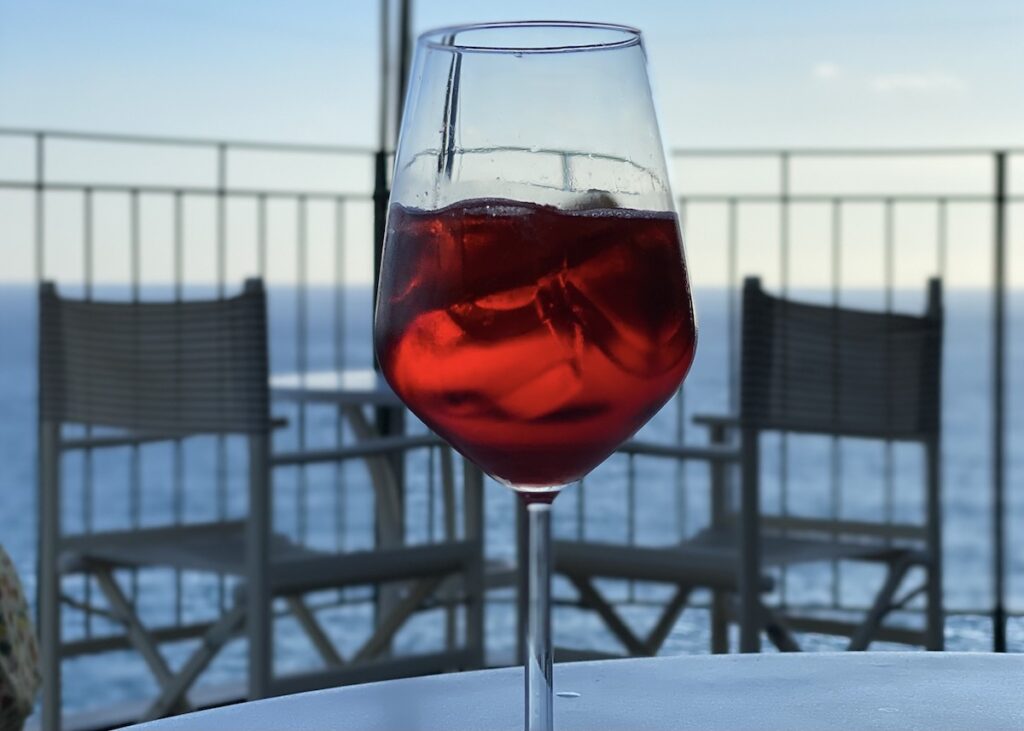 I would like to recommend making the short climb up the trail to Ristorante La Torre for dinner (make reservations). The food is very nice and the view absolutely spectacular from pretty much every table.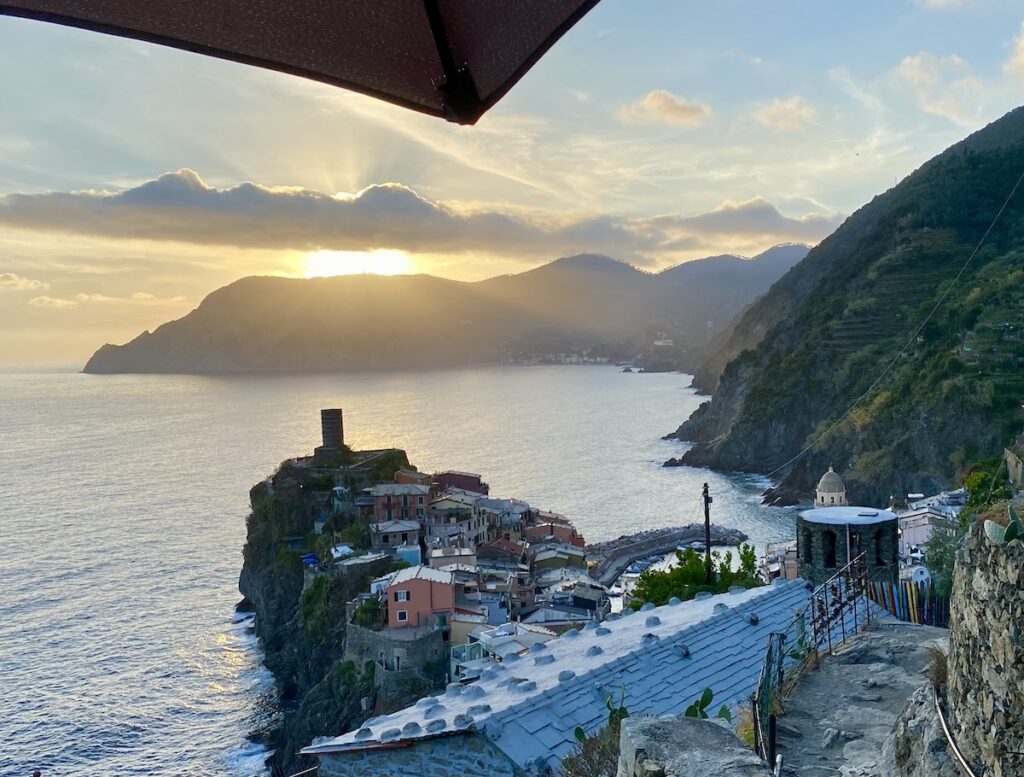 If you are looking for Michelin star dining, there are several places in nearby Monterosso, just a 5 minute train ride away. (Be sure to check the train schedule for your return trip as the trains run more infrequently in the evenings.)
Looking for a little change after indulging in your fair share of rich and delicious Italian food? Try Organic Poke on the little side street below the castle. After nearly 3 weeks in Italy, we were delighted to have a change.
We tried several places for gelato in Venazza, but our favourite was Gelateria Il Porticciolo right on the harbour.
Where to Stay in Vernazza
Vernazza does not have any large hotels. Accommodation options are an assortments of B&Bs and vacation rental apartments with a range of services and amenities.
Tips for booking in Vernazza
Book early for the summer months. The good places disappear very quickly. Better…visit in the spring or fall when things are a little quieter.
Consider booking a place with air conditioning. Italy has been hit by some incredible heat waves in recent years and the beautiful sea breeze doesn't quite do it.
Some of the most popular rentals have a view of the harbour and the town square which is also quite lively (noisy) at night. If you want something quieter, reserve an inside passage, something higher on the hill or a place facing south towards Corniglia.
Find out how many staircases you will need to climb to get to your accommodation (unless you love a workout). Elevators do not exist in Vernazza. Many apartments are also spread out over several levels.
If you are traveling with young children, be mindful of windows and balconies as there can be some big drop offs.
Apartments in Vernazza we Love
1. MADA Charm Apartments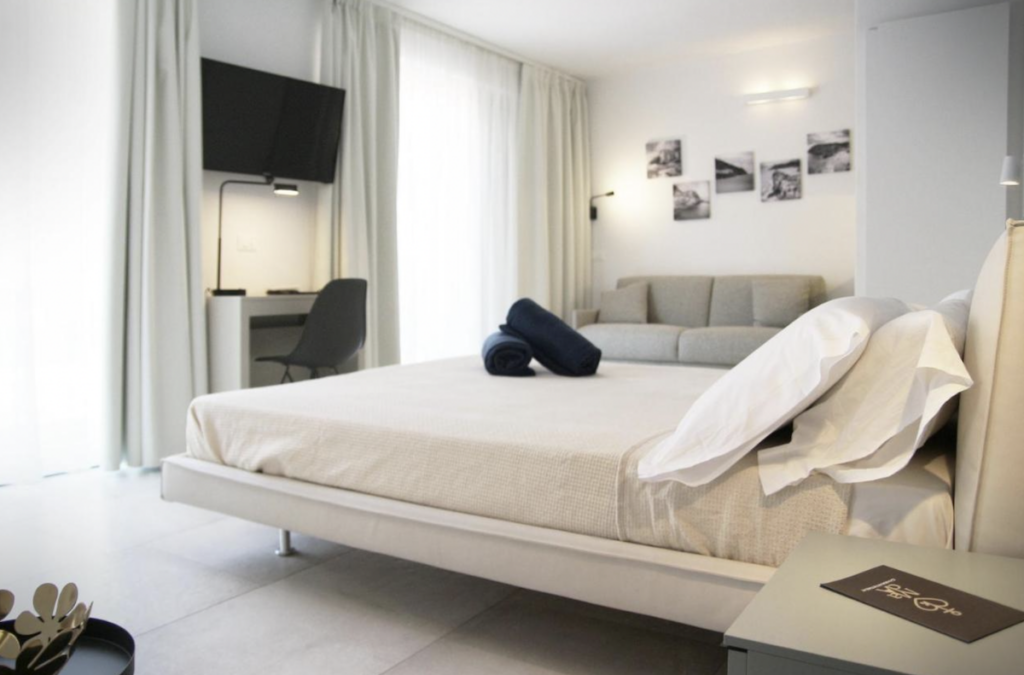 MADA offers four different air conditioned suites in Vernazza. Every unit features a private bathroom, air conditioning, a flat-screen TV and a microwave. Some units also have a seating area and/or a balcony.
See their Piazza Apartment (sleeps 2), Jacuzzi Apartment (2) and their Terrace/Carugio Apartments (2/4).
2. Casa Cató Rooms & Apartment
With a sea view, these air-conditioned rooms also come with a flat-screen TV, small fridge, free wifi access and some have a balcony. The private bathroom has a shower, free toiletries and hairdryer.
See Casa Cato's selection of sea view rooms in Venazza (sleep 2). They also have the lovely Blu Mare Apartment near the harbour (sleeps 3/4).
3. Ù CÙntìn 3 Bedroom Apartment
In case you were wondering, it means "The House" (if it were me, I might change the name for marketing purposes). We had a fantastic stay at this 3 bedroom (sleeps 6), air conditioned apartment (with good wifi!) overlooking the harbour.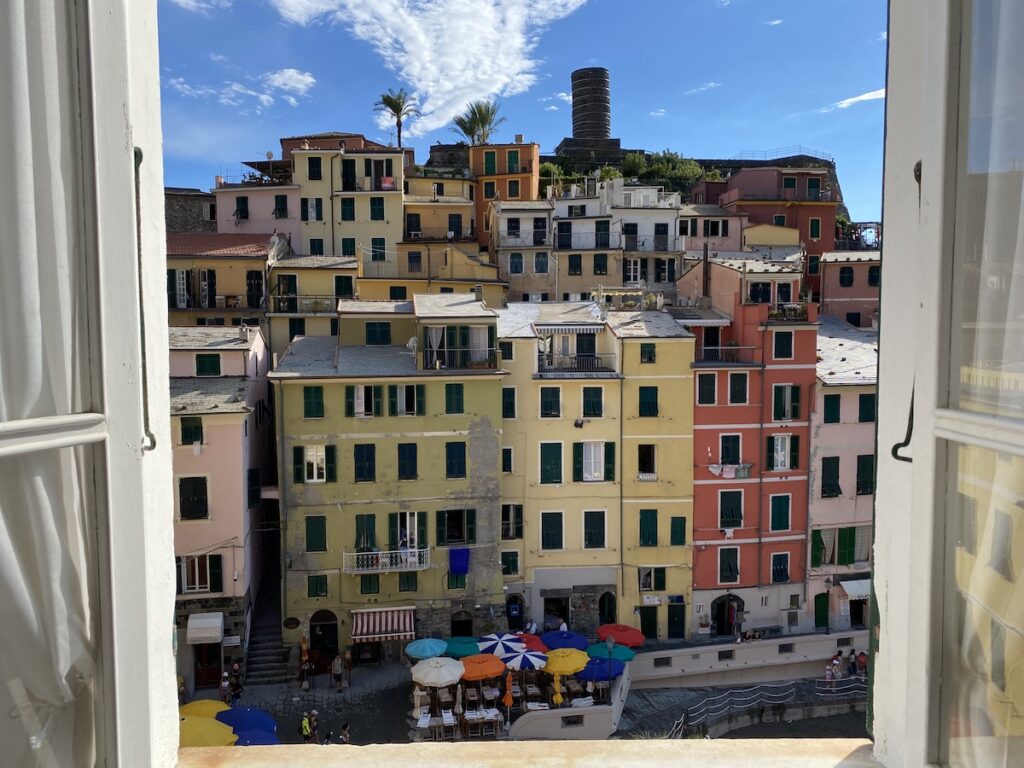 It is modestly furnished, but what made it really special for us was the excellent communication from host Marco as well as the nice little treats he left for us (fresh fruit, croissants, water, sparkling wine). The service was very personal and warm.
Note: As the apartment is right on the square, it is a little lively at night.
See listing for "The House" on Airbnb.
Where Else to Stay in Cinque Terre
Honestly, I don't think it matters that much which village you stay in because it is so easy to hop from one village to the other by train. Personally, I spent way too much time on this. In fact, if you read travel forum reports, most people seem to say that the village they stayed in was "the best one". That said, there are a few things to keep in mind.
Tips for Accommodation in Cinque Terre
While most of the villages offer a wide array of rooms and apartments for rent, Monterosso al Mare is your best bet if you are looking for full service hotels. It has the added convenience of being the town where most of the boat tours leave from as well as having direct train access to Milan (and Pisa).
While officially not part of The Cinque Terre, the towns of Levanto (north) and La Spezia (south) are on the Cinque Terre Express train route. Hotel rates in these towns are generally lower than the other 5 towns but still offer very easy access. See hotels in Levanto and La Spezia.
Corniglia is the one town that is not on the water (but has great ocean views). It is reached by 350 stairs or a quick shuttle ride from the train station. I have read in many places that Corniglia is the "quiet village", but I must say, when we visited at 6pm for a cocktail in August, it was extremely busy. (It's all relative, I suppose.)
Getting to Vernazza
By Train
As there is no need to have a car in The Cinque Terre (it is a hassle, in fact), many people arrive by train to the southern town of La Spezia and then transfer to the Cinque Terre Express. This convenient local train connects La Spezia in the south to Levanto in the north, stopping at each of the 5 Cinque Terre towns in between.
Note: The only Cinque Terre town that has direct train access from a major Italian city is Monterosso al Mare. ItaliaRail office direct service from Milan and Pisa.
See also: Getting to Cinque Terre by Train
By Car
Almost everything you will read will tell you not to bring a car to Cinque Terre. These small towns have very limited parking, and in the summer months, their local lots are almost always totally full. If you are, however, encumbered by a car like we were, consider parking in the town of Levanto (north) or La Spezia (south) and then hop on the Cinque Terre Express train to get to your town.
Note: Despite having lots of parking, we found all the parking lots near the train station in Levanto to be full when we visited in August. We ended up parking in an older gentleman's yard (clearly, this was his side-hustle) for slightly less than what the official lots would have cost us.
See also: Parking in Cinque Terre.
Questions?
Do you have any questions or comments about Vernazza? If so, please share in the comments. I'd love to hear from you!
MORE Travel Guides