15 Best Things to do in San Sebastian, Spain (2024)
Last updated on December 5th, 2023 at 04:19 pm
Are you looking for the best things to do in San Sebastian, Spain? Well, you've come to the right place.
Also known as "Donastia" in the Basque language, this exceptionally beautiful little town on Northern Spain's Bay of Biscay is famous for its vibrant arts and culture scene, stunningly beautiful beaches, lively Old Town neighborhood, and its absolutely world-class culinary scene.
The following Best Things to do San Sebastian Guide is intended to make sure you can make the most out of your time in San Sebastian, Spain – whether you are staying for a weekend or several weeks. Please use the following menu to find what you need quickly.
In a rush and just need the highlights? Start with our 90 second San Sebastian video.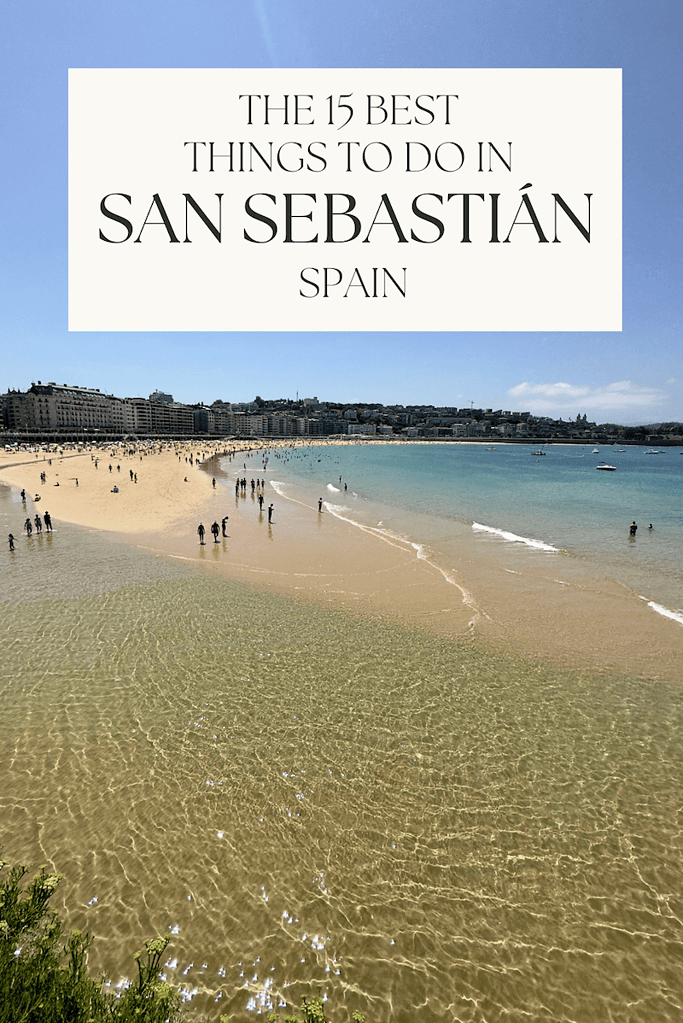 Affiliate Disclosure: This San Sebastian things to do post contains affiliate links. If you click a link and make a purchase, I may receive a small commission at no cost to you. All opinions are entirely my own.
SAN SEBASTIAN HIGHLIGHTS VIDEO
15 BEST THINGS TO DO IN SAN SEBASTIAN
1. DO A PINTXOS TOUR
What's a pintxo, you ask? Pintxos are the Basque Region's answer to Spanish tapas. They are small, delectable bites, typically served on a piece of bread, featuring ingredients like freshly-caught cod, Iberian ham, local cheeses and more.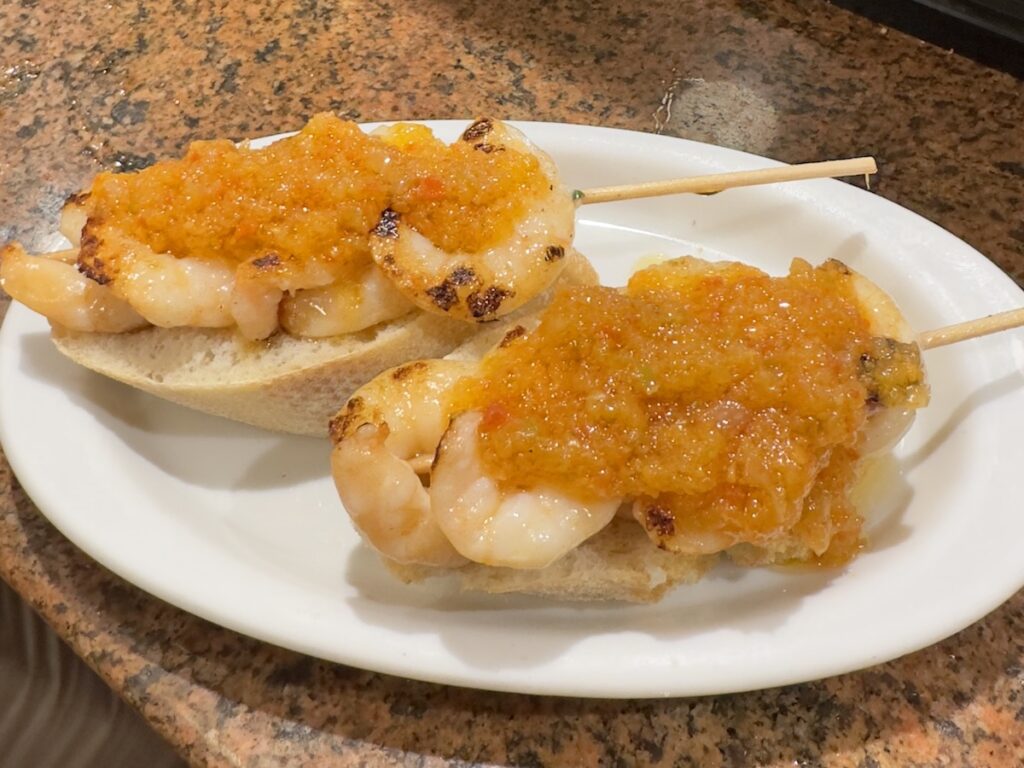 In San Sebastian, pintxos have been practically elevated to an art form, with local pintxos bars competing for the most sought-after bites. The city's Old Town (or Parte Vieja) has the highest concentration of pintxo bars.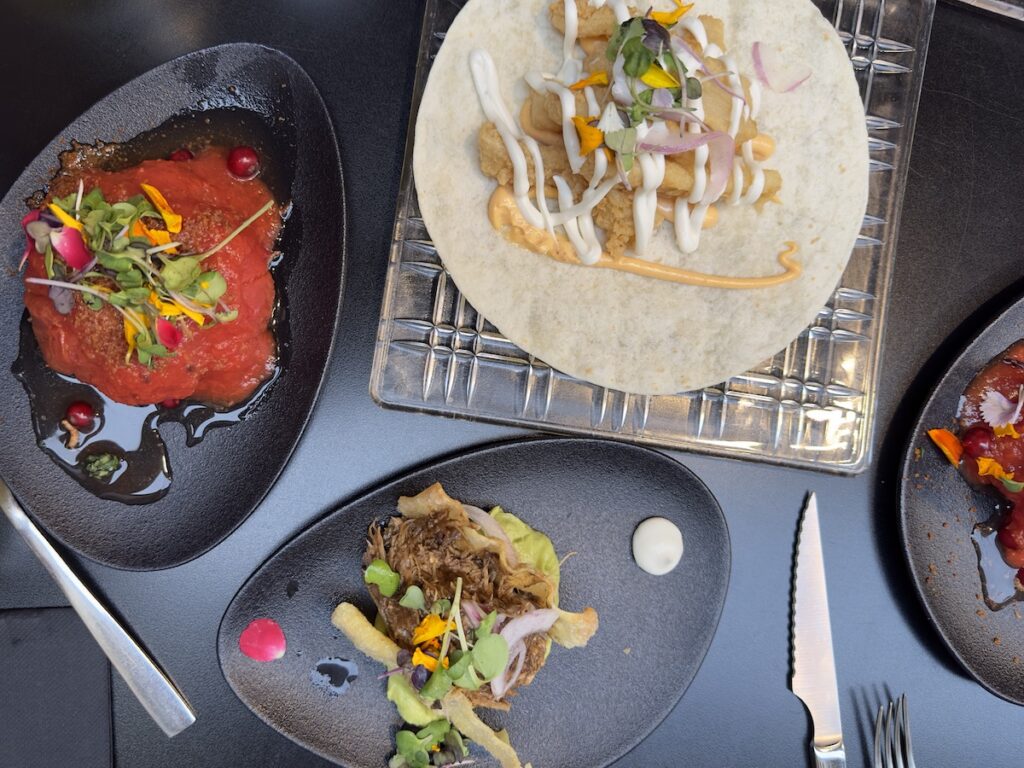 While you can most certainly hop between the bars on your own, if you are new to the experience, and don't speak Spanish or Basque, I highly recommend booking a tour on your first day.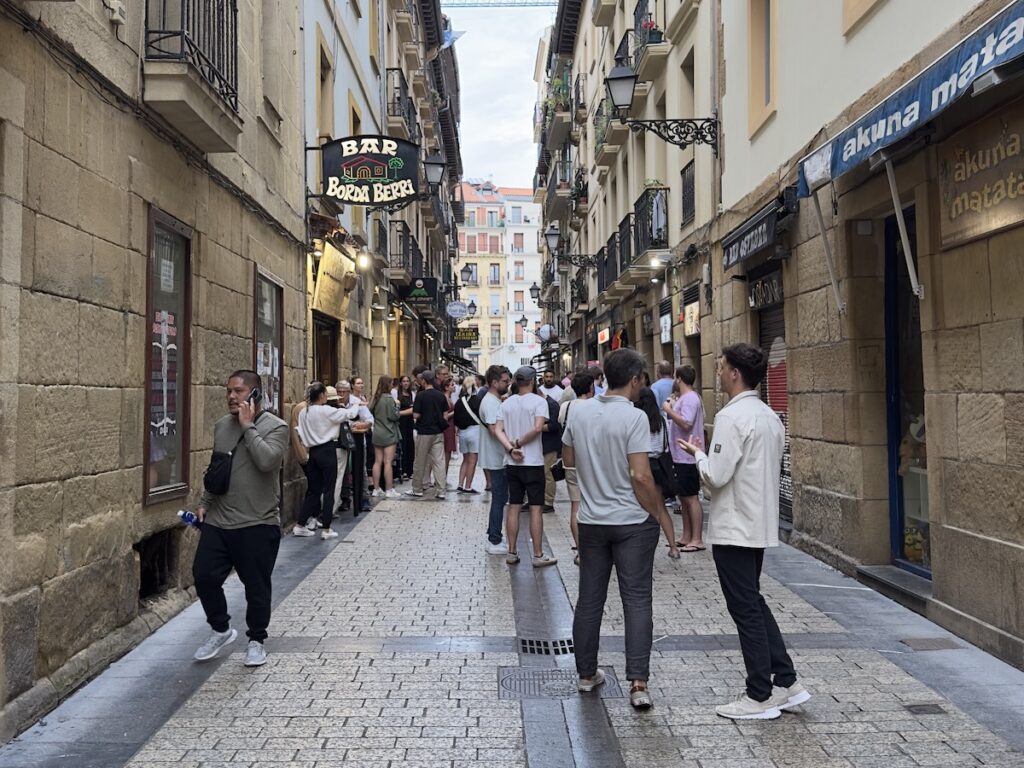 Most tours are going to share with you some interesting history about San Sebastian's Old Town, introduce you to some of the best pintxo dishes, while also teaching you a little bit about pintxos etiquette so you can proceed on your own with confidence!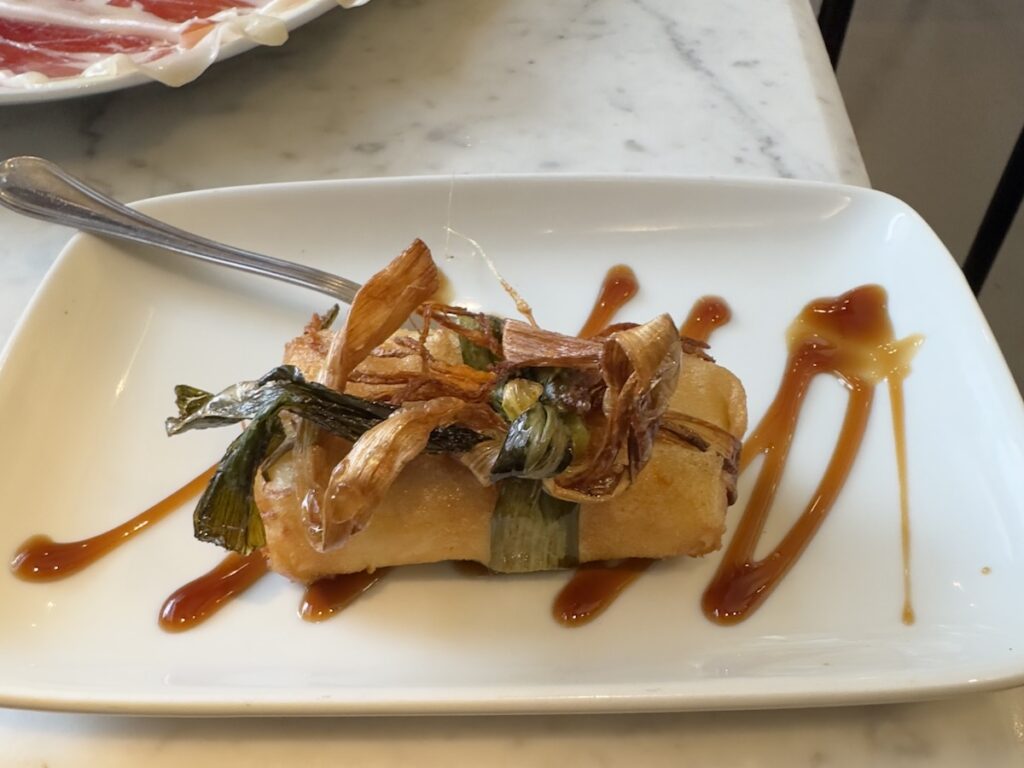 Tip: I highly recommend booking a small tour or, even better, a private San Sebastian pintxos tour. The best places are really busy, and often the larger group tours have to skip them because there just isn't room. A group of 6 or less should allow you access most of the best San Sebastian pintxos restaurants.
We used the company San Sebastian Pintxos Tours (as per a recommendation from a highly rated local restaurant). Personally, I am also a big fan of booking tours through the company Tours by Locals. Through them, you can book a freelance guide and can see their personal reviews (not just the overall company reviews).
2. EXPLORE OLD TOWN
If you choose to do a Pintxos Tour, it will ideally include a historical tour of the Old Town (also known as "Parte Vieja"). Most tours will start or finish at the City Hall and include interesting stops such as Plaza de la Constitución, and one or more of the city's historical churches (Iglesia de San Vicente, Basilica de Santa Maria, etc.).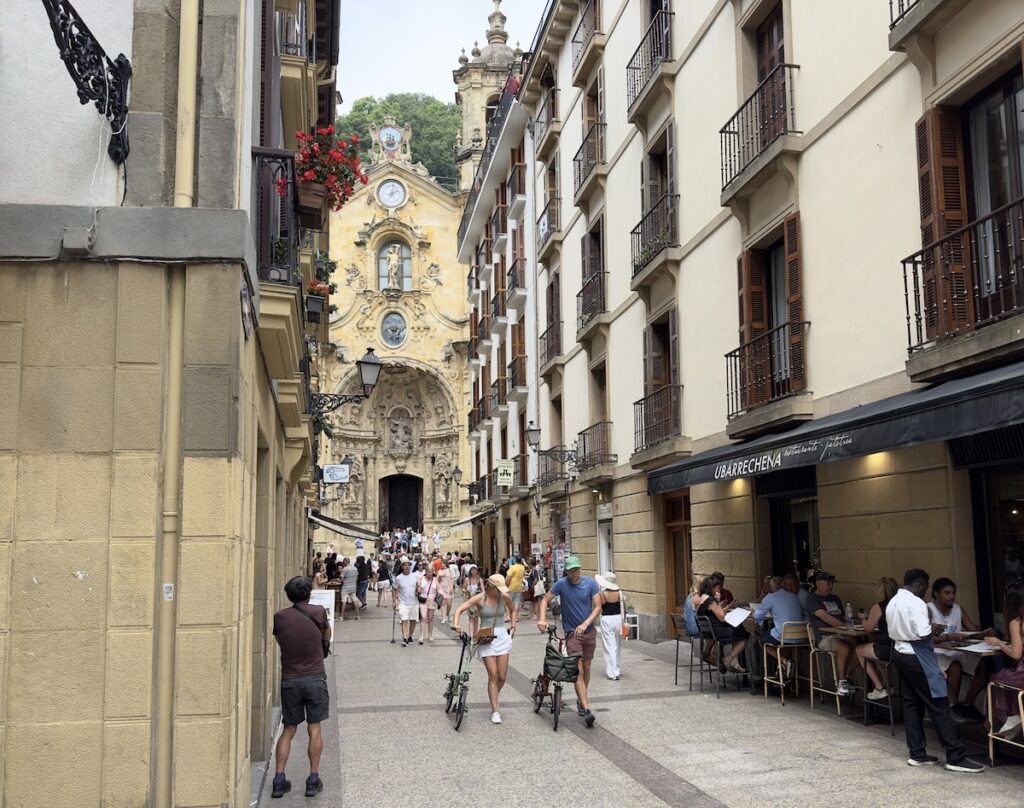 Alternatively, you can absolutely meander the streets of Old Town on your own. It is easy to navigate and very safe – offering beautiful architecture, lively restaurants and some interesting shopping.
​3. MICHELIN STAR DINING
If pintxos are not your thing but you want to explore the best of Basque Country cuisine, you are in luck! Would you believe that within 25km of San Sebastian there are 8 Michelin-starred restaurants? In fact, San Sebastian is next only to Tokyo in terms of Michelin stars per square kilometre!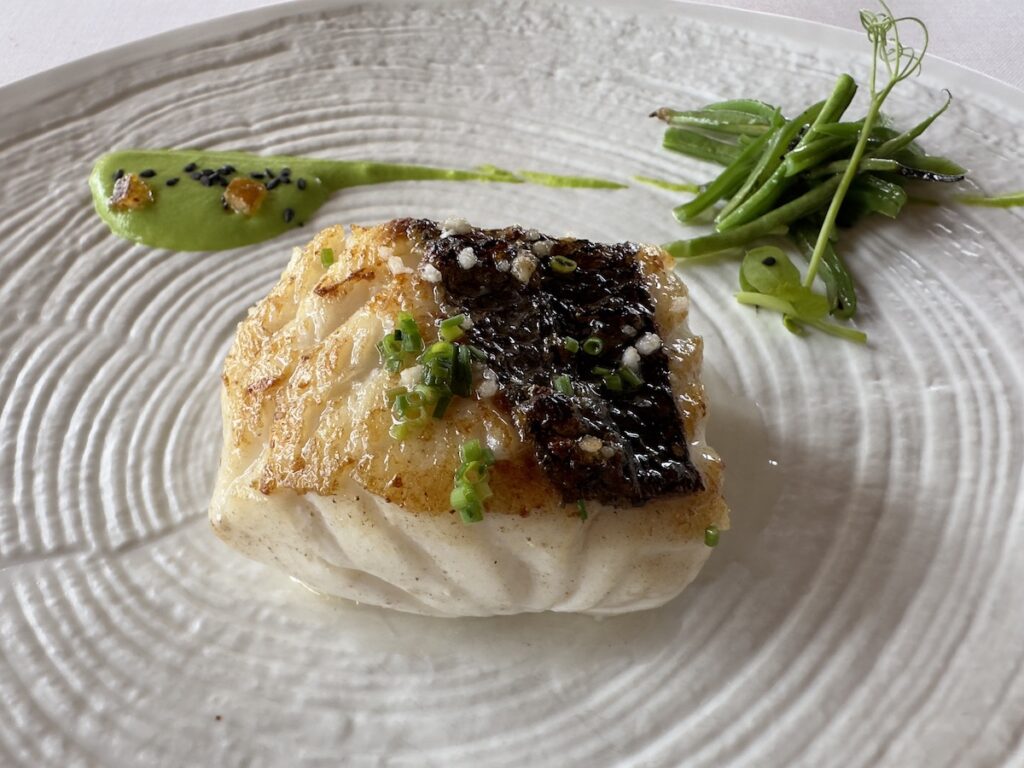 Obviously, you need to book way ahead to secure a reservation at one of these coveted tables. Booking several months ahead, we were able to reserve a lunch space (dinner was not possible) at Alameda – a delightful, 1-star in nearby Hondarribia .
See the full list of San Sebastian Michelin Star restaurants.
4. HIT THE BEACHES
San Sebastian has absolutely beautiful beaches. The most famous is Playa de La Concha – a huge crescent-shaped stretch of sand with ample space for visitors to have their own little piece of temporary real estate by the sea.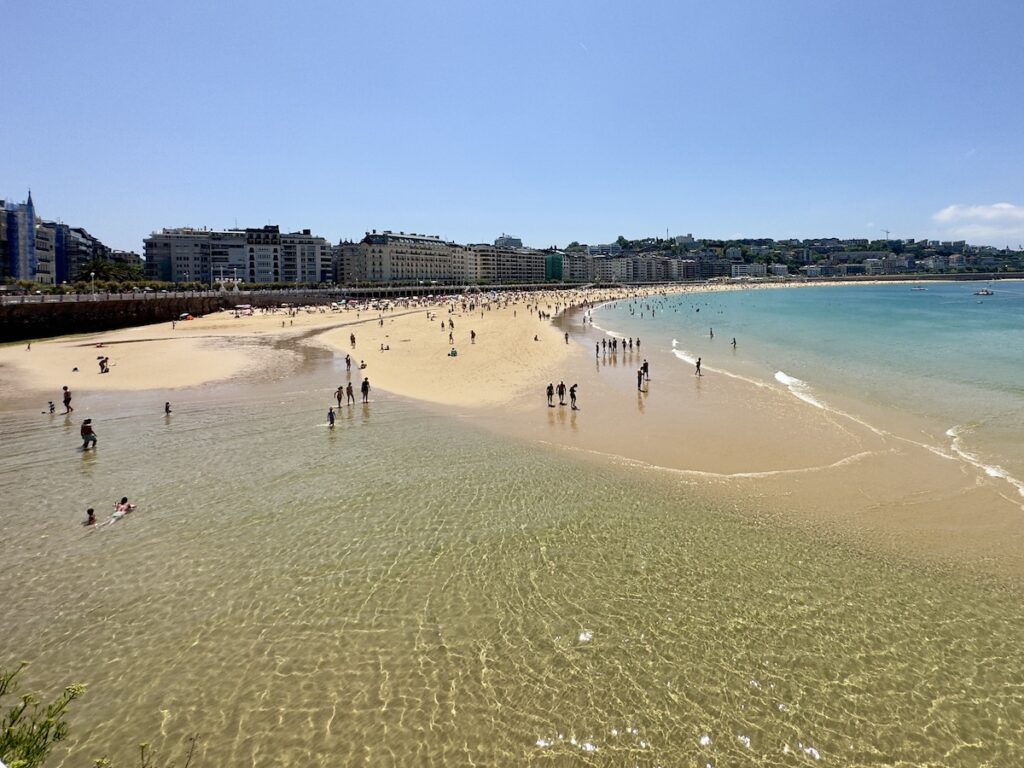 Just a 10 minute walk west of La Concha Beach (in the direction of Mount Igueldo), will take you to Playa de Ondarreta. As it is further away from the city center, this beach is slightly quieter and is a favorite of beach-going families.
Ondarreta Beach is also a popular spot from which to swim to a small island located in the middle of the bay (Isla de Santa Clara), just 400m off the shoreline. The boat traffic in this area of the bay is quite minimal and there are also several rafts midway should you need a little rest.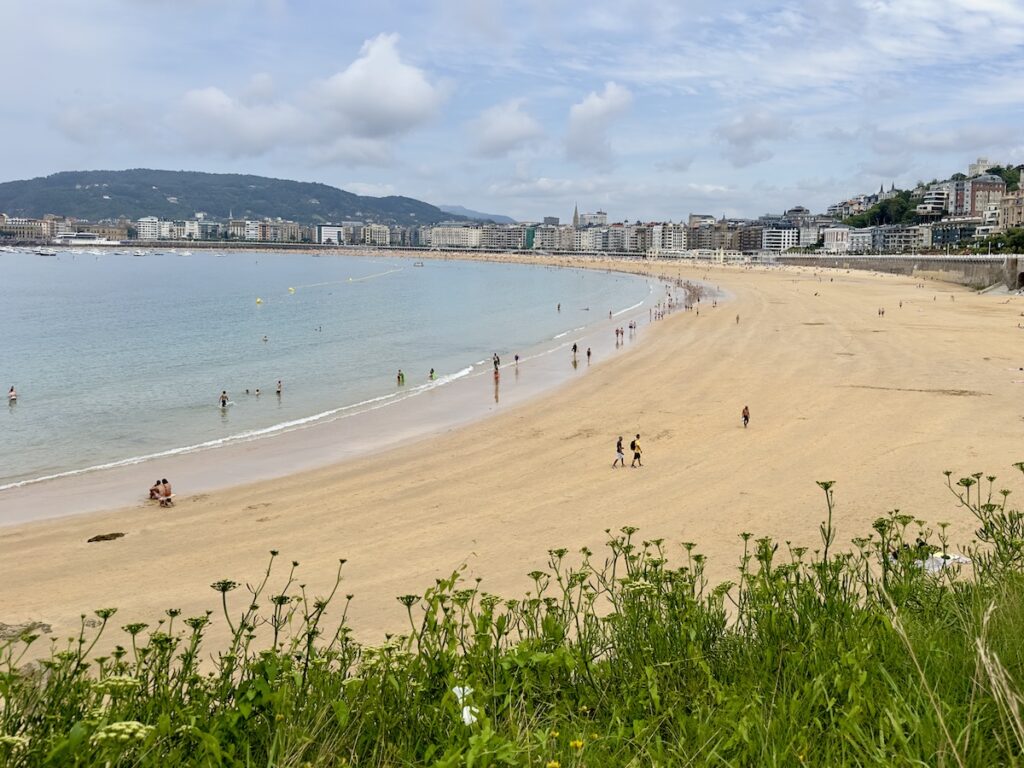 Even on busy days at San Sebastian beaches, there is plenty of space to just plop a towel or a beach blanket down on the sand. Alternatively, you can rent sun shades and beach cabanas on both Playa Ondaretta and Playa de La Concha. Just arrive early on the nicest days as they typically sell out before noon.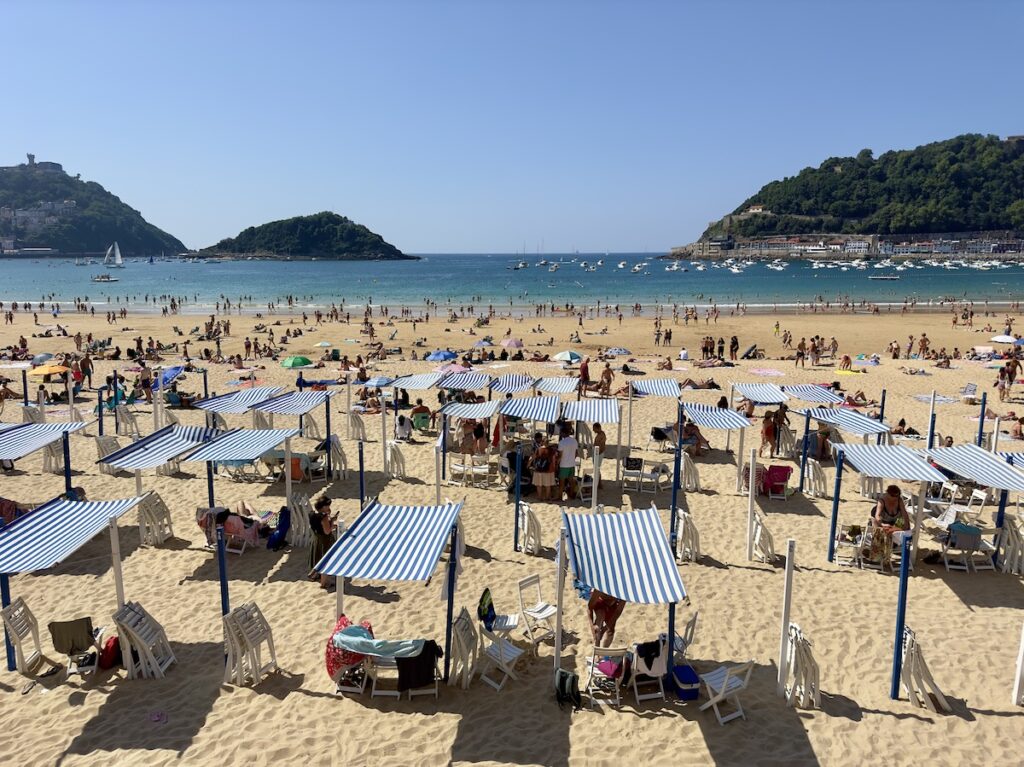 The city also has a third beach, Playa de la Zurriola, situated in the Gros district across the river. Known for its excellent waves, Zurriola Beach is a popular destination for surfers (lots of Aussies). The beach's bustling bohemian promenade is lined with surf shops, cozy cafes, and lively bars.
5. STROLL PASEO DE LA CONCHA
​San Sebastian has the most delightful beachfront promenade called the Paseo de la Concha. Personally, I would find any excuse to walk along it, day or night, because there is always something interesting going on. It's perfect for people watching and for million dollar sunsets.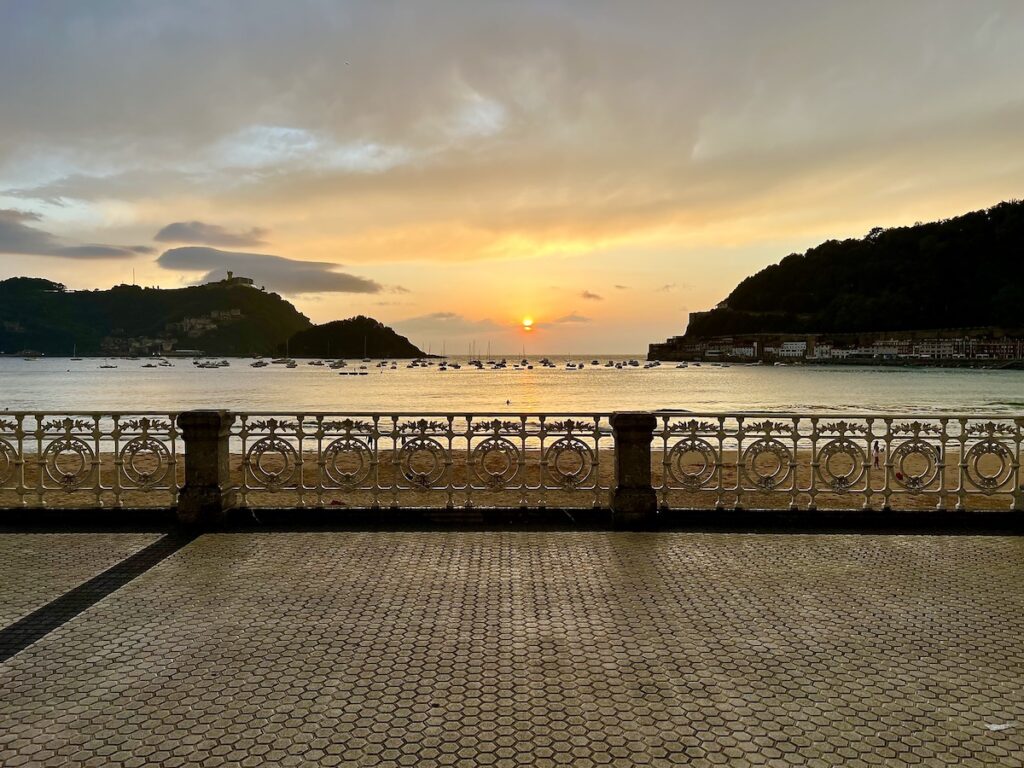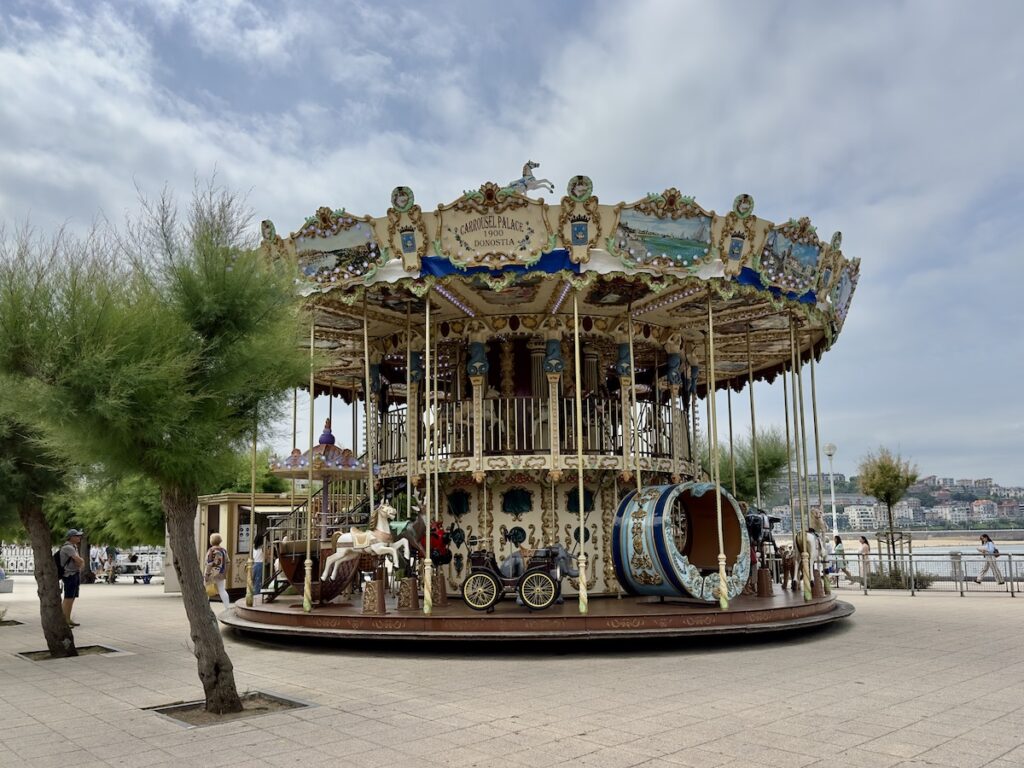 The promenade is bookended by the Miramar Place at one end and Monte Urgull at the other end. Between them, you will encounter sculptures, entertainers, musicians, a children's playground, a carousel, an aquarium and more!
6. CLIMB MONTE URGULL
The summit of Mount Urgull is reached via a 30 minute walk up a gently winding road that begins just in behind San Sebastian's Old Town. Alternatively, you can ascend faster by taking one of the more direct routes involving more stairs. Along the way, there are numerous stops where you can enjoy unique views over the city and across the bay.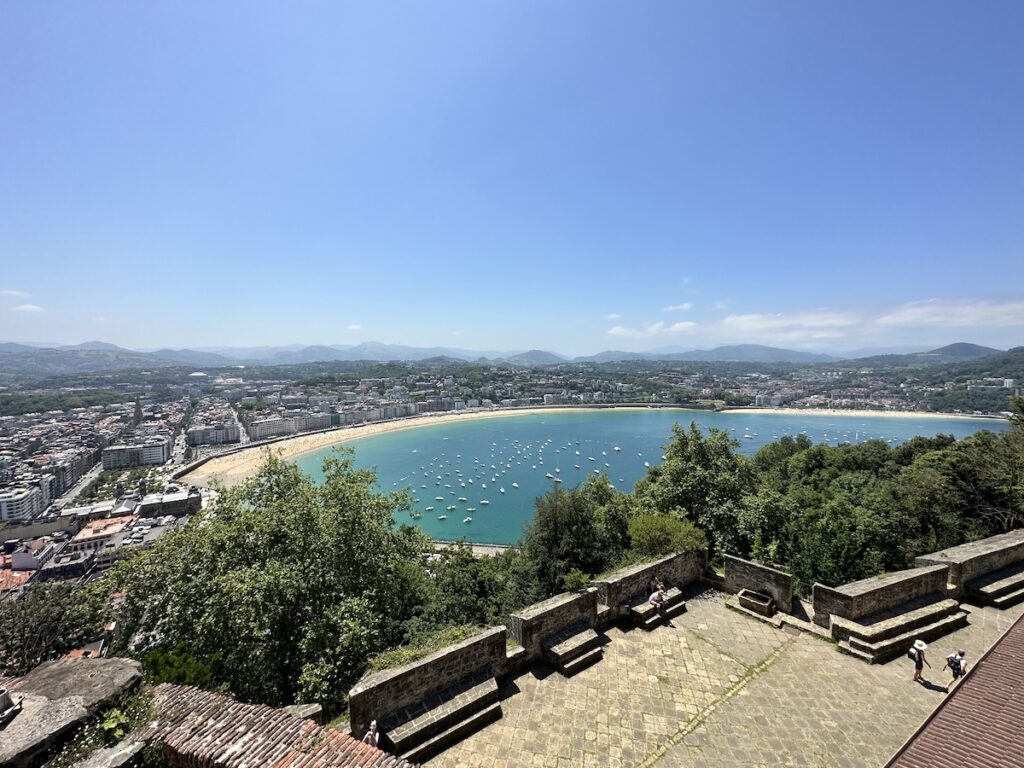 At the top you will find Castillo de la Mota – a fortress with a small museum and some very informative displays on the interesting history of this port city.
Please note: Although it is free to visit the top level of the castle (with the best city views), you must still pick up a timed ticket at the entrance. Grab your ticket immediately before exploring the rest of the grounds as they disappear quickly (only 20 people allowed up during each 20 minute time slot).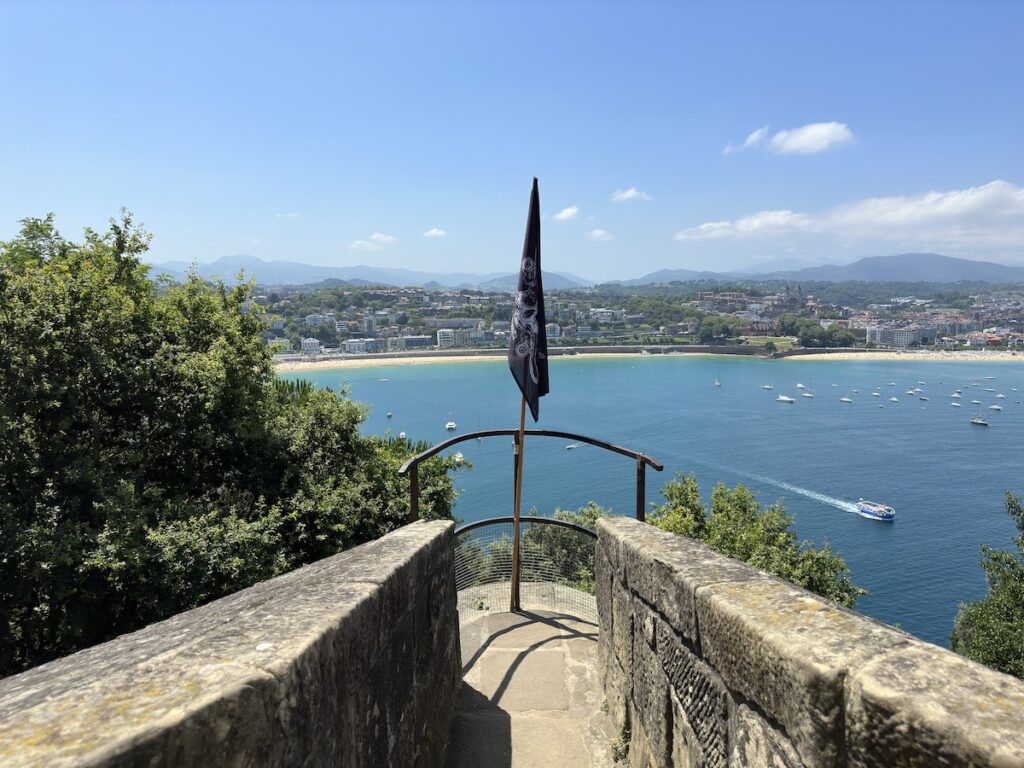 There is a rather hard to find café/bar called Urgulleko Polboriña near the top of Monte Urgull. It can be reached via a stone staircase near The Battiments (D on the castle brochure map). This bar offers one of the best views over the city and is the perfect place for a sunset cocktail (although it can get quite busy).
7. VISIT THE AQUARIUM
It's small, but it's mighty. The San Sebastian Aquarium is located near the base of Mount Urgull, along the Paseo Nuevo (an extension of the Paseo de La Concha). The aquarium showcases an impressive collection of marine life from the Bay of Biscay through exhibits that include a massive Oceanarium tank and a 360 degree, walk-through tunnel.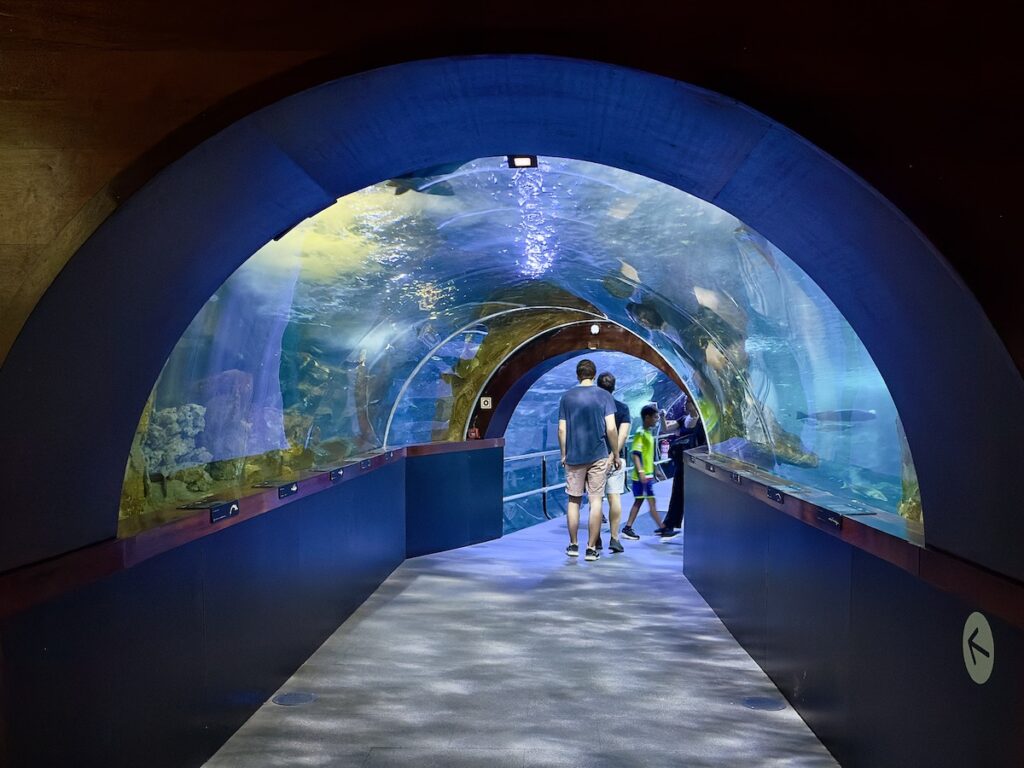 We actually enjoyed the San Sebastian Aquarium quite a bit more than a much larger aquarium we visited a week later in Barcelona. This was largely due to the fact that San Sebastian's aquarium is crowd-free, allowing visitors to have a more relaxed experience.
Note: The San Sebastian Aquarium does not have any cetaceans on display (no captive whales, dolphins or other mammals).
Learn more on the San Sebastian / Donastia Aquarium website.
8. VISIT THE SAN TELMO MUSEUM

The San Telmo Museum showcases the rich history and heritage of the Basque Country. Housed in a beautifully restored 16th-century Dominican convent, the museum offers a diverse range of exhibits that span various periods and disciplines.
Visitors can explore the museum's extensive collection of art, artifacts, and interactive displays, delving into the region's prehistoric origins, medieval history, Basque traditions, and contemporary culture.
Learn more on the San Telmo Museum website.
9. WATCH A JAI ALAI GAME

Jai alai, also known as pelota, is a fast-paced sport that originated in the Basque Country region of Spain. It is played with a special curved basket-like glove called a cesta, which is used to catch and throw a small hard ball called a pelota.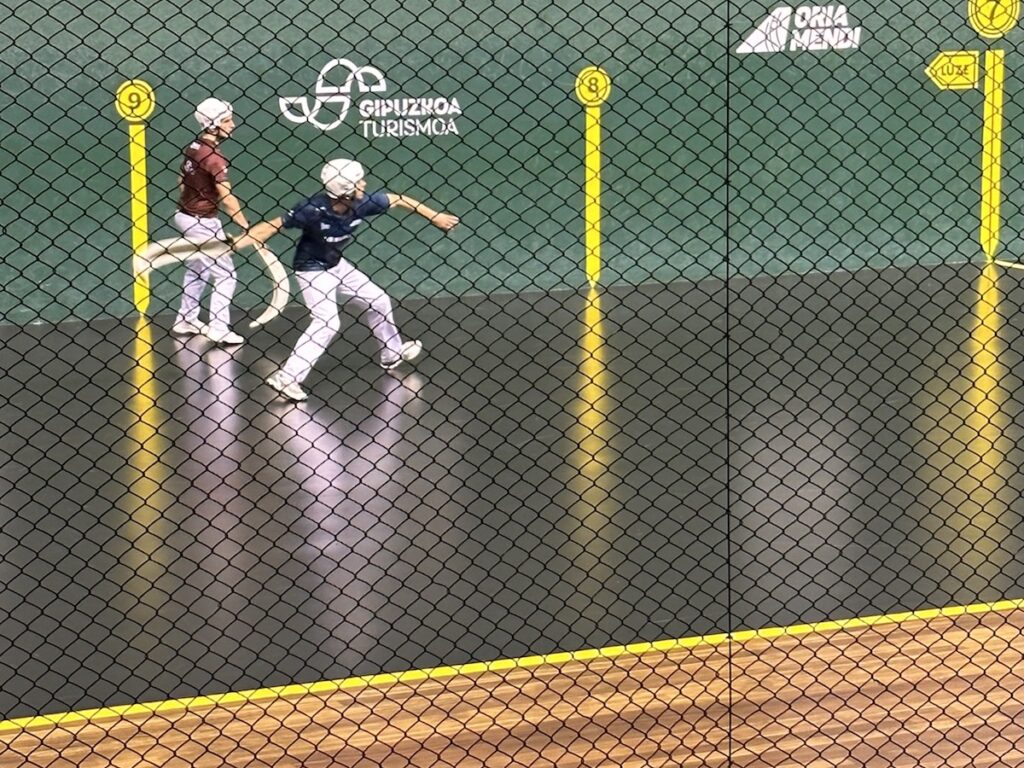 What really sets this sport apart, however, (and what makes it rather dangerous), is the fact that the ball can travel at upwards of 250km/hr. Broken bones and other injuries are not uncommon.
If you are interested in seeing a match, we were able to buy Jai Alai tickets on the San Sebastian tourism website.
Note: We really had a great time, but I think we were expecting a larger crowd. The audience was mostly populated with friends and family of the players. That said, it felt like a truly unique and hyper-local experience to enjoy in the Basque Region.
10. DAY TRIP TO GETARIA
The charming coastal village of Getaria is just a 30 minute drive (or bus ride) from San Sebastian and is well worth a visit. Known for its fishing port, medieval streets, and vineyards, Getaria offers a relaxing, day trip escape from the city.
Note: Some visitors to Getaria recommend taking the train from San Sebastian to the nearby resort town of Zarautz and then strolling the oceanfront promenade to Getaria (30 min. walk).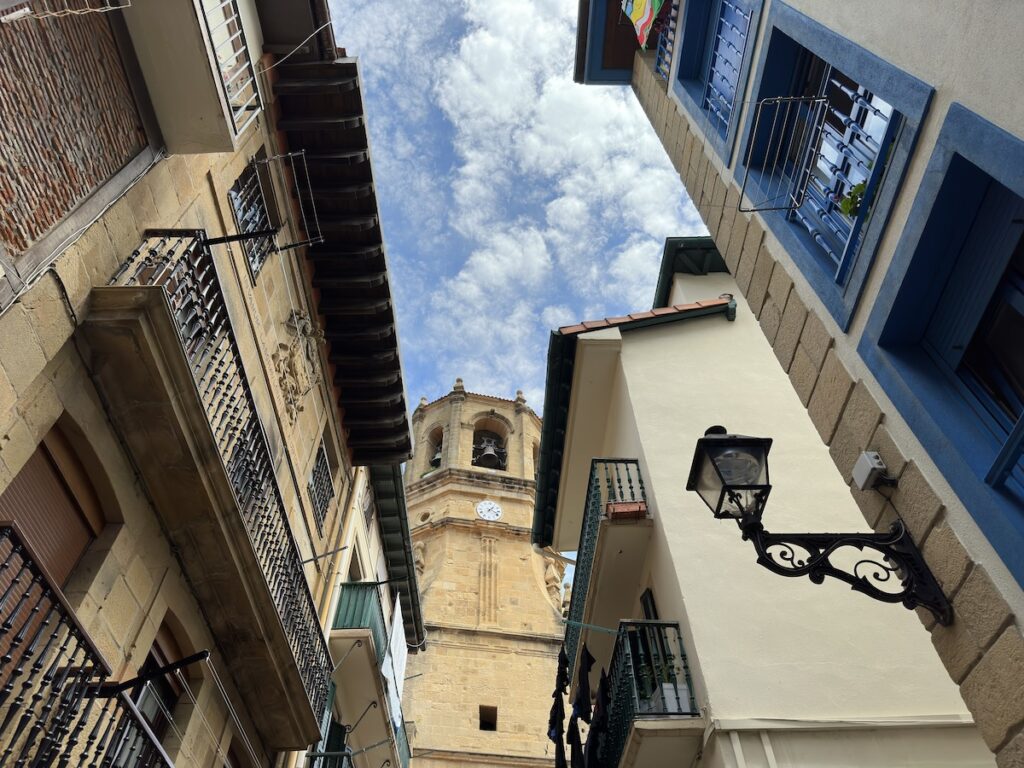 Explore the picturesque old town, indulge in fresh seafood at one of the waterfront restaurants, and visit the Cristóbal Balenciaga Museum, dedicated to the renowned fashion designer who was born in Getaria.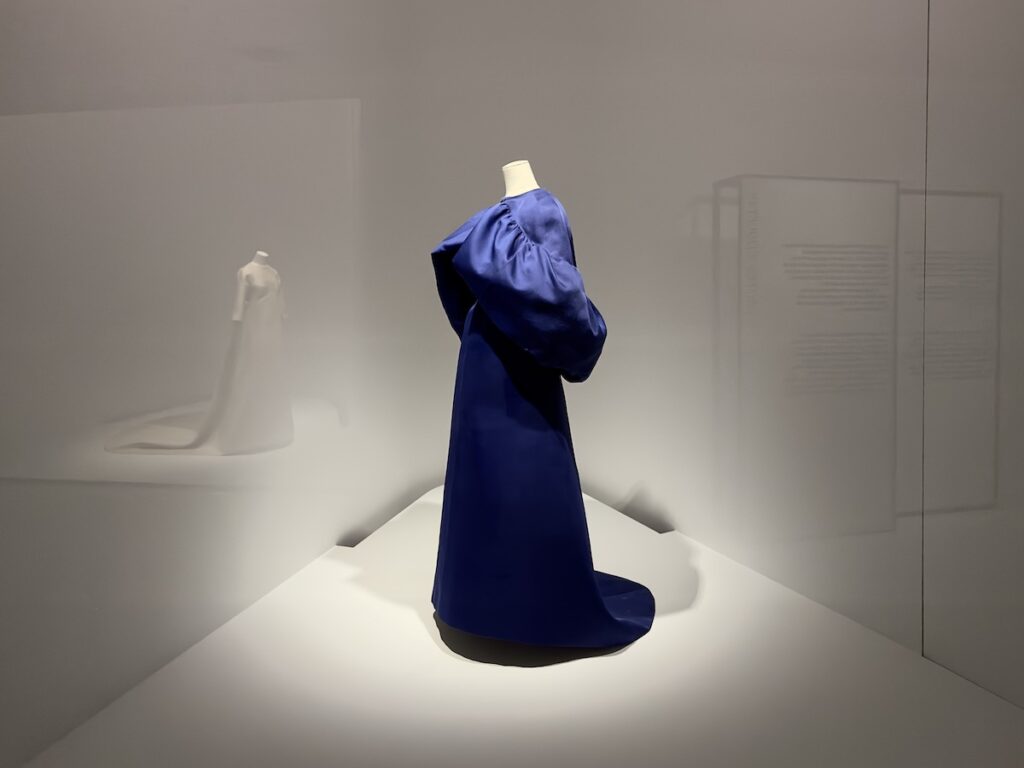 See also the following day trip from San Sebastian that includes a visit to Getaria:
11. DAY TRIP TO SAINT-JEAN-DE-LUZ
San Sebastian is located very close to the French/Spanish border. A day trip to the seaside town of Saint-Jean-de-Luz is the perfect way to experience Basque Country done the French way.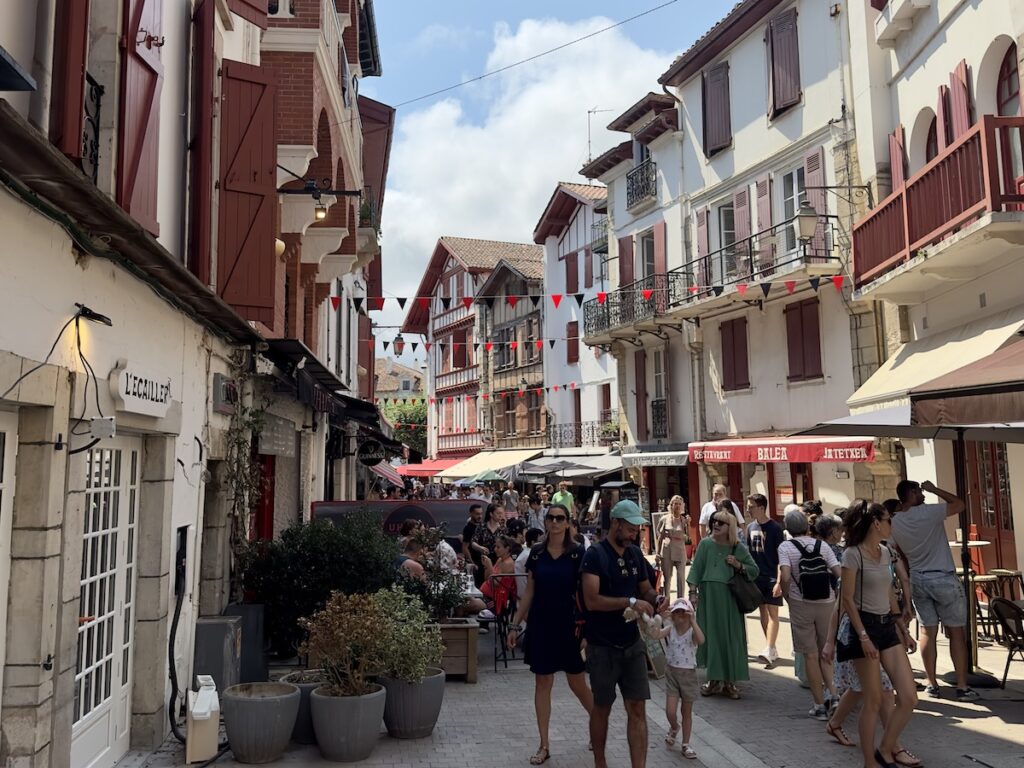 Saint-Jean-de-Luz is famous for its beautiful sandy beaches, charming narrow streets, traditional Basque architecture, and quaint shops. We particularly enjoyed visiting both the indoor and outdoor markets that are so quintessentially French (with so much cheese)!
See also:
12. TAKE THE MONTE IGUELDO FUNICULAR
Take the funny little funicular up to the top of Mount Igueldo where you will find a beautiful lookout with great views of the city and of the beaches. At the peak, you will also discover an adorable amusement park (est. 1912) with some fun little rides and games.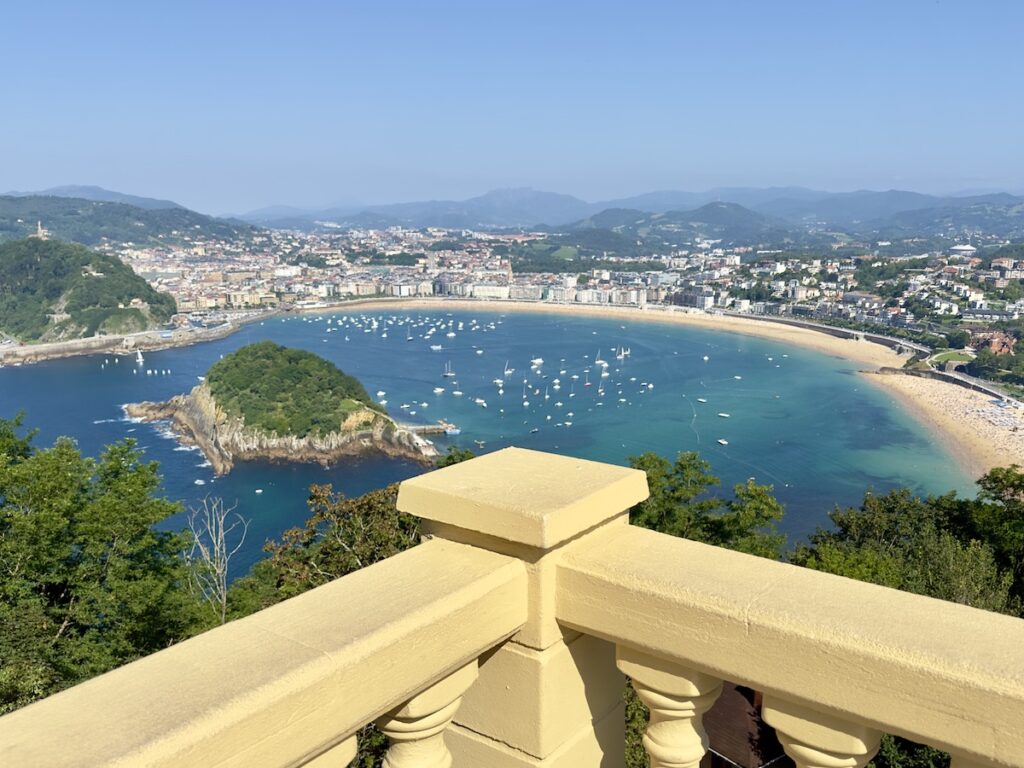 Learn more at: Monte Igueldo Attractions.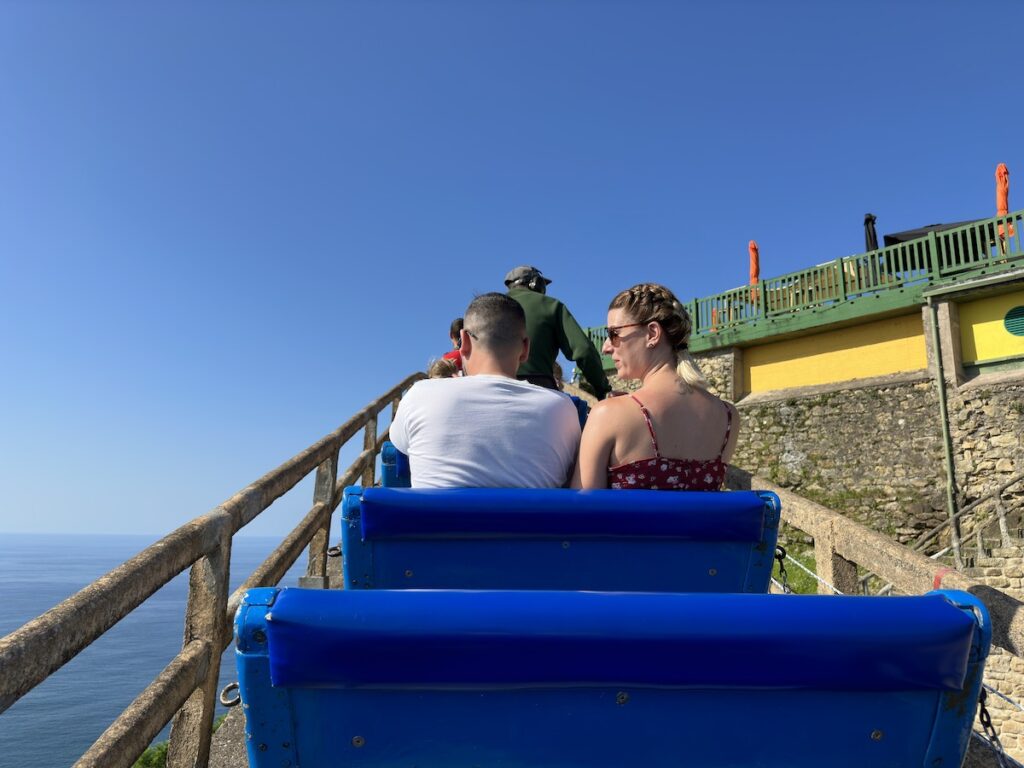 Note: I can honestly say that the little roller coaster at the top of Mount Igueldo is much more exciting than it looks, even though it only lasts just over a minute. It also offer the most incredible views of the coastline! (2.80 euros/ride).
13. VISIT MIRAMAR PALACE GARDENS
San Sebastian is known for its stunning architecture, including the picturesque Miramar Palace, which is located on a hill between La Concha and Ondaretta beaches.
While the interior of this former royal residence (now a schooI) is not accessible to the public, the gardens are a great place to stroll in the shade and also enjoy some fabulous views of the bay.
14. TAKE AN ART WALK
San Sebastian has some wonderful public art pieces including the dramatic Peine del Viento (Comb of the Wind) created by the sculptor Eduardo Chillida at the water's edge below Mount Igueldo.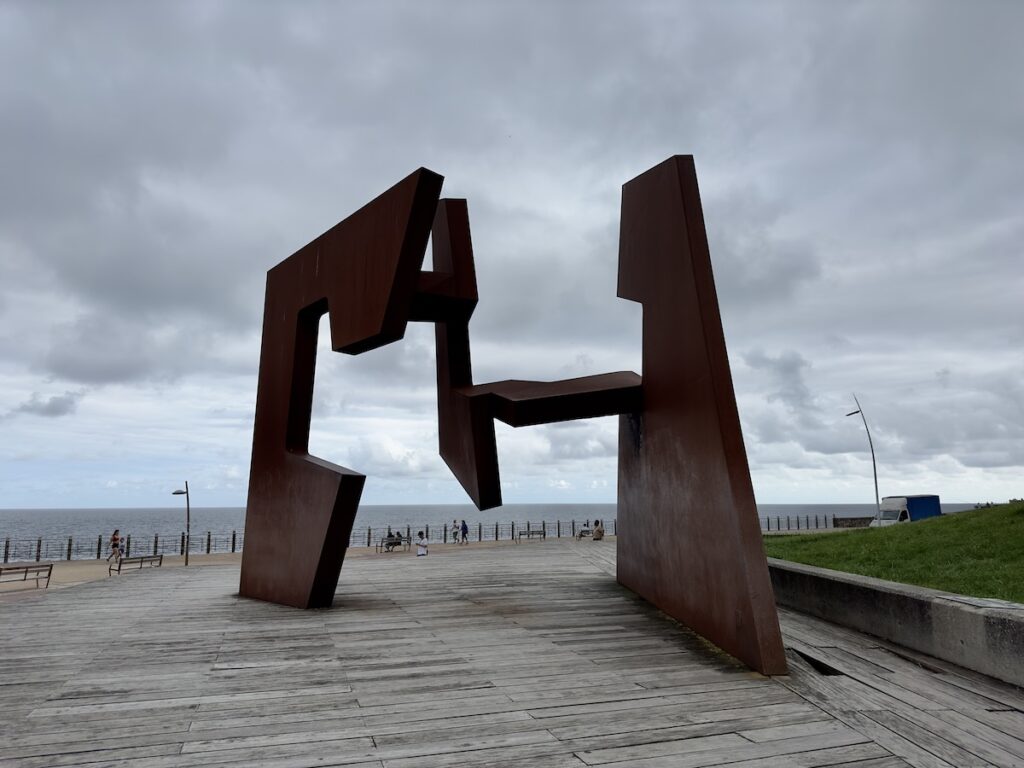 Also not to be missed is Construcción Vacía (Empty Construction) by the artist Jorge Oteiza at the base of Mount Urgull and the delightful art-filled pedestrian tunnel (Túnel De Loretopea) between La Concha Beach and Onderetta Beach.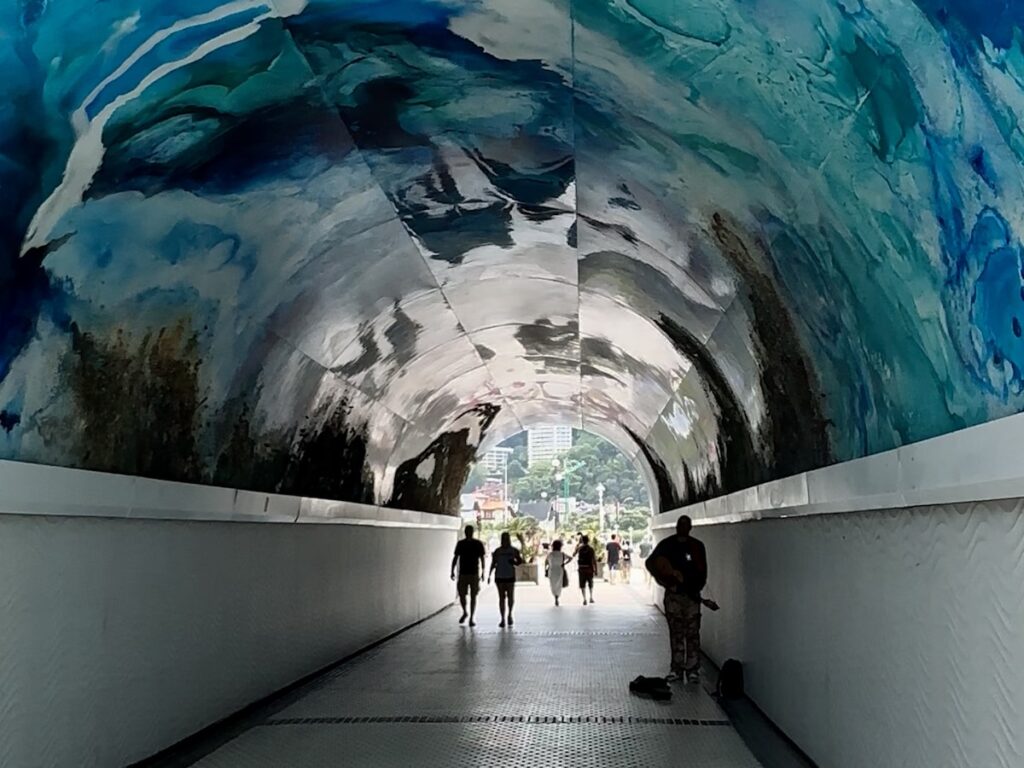 See also: a full list of San Sebastian sculptures.
15. VISIT ISLA DE SANTA CLARA
Right in the middle of San Sebastian's bay is the pint-sized Santa Clara Island. Along the La Concha Boardwalk (just past the carousel), you can purchase ferry boat tickets to the island as well as trips that include a little tour of the bay.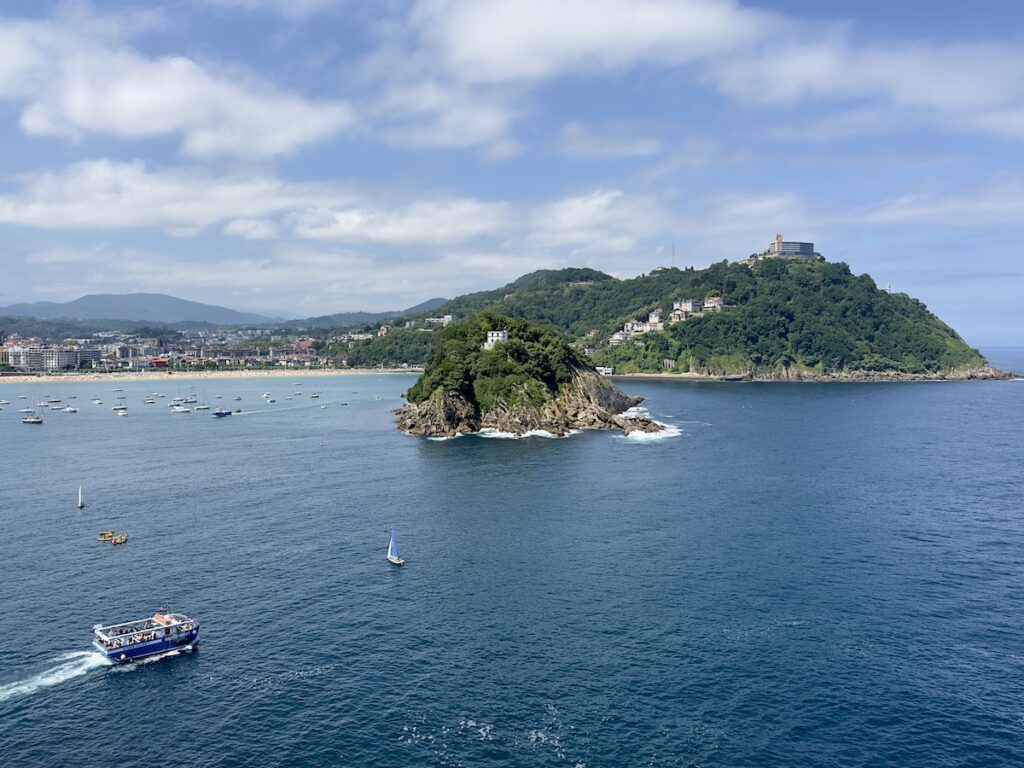 The island is quite small, (our visit was only 30 minutes), but it has some nice views of the city as well as a very unique art piece in the building at the top.
Santa Clara Island Ferry Schedule
See also these tops selling boat tours that include Isla Santa Clara.
MORE THINGS TO DO SAN SEBASTIAN, SPAIN
While I included all the things we enjoyed most in this best things to do San Sebastian guide, there are still many more tours and experiences that we just simply didn't have time for. Please see the following lists of the top things to do in San Sebastian according to Viator and GetYourGuide.
Note: All of these tours and things to see in San Sebastian get a minimum star rating of 4.5 (out of 5) by recent guests.
VIATOR TOP ATTRACTIONS IN SAN SEBASTIAN
GET YOUR GUIDE – MUST SEE IN SAN SEBASTIAN
HOW TO GET TO SAN SEBASTIAN
What's the best way to get to San Sebastian? San Sebastian Airport (EAS) is 20km from the city centre with connections to Madrid and Barcelona. Biarritz Airport (BIQ) is 47km away and Bilbao Airport (BIO) is 105 km away.
Note: We flew in and out of Bilbao because we wanted the freedom to explore the whole northern Basque coastline (with a rental car). Bilbao is actually only a little over an hour's drive from San Sebastian (if you take the highway).
Learn more about getting to San Sebastian here or explore rental car rates from airports close to San Sebastian.
Auto Europe guarantees the best Car Rental rates or they will match it.
Note: I think it is worth mentioning that many car rental companies charge a "Premium Location Fee" at major airports such as Bilbao. This is typically 12% added to the rental cost on the final bill. (Look for this in the fine print of your contract.) You should be able to avoid this if you rent outside of the airport building if you don't mind taking a shuttle.
HOW TO GET AROUND SAN SEBASTIAN
San Sebastian is a very walkable city, and a car is hardly necessary if you plan to stick around the city core. The city also has an excellent network of bike lanes.
San Sebastian has an efficient bus system called the D-Bus. See this guide to riding the bus in San Sebastian for first time visitors.
San Sebastian does not have Uber or any other ride sharing options. Taxis are your best bet, with taxi stands dotted around the city core. (Hailing a taxi is just not a thing that is done in Spain.)
There is also the option of renting a car in San Sebastian for just a day or two to explore the neighboring towns.
Note: Car rental companies typically charge an additional fee for leaving Spain. (Usually this is less than 20 euros.)
WHEN TO VISIT SAN SEBASTIAN
It may surprise you to know that San Sebastian gets around 200 days of rain a year. For this reason, this region is beautifully green, unlike much of the rest of Spain.
For the best weather in San Sebastian, visit between June and September, where you should experience mostly sunny days with perhaps the odd shower.
Note: With so much of Europe experiencing devastating heat waves during the summer months, we found the temperatures and weather in San Sebastian to be absolutely ideal.
ADDITIONAL GUIDES